*This post may contain affiliate links. Please see my
disclosure
to learn more.
When looking from the outside, granola seems to be the perfect snack or breakfast option. Granola is loaded with the goodness of oats, seeds, nuts and plenty of other delicious garnishes like dried berries, chocolate chunks, coconut flakes and whatnots.
But in reality, finding the best granola can be challenging. This is because many brands sell their sugar-loaded granola claiming them to be "healthy."
This is not a homemade granola where you can have control over the ingredients and proportions. So, there is a fair chance that the so-called healthy granola pack you've just picked from a store, is packed with refined sugars and nothing else.
Fortunately, there are some brands that are actually focusing on providing the healthiest breakfast option to their consumers in the form of low-sugar and high-fiber granolas made from wholesome ingredients.
So, as long as you're buying a granola after reading the label well and taking the right portion size into account, then you can get all the goodness of a delicious mix without worrying about consuming unnecessary calories.
We've assembles a list that will help you pick the best granola brands. So, if you want to learn more about low sugar and healthy granolas, or simply want to find the best brand, then keep continue reading for more detailed information!
What Is Granola?
For years, granola is one of the most popular breakfasts in the US. Traditional granola is a mixture of rolled oats, nuts, seeds, dried fruit and sweeteners that are baked with oil to harden the sweet, crunchy and toasted clusters.
These days, granola is available in a wide range of flavors and contains things like chocolate, berries, coffee, multigrain flakes and whatever creative combination the manufacturer comes up with. From gluten-free to vegan and refined sugar-free, you've plenty of options to choose between.
How To Eat Granola?
Granola is a complete snack on its own. You can have it directly from the bag as a delicious trail mix alternative, or serve it with milk as you would eat any other breakfast cereal, totally up to you.
People also enjoy eating their granola with yogurt as a quick delicious and healthy snack in the morning. Granola bars are also loved by many as it gives instant energy with a grab and go on a busy day.
Granola is a versatile food with enumerable ways to eat and enjoy. It's up to your taste and creativity to determine how you want to have this crunchy mix.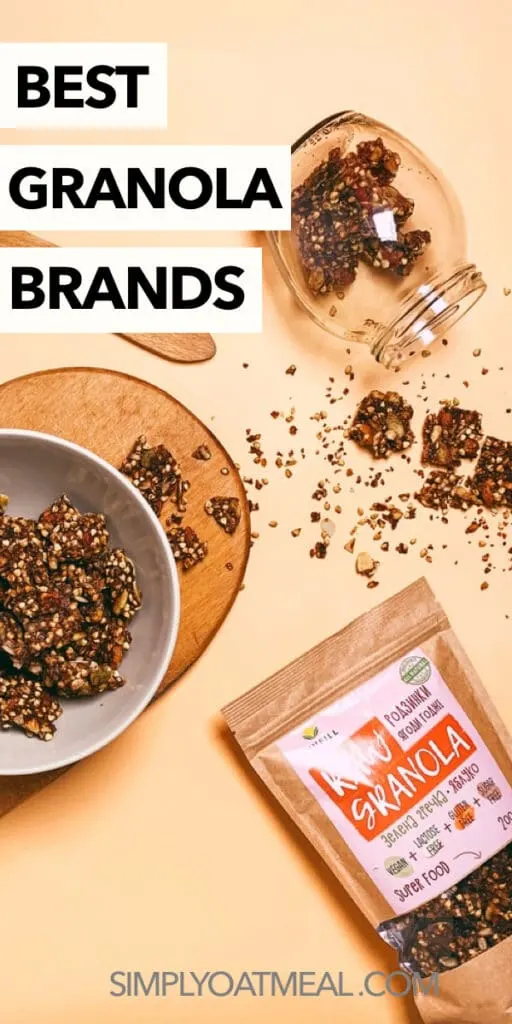 Which Brand Of Granola Is Healthiest?
There are some reputable brands making some of the healthiest granolas for their customers. Purely Elizabeth and True North Granola are the winners.
Not only do they taste great, but also minimize the amount of added sugars and artificial ingredients. Nothing but whole grains and natural ingredients found in these healthy granolas!
Here are the healthy granola brands we've picked for you :
Purely Elizabeth
Purely Elizabeth is one of the most sought-after granola brands for the fitness enthusiasts. The company is known for producing amazing ancient grain granolas by using super healthy cereal crops such as quinoa, amaranth and millet.
The best part is, they use coconut oil as a fat and coconut sugar as a sweetener, both of which are excellent alternatives with a much lower glycemic index.
True North Granola
True North Granola is an up and coming brand that is famous for their seed and nut loaded granolas. They use an excellent blend of healthy nuts and seeds like almonds, pepitas, pecans, walnuts, flax seeds, sunflower seeds and more.
Each ¼ cup serving of this granola offers low fat, 3 grams of protein and far less sugar than many other options.
Which Granola Has Least Sugar?
While many brands offer as high as 15 grams of sugar per serving, the ones offering nearly 3 to 5 grams of sugar per serving are considered to be great for health-conscious folks.
We've found that Gr8nola makes a great low – sugar granola. This whole grain granola is loaded with protein and fiber plus the traces of essential nutrients such as iron, calcium.
Not only it is delicious, but keeps you full for longer and also satisfies your sweet tooth cravings as well. Most importantly, it contains the energy you need to get through the morning!
What Is The Best Granola For Weight Loss?
Low sugar granolas are great for weight-loss as they are rich in fiber and protein and have reduced sugar levels. Keep the sugar between 3 to 5 grams per serving for the best results.
But the most important thing is, if you're on a weight-loss journey, consider controlling your portion size. Use only two to three spoons of any low-sugar granola to get the most benefits without impacting your caloric intake.
What Is The Best Tasting Granola?
If you're looking for something to satisfy your sugar rush, then Bear Naked Fit Triple Berry Granola is worth trying. It is also a reduced sugar granola featuring 50% less sugar than their regular mix.
This one is no less than a delicious dessert filled with three types of berries. The best part, it adds only 3g of sugar per serving which makes it a great low sugar granola!
Best Granola Brands
If your looking to venture into an eye opening experience, back away from the same old name brands and explore these tasty granolas.
Large clusters of sweet, toasted and crunchy oat clusters. These granola brands are packed with flavor and offer the best bang for the buck.
Sort through this list of our favorite granola brands and let us know what you think!