*This post may contain affiliate links. Please see my
disclosure
to learn more.
Tired of having yogurt and a banana for breakfast every morning? Make ahead this healthy banana yogurt overnight oats to satisfy your hunger cravings and start the day off on the right foot.
If you have been searching for quick meals for breakfast or simple afternoon snacks, banana overnight oats are the way to go. Explore the variety of oatmeal toppings from fruits to spices or even jams to make each meal different than the last.

From peanut butter banana overnight oats to strawberry banana overnight oats, the options are endless! Every single recipe is so fun to eat you can't wait to open the jar and gobble it up. Only takes a handful of ingredients to create the magic!
Banana yogurt overnight oatmeal is a hearty meal packed with fiber, vitamins, and nutrients you need to get the days started! It requires zero cooking skills and only needs a few ingredients. Simply make a batch with home staples you already have in your kitchen.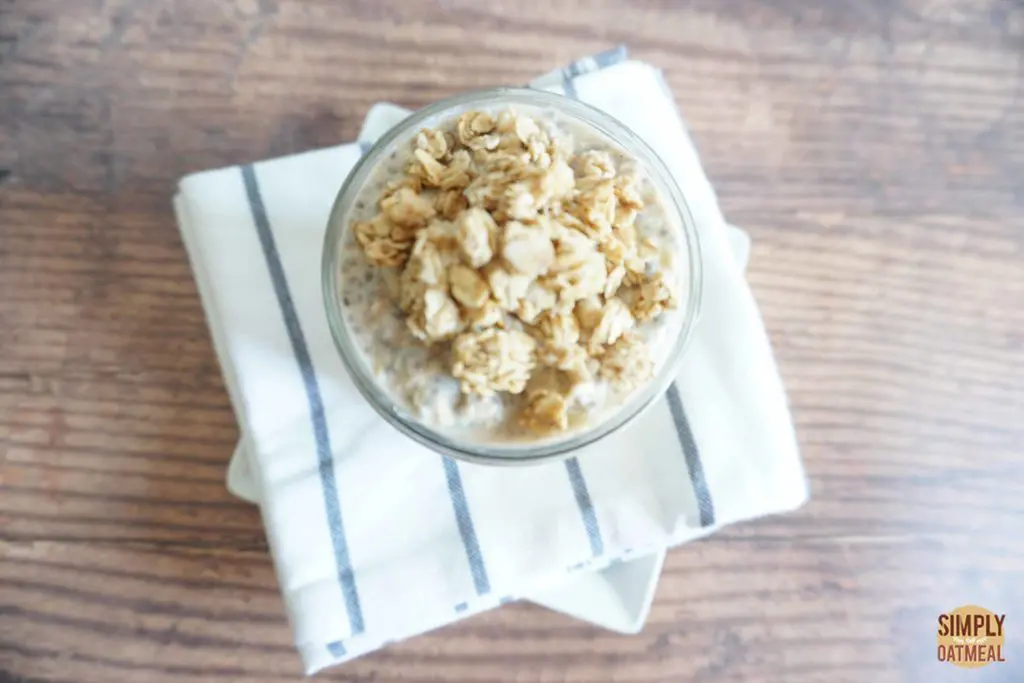 How to make banana yogurt overnight oats?
There is a well-developed creamy taste when you combine mashed banana and Greek yogurt. It gives you energy and makes you also feel full all day long.

Start the week off with a fridge full of no cook oatmeal. Go ahead and make a batch of banana yogurt overnight oats so that your grab and go meals are ready for the road!
Banana Yogurt Overnight Oats Ingredients:
Greek yogurt
Mashed banana
Chia seed
Honey
Vanilla extract
First, let's make a banana flavored liquid base to soak your oats that will deeply enhance the taste. Pick a ripe banana and mash it with a fork at the bottom of a mason jar.

Then add the rest of the ingredients and mix well. You really want to combine the banana with the yogurt and oat. In addition, make sure the chia seeds don't clump up and stick together. Cover the container and place in the refrigerator for at least 12 hours before eating.

In the morning, give the no cook oatmeal a quick stir. Then, feel free to decorate the delicious oats with variety of toppings such as sliced banana, fresh berries, or apple chips, and even scoop of nut butter. You can also toss on a handful of granola, dried fruit and extra nuts to explode your taste buds!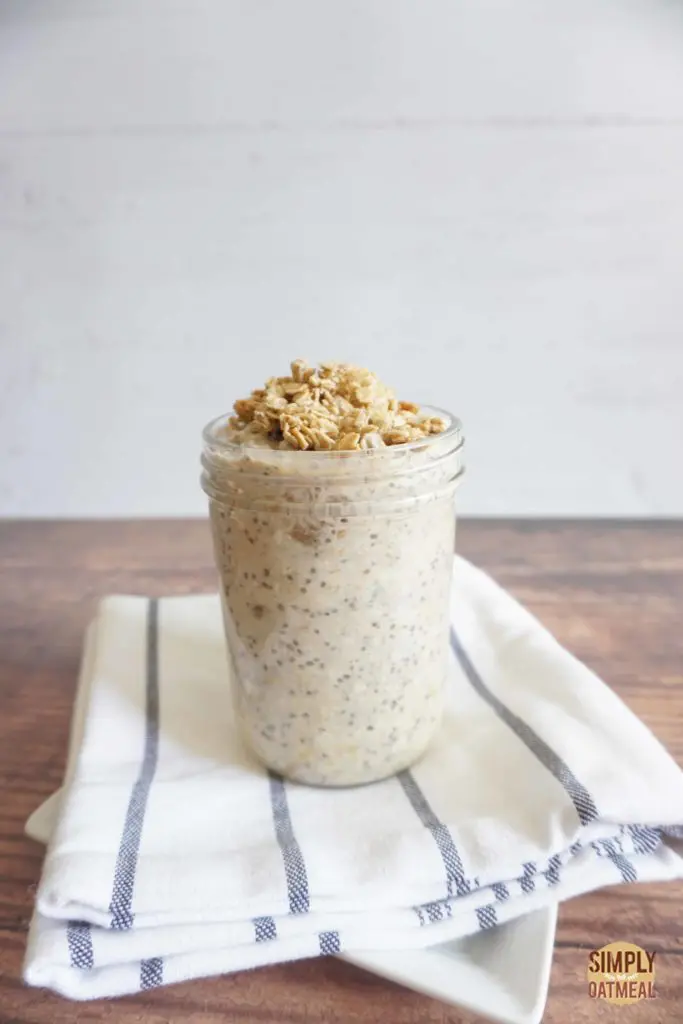 Banana Yogurt Overnight Oats Tips
First and foremost, this recipe requires you to use overripe bananas. Extra-ripened bananas may not be tasty on their own, but they are very easy to mash and add much more flavor and natural sweetness to your no cook oats.

Other than that, let's review a few additional tips to make your banana yogurt overnight oats fresh and delicious enough that you'll want to eat them all week long.
Avoid using quick oats or steel cut oats for this recipe. They tend to get too soggy and mushy when soaked overnight. Furthermore, steel cut oats are not recommended for soaking because they won't soften enough to eat next day.
Substitute overnight oats with water instead of almond milk if the banana yogurt is too creamy for you. No cook oats actually taste good with water, just make sure to have flavorful yogurt and toppings that will help to balance the bland taste.
Add chopped dried banana chips or drizzle with honey to add a sweet and crunchy texture to this recipe.
Always stir before topping your oatmeal with any garnishes. The bottom oats can become mushier than the top part.
Store in refrigerator for up to 5 days. Pack the meal prep in an airtight mason jar to make it ready-to-go.
MORE DELICIOUS BANANA OVERNIGHT OATS RECIPES YOU MIGHT LIKE: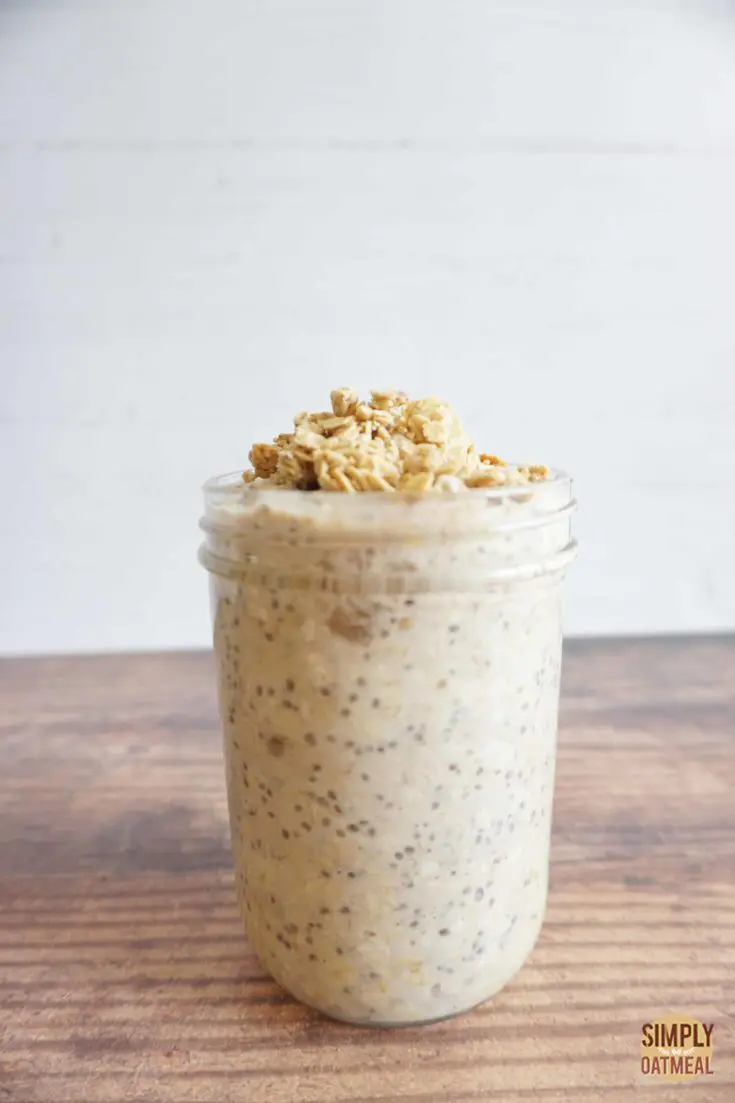 Yield:

1 serving
Banana Yogurt Overnight Oats Recipe
Banana yogurt overnight oatmeal is an energy packed meal prep idea that is perfect to eat any time of day. Not only is healthy and nutritious, but it is loaded with fiber that'll keep you feeling full all day long.
Oats offer a variety of health benefits like plant-based protein, insoluble and soluble fiber and also contain an array of essential vitamins and minerals. When combined with yogurt, the protein levels soar, which makes it a great post workout snack.
Energize your body with a hearty serving of no cook banana yogurt oats. Grab your favorite oatmeal toppings and throw them on top at the last minutes for an extra explosion of flavor.
Ingredients
½ cup old fashioned rolled oats
¼ cup Greek yogurt
1 tablespoon chia seeds
½ banana, mashed
1 tablespoon honey
½ teaspoon vanilla extract
Instructions
In a medium sized bowl or overnight oatmeal container, mash ½ banana at the bottom using a fork.
Afterwards, add the oats, almond milk, yogurt, chia seeds, honey and vanilla. Stir to fully combine the mashed banana with the oats mixture.
Cover and place in the refrigerator overnight for at least 12
hours.
To serve, stir the oatmeal one time to mix the bottom and
top layers and keep a similar overall consistency. Then, add fresh banana, chopped nuts or your preferred oatmeal toppings.
Notes
Make this recipe vegan by substituting an almond or coconut based dairy -free yogurt.
Natural sweeteners like maple syrup, dates or coconut sugar can also be used in place of the honey.
A 2:1 overnight oats water ratio was followed for this recipe, however the chia seeds and mashed banana thicken the oatmeal when soaked. Add a bit more liquid just before serving to loosen up the mixture and make a porridge style consistency.
Eat within 5 days of preparation to ensure freshness of the ingredients.
Recommended Products
As an Amazon Associate and member of other affiliate programs, I earn from qualifying purchases.
Nutrition Information:
Yield:
1
Serving Size:
1
Amount Per Serving:
Calories:

391
Total Fat:

9g
Saturated Fat:

1g
Trans Fat:

0g
Unsaturated Fat:

7g
Cholesterol:

3mg
Sodium:

28mg
Carbohydrates:

67g
Fiber:

10g
Sugar:

27g
Protein:

15g
Nutrition information isn't always accurate.