*This post may contain affiliate links. Please see my
disclosure
to learn more.
We dont always have time to prepare a breakfast buffet every morning, so we need a quick fix that will get us going on the right foot.
The advantage of starting your day with the best muesli on the market is that you will be receiving the benefits available from whole grain oats in addition to the protein available in nuts and seeds.
What is muesli? Muesli is a well-known breakfast option consisting of rolled oats, whole grains, dried fruits, seeds and nuts.
It's not always possible for us to prepare homemade muesli, and a full breakfast meal takes a lot of time when our hectic lifestyle gets in the way. Muesli will be the ideal solution for anybody looking for.a quick and healthy fix that will provide nutrition as well as taste in the best possible way.
Is it OK to eat muesli everyday?
It will be perfectly OK to consume muesli on a regular basis. In fact, it is among the most effective health food items that is beneficial for your general wellness.
Muesli is a healthy breakfast item that provides fuel to your body for the entire day. It will be possible to consume muesli at any time during the day and it will aid in satisfying your hunger cravings while not increasing the calorie count in the process.
It is good for individuals who are suffering from diabetes since it will help to reduce insult spikes as the complex carbs digest quite slowly. It also helps to promote weight loss successfully since the high fiber content will provide a long lasting feeling of fullness.
Apart from this, muesli is packed with essential nutrients that benefit overall health.
Which is better oats or muesli?
It is very difficult to say which one is better, muesli, or oats as both of them are considered to be healthy foods. Muesli is a prepared food, while oats need to be cooked or soaked overnight.
Oats are full of fiber and help to get rid of constipation. They also consist of soluble as well as insoluble fiber which helps to lower cholesterol and also manage blood sugar levels.
Although oats are a low-calorie food, they help an individual to feel full for a longer period of time. In this way, oats are responsible for weight loss in the long run due to the ability to avoid unnecessary eating.
On the other hand, as compared to sugar filled cereals for breakfast, muesli does not contain much sugar and has less calories.
Muesli is rich in fiber and helps to control the digestive system while aiding to lose weight too. The inclusion of nuts provides lots of protein, omega 3 fatty acids, and antioxidants.
Muesli is ready to eat and already garnished with mix-ins like dried fruits, nuts and seeds. Oatmeal is a plain dry good that is often served with nuts, seeds, fruits or any oatmeal toppings that peak your interest.
In the end, its the mix-ins and toppings that will contribute the most harm. Oats and muesli are generally considered to be held foods, but either way you still need to watch out for the additions to the meal.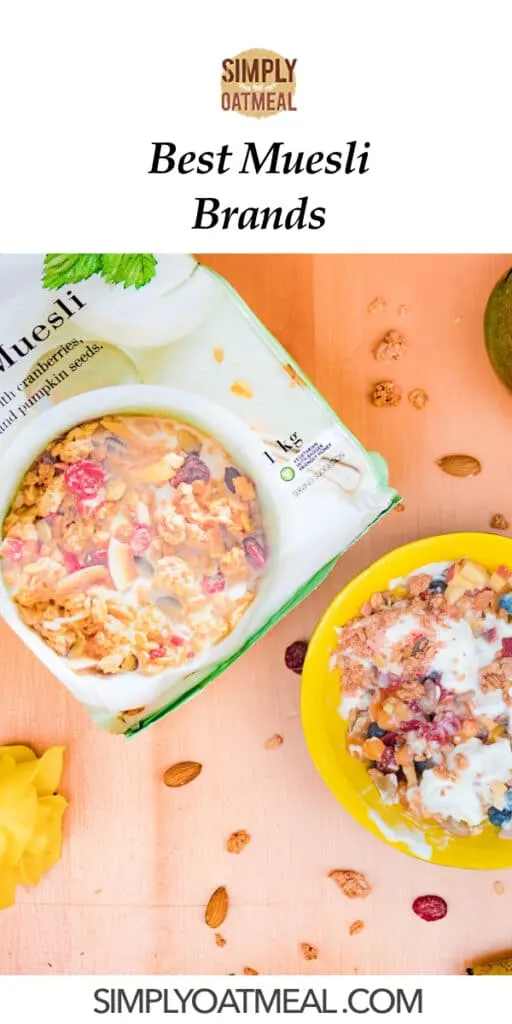 Which muesli brand is healthiest?
Seven Sundays is one of the best muesli brand out there. In case you are eating muesli for enhancing your health, then this particular brand will not disappoint you.
Apart from being fulfilling, muesli is also quite nutritious. Put simply, it can be considered to be a power-packed meal once it is blended with milk, juice or your favorite beverage.
However, in case you want to shed pounds, it will be good to find a muesli blend that consists of less sugar which can be bad when it comes to losing weight.
On the other hand, Seven Sundays Muesli has half the sugar and two times the protein. Moreover, it comes with a blend of naturally sweetened ingredients that you are going to love.
In case you are searching for a muesli brand that will help you to slim down, then this will be the brand to go for.
Which muesli is best for weight loss?
Unsweetened and low fat muesli is the best option to lose weight successfully, make it a point to use low-fat yogurt or milk, and also limit your portion sizes. This crunchy diet muesli is low in calories and rich in nutrients and will assist in weight reduction.
Alpen no sugar added Swiss-style muesli is perfect if you are looking for the whole nature of oats, minus the refined sugars typically added to muesli cereals.
It is imperative to make this food item a part of your regular diet routine in case you would like to shed pounds effectively within a short span of time. However, make sure to find a muesli that keeps the fat and sugar levels to a minimum.
There is no doubt that the right choice of muesli will give the desired results given that it involves a mix of oats, dried fruits, nuts, healthy seeds, and antioxidant rich spices.
Who makes the best muesli?
This is a matter of personal opinion, but Bob's Red Mills Old Country Style Muesli is a fan favorite. It is packed with whole grains, dried fruits, nuts and seeds.
They are an old fashioned grain producer using classic methods and high quality grains. It is the winner since it consists of whole grain goodness, healthy fats and protein.
It likewise contains lots of dietary fiber as compared to the other muesli makers out there. Moreover, the sugar that you get from this muesli is actually derived from fruits without much added sugar.
Best Muesli Brands
Muesli has been a go to breakfast for centuries. Not only is it easy to prepare, but its hearty, wholesome and packed with nutrition to keep you energized throughout the day.
Served hot or cold, this tasty whole grain food is perfectly healthy and packed with body power nutrition. Here are the best muesli brands for you to choose from.