*This post may contain affiliate links. Please see my
disclosure
to learn more.
Oatmeal is one of the most efficient ways to nourish your dog's skin. Dog oatmeal shampoo successfully nourishes, soothes, moisturizes, and keeps your dog's fur and skin healthy.
If your dog is suffering from allergies, itchiness and irritated skin conditions, then an oatmeal shampoo can provide quick relief from inflammation, rash and dryness. If you don't have time for deep cleaning oatmeal bath, then these soothing and calming oatmeal shampoos will alleviate your dogs woes.
When seeking a bathing alternative for your dog's sensitive skin, colloidal oatmeal has prove to be an effective cleanser. This article explores the use of oats in body care applications and how it can improve your pets appearance, restore luster to their fur and leave a fresh smell that extinguishes bad odors.
Is oatmeal shampoo good for dogs?
Oatmeal shampoo for dogs is ideal when it comes to nourishing their skin and relieve them of inflammation, itchiness, and irritations.
Look for oatmeal shampoos that are vet recommended as they are hypoallergenic, medicated, and made with natural ingredients. Oatmeal shampoos are gentle on their skin and free of harsh irritants.
For dogs affected by pollen, grass, mites and mold, a hypoallergenic oatmeal bath is highly recommended. Oatmeal shampoos are right to deal with certain skin issues like itchiness, rashes, dandruff, and allergies.
Dog oatmeal shampooshould be selected based on their skin issues and age. However, it is best to consult a veterinarian if you have any question about the risks associated with oatmeal bathing products.
Is oatmeal shampoo bad for dogs?
In general, oatmeal shampoos are good for dogs. However, if the dog is particularly allergic to any ingredients in the shampoo, it is best to check for their presence before purchasing.
Oatmeal is a natural ingredient for skincare, even though the pH level of a dog is different than human beings. Their shampoos should cater to their pH levels and be extra gentle to relieve their hot spots and allergies.
The benefit of oats have been successfully applied for many topical uses. Here are oatmeal shampoos that will cater to the needs of your dog leaving their coat restored and their skin feeling itch free .
What does oatmeal shampoo do for dogs?
Oatmeal shampoo softens and cleans your dog's fur and skin. Since oatmeal can ease itching, soothe irritation, minimize inflammation, and moisturize skin, it makes a great ingredient to add in dog shampoo.
Colloidal oatmeal comprises saponins and lipids that serve as a natural cleanser. The avenanthramides have anti-inflammatory and antioxidants characteristics that act as a shield to protect their skin.
If your pup has skin sensitivity or is scratching too much, then an oatmeal shampoo is the best bet. Oatmeal shampoo softens and cleans the dog's coat, while providing anti-itch relief to calm and soothe irritations.
Oatmeal shampoo offers dogs several health advantages like:
Relieves itchy skin
Suffocates ticks and flea
Hydrating skin with nutrients
Relieving hot spots
Minimizing skin redness
Reducing skin irritations
Antibacterial
Natural cleanser
How often can you bathe a dog with oatmeal shampoo?
Dogs with healthy skin conditions can be given a bath once every 3 weeks or once a month. This will prevent their skin from drying out and furthering the irritation.
In the case of dogs that are having any kind of skin issues, a bath with oatmeal shampoo can be given once each week and as per the advice of your vet.
Oatmeal soothes, nourishes and moisturizes a dog's skin. Combining oatmeal and epsom salt can relieve the itch and makes dogs feel comfortable.
Every three weeks, an oatmeal bath is healthy for the dog's skin. The oatmeal shampoo will make the dog's coat shine, feel soft and look healthy.
Giving a dog bath more than this can rob the skin of its moisture. In contrast, not giving a bath can make the the fur feel gross and encourage tick or flea infestation.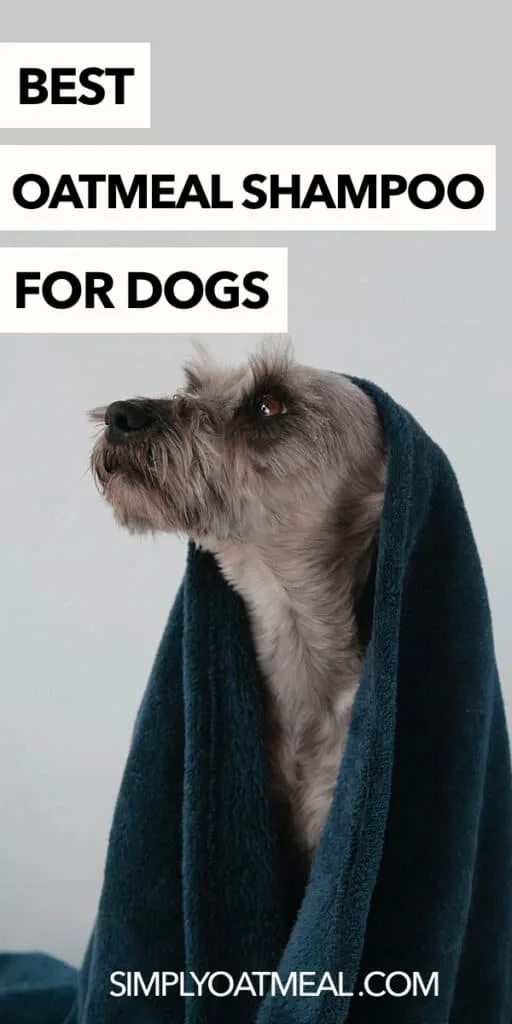 Benefits of oatmeal shampoo for dogs
Oatmeal shampoo has several health benefits for a dog's skin. It relieves itchy and dry conditions by nourishing, soothing, moisturizing, hydrating, softening, and deep cleaning the skin.
Here are some addition benefits of using oatmeal shampoo on dogs:
Relieves itchy and dry skin. Oatmeal has anti-inflammatory and antioxidants characteristics that soothes skin irritation and itching.
Soothes skin sensitivity. It soothes flaky, dry, and itchy skin. Also, eases skin redness and calms inflammation.
Moisturizes and hydrates your pet's skin. Colloidal oatmeal hydrates through a slow-release of nutrients that moisturizes the skin for a long time.
Softens and cleans the dog fur. It is an all-natural and nutrient rich ingredient that restores the shiny and healthy look to their coat.
Best Oatmeal Shampoo for Dogs
Colloidal oatmeal is a ground powder suspended in a liquid, which is an optimal ingredient for shampoo used on a dog's skin. It eases canine skin issues by soothing, hydrating, moisturizing, and cleaning it naturally.
Oatmeal shampoos give health to a dog's skin when applied as recommended on the product or as suggested by your vet. By choosing a dog oatmeal shampoo that blends other beneficial ingredients like tea tree oil, vitamin E or aloe vera, your dog's skin will look and feel even more healthy.
Check for a hypoallergenic shampoos for sensitive skinned dogs and dogs with allergies. Here are the best oatmeal shampoos for you to bathe your furry friend.