*This post may contain affiliate links. Please see my
disclosure
to learn more.
Oats and oatmeal provides a good source of carbs, fiber, vitamins and minerals. In addition to being gluten free, they contain more protein and fat than most other grains.

Furthermore, oats and oatmeal are rich in antioxidants that may help lower blood pressure levels, reduce blood sugar levels, boost heart health and aid in weight loss. As a result, oats are among the healthiest grains on earth.

Here are 8 research-supported health benefits of eating oats and oatmeal.
What Are Oats and Oatmeal?
Oats are a whole grain food that is scientifically known as Avena sativa. Oats are initially processed to remove the inedible outer shell.

A de-hulled or de-husked oat kernel is called the oat groats. This is the most intact form of the edible grain.

Oat groats take a relatively long time to cook, about an hour. As a result, oat groats are further processed into steel cut, rolled, quick, Scottish and instant oats. Each variation has a different appearance, consistency and cooking time.
Oats are most commonly eaten either hot or cold for breakfast and are often referred to as porridge.

Cooked oats contain viable nutrition, but overnight oatmeal retains the raw qualities. The recent popularity of overnight oats has caught on because the preparation is easy and also tastes delicious.

In addition, whole oats and ground oat flour are used to make cake, cookies, bars, granola and muffins. Oats are a whole grain staple that has found its way into baked goods, breakfast cereal and also porridge.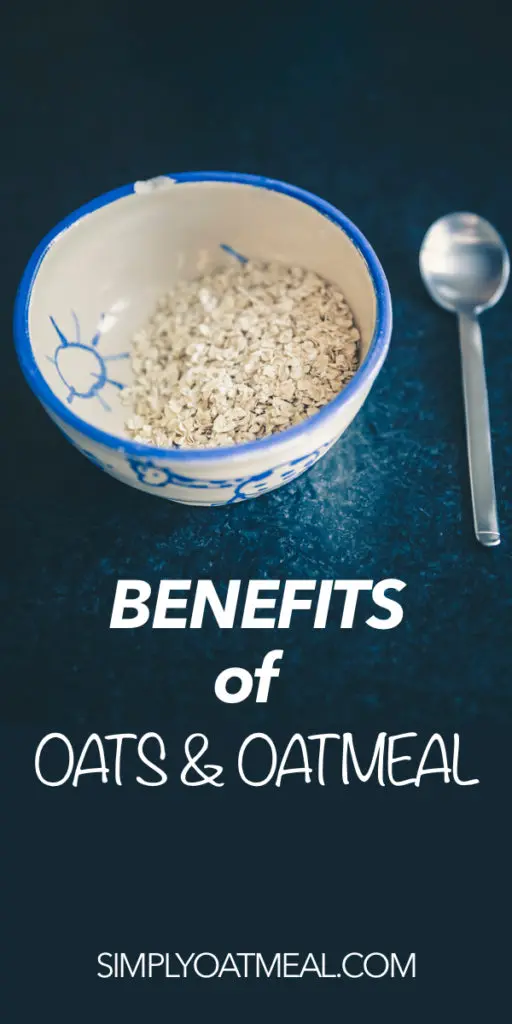 1. Oats Are Extremely Nutritious
Oats are a well-balanced source of nutrition that naturally contains be fat and protein. [1]

Furthermore, oats and oatmeal are a fiber rich food that contains both soluble and insoluble fiber, including the powerful beta-glucan. [2] [3] [4]

Oats are packed full of plant-based essential vitamins, minerals and antioxidant compounds. Half a cup (78 grams) of dry oats contains [5]:
Calories 303 or 15% of the RDI
Total Fat 5 g or 8% of the RDI
Total Carbohydrates 55 g or 17% of the RDI
Dietary Fiber 8 g or 33% of the RDI
Protein 13 g or 26% of the RDI
Vitamins
Folate 43 mcg or 11% of the RDI
Vitamin B1 (thiamin): .6 mg or 39% of the RDI
Vitamin B3 (niacin) .8 mg or 3.5% of the RDI
Vitamin B5 (pantothenic acid): 1 mg or 10% of the RDI
Vitamin B6 (pyridoxine) .1 mg or 5% of the RDI
Minerals
Calcium: 42 mg or 4% of the RDI
Copper: .5 mg or 24% of the RDI
Iron: 3.7 mg or 20% of the RDI
Magnesium: 138 mg or 34% of the RDI
Manganese: 3.9 mg or 191% of the RDI
Phosphorus: 408 mg or 41% of the RDI
Potassium: 335 mg or 10% of the RDI
Zinc: 3.1 mg or 20% of the RDI
Oats are plentiful in fat, fiber and protein. In addition, they contain a wide range of essential vitamins and minerals. As a plant-based food source, oats and oatmeal are among the most nutrient-dense whole grains you can eat.
2. Oats and Oatmeal Are Rich In Antioxidants
Whole grain oats contain a wide range of antioxidants and beneficial plant compound called polyphenols. Amount the more than 20 antioxidants are a unique group called avenanthramides, which are only found in oats. [6]

Avenanthramides have demonstrated anti-inflammatory and anti-itching properties, along with the possibility to help lower blood pressure by increasing the bodies ability to produce nitric oxide. The gas expands blood vessels and allows for increased blood flow throughout the body. [7] [8] [9]
3. Oats Contain Beta-Glucan Fiber
Oats contain a large amount of the soluble fiber beta-glucan.

Beta-glucan only dissolves partially in water. It naturally forms a thick gel-like substance in the gut and intestines.

The overall benefits provided by beta-glucan fiber include:
Oats are high in the soluble fiber beta-glucan. The benefits include the ability to help reduce cholesterol and blood sugar levels, promote healthy bacteria in the digestive tract and also extend the feeling of fullness.
4. Oats Can Lower Cholesterol Levels
One of the major risk factors for heart disease is high blood cholesterol. Studies have demonstrated that beta-glucan fiber can lower blood cholesterol levels, including LDL cholesterol. [14]

LDL cholesterol reacts with oxygenated free radicals, which causes inflammation in the arteries that damages tissues. This leads to the progression of heart disease like heart attacks and strokes.

Beta-glucan may help to reduce cholesterol in the blood. Researchers believe that antioxidants functions with vitamin C in oats to prevent the oxidation of LDL cholesterol. [15]

Oats may lower the risk of heart disease by reducing both total and LDL cholesterol. In addition, the antioxidants have demonstrated the ability to protect LDL cholesterol from oxidation.
5. Oats Can Lower Blood Sugar Levels
Type 2 diabetes is a common disease connected with significantly higher blood sugars usually caused by decreased functionality of the hormone insulin.

Oats may help to lower blood sugar levels, especially in people who are overweight or have type 2 diabetes. Studies have proven that oat products are encouraged to manage glycemic responses. [16] [17] [18]
Oats have also demonstrated a beneficial effect on glucose control and insulin sensitivity. [19]

Each of these effects are mainly attributed to the ability of beta-glucan to form a thick gel within the gut. This reaction slows the metabolic process of emptying the stomach and therefore delays absorption of glucose into the blood stream. [20]

The soluble fiber beta-glucan within oats may help lower blood sugar levels by reducing glucose levels and insulin sensitivity.
6. Oats Benefits Weight Loss
Not only is oatmeal very filling, but it may also help you lose weight. Oats are a fiber rich whole grain food that increases the feeling of fullness for a longer period of time. [21]

Because the beta-glucan delays the stomach emptying process, oatmeal may increase the full feeling for a longer duration, therefore, helping to regulate your appetite. As a result of eating filling foods, you can increase weight loss due to consuming fewer calories. [22]
Beta-glucan may also stimulate the release of the hormone peptide YY (PYY), which produces a response to eating in the gut. The discharge of PYY hormone helps to regulate appetite and thereby decreases the risk of obesity. [23] [24]

By slowing down the stomach emptying process, oatmeal may help you lose weight by making you feel full for an extended timeframe. The increased production of the hormone PYY helps to promote satiety.
7. Oats May Help Relieve Constipation
Many people suffer from symptoms of constipation, especially the elderly. The prevalent indicators are infrequent or irregular bowel movements that are uncomfortable to pass.

Although laxatives are often used to relieve constipation they're also associated with higher levels of weight loss that affect the quality of life. [25]

Laxative treatment is often used without consideration for overall gut health. Studies suggest that oat bran may help relieve constipation. [26] [27]
One trial used elderly patients to demonstrate the use of oat bran as a substitute for laxatives. The patients were served soup or dessert containing oat bran for 12 weeks.

As a result, 59% of the test group was able to stop using laxatives by the end of the study. The control group increased laxative usage by 8%. [28]

Studies show that oat bran can help reduce constipation in some individuals. As a result, one may be able to reduce the need to use laxatives.
8. Oats Benefits For Skin Care Routine
There is definitely no coincidence that oats are found in a number of highly rated skin care products. From anti-itch to inflammation relief, there are numerous benefits that oats provide for the skin.

Brand name labels often list finely ground oats as "colloidal oatmeal." The FDA approved colloidal oatmeal as a skin-protective substance back in 2003.

The fact remains that oats have been used for a longtime as a topical skin care treatment for a variety of skin problems like acne, inflammation, itch, and irritations. [29] [30] [31]
In fact, an oatmeal bath is a recommended treatment to help sooth inflammation from poison oak. Furthermore, inflammatory skin conditions like eczema may be improved by colloidal oat-based skin care products. [32]

Body care benefits are only applied to oats used as a topical treatment, not to oatmeal that is eaten.

Truth be told that colloidal oatmeal, or finely ground oats, have a long history of being used to help treat dry and itchy skin. From acne to inflammation and irritation, oats may help relieve symptoms of various skin conditions.
The Bottom Line
Oatmeal is known for its abundance of nutrients and imparts many health benefits. Some nutritional benefits of oats include a lower chance of developing heart disease, weight loss, and lower blood sugar.

Not only are oats filled with the vitamins, antioxidants, fiber, and minerals a body needs, but they are also gluten-free.
Oats are less fattening than other grains. They have also been linked with lowering cholesterol levels and keeping bad cholesterol (LDL) from undergoing oxidation, a process that brings you one step closer to a heart attack or stroke.

They are also filling, helping those trying to shed weight and control their eating. Furthermore, oats can help those with diabetes or excess weight by lowering blood sugar levels.
How To Easily Add Oats In Your Diet
There are several ways to successfully incorporate oats into your diet. The most common way is to simply eat oatmeal porridge for breakfast.

Here is an easy way to make healthy oatmeal:
½ cup (48 g) of steel cut oats
1 cup (250 ml) of water, milk or dairy-free alternative
A pinch of salt

Combine the ingredients in a pot and bring to a boil.
Reduce the heat to a simmer, and then cook the oats for 15-20 minutes or until soft. Stir the oatmeal occasionally while cooking.
Another popular option to consider is overnight oats.

Here is the simplest way to make overnight oats:
½ cup (48 g) of rolled oats
¾ cup (250 ml) of water, milk or dairy-free alternative
A pinch of salt

Combine the ingredients in a overnight oats container.
Mix well and then seal the jar.
Place in the refrigerator for 12-16 hours.
Add more liquid if desired, and serve either hot or cold.
To make oatmeal tastier and even more nutritious, add cinnamon, dried or fresh fruits, nuts, seeds, yogurt or your favorite oatmeal toppings.

In addition, oats are often included in baked goods like bars, bread, cakes, cookies, granola and muffins.
Although oats are naturally gluten-free, they may be contaminated with gluten during the harvest or processing if other grains that contain gluten use the same equipment.

If you experience celiac disease or gluten sensitivity, then only select oat products that are certified as gluten-free. This will reduce the risk of facing an undesirable response.
Nowadays, it's important to note that few people experience a similar response to gluten intolerance after consuming oats. Oats side effects have been examined and denoted as a possible allergic reaction.

If you experience a similar reaction, then consult a physician and seek expert advice.
What are the benefits of oats and oatmeal?
Oats provide valuable nutrition and can be a great addition to a healthy diet.
Eat oats in baked goods like cookies and muffins, pancakes, or simply as a serving of oatmeal porridge for breakfast.
Oats are packed with essential vitamins, minerals and antioxidants.
Oats contain more fiber and protein compared to many other grains, consider adding them to smoothies for a healthy upgrade.
Oats contain unique beneficial plant compounds including the soluble fiber beta-glucan and also the antioxidant avenanthramides.
Benefits include lower blood sugar, reduced cholesterol levels, improved heart health, treatment for skin irritation and constipation relief.
Furthermore, they provide a prolonged feeling of fullness that may promote healthy weight loss due to the increased soluble fiber content.
As a result, oats and oatmeal are among the healthiest foods you can eat as part of a well-balance diet.