*This post may contain affiliate links. Please see my
disclosure
to learn more.
Want to make oat milk that tastes like Oatly? With just 4 ingredients, a blender and 5 minutes of prep time, you can make Oatly copycat that is tastes fresh and is way cheaper than the brand name product.
Oat milk has become an incredibly popular as a dairy free alternative beverage. With this booming trend, brands like Oatly have seen unbelievable grow in a relatively short amount of time.
So, how do you make homemade oat milk that tastes like Oatly? To make oat milk that taste like Oatly, you must blend in a neutral flavored oil for the added smooth and creamy taste. Blend a cup of oats with four cups of water and a pinch of salt, filter the liquid to separate the oat pulp from the oat milk to finish the Oatly copycat recipe.
In this article, we will discuss everything you need to know about making oat milk that taste just like Oatly. Harness the power of homemade with this tasty recipe imitation.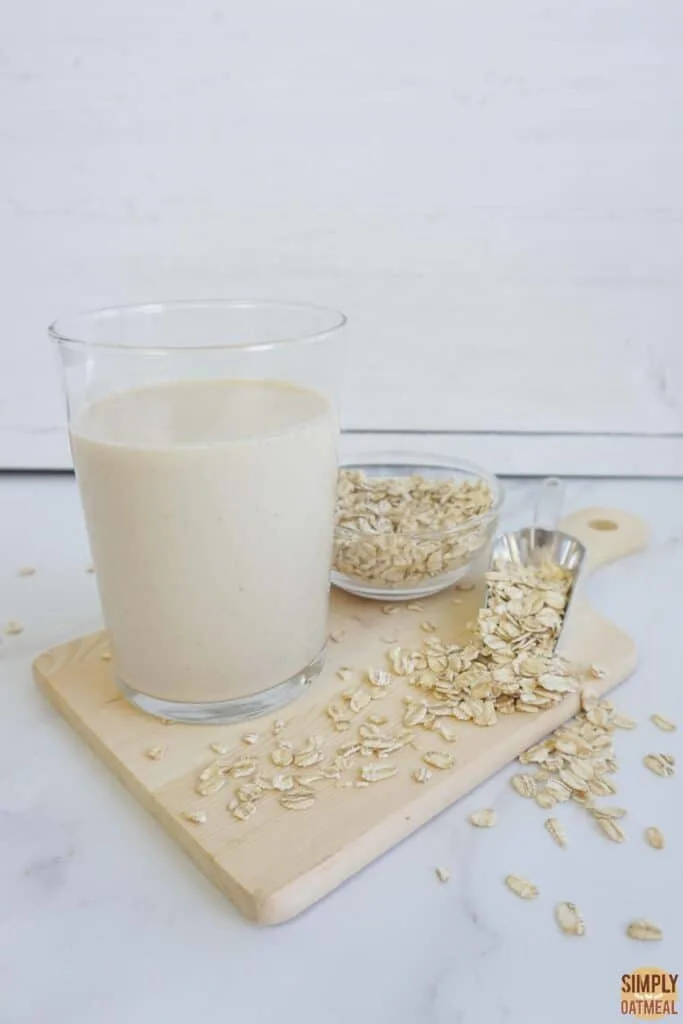 What is oat milk?
Oat milk is a vegan beverage that is dairy free, lactose free, nut free and soy free. It has become quite popular as an alternative to consuming cow's milk.
Make oat milk by blending oats with water, then straining the liquid to separate the remnant pulp from the smooth and creamy oat milk.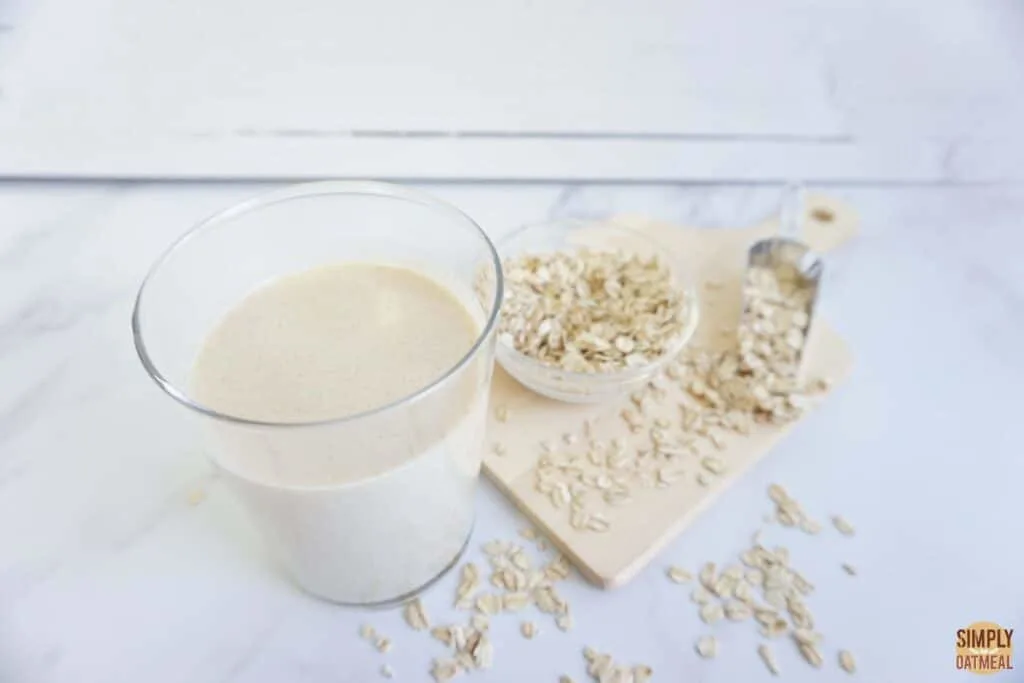 What is Oatly?
Commercial manufacturers have hopped on board with the trend to make different brands of oat milk that are fortified vitamins and minerals, and come in sweetened and flavored varieties. There are numerous brand name products, but a clear leader in the niche market is the company Oatly.
Oatly makes plain, chocolate, low-fat and a barrister edition oat milk that is foamable and does not separate when added to hot beverages. They have also added= oat yogurt and oat ice cream, check out the Oatly website for a full list of products and flavor options.
DIY Oatly Oat Milk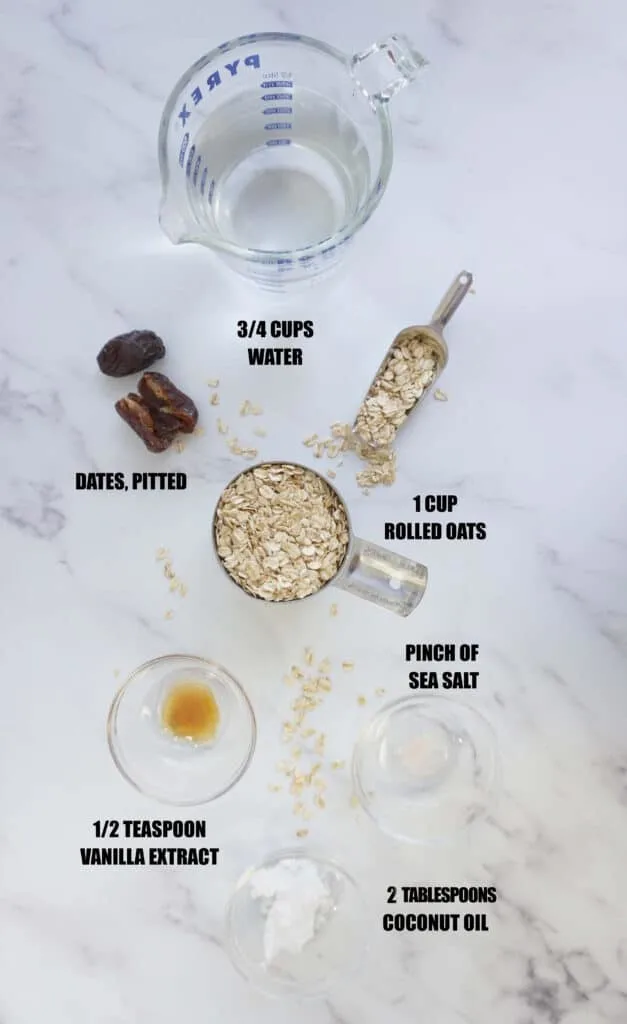 We used whole natural ingredients in this Oatly copy cat recipe. That being said, you will notice that in the ingredients we added 2 pitted dates for natural sweetness instead of adding refined sugars.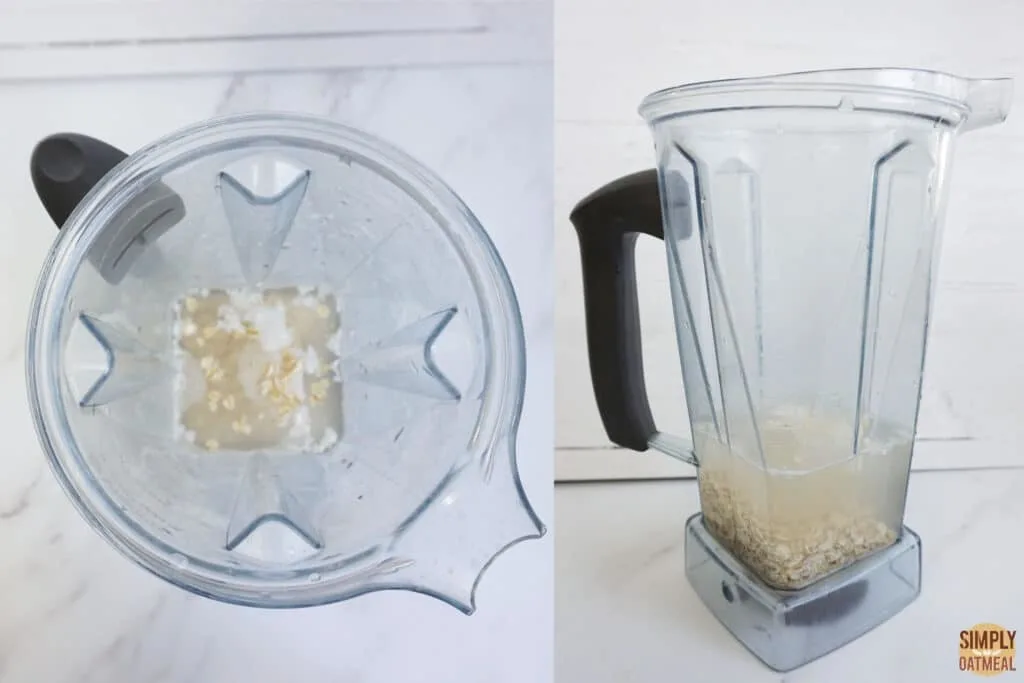 Next step is to blend all the ingredients in a high speed blender. Pulse for about 20 to 30 seconds as over blending can result in a slimy texture.
Oats have a high starch content that can be affected by over mixing. You want the oats to be pulverized, but if it gets too fine than the pulp will pass through the strainer and end up in the oat milk.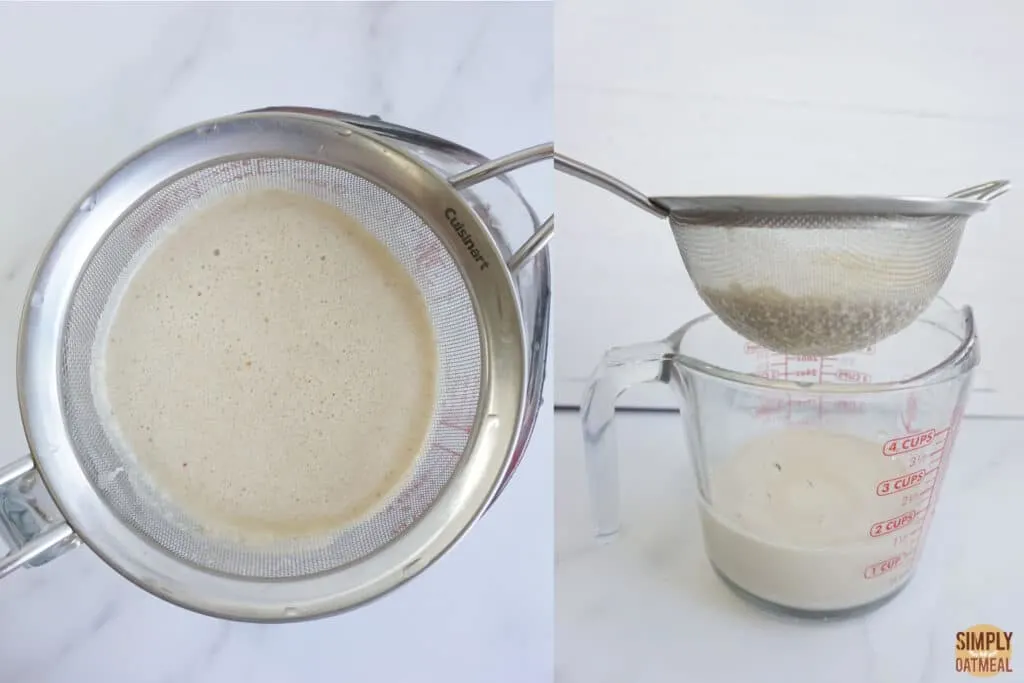 Lastly, strain the oat milk for a smooth and creamy mouthfeel. We found filtering through a clean cloth traps much of the oat sediment that leaves a gritty taste in the beverage.
Strain through a fine mesh to capture the bulk of the pulp, then pass the liquid through a nut bag or clean cloth to finish. Don't squeeze too hard and let the oat milk drain through the strainer naturally for best results.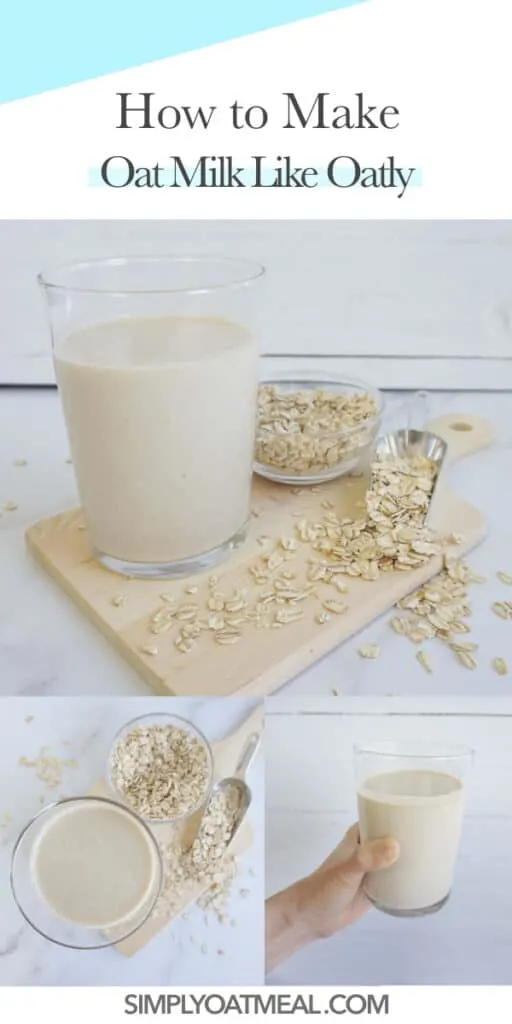 Tips For Making Oat Milk That Tastes Like Oatly
Manufactured products tend to have added ingredients that you might not necessarily put in if you were making the same thing at home. The additive preservatives are meant to make the product shelf stable, last longer and hold freshness for extended amounts of time.
When you make oat milk at home, you do not need to add the extras. Furthermore, the natural taste is much fresher and stronger as you know exactly when it was prepared and put away in the fridge.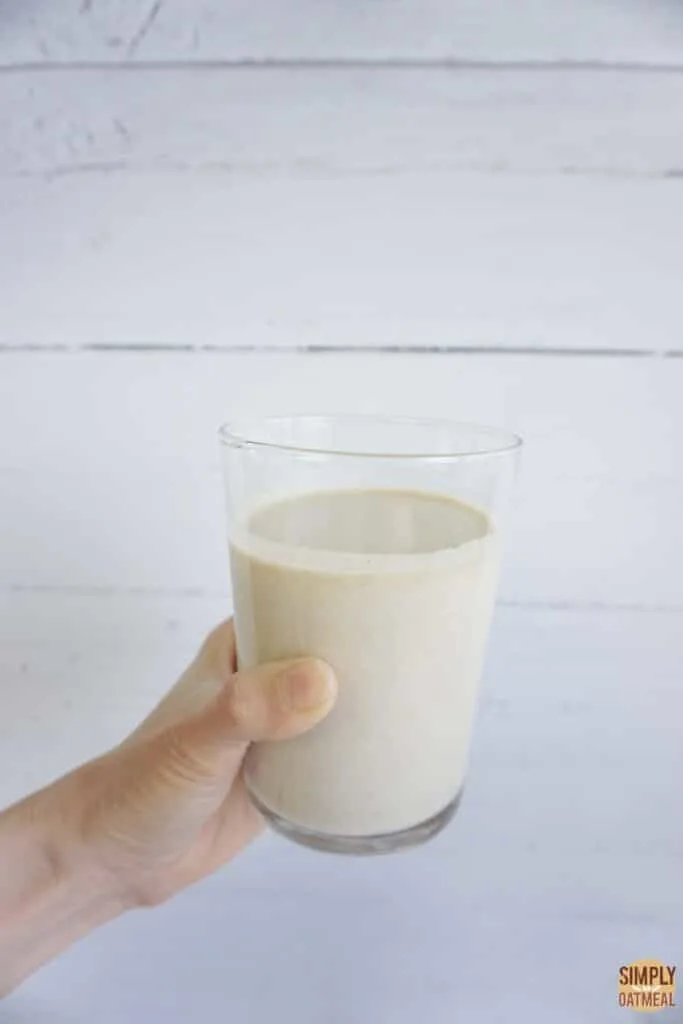 Here are a few tips to consider when making homemade oat milk like Oatly:
Oats: The best type of oats for making oat milk is rolled oats. Rolled oats have already been steamed and flattened with large pins, therefore that are easier to pulverize in a blender. Steel cut oats are very hard and dense to fully process in a household appliance, which is why they are not recommended for this application. Quick oats are tiny bits and fragments that result in a slimier texture when the oat milk is completed.
Oil: A neutral flavored oil is added to oat milk for a rich, creamy and fatty taste to the beverage. In general, canola or rapeseed oil are commonly used for their impartial taste and affordable cost. If you don't care for using canola, then pick an alternative like avocado, coconut or walnut oil, but do count of some residual flavor being passed onto the taste of the oat milk. You can also make oat milk without oil, however it will lack the rich buttery flavor that is present in Oatly oat milk.
Separation: Oatly adds dipotassium phosphate as an acidity regulator that helps to prevent the oat milk from separating. The food additive acts as a buffering agent that regulates the ph levels in the beverage.
Boiling: Oats are a starch dominant food item, therefore the liquid has a tendency to thicken when heated to boiling temperatures. You can boil oat milk, but the results will be a saucy, gravy like consistency.
Frothing: The oat drink will froth up and foam when blended or shaken vigorously. The formable beverage will not hold the suspension for very long because there are no additive ingredients that extend the duration as is present in manufactured products.
Flavoring: Add ingredients before blending to make flavored oat milk like berry, chocolate, vanilla, cinnamon, or any combination of tastes you enjoy.
Gluten free: Even though oats really are gluten free, it is recommended to use wheat free certified oats. Grains are commonly harvested and processed on shared equipment, therefore cross contamination is prevalent. To mitigate this risk, gluten free oats are processed and packaged with wheat free machinery.
Cost: At $5 for half gallon, the cost of buying oat milk is extremely high. When you make oat milk yourself, count on a price of about $1 per half gallon.
Storage: Oat milk is a perishable food that must be kept inside an airtight container in the fridge. When properly stored, homemade oat milk will last about 5 days, that is if you don't drink it all before then.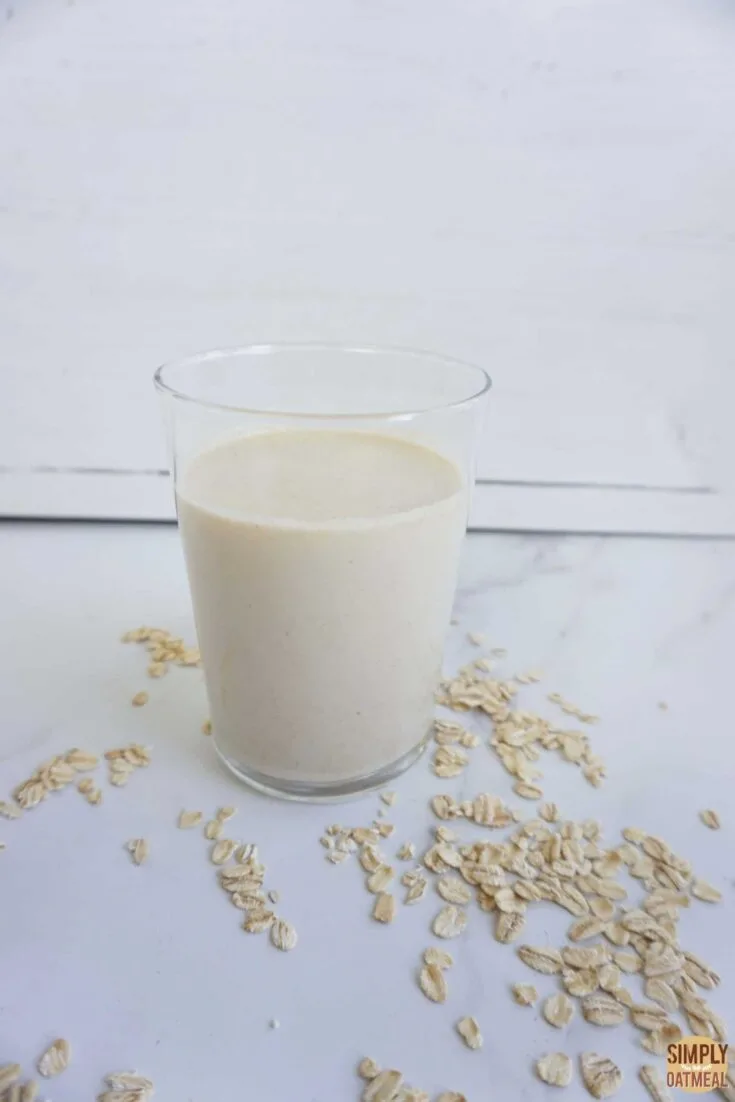 Yield:

4 cups oat milk
How to Make Oat Milk Like Oatly
If you want to make Oatly copycat, then this oat milk recipe is for you. Blend up a batch of Oatly copycat oat milk and store it in the fridge for a dairy free milk alternative that you can .
Ingredients
Oatly Oat Milk Copycat Recipe
1 cup oats
2 tbsp canola, avocado, coconut or avocado oil
3-4 cups water
Pinch of sea salt
½ teaspoon vanilla extract (optional)
Sweetened Milk
1-2 tablespoons sweetener (optional)
Chocolate Milk
1-2 tablespoons cocoa powder (optional)
Berry Milk
Instructions
Add rolled oats, oil, water, salt and oat milk flavorings to a high speed blender. Fasten the lid tightly and cover with a towel to prevent splashing. Blend on high speed for 30 seconds to pulverize the oats into the water.
Use a tasting spoon to take a small sample to check the taste and sweetness of the beverage; adjust if needed.
Pour the liquid through a fine cloth into a pitcher or large bowl to strain the oat pulp from the oat milk.
Transfer the oat milk to an airtight storage container and keep in the fridge for up to 5 days. Shake well before serving to reconstitute the emulsion if the oat milk has separated.

Nutrition Information:
Yield:
8
Serving Size:
1
Amount Per Serving:
Calories:

118
Total Fat:

6g
Saturated Fat:

3g
Trans Fat:

0g
Unsaturated Fat:

2g
Cholesterol:

0mg
Sodium:

62mg
Carbohydrates:

15g
Fiber:

3g
Sugar:

5g
Protein:

2g