*This post may contain affiliate links. Please see my
disclosure
to learn more.
Make a simple homemade oat cream using 4 ingredients (rolled oats, coconut oil, water and salt). The oat milk creamer is thick, frothy and stable, making it the perfect addition to coffee, tea or even when used as a dairy free alternative for soups, sauces, desserts and so much more! Additionally, the recipe is vegan, gluten free and contains zero refined sugars!
Whether you want to eliminate additive ingredients, control added sugars or cut the cost of spending on expensive brands, there are many reasons to make DIY oat milk creamer at home. If you are into dairy free milk, then this oat cream is a perfect addition to your coffee creamer arsenal.
In the recent years, oat milk has become one of the most popular vegan beverage options as it is dairy free, lactose free, gluten free, nut free and soy free. The trend has grown rapidly, and there are even brands that feature 'barista' editions with fancy flavorings that are designed to withstand high heat and froth for that perfect latte.
I prefer to avoid the additive ingredients and artificial flavorings, so I make things are home as much as possible so that I can have control over the ingredients.
If you have ever made oat milk like Oatly, then this oat creamer recipe will be right up your alley.
How to make oat milk creamer? Combine a ½ cup of rolled oats with 1 cup of water, 3 tablespoons coconut oil and a pinch of salt in a high speed blender. Blend on high speed for 20 seconds, then filter the liquid through a fine strainer to make homemade oat cream.
The 5 minute, 4-ingredient oat creamer recipe is super easy to make and tastes exceptionally fresh without any additives or preservatives.
This guide includes everything you need to know about making oat cream. Customize the base recipe with add-ins for a sweet or savory twist.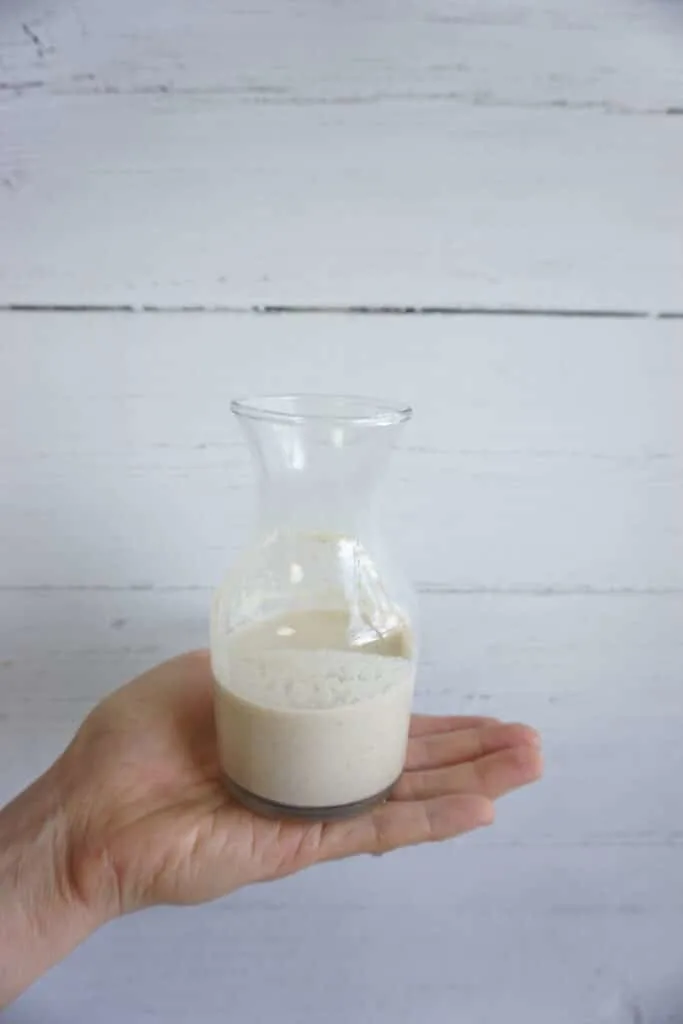 Why does oat cream need oil?
Manufactured oat milk creamers all contain oil, so you may have wondered why it is added. In fact, oats do have fat as part of there nutritional value, but it is much less than the fat content of heavy cream.
To make a comparable product, oil must be add to the oat creamer to give a thick, creamy and frothy consistency. This oat milk creamer recipe contains only 4 ingredients, and takes just a few minutes to whip together.
The final result is an oat based coffee creamer that froths up wonderfully in how beverages drinks AND also tastes super creamy when added to savory dishes! Best part of all, the rich oat cream doesn't have an 'oily' taste or texture, just absolute creaminess.
Flavored Oat Milk Creamer
When come to adding flavor to oat milk creamer, blend in your favorite spices, fruits extracts, nuts or just about any combination of tastes you enjoy.
To make flavored oat cream, add the mix-ins before blending. Buzz the additions with the oats, and then filter the pulp to be left with flavored oat creamer.
Here are a few ideas to inspire you with homemade flavored oat cream:
Sweetened: add 1-2 pitted dates
Chocolate: add 2 teaspoons cocoa powder
Vanilla: add ¼ teaspoon vanilla extract
Apple Pie: add 1 tablespoon apple butter and ¼ teaspoon apple pie spice
Banana: add ½ ripe banana
Berries: add ½ cup blueberries, strawberries, etc., only use ¾ cup water
Butterscotch-brandy: add 2 teaspoons butterscotch and 1 oz brandy
Caramel-apple: add 2 teaspoons caramel sauce and 1 tablespoon applesauce
Cardamom: add ½ teaspoon cardamom seeds
Coffee: replace the cup of water with a cup of cold brew coffee
Curry: add 1 tablespoon Madras curry powder
Lemon: add 1 teaspoon lemon zest
Maple: add 2 tablespoons maple syrup
Nuts: add ¼ cup almonds, hazelnuts, pecans, etc.
Orange: add 1 teaspoon orange zest
Peppermint: add ¼ teaspoon peppermint extract
Pumpkin spice: add 1 tablespoon pumpkin puree and ¼ teaspoon pumpkin pie spice
Toasted coconut: add 1 tablespoon unsweetened shredded toasted coconut
Turmeric ginger: add 1 teaspoon grated fresh turmeric and 1 teaspoon grated fresh ginger
Although I mostly, use this oat milk creamer for coffee, if can be used for a variety of purposes. Add to soups, sauces, baked goods or any recipe that calls for heavy cream.
If you have any exciting variations, please let me know in the comments what your favorite additions are so that I can give them a try!
Easy Step by Step Instructions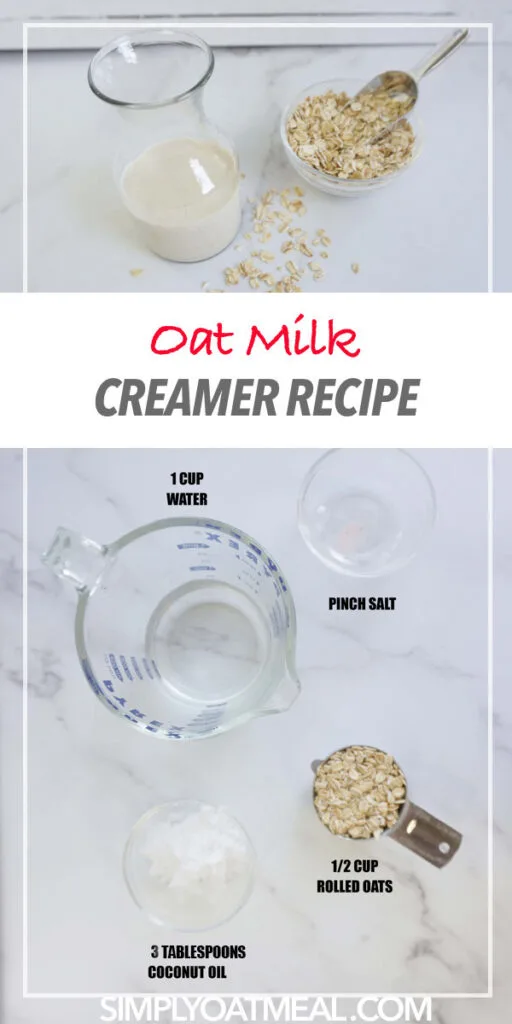 Making oat milk creamer is practically effortless and requires just two steps: blend then strain. As a result, you are left with a fresh tasting, magically delicious creamer that can be used for many purposes.
Step 1: Blend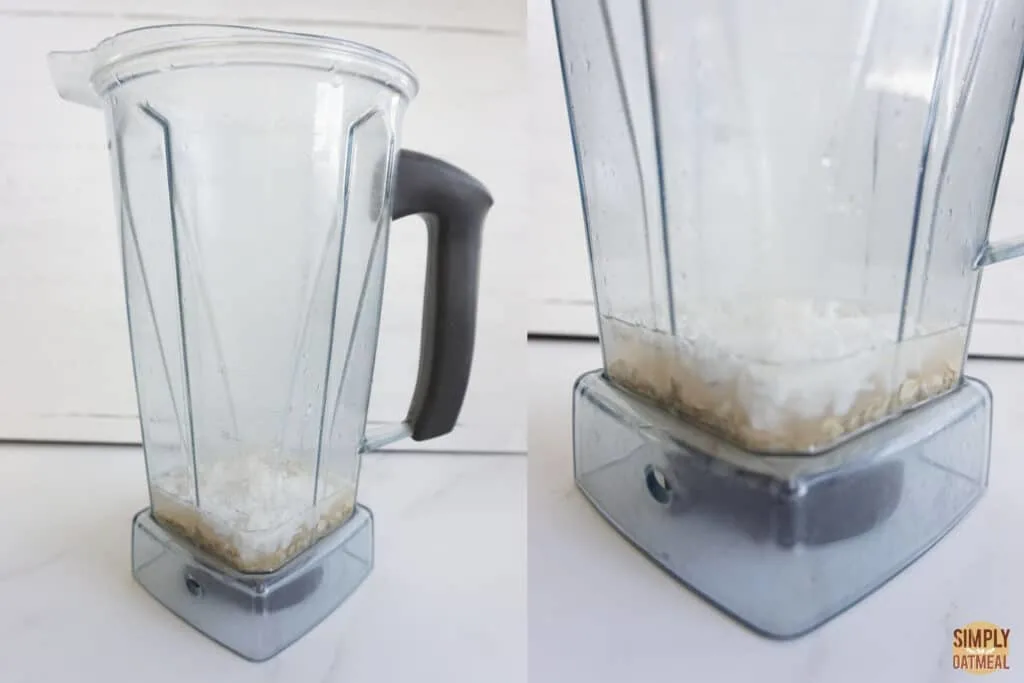 Add all of the ingredients to a high-speed blender.
Blend on high for about 20 seconds.
Alternatively, you could pulse the mixture in food processor if you do not have a blender.
For less powerful kitchen appliances, you may find it necessary to blend or pulse for 30 seconds to achieve a fine pulp.
The most important part of this step is to taste. Does the liquid have the taste a flavor you are looking for?
Adjust for sweetness or add more spice if you are making a flavored oat milk creamer. This is the best time to make adjustments to the taste.
Step 2: Strain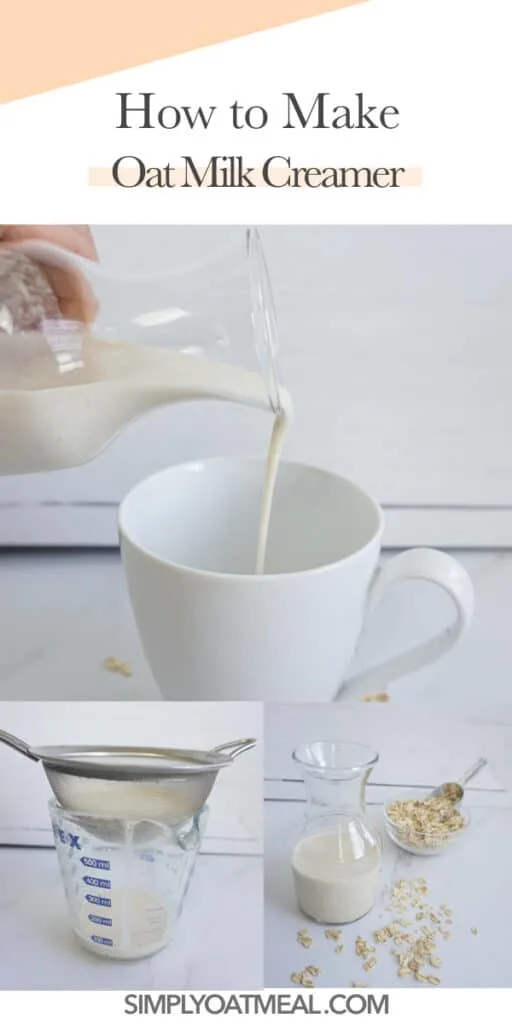 Filter the mixture through a fine-mesh sieve or nut milk bag to separate the pulp from the liquid oat cream. Do not squeeze or press the mixture as this can result in too much oat grit getting into the cream.
Squeeze gently and allow plenty of time for the liquid to naturally drain through the strainer.
When too much oat pulp gets through the filter, it has a tendency to encourage a slimy texture.
Once strained, it's ready to use immediately or transfer to a jar and store in the fridge.
How To Use Oat Cream
This cream can be used to make several tasty beverages or delicious dishes:
As a beverage creamer – hot chocolate, golden milk, chai latte, oat milk latte, mushroom latte, matcha latte and more.
Drizzle sweetened cream over desserts.
Stirred into soups and stews
Use as plant-based heavy cream alternative in any recipe.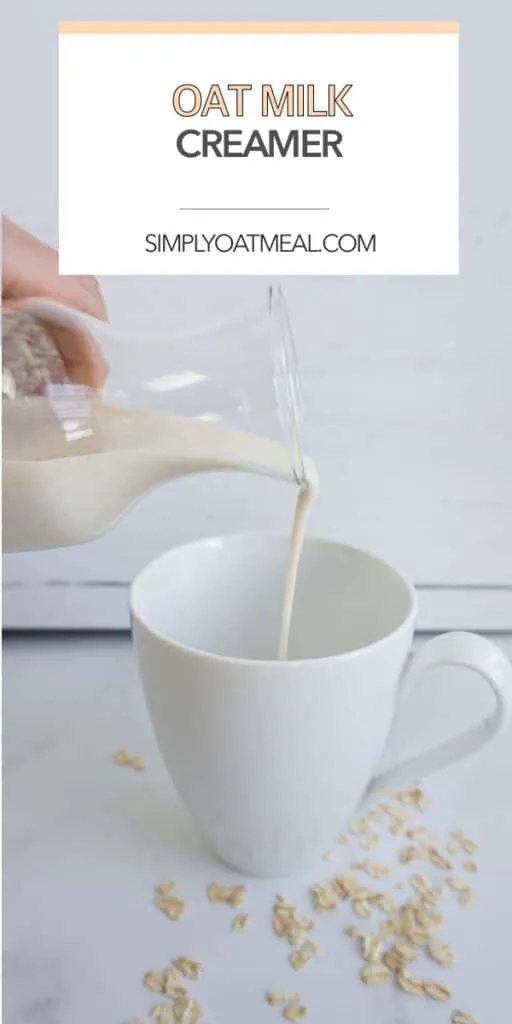 Oat Creamer FAQs
If you have questions about oat cream, these frequently asked questions may help you out:
Is it cheaper to make oat cream?
Yes, it is much cheaper to make homemade oat creamer. Oats are extremely cheap and this recipe on requires a spoonful of coconut oil.
In addition to tasting much fresher and have less additives or preservatives, diy oat cream is significantly cheaper than the store bought brand names.
What is the best way to store the oat creamer?
Leftover oat cream will stay fresh for up to 7 days if stored in an airtight container or mason jar and kept in the fridge.
Oat milk separating is quite normal when refrigerated. Shake the container or give it a good stir and the mixture should emulsify once again.
Can you freeze oat cream?
Yes, you can freeze oat milk, however oat cream is much better when fresh. The creamer will separate when defrosted and the oat sediment will sink to the bottom.
Either shake it up to emulsify the mixture, or take the opportunity to strain the sediment and remove the gritty mouthfeel.
What can you do with leftover oat pulp?
Yes, you can use the leftover oat pulp in smoothies, pancake batter or even baby food.
Additionally, you can dry out the pulp in a dehydrator or low heat oven, then grind in a blender or food processor and mix into a flour to add to baked goods.
How do you make oat creamer not slimy?
Over-blending the oat cream can give it a slimy texture. The recipe is for a small amount, therefore we only recommend blending for 20 seconds.
Do not soak the oats. Combine the oats, oil, water and salt, then blend. Soaking the oats before blending can make the oat cream slimy.
Heating oat cream can make it taste slimy, we do not recommend heating by itself. Good news: We have an oat milk without oil recipe that is perfect for frothing and heating! It uses cashews and coconuts to add thickness that is perfect for frothing!
Strain twice to remove the excess oat pulp, the extra plant tissue adds grittiness and starch that will give the creamer a slimy texture.
Strain with clean cloth, a kitchen towel or tee shirt work better than nut milk bags and fine mesh strainers. A fine cloth will trap and reserve much of the oat pulp that will inevitably add excess starch to the liquid. Avoid squeezing the mixture when straining, instead let it slowly drip to naturally filter. You're more likely to get slimy results from over squeezing.
Add a digestive enzyme, though this isn't very common, you can add a food enzyme capsule to the blended ingredients. This will help to break down the starch present in the liquid and reduce the slime factor, while simultaneously providing you with beneficial gut bacteria. Purchase a broad spectrum digestive enzyme and pure amylase enzyme to do the job.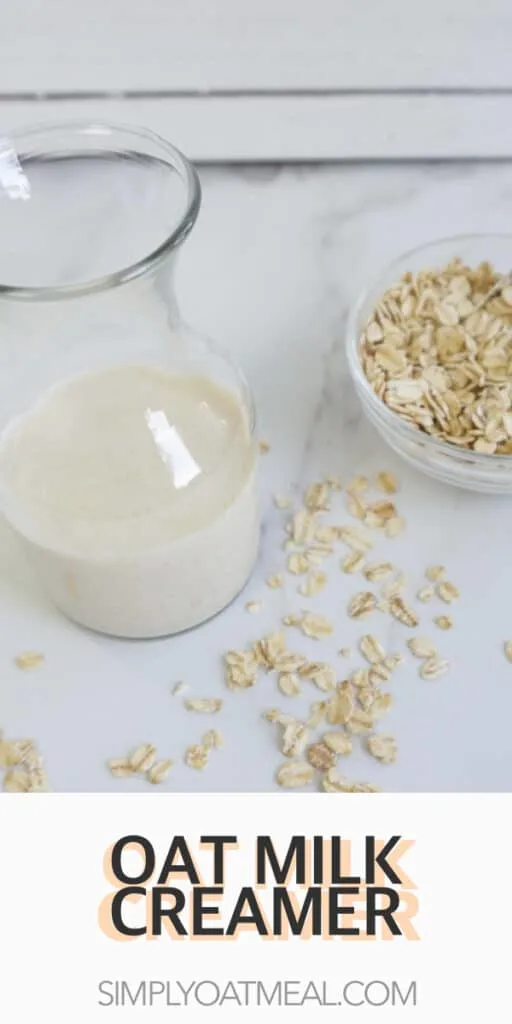 Tips For Making Oat Milk Creamer
Homemade oat creamer allows you to avoid the food additives and preservatives commonly found in manufactured brand name products. They are inputed to help maintain freshness, shelf life and the emulsion for longer stretches of time.
When you make oat cream at home, there is no need for anything extra, just pure oats, coconut oil, water and a dash of salt for taste. The end result tastes fresher and better than any store bought creamer.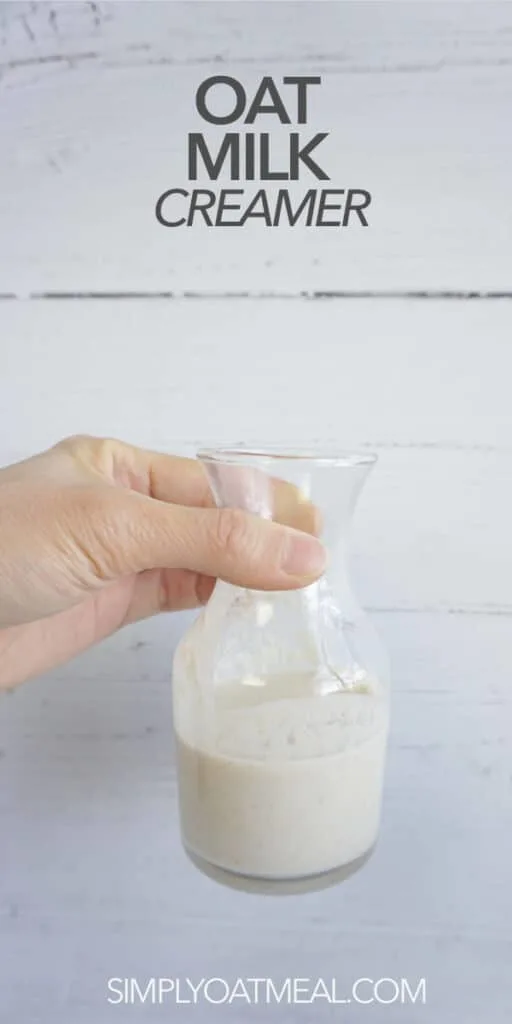 Here are a few tips to help you make the best homemade oat creamer:
Oats: The best type of oats for making oat cream is rolled oats. Rolled oats have already been steamed and rolled flat with large pins, which makes them easier to pulverize in a household blender. Steel cut oats are minimally processed and still very hard and dense. They are not recommended for blending and may damage the kitchen appliance. Using ground oats or quick oats is not recommended and it can result in over blending which leads to a slimier texture.
Oil: Neutral flavored oils are added to oat creamer to give it a rich, creamy and fatty taste. Canola or rapeseed oil are commonly used in manufactured products as they have an impartial taste and cheap price point. We prefer healthier options like avocado, coconut, grapeseed or walnut oil, but a slight flavor will be passed into the oat milk.
Water: Filtered water is preferred. If you find the results a bit too thin for your preferences, then increase the amount of oats used or reduce the water by a quarter cup.
Nuts: If you choose to add nuts to make a flavored oat creamer, then soak them in hot water for 30 minutes or in cold water for 6 to 8 hours. Do not over soak as this will make the nuts too soft and mushy. A handful of cashews will give the oat creamer and extra creamy taste.
Boiling: Oats have a high starch content, which causes the liquid to thicken when heated. You can boil the oat cream, but the results will be a thick, saucy consistency.
Frothing: The oat cream will become frothy when blended or shaken vigorously. The foam will not hold in suspension for very long, but it will provide airiness to any beverage or dish.
Flavoring: Add ingredients before blending like when making flavored oat milk such as chocolate, vanilla, berry, spice or any combination of ingredients you enjoy.
Gluten free: Oats are really gluten free, however it is recommended to use wheat free certified oats if you have celiac disease or intolerance. Oats are commonly harvested and processed on equipment that is shared with wheat, which results in cross contamination. Gluten free oats are processed and packaged using wheat free machinery.
Cost: At $4 per quart, the cost of buying oat creamer is extremely high. When you make homemade oat cream, count on a price of about $1 per quart.
Storage: Oat cream is a perishable food item that must be refrigerated. When properly stored in an airtight container, homemade oat creamer will last about 5 to 7 days.
If you try this oat milk creamer recipe, then let me know your thoughts or questions in the comments below. Also, feel free to tag me @simply_oatmeal_.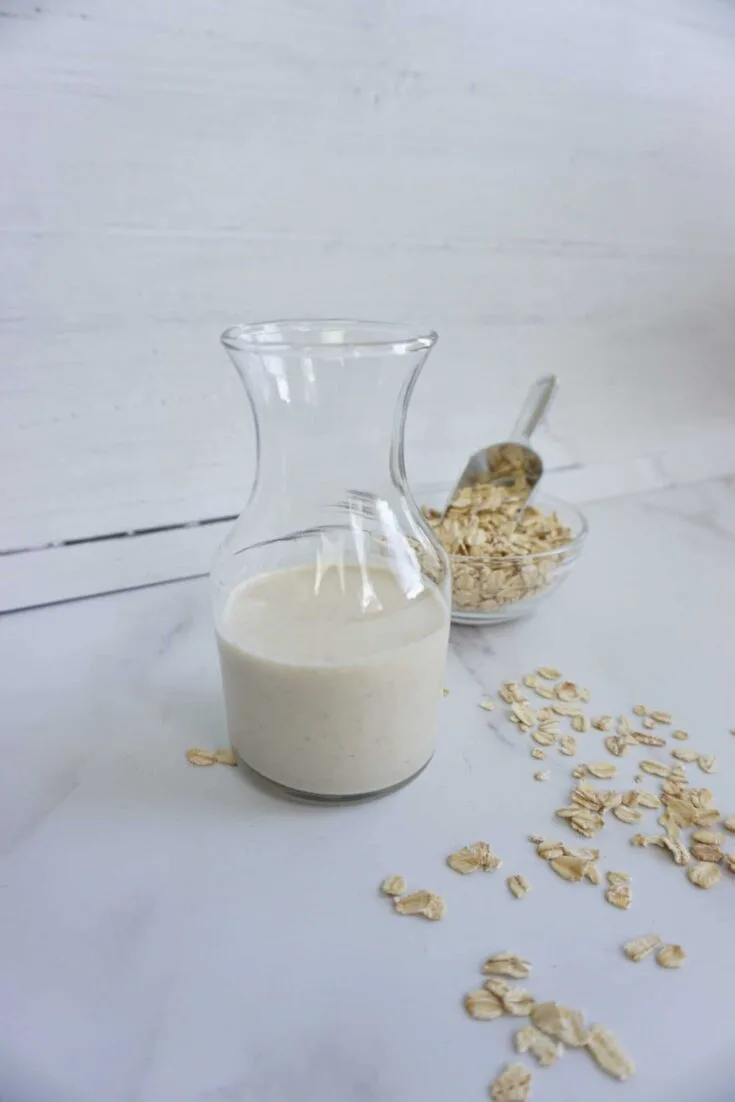 Yield:

1 cup
How to Make Oat Milk Creamer (Oat Cream)
An easy homemade oat cream using just 4 ingredients. This oat milk creamer is a perfect coffee creamer or when used as a dairy-free alternative in soups, sauces, desserts, and more!
Ingredients
½ cup rolled oats
1 cup water
3 tablespoon coconut oil (avocado, canola, grapeseed, walnut oil optional)
pinch salt
Instructions
Combine the ingredients in a high speed blender.
Blend on high for twenty seconds.
Stain the mixture once through a fine-mesh sieve, and the second time using a nut milk bag. Allow it to strain naturally and do not squeeze or press the mixture, as that can lead to sliminess.

Once strained, use immediately or transfer to an airtight container and store in the fridge. Will last up to 7 days.
Nutrition Information:
Yield:
8
Serving Size:
1
Amount Per Serving:
Calories:

65
Total Fat:

5g
Saturated Fat:

4g
Trans Fat:

0g
Unsaturated Fat:

1g
Cholesterol:

0mg
Sodium:

18mg
Carbohydrates:

3g
Fiber:

1g
Sugar:

0g
Protein:

1g