*This post may contain affiliate links. Please see my
disclosure
to learn more.
Ever order an oat milk latte at the coffee shop and wonder, "Why can't I make it this good at home?" If your answer is an emphatic yes, then this oat milk without oil is the recipe for you.
How do you make oat milk without oil? Pure oat milk is made by blending oats with water, and then filtering to separate the pulp from the liquid. This recipe uses cashews and coconut flakes to thicken the oil-free oat milk.
However, we wanted to make oat milk that is foamable, and does not separate when poured into a hot drink. Essentially, we were on a mission to make a copycat of the Oatly Barista Edition oat milk.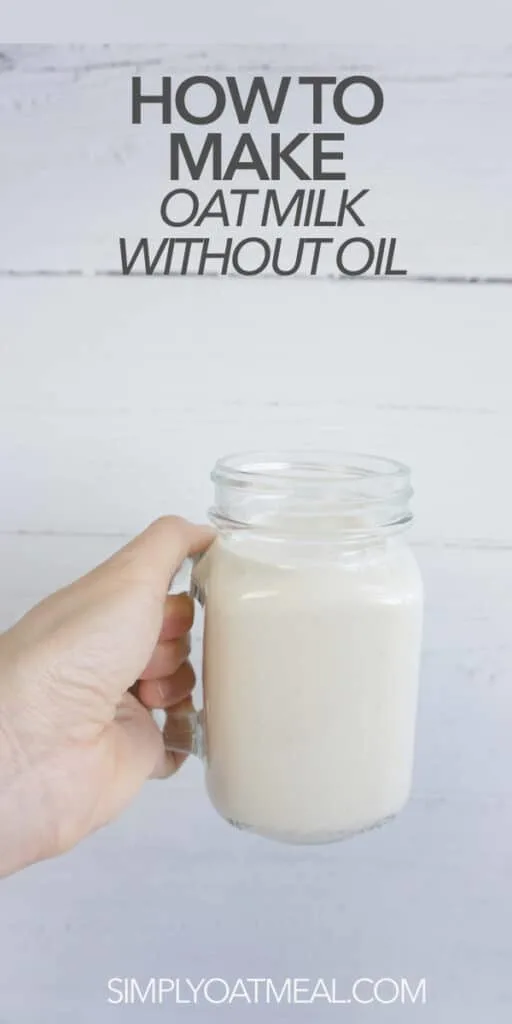 What is Oat Milk?
Blend rolled oats with water and strain the pulp from the liquid. Oat milk has grown in popularity because it is a dairy free milk that is also gluten free, lactose free, nut free and soy free.
The result is a creamy oat milk that is perfect to sip in a glass, or add to cereal, granola. or as the liquid in baked goods.
What makes this oat milk recipe different?
This recipe is formulated to foam, froth and heat up beautifully, the goal was to imitate the texture of Oatly's Barista Edition oat milk without the additives and preservatives.
The problem with plain oat milk is that it is less creamy, thickens and gets slimy when heated and also does not froth very well. You may not want a foam party in your hot tea, but that one sad latte situation.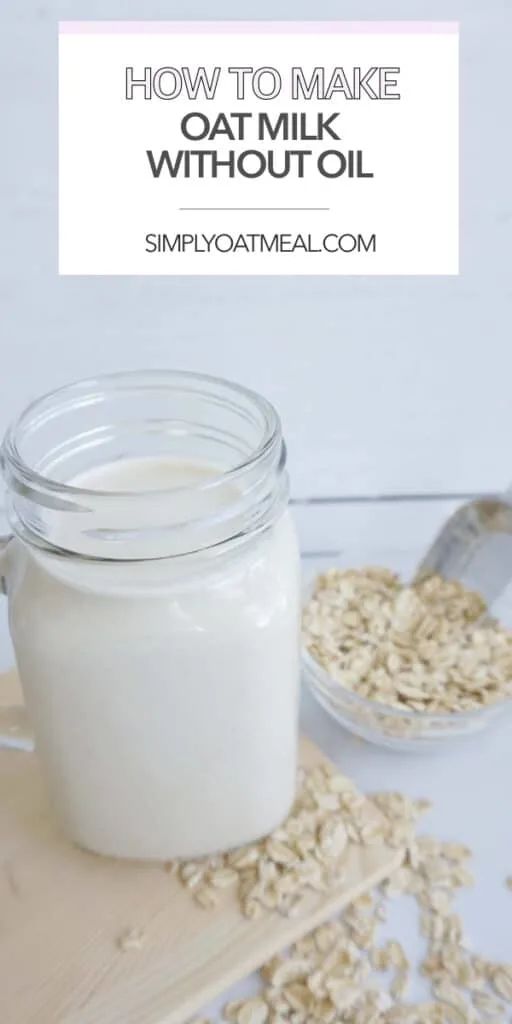 Why is Oatly Barista Edition so Creamy?
The challenge is that manufactured oat milk products contain canola or rapeseed oil to give a rich, creamy and fatty mouthfeel to the beverage, that way it resembles a similar taste and texture to whole milk. As we all learned at some point in elementary school, oil and water do not mix.
Manufactures use emulsifiers to stabilize the beverage and prevent oat milk from separating, but that doesn't work in homemade recipes.
By no means are we oil-free, but would rather avoid drinking a spoonful of oil on a regular basis. Do you also have a latte addiction?
So we put on our thinking caps to come up with a rich, creamy oat milk without oil that heats, froths and foams beautifully.
Good new: We pull it off!
How is this oat milk creamy and frothy?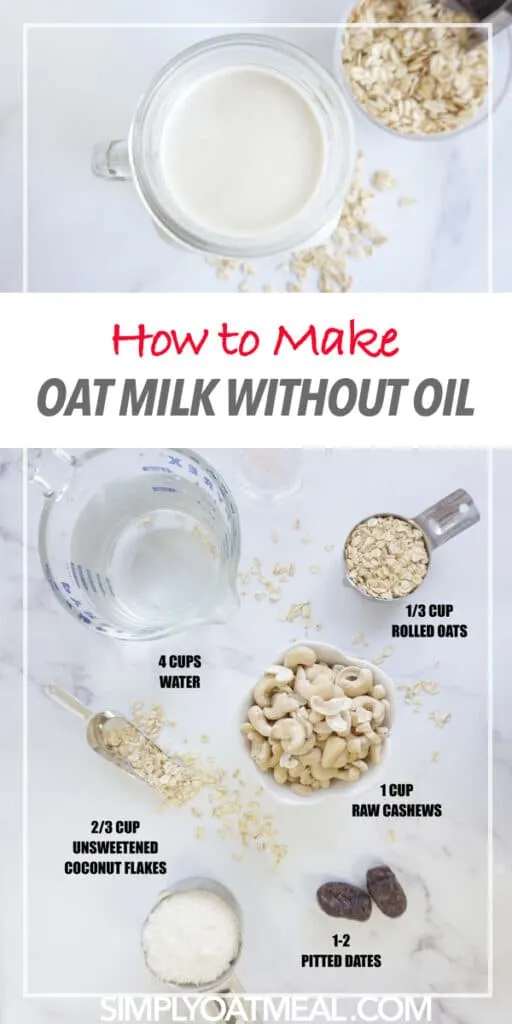 The secret to this quick, 5-ingredient recipe is a blend of fatty ingredients instead of the pure oats and water blend. The special blend of oats, cashews, and coconut makes the ultimate dairy-free milk!
Cashews give a rich, creamy base, while coconut flakes add a bit of natural sweetness, the ingredients compliment the oats with a magical combination of flavor.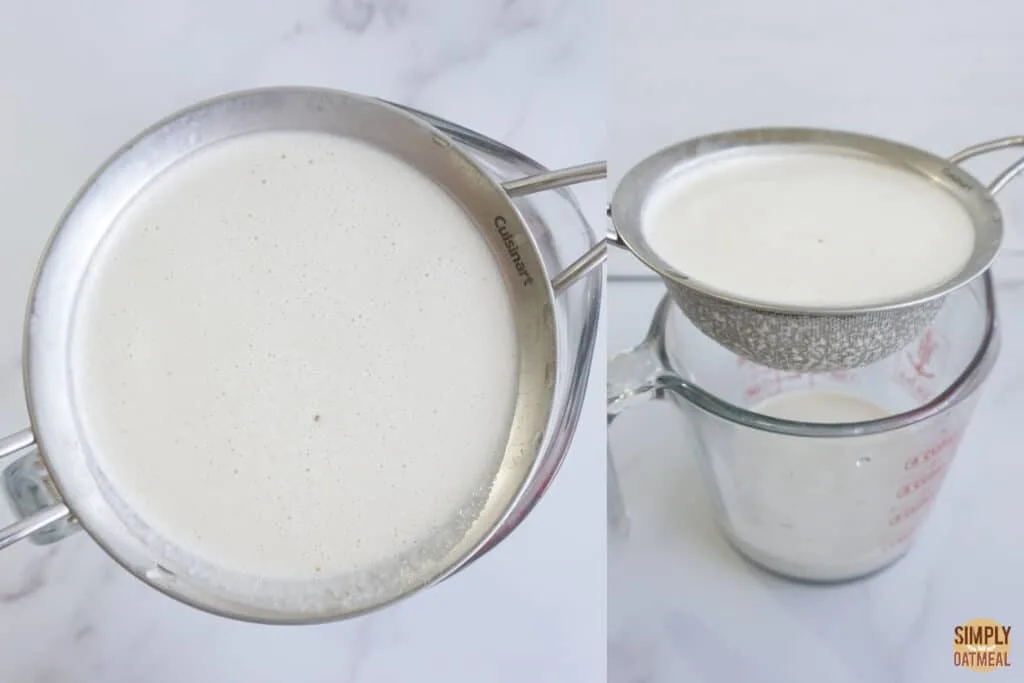 What's more? It's oil-free, takes only 5 minutes to make, and heats, foams and froths beautifully, making it the perfect coffee companion!
Blend, strain and swoon over the rich, dairy-free milk the pours from the magical blend!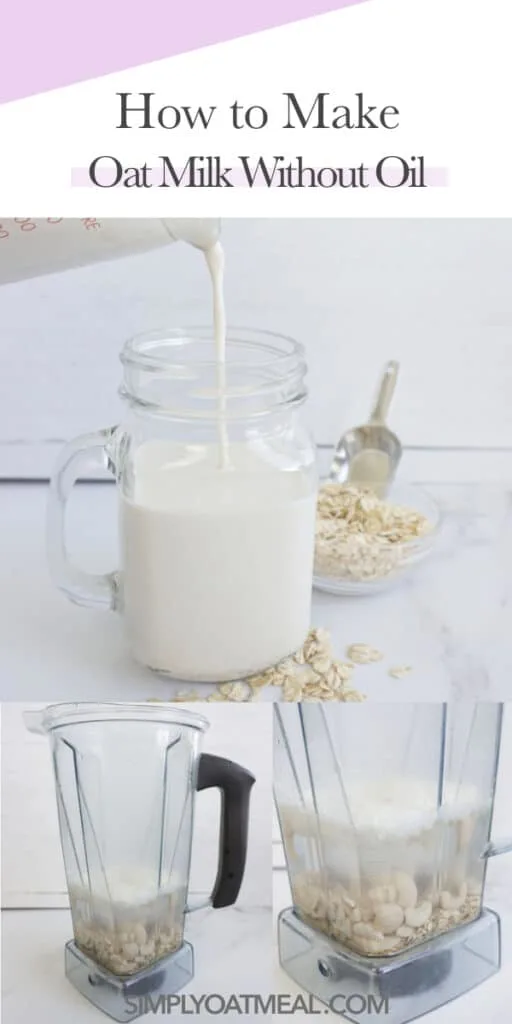 Flavored Oat Milk
To improve the flavor, we choose to add a pinch of sea salt and a pitted date for natural sweetness.
If you're looking to improvise, you can opt for flavored oat milk mix-ins like:
tablespoon of cocoa powder
handful of berries
fresh grated ginger or turmeric
Blend the ingredients into the oat milk for a flavor boost that'll take the neutral taste to the next level!
Tips For Making Oat Milk That Tastes Like Oatly
This recipe is the best way to make a oat milk with a rich and creamy taste. The blend of cashews and coconut give a nuttiness and sweetness that is unlike any other dairy-free beverage.
You will LOVE this recipe because it's:
Easy to make
Customizable
Creamy
Rich
& SO delicious
This dairy-free milk is perfect for foaming, frothing and heating. Add it to things like our Oat Milk Matcha Latte, Golden Oat Milk, Oat Milk Hot Chocolate or simple make the Perfect Oat Milk Latte!
Here are a few tips to consider when making oat milk without oil:
Oats: Rolled oats are best type of oats to make oat milk. Rolled oats are steamed and rolled flat with large pins, therefore they are not completely raw and are much easier to blend. Steel cut oats are dense and hard halved kernels, which makes them difficult to process in a household blender. Quick oats are fragmented pieces that produce a slimier texture to the finished oat milk.
Oil-free: Manufactured oat milk is commonly make with oil to give a rich and creamy taste to the beverage so that is has a similar mouthfeel to whole milk. This recipe uses cashews and coconuts to give the similar consistency and texture as the store-bought oat milk.
Separation: Manufacturers add dipotassium phosphate as an acidity regulator to emulsify the fat into the oat milk. This oat milk recipe does not have oil, therefore you have no need for the additive buffering agent to prevent the oat milk from separating.
Boiling: This recipe uses a modest amount of oats compared to a pure oatmilk recipe, which keeps the starch content to a lesser amount. By doing so, the oat milk is not as affected by heat and doesn't turn into a gravy or sauce like consistency when heated.
Frothing: This drink is perfect by itself, buzz it with a handheld milk frother and enjoy a chilled beverage! The oat drink will froth up and foam beautifully when blended or shaken vigorously.
Flavoring: Add ingredients before blending to make flavored oat milk like berry, cocoa, vanilla extract, ground cinnamon, or any combination of tastes you enjoy.
Gluten free: Whole grain oats are naturally gluten free, but it is still recommended to use certified oats to avoid cross contamination. Oats are commonly harvested and processed on equipment that is shared with wheat production, therefore cross contamination is a common concern. Avert this risk with gluten free oats that have been processed and packaged using wheat free machinery.
Storage: Oat milk is a perishable food that must be kept in the fridge. When properly stored in an airtight container, homemade oat milk will last about 5 days.
If you try this recipe, let us know how it goes! Leave a comment, tag a picture #simplyoatmeal on Instagram, and don't forget to leave a rating! It's super helpful for us and other readers. Cheers!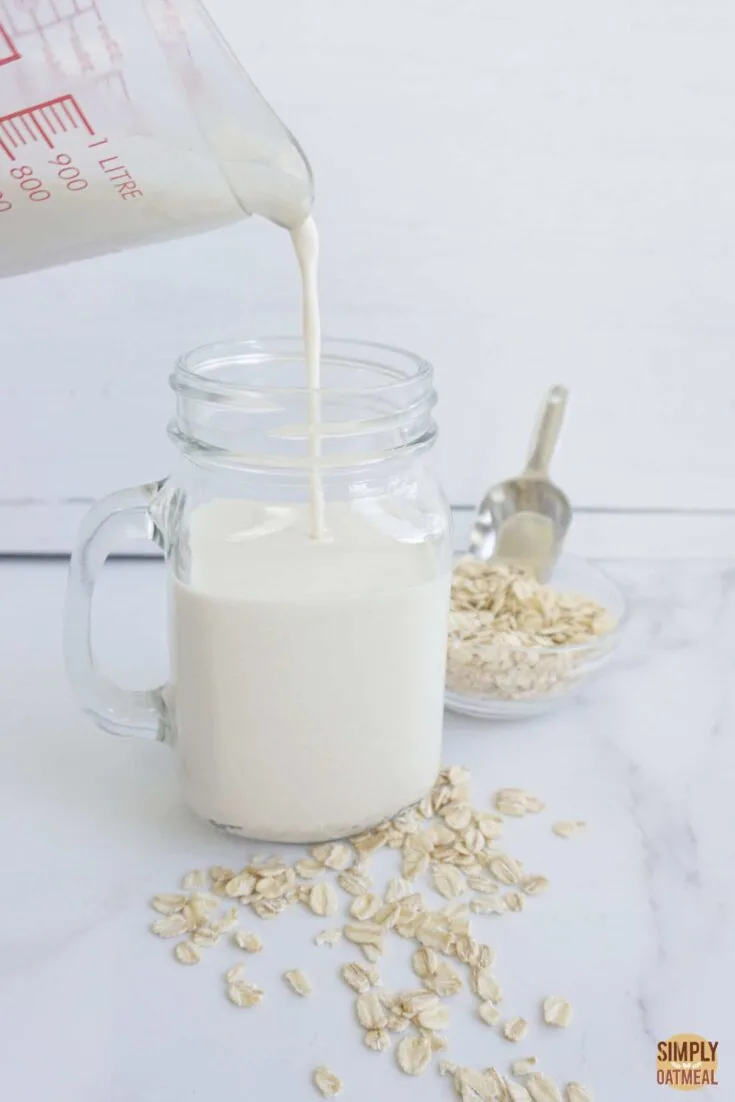 Yield:

3½ cups oat milk
How To Make Oil-Free Oat Milk
Rich, creamy, and magically delicious, this 5-ingredient dairy-free milk is made with oats, cashews, and coconut!
Our take on the Oatly Barista Edition oatmilk as this beverage foams, froths and heats making it a perfect pair for a matcha or coffee latte!
Ingredients
4 cups water
1 cup raw cashews
⅔ cup unsweetened coconut flakes
⅓ cup rolled oats
1-2 pitted dates (or a tablespoon of maple syrup)
1 pinch sea salt
Instructions
Soak cashews for 6 to 8 hours in cool water, or uncovered in hot water for 30 minutes. Do not soak for longer periods of time as this will make the cashews too soft.

Drain and rinse the cashews with cold water.
Combine the soaked cashews, coconut flakes, rolled oats, dates, salt, and water in a high speed blender. For this recipe, we used 4 cups (960 ml) water. If you prefer slightly richer, creamier milk, then only add 3 cups (720 ml) total of filtered water.

Cover the blender with lid, place a towel over the top to ensure it doesn't splash, and blend on high speed for 60 seconds.


Strain the liquid through a nut milk bag, multiple layers of cheesecloth or clean kitchen cloth into a large bowl or pitcher. Take time to squeeze really well and extract the oat milk while leaving the pulp behind.
Store inside an airtight container and keep refrigerated, the milk should last about 5 days (look and smell, then taste to see if the oat milk has gone bad.
Use this blend for foaming, frothing or heating. It is also great when served cold as a thick milk or creamer for hot or cold drinks! Enjoy fresh.

Nutrition Information:
Yield:
12
Serving Size:
1
Amount Per Serving:
Calories:

103
Total Fat:

8g
Saturated Fat:

4g
Trans Fat:

0g
Unsaturated Fat:

4g
Cholesterol:

0mg
Sodium:

17mg
Carbohydrates:

7g
Fiber:

1g
Sugar:

2g
Protein:

3g