*This post may contain affiliate links. Please see my
disclosure
to learn more.
We all have heard about regular oatmeals. But, what makes baby oatmeal different that regular oats?
The only difference is that regular oatmeal may not be recommended for babies' consumption. That's because these oatmeal variants come with a thick, rough, and coarse texture which may not be suitable for babies to digest when they are unable to chew.
For the ins and outs of oatmeal for babies, please keep reading the below section to reveal all the details about baby oatmeal.
Is it ok for babies to eat oatmeal?
Definitely, it is safe for babies to eat oatmeal. In fact, baby oatmeal is purposely designed to fulfill the appetite of growing infants.
Once they turn six months of age, you can slowly start introducing them simple oatmeal recipes. Not only will these will plain cooked oats supply a wealth of natural fibers, vitamins, minerals, fibers, and antioxidants, but these preparations will even help them to foster bone development and neurological functions.
Needless to say, regular oatmeal comprises a unique nutritional profile and that's why it should be added to your balanced diet regime. Baby oatmeal is no exception, as it offers the same level of nutrition and health benefits as similar to regular oatmeals.
What's more, oatmeal is safe to eat and they generally cause minimal allergic reactions or side effects for babies.
Plus, they are easy to digest and help in the bowel movement. Still, as a precaution, do not serve your babies complex oatmeal preparations is the beginning, instead you can serve them simple recipes like oatmeal porridge made with water.
Once they have become habituated, you can now play around with other oatmeal recipes that include more ingredients and slowly build in complexity. In this way, it will retain a balance of their tastebuds and also provide them a significant source of nutrition benefits.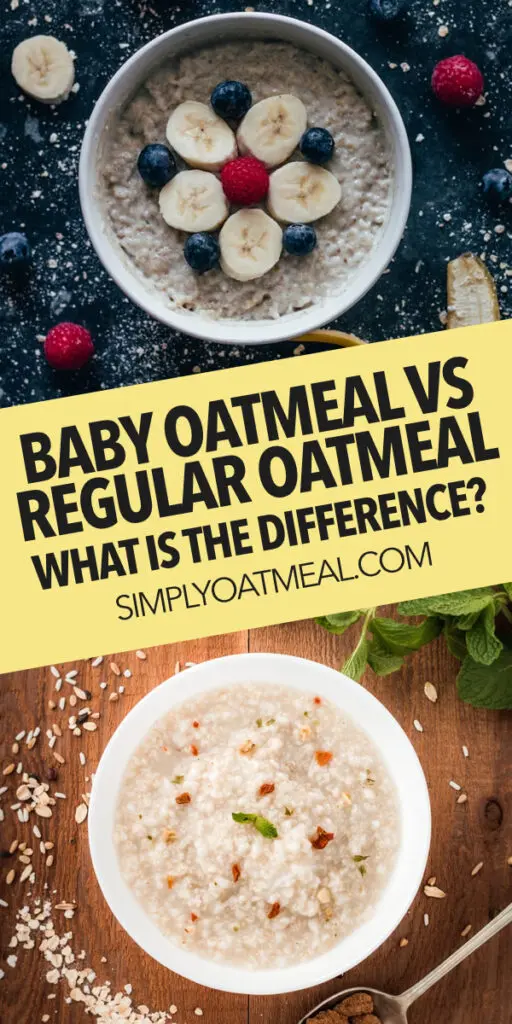 What is baby oatmeal?
Baby oatmeal is a particular variant of oats that is preferred for infants and babies. Compared to regular oatmeal, oatmeal designed for babies is more processed.
The oats are steamed, flaked and dried in such a way so that they have a thinner and smoother appearance. Due to this thin texture, this oatmeal variant is much safer for babies to consume.
That's whythde variation of oatmeal is released that is specifically just for babies, aptly named as baby oatmeal.
To summarize, regular oatmeal and baby oatmeal do not have any significant difference in terms of their health and nutrition profile. The difference lies in their overall texture. In the case of oatmeals of babies, the texture is both thin and smooth, making it ideal for the baby to swallow and digest.
A baby starting at age of six months can begin to consume baby oats without any problems. You can't serve them regular oatmeals since they have a coarse texture that often require chewing to swallow and properly digest.
So, it is better to grab baby oats so that it does not cause any issues swallowing, or extra pressure to your babies' stomach and digestive tract.
Your local market may sell baby oat in bulk or individual packets. Otherwise, you can easily prepare baby oats at your home without any hassles. Continue reading to learn how to make homemade baby oatmeal using regular oats.
Can you make baby oatmeal from regular oatmeal?
Yes, it's true, you can easily make baby oatmeal from old fashioned oats. The process is easy, fairly quick, and hassle-free.
Oftentimes, it becomes challenging to find baby oatmeal in your local stores. In that case, please do not worry much! Just make sure to follow the below guides and you are done!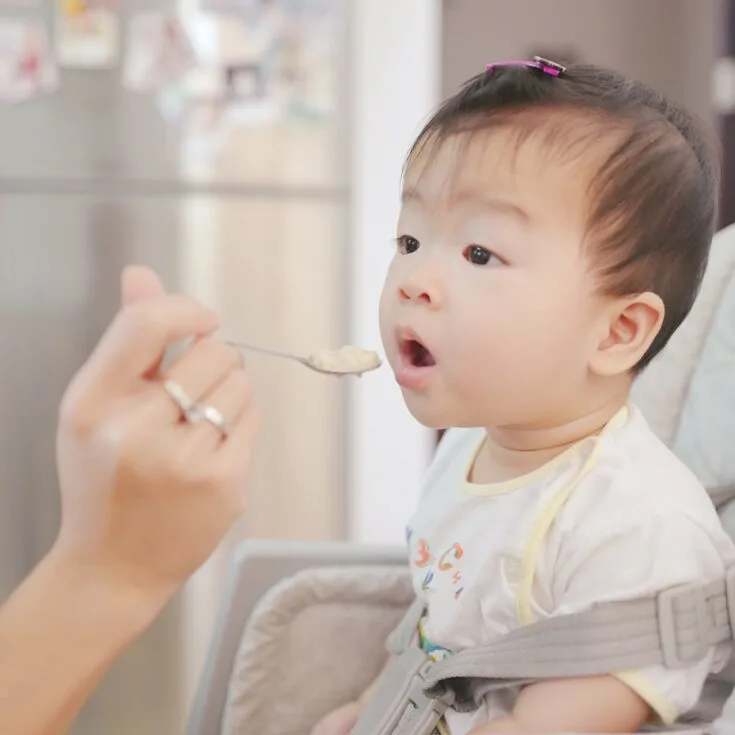 Yield:

1 cup
How to make baby oatmeal from regular oats
Step by step instructions to make oatmeal for babies from regular rolled oats.
Instructions
Measure one cup of old fashioned oats.
Place the oats in your food processor and pulse for 15 to 30 seconds until the texture becomes granular and powdery.
Once you have got the right texture, turn off the food processor.
Transfer the oat powder to an airtight and sealed container.
Notes
You can store dry oats in your refrigerator, freezer, or a dark place within your pantry shelves. If stored properly, it will last up to three months and possibly longer.
Nutrition Information:
Yield:
4
Serving Size:
1
Amount Per Serving:
Calories:

77
Total Fat:

1g
Saturated Fat:

0g
Trans Fat:

0g
Unsaturated Fat:

1g
Cholesterol:

0mg
Sodium:

1mg
Carbohydrates:

14g
Fiber:

2g
Sugar:

0g
Protein:

3g
To prepare a simple porridge recipe with this oat powder, you can cook the baby oats with plain water, then mix in breastmilk, formula, milk or water to create a fine mixture. Put oatmeal cereal in a baby bottle for an easy to serve meal at any time of day.
Types of Oatmeal for Babies
Oats are 100% wholegrain that are an excellent source of dietary fibers and plant based protein among other essential components. There are many types of oats available, but only a few oatmeals that are specifically recommended for babies to eat.
Rolled oats: Old fashioned oats are prepared from whole oat groats. The groats are steamed, and then they are run through large steel rollers before drying. The results are thick flat disks that require more cooking time than instant oats, but far less cooking time that steel cut oats.
Quick oats: Prepared similarly to rolled oats, however their processing style is slightly different. The groats are first cut in half, and then steamed and rolled before drying. Quick oats a flattened flakes that are broken into fragmented pieces that reduce the overall cook time compared to thicker rolled oats.
Instant oatmeal: This is one of the most processed variants of oats. The original whole grain oats are boiled, rolled, and dried in order to prepare instant oats. Please note that these oatmeals are semi-cooked. You can simply mix it up with warm water or hot milk just before serving.
Steel cut oatmeal: The whole oat grains are cut in half using powerful steel blades. As a result, steel cut oats require much more cooking time that other types. They are better for long term storage, and feature slight improvements in nutritional value and benefits as whole oat grains.
However, steel cut oats are not recommended for babies. The oats are larger piece that are much denser and generally require chewing to assist breakdown of the grains.
What is the best oatmeal for babies?
With this, you have revealed different types of oatmeal options for babies. You must be now wondering which one is the best pick for you.
Well, instant oatmeals may not be preferred for babies to eat because these oats are more processed and their nutrition values are not retained as well as the original whole grain oats.
Therefore, rolled oats and quick oats can be a better option for babies as they feature almost the same nutrition values as the 100% whole grain oats, and cook into a silky smoother porridge.
If you question whether or not Quaker Oats are good for your baby, the answer is yes! Give the rolled oats a quick buzz in the blender or food processor and your good to go!
The recipe for preparing baby oats from any old-fashioned oat variants is already mentioned above. Steel-cut oats are harder to breakup without proper milling equipment, so stick with rolled oats or quick oats to daily make baby oatmeal.
Here are top-rated baby oatmeals for you to choose from!