*This post may contain affiliate links. Please see my
disclosure
to learn more.
So, you have already decided to offer your baby oatmeal recipes since oatmeal offers a myriad of nutritional benefits. Is a baby bottle the best way to serve babies oatmeal cereal preparations?
Yes and no, you can put oatmeal cereal into clean baby bottles and feed it to your infants, but it comes with certain risks that you should be aware of. Your babies must already be habituated with this feeding method, so it will be no harm if you start serving oatmeal cereal recipes through a baby bottle.
Although many parents have reported success with putting oatmeal cereal in a baby bottle, this contradicts the CDC who have stated, "Don't put cereal in a bottle." So if you choose to pursue this path, then understand how serving cereal in a bottle compromises a breastfeeding relationship, causes a formula-feeding baby to overeat and risks a potential choking hazard.
Let's dive into more details about oatmeal for babies and how to serve oatmeal cereal in baby bottles.
When can you start putting oatmeal in baby bottle?
As already mentioned, serving oatmeal in baby bottles has minimal issues when served properly. However, there is an age restriction that you must be aware of.
When can you add cereal to a baby's bottle? It's recommended to offer your babies oatmeal in baby bottles once they have reached at least six months of age. By that time, their appetite and stomach will be ready for digesting oatmeal preparations.
All you will have to prepare a simple oatmeal recipe by cooking the oats in water. Cool the oatmeal to room temperature, place the mixture in a baby bottle and serve it to your infants for them to enjoy the benefits of a healthy and nutritious meal.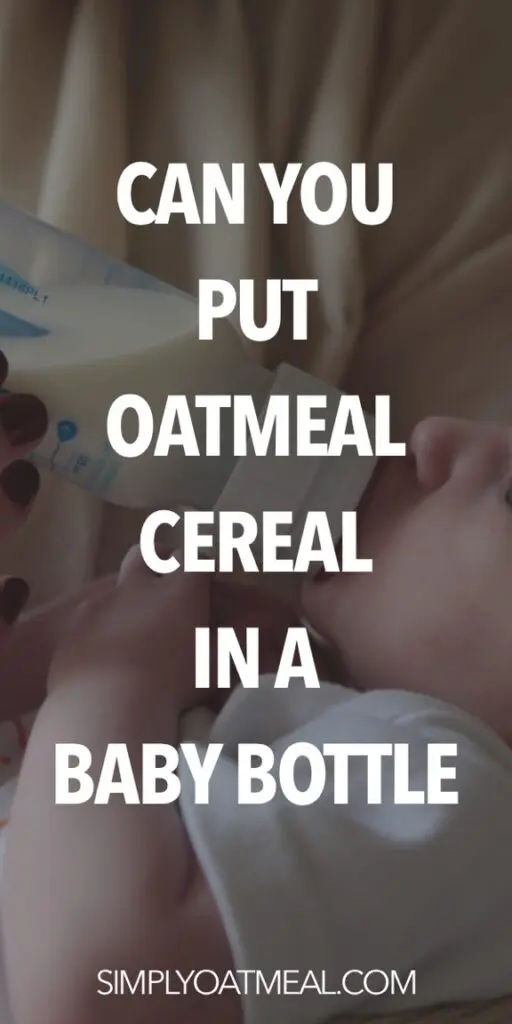 How much cereal do I put in my baby's bottle?
While serving oatmeal cereals in your baby's bottle, please beware of the quantity. If you fill-up the entire bottle with oatmeal preparations and serve it to the baby, it won't be a good choice option.
Instead, the recommendation is to fill just one-third of the baby bottle with the oatmeal. Carefully offer it to your child so that they can swallow it without any problems.
What is the best nipple size for oatmeal cereal in baby bottle?
The nipple size of the feeding bottle is a crucial parameter that you must assess carefully.
If the nipple size is too small, then it will create a hindrance in the flow and your baby won't be able to swallow the food properly. Likewise, if the nipple size is too large, then your baby will get a large quantity of food at once which is not desired.
Hence, the recommendation is — the bottle nipple size will allow a smooth and seamless flow of the oatmeal cereal. In this way, your baby will enjoy a comfortable meal without struggling, choking or resulting in a large mess.
A faster flow nipple or those feeding bottles that come either with commercially precut or cross-cut nipple options are the recommended ones. These bottles are ideal for infants with six months and above age because they offer a smooth flow of the oatmeal preparation.
Does oatmeal in baby bottle cause a chocking hazard?
A common follow up question is whether or not serving oatmeal in feeding bottles can cause a chocking hazard? You will never want such a situation for your infant.
Please do not worry anymore! If you follow these basic tips, then a chocking hazard will never arise:
Please make sure to serve the baby in such a feeding bottle that is well-designed and it should have the recommenced nipple size.
After preparing the oatmeal cereal preparation, place it in the baby bottle, and test how it flows through the nipple hole. If the cereal can perfectly flow through it without any hindrance, then you are all set.
While serving the preparation, please make sure to check that your baby is sitting in an appropriate position. This factor plays a vital role and it is directly related to the ease and enjoyment your baby will experience while ingesting the meal.
Rest assured that your baby will not face a chocking hazard with a perfect nipple size and appropriate sitting position. Check to make sure the consistency of the oatmeal allows for easy flow through the nipple and you should be all set to go without any worries.
How To Prepare Oatmeal For Babies
Oatmeal is a dry good staple that must be properly prepared before serving it to your baby. In general, oats are either soaked or cooked in plain water before mixing in any other ingredients you baby is prepared to eat.
Quaker Oats are one of the brands commonly served to babies. However, it's not the only option available.

Realize, there is a distinct difference between baby oatmeal and regular oatmeal. Baby oatmeal is finely flaked, which reduces the need to chew and further aids in swallowing and digestion.
Here are tips for how to make oatmeal for babies:
Water: If using water, it's recommended to use boiled water instead of plain water. Boiled water removes all pathogens and bacteria, ultimately making it safer for your baby's stomach. Water is a perfect mix-in liquid for making oatmeal cereal preparations.
Breastmilk: Breastmilk is indeed the best option when it comes to an ideal way to prepare oatmeal for babies. Breastmilk is a rich source of minerals and nutrients that are absolutely important for the proper growth and development of a baby. Just like water, breastmilk will also keep your baby hydrated. Cook the oatmeal with water, and then stir in breastmilk to maintain the bioactive benefits.
Formula: Baby oatmeal prepared with formula is extremely simple. Please take a 1-2 tablespoons of oatmeal cereal and mix it with half a cup of boiled formula. The consistency of the mixture should neither be too thick nor too thin. Instead, the consistency should be somewhat liquid so that it can flow through the nipple without any issue.
Milk: Similar to the preparation of baby oatmeal using formula, you're going to prepare a batch of oats using boiling hot milk. The mixture should be thick enough to flow smoothly through the baby bottle nipple.
How To Cook Oatmeal For Babies
Baby oatmeal is precooked and regular rolled oats have not yet been cooked. Oats can be prepared by cooking or soaking whole grain oats.
There are four common ways to cook oatmeal for babies.
Overnight oats: You can create an oatmeal mixture and leave it to soak overnight. By this time, the soft consistency of the oats will be appropriate for your baby to digest.
Baked: Preheat the oven to 350 degree Fahrenheit, put the oatmeal cereal mixture in an oven proof cookware and bake it for 35-40 minutes. By that time, the oatmeal will be fully cooked and have a soft texture. Leave it to rest until it comes to the room temperature, and then the baked oatmeal will be safe to serve in a baby bottle.
Microwave: This is one of the quickest ways when it comes to preparing oatmeal cereal. Mix the oatmeal with a liquid and place in a microwave safe bowl. Nuke it for 30 seconds – 2.5 minutes so that the oatmeal becomes fully cooked and becomes tender.
Stovetop: Heat a pot with water on the stovetop, then add the oats to the boiling water. Stir continuously and scrape the bottom so that it doesn't stick, allow the oats to cook and simmer the mixture for 3 to 5 minutes. Allow the cooked oatmeal to rest and cool down, put it in the baby bottle, and serve.
Occasionally the cooked oatmeal becomes too thick to serve in a baby bottle. Simply stir in your preferred liquid to thin out the mixture until it gets to the optimal consistency to flow through the nipple of the baby bottle.
Babies can be introduced to eating oatmeal at anytime after six months of age. Baby oatmeal is often prepared with water, breastmilk, formula or milk.
Start with plain oats cooked in water. Juice, fruits, vegetables and other toppings can start to be added after the baby gets comfortable digesting the oatmeal cereal.
Use the recommended nipple size, check the flow of the oatmeal cereal through the nipple and feed baby in an upright position. Follow adequate precautions and you will be able to feel comfortable serving oatmeal cereal in a baby bottle knowing that they are getting a wholesome and nutritious meal.