*This post may contain affiliate links. Please see my
disclosure
to learn more.
You all have heard about the heavenly delicious taste and the perfect chewy texture of oatmeal, it's a perfect staple to any healthy diet (including breakfast, snack time, dinner and dessert). But, did you know that oatmeal is indeed great for hair care?
Yes, you have heard it right! Oatmeal has been proven to deliver a myriad of good benefits to your hair including hair growth, prevents split ends, treats dandruff and also soothes dry and itchy scalp.
Interested to find out how this versatile, cheap, and easily available ingredient can offer invaluable hair benefits? If yes, then please check the below sections and reveal oatmeal benefits for hair.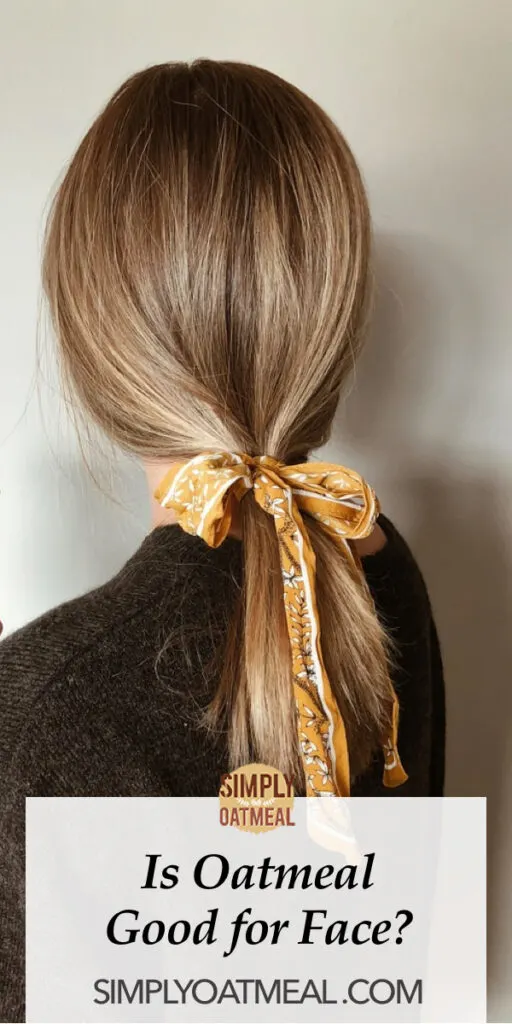 Oatmeal Benefits for Hair
Oatmeal features a strong nutrition profile that is loaded with plenty of fibers, vitamins, and minerals. These are all about the health benefits of oatmeal when it is consumed, but did you realize that oatmeal also benefits hair care?
Let's discuss the advantages offered by incorporating oatmeal into your hair care routine.
Prevents Split-ends
Are you facing issues with hair split-ends? If yes, then oatmeal can be a perfect solution for you!
As you probably know, split ends are a common yet serious hair issue. Not only does it lead to severe hair damage, but also hampers your natural hair growth.
Luckily, you can now rely on oats to resolve this common hair issue.
Oatmeal comes with vitamins and minerals that will hydrate and nourish your hair from the roots to tips. As a result, the nutritional boost will keep your hair protected from split-ends.
Fosters Hair Growth
Oatmeal is a rich source of natural fibers. These fibers will provide the right amount of nutrition to your hair and foster hair growth.
On top of that, it even comes with the exfoliating property that unclogs pores, facilitates hair growth, and prevents hair fallout.
What's more, it will thicken your hair too. Healthy hair grows at rates exceeding unhealthy practices and destructive routines.
Treats Dandruff
Oatmeal contains a unique composition of lipids and proteins that will hydrate and moisturize your scalp and treat dandruff problems.
Plus, it has also been found that oatmeal contains saponin that is a great cleanser. This saponin cleanser removes dandruff flakes and helps you get a dandruff-free scalp.
Soothes Dry and Itchy Scalps
Are you having problems with dry and itchy scalp? Maybe your scalp is not being moisturized enough.
In this scenario, consider using an oatmeal hair mask to add moisture to the scalp and pores.
Hair masks are a natural remedy for dry and itchy scalps. Oats contain Vitamin B which will hydrate and moisturize hair scalps, prevent scalp irritation, and reduce itchiness.
Oatmeal Hair Care Tips
Apart from offering excellent nutritional health benefits when eating oats, oatmeal is great for your regular hair care regime. For example, oatmeal comes with anti-inflammatory and anti-itch properties, contains vitamin E, antioxidants, and phenols that will help your hair to repair and heal.
Colloidal oatmeal can act as a natural scalp protectant and is great for dry and itchy scalp. For instance, if your scalp is dry, itchy, and irritated, then oatmeal will promote healing and soothe your discomfort feeling.
Oatmeal is a natural and gentle cleanser. The emollient properties are perfect for scaly, rough buildup on the scalp.
You can use colloidal oatmeal powder to exfoliate the scalp and remove dead skin cells, sebum and build up on in the pores. What's more, oatmeal even comes with antimicrobial and fungus-fighting properties.
Can I use oatmeal on my hair everyday?
So, you have already revealed the benefits of oatmeals for hair. Are you now wondering whether you can use it every day?
Yes, you can use oatmeal as a natural hair strengthening conditioning treatment on an everyday basis. It will contribute to better hair growth and nourishment.
With regular usage, you will notice silky smooth, hydrated, and moisturized hair.
For example, you can prepare a quick oatmeal hair mask, apply it on your hair every day for around thirty minutes, and then rinse with a mild shampoo and water.
Can you use colloidal oatmeal on your hair?
Heard about colloidal oatmeal? Well, it's a particular variant of oatmeal where the whole-grain oats are ground into a fine powder. Needless to say, colloidal oatmeal is also great for your hair.
Colloidal oatmeal comes with reparative and moisturizing effects that are extremely beneficial for your hair and scalp. If you can mix the colloidal oatmeal powder with water or shampoo and apply it on a regular basis, it will nourish and soothe your dry itchy scalps and prevent dandruff.
Which Oats is best for hair?
There are many types of oats ranging in taste, texture and intended purposes. The three main kinds are steel cut, rolled and quick oats, however the list is quite lengthy.
Oat groats and steel cut oats are the least processed of the whole grain. That being said, they are both dense kernels that whole not form a creamy paste or mixture that could be applied to your hair.
Old fashioned or regular rolled oats are the best for hair. You can simply purchase plain oatmeal from a local market and prepare it as a hair mask. Other than that, you may also use colloidal oatmeal as well.
How do you use oatmeal for hair?
In this section, you will reveal the preparation for oatmeal hair masks. All you will need four ingredients, such as plain oats, milk, coconut oil, and honey.
Each of these four ingredients is easily available and the combination of ingredients will collectively offer excellent benefits for your hair.
Here is how to make an easy oatmeal hair mask:
Combine three tablespoons of plain oats with a half cup of milk. Mix until it forms a smooth paste.
Add one tablespoon honey. Mix well.
Add one tablespoon of coconut oil. Mix well.
You can use the hand blender for mixing the ingredients. That's it! Your oatmeal hair mask is ready.
You can place this mixture in a container and apply it to your hair and scalps using a brush. Let this mask sit on your hair for thirty minutes and rinse it using lukewarm water.
Other than that, you can use a mild shampoo to wash your hair as well.
Oatmeal For Hair Care: Final Thoughts
So, you have already revealed the benefits of using oatmeal hair care products. Whether you are facing hair growth, split-ends, or dry scalp related problems, then please do not think twice and use oatmeal hair masks.
Oatmeal hair mask preparation is easy and takes just a minute to whip together. Once you have prepared the mask, feel free to refrigerate the mixture/paste and use it for up to 5 days.
Regular usage will make your hair soft, supple, nourished, and hydrated. Don't shy away from this simple technique to restore the glow with naturally healthy hair.