*This post may contain affiliate links. Please see my
disclosure
to learn more.
Bland and boring oatmeal is a thing of the past! Say hello to the ultimate guide to oatmeal toppings!

Oatmeal has a bad reputation and therefore we need to kick it up a notch. Thanks to these fancy oatmeal toppings, the plain ole' oats will become the star of the show.
Oats and oatmeal contain a number of nutritional benefits. Oats are loaded with carbs, dietary fiber and digestible minerals.

There has even been a resurgence of the whole-grain in the form of overnight oats. The popular trend has many people following the breakfast meal prep bandwagon.

Either hot or cold, but its time to ditch the ordinary oats and let's put together a list of the ultimate oatmeal toppings. Next time you need a quick fix, reach for these tasty ingredients and you're all set to go.
The Ultimate Oatmeal Toppings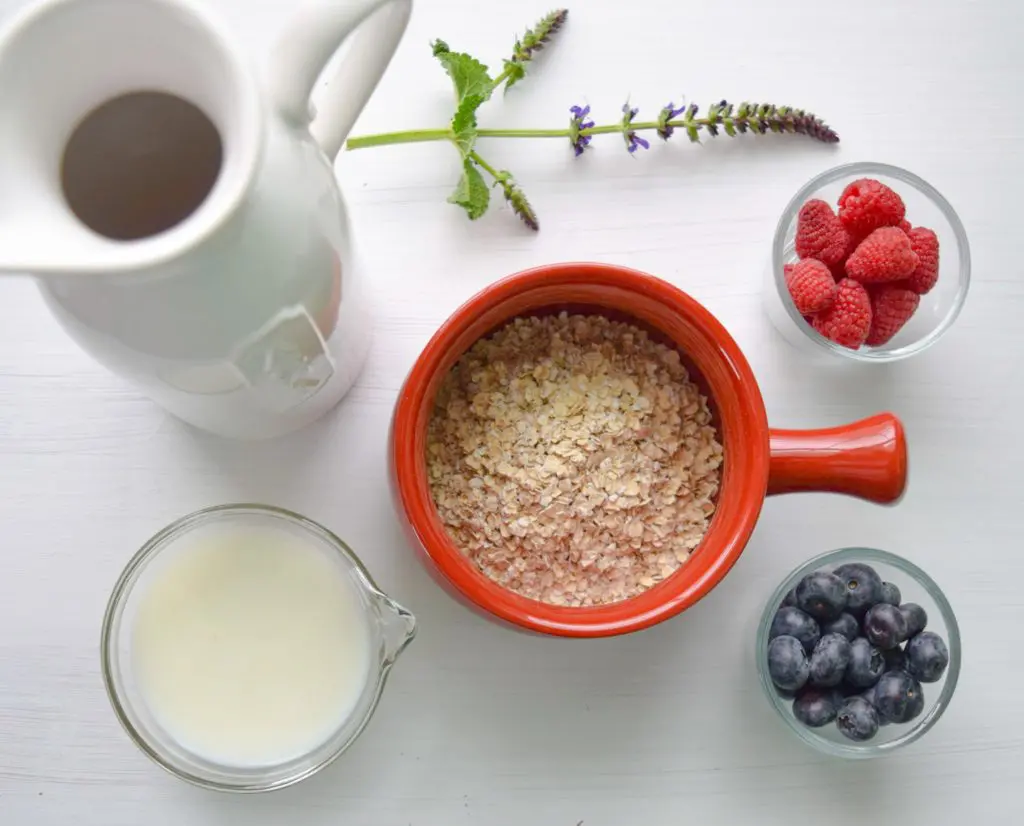 Let's put together the ultimate oatmeal toppings bar so that you are prepared for a variety of outstanding flavorful meals.

Whether you start with a big pot of hot homemade steel-cut oatmeal or overnight oatmeal with rolled oats, there is still no room for quick oats in this kitchen!

Whole milk or almond milk makes a rich and creamy oatmeal, or you can simply use water to keep those extra calories to a minimum. The unsweetened almond milk is full of flavor and nutrition, but still only has 30 calories per cup. That's incredible!
An oatmeal topping bar is fantastic way to entertain guests and provide a well-balanced assortment of fulfilling fixings. Gather together your unique bowls for fresh berries and large platters for dried fruits and nuts because the different shapes, sizes, and colors will come in handy for the buffet-style service.

Design cute and nifty signs to list all the fun topping choices. This really adds a special touch and gives the table decor a whimsical feeling.

Even if going through the entire process of designing and decorating is not for you, you will still find some great oatmeal topping ideas that are guaranteed to spruce up your blah preparations.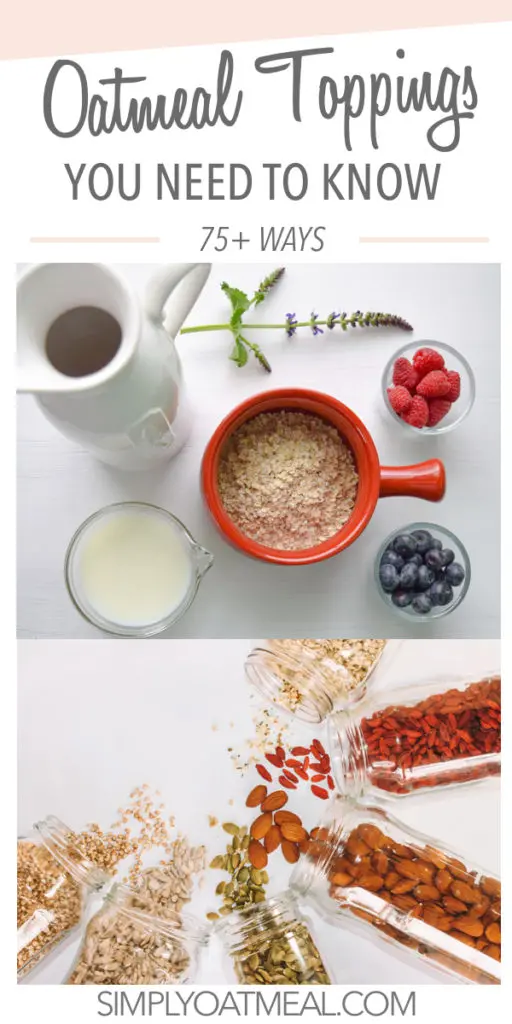 Fresh Fruit
Apples
Apricots
Bananas
Blackberries
Blueberries
Cherries
Cranberries
Currants
Figs
Nectarine
Oranges
Peaches
Pears
Persimmons
Plums
Pomegranate Seeds
Raspberries
Strawberries
Nuts + Seeds
Almonds
Chia Seeds
Cocoa Nibs
Flax Seeds
Hazelnuts
Peanuts
Pecans
Pine Nuts
Poppy Seeds
Pumpkin Seeds
Sesame Seeds
Sunflower Seeds
Walnuts
Dried Fruits
Apricots
Bananas
Blueberries
Coconut
Cherries
Cranberries
Currants
Sweet Things
Agave
Agave Nectar
Brown Sugar
Cocoa Powder
Chocolate Chips
Coconut Nectar
Coconut Sugar
Dates
Graham Crackers
Honey
Maple Syrup
Molasses
Red Bean Puree
Stevia
Sweet Potato
Bold Spice
Apple Juice
Brandy
Dark Rum
Cinnamon
Ginger
Lemon Juice
Orange Juice
Nutmeg
Vanilla
Creamy Goodness
Buttermilk
Coconut Cream
Cream
Half n' Half
Sour Cream
Unsalted Butter
Yogurt
Dairy-Free Alternatives
Cashew Milk
Chia Seed Milk
Coconut Milk
Flax Seed Milk
Hazelnut Milk
Hemp Milk
Oat Milk
Macadamia Nut Milk
Pistachio Milk
Rice Milk
Walnut Milk
And finally, don't forget the salt! Salt is an integral ingredient to boost the flavor profile of any whimsical combination. As far as oatmeal toppings are concerned, a tiny pinch of salt goes a long way!