*This post may contain affiliate links. Please see my
disclosure
to learn more.
Looking for face care products that can cure your skin problems and help you to get rid of dry, irritation, acne and redness. Nowadays, there are a wide range of oatmeal face care productsin the market that will soothe your woes with gentle ingredients for sensitive skin.
Oats are a recommended ingredient for body care as it has antioxidants, nutrients and lipids well suited for nourishing your skin. Colloidal oatmeal has been used for many years to soothe irritated and inflamed skin, so let this skin savior help you where you need it most.
This guide includes everything you need to know about using oatmeal face care products. The article lays our benefits and uses, along with varying products that will specifically cover your needs.
Is oatmeal good for face care?
Oatmeal works like magic when it comes to face care applications. Oatmeal is perfect for your face care as it soak excess oil from your skin, exfoliates, nourishes and fights against acne.
It has antioxidants and anti-inflammatory ingredients that can resolve dry skin problems and remove the dead skin cells. Oatmeal also contains saponin compound that work as a natural cleanser, which are effective in oatmeal baths and provide many benefits to overall needs.
Oatmeal is very good at removing any kinds of dirt, impurities and oil that block the pores. For acne problems, it can work like a miracle and exfoliate the skin.
What does oatmeal do for the face?
If you are only eating oatmeal for breakfast, then you may have to consider using it as a facial pack as well. It is a natural facial cleanser that detoxifies, exfoliates and nourishes skin.
It is perfect for any kinds of facial skin problems such as acne, eczema, redness, dryness and much more.
So, if you want to get the best results, then the benefits of colloidal oatmeal for face care may be just what you are looking for:
Oatmeal face pack can relive acne-related problems. The zinc compound present in oatmeal contains essential nutrients that can reduce inflammatory conditions of your face by soaking the excess oil from the skin and stopping acne production.
The fiber content in oatmeal naturally exfoliates to help you get rid of dry and dead skin cells by working as a natural moisturizer.
Oatmeal has mild pH, which will help you to cool down the irritation and redness on the skin.
Work like magic on blackhead problems as it can help you achieve a smooth, clean and glowing complexion.
Does oatmeal help with acne?
Acne is one of the most common and familiar facial problems. Oatmeal can exfoliate the skin without acting so harshly, and the oatmeal can extract excess oil from your skin to help stop triggering acne development.
Oats are a natural face cleanse due to the fibrous exfoliating effects. A plain oatmeal mask can nourish and moisturize your face skin while keeping it hydrated with healthy lipids that can also stop the itchiness, redness and flaky dead skin problems.
So, if you are suffering from acne problem, then colloidal oatmeal can work as a great solution for your face care needs. It suits all skin types and solve acne problems with a host of tools in its tool belt.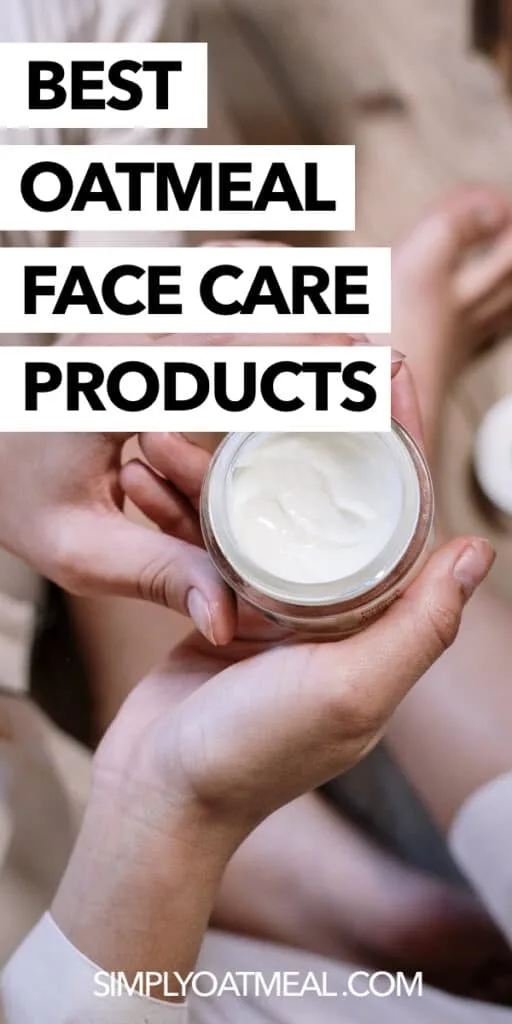 Benefits of oatmeal for face care:
There are so many benefits of oatmeal for your facial skin including anti-aging and acne-reducing. Here are some additional face care benefits of applying oatmeal topically:
Reduce redness: Oatmeal contains anti-inflammatory and anti-oxidants properties that help treat redness and dry skin problems.
Dry skin reliever: Oatmeal is rich in proteins and lipids that work as a great moisturizer. Oatmeal also has anti-inflammatory Vitamin E that can hydrate dry skin problems.
Work as an exfoliator: Oatmeal can work as a gentle exfoliator that can gently remove dead skin cells. Achieve a spa-like glowing face at home after using these oatmeal face pack solutions.
Skin protection: Oatmeal can also protect the facial skin with its natural flavonoids. This compound can protect your face from harsh pollutants, chemicals and environmental debris.
Best Oatmeal Face Care Products
So, if you want a nourished and moisturized face, then use the oatmeal solution to treat your woes. Oatmeal face care products offer many benefits.
Oatmeal has anti-oxidants, anti-inflammatory and many skin-beneficial properties. It can fight against acne problems and solve the dry skin-related issues as well.
Oatmeal face care products can lock in the moisture and keep your face hydrated at all times. Get rid of your age-old skin problems and achieve a perfect glowing facial complexion.
Here are a list of face care products with oatmeal that have been reviewed by many happy customers and will give you the perfect results.