*This post may contain affiliate links. Please see my
disclosure
to learn more.
If you are familiar with the benefits of oats and oatmeal and would like to know more about oatmeal baths, then you are in the right place. When talking about bathing with oatmeal, we are referring to a simple remedy that helps soften, soothe and calm various skin conditions like eczema, psoriasis, xerosis, chickenpox and many more irritations and inflammations.
What is an oatmeal bath? Mix a cup of colloidal oatmeal into a lukewarm bath. Soak in the mixture for 10 – 15 minutes and then pat yourself with a dry towel. The oatmeal will coat your skin with a protectant as well as nourish your skin with necessary vitamins, minerals and hydrating fats.
There are a number of obvious benefits of taking oatmeal bath as they are considered to be moisturizing, and they offer a calm, soothing relief from skin redness, inflammation and irritation. Oatmeal baths can be used to treat various types of skin conditions, however we need to bear in mind that it is not a cure for the cause of the symptoms.
This article will explore the benefits of oatmeal baths, FAQs about taking an oatmeal bath and how to make an oatmeal bath for yourself. Continue reading below for everything you need to know about bathing with oatmeal.
Benefits of Oatmeal on Skin
Oatmeal baths work quite well as a skin protection agent. In fact, the FDA has listed colloidal oatmeal as a product offering many protective benefits for the skin.
Oatmeal baths and oatmeal skin care products offer a calming and soothing effect on the skin and could help in case of bug bites, sunburn and other exposure related problems such as chemical burns, poison ivy, chickenpox. If you are suffering from an intense sunburn, taking an oatmeal bath could help quite a bit.
It has some of the best moisturizing properties and therefore it would help to create that wonderful protective barrier as far as your skin is concerned. However, make sure that you don't overdo it.
It also is rich in certain types of antioxidants like vitamin D, magnesium, and beta-glucan fiber. Further it also consists of 20 different unique types of polyphenols referred to as avenanthramides.
These nutrients have wonderful properties for keeping your skin healthy, bright and give a glowing complexion. As mentioned above, there are many doctors, dermatologists and specialists who recommend oatmeal baths for many chronic skin conditions like eczema, psoriasis and other skin related problems.
Ideally an oatmeal bath should not go beyond 15 to 30 minutes as too much exposure can clog your pores with the ultra fine oatmeal powder.
Colloidal Oatmeal or Regular Oatmeal?
Before understanding the basic difference between regular oatmeal bath vs colloidal oatmeal, we should start with a basic understanding about colloidal oats.
Colloidal oatmeal is made when whole grain oats are ground and converted into a fine powder. This is done because it increases the emollient properties and it becomes quite suitable for topical use on the skin.
Oats are a rich source of protein, fat, minerals, vitamins, antioxidants and various plant chemicals. These are helpful for smoothening and softening the skin, and also make it supple and rich in moisture.
While rolled oats, quick oats and oat flour can also be used for an oatmeal bath, many skin specialists and dermatology experts are more likely to suggest the use of colloidal oatmeal because of some specific reasons.
Oatmeal bathes are made by suspending colloidal oatmeal into a water based solution so that the oats don't sink down to the bottom of the liquid.
Soak in the bath for 10 minutes, and then dry of completely. Allow the residue to sit on your skin for about 15 minutes, and then rinse the sediment to expose smooth, soft and moisturize skin
In fact, FDA classified colloidal oatmeal in 2003 as a useful skin protecting agent. It also could help in reducing the release of a protein substance called cytokines that is responsible for inflammation in different parts of the body.
Hence, it looks like from experience and expertise that colloidal oatmeal bath is a viable option for managing irritations and inflammatory skin conditions. [1]
Can You Wash Your Hair in an Oatmeal Bath?
As mentioned a few times above, there is no doubt that oatmeal is a rich moisturizing agent that good for body care. As a result, there are reasons to believe that regular use of oatmeal may go a long way in helping to treat itchy scalp and a dry scalp too.
Yes, you can wash your hair in an oatmeal bath. Oatmeal is good for hair care, and is commonly found in many shampoos and beauty care products.
Men and even women who suffer from dry scalp and dandruff related problems could benefit from washing hair in an oatmeal bath from time to time.
Mix a single teaspoonful of oats, it's best to use colloidal oatmeal, with lukewarm water because it helps in making an aqueous oatmeal solution. Apply the mixture to your hair, however do not let the oatmeal sit in your hair for more than 15 to 20 minutes.
The sediments could settle on your hair follicles or scalp pores. When this happens on a regular basis, washing the residual particles off could become a problem.
There are no known benefits in leaving the oatmeal on your hair for extended periods of time. Oatmeal will ensure brightness, luster and softness for your hair, therefore it is quite clear from the information above that washing your hair with oatmeal does make a lot of sense.
Do You Rinse After Oatmeal Bath
While there is no doubt that an oatmeal bath is filled with a lot of benefits and advantages, however we need to bear in mind a few things. It is recommended to soak in an oatmeal bath for about 10 to 15 minutes to allow your skin to absorb the available nutrients.
Although you should pat yourself with a dry towel, you should not leave the dried oatmeal bath sediment on your skin forever. At best, keep the residue from the oatmeal bath on your skin for around 15 to 20 minutes.
Yes, it may dry out on your skin, but the moisture that is available in the oatmeal gets absorbed by the skin. The vitamins, minerals, antioxidant and oils provide a number of benefits that are easily transferred over.
However, make sure that the dried oatmeal bath residue is not caked on the surface and does not stick on to your skin. This could make things a bit tough when it comes to removing, so wash the skin with clean water and rinse off the residue after 15 or 20 minutes at the most.
Oatmeal Bath for Babies
Yes, it makes a lot of sense to offer a sweet little oatmeal bath to your sensitive baby's skin. It is a simple, extremely effective and affordable solution that comes with a number of benefits for children of all ages.
Oatmeal bath could work extremely well for treating a diaper rash that commonly affects babies and young infants. It offers natural hydrating body care benefits to babies, and it also could help to give relief for redness, irritation, inflammation and other skin conditions.
Oatmeal Bath for Dogs
Yes, dogs can benefit quite a bit from oatmeal baths. It could help in relieving symptoms and problems associated with itchy and dry skin. The best results are achieved if the oatmeal is added to lukewarm bath water.
Oats will make the water softer and it will be comfortable for a dog with sensitive skin. There are many brands of oatmeal dog shampoos that could help in treating skin allergies and other similar problems.
A rich oatmeal shampoo is perfect for neutralizing strong pet odor, especially if your dog has a run-in with a foul fragrance. Has your dog ever been skunked?
Oatmeal Bath without Bathtub
Yes, you should not have any problems applying an oatmeal bath even if you do not have a bathtub. All you need is a small cloth and a small bowl with 1 part colloidal oatmeal and 4 parts water.
Use the cloth as a gentle exfoliator to lather your skin with the emollient solution. Allow the mixture to soak on your skin and then completely dry, about 30 minutes total.
Afterwards, use a clean wash cloth and warm water to remove the oatmeal residue from the surface. Continue rinsing with fresh, clean water until the oatmeal sediment is completely removed from your skin.
You can also make a gentle exfoliating scrub. This is when the oatmeal shower-bags comes in handy.
All you need to do is fill a small soft cloth bag with some finely ground oatmeal. Add some grated soap and also a few drops of essential oils if you love to smell good.
Use light scrubbing strokes on your skin with the shower bag. This helps in cleaning and exfoliating your babies skin more effectively than taking an oatmeal bath in the bathtub.
There are many advantages associated with a good oatmeal bath. It could help men and women of all ages and also could benefit young babies quite a lot.
In addition, it can be used on pets with sensitive skin to neutralize bad odors. However, there are a few tips for making the best use of oatmeal baths.
How does oatmeal bath work?
Oatmeal baths are a remedy to treat various skin issues. Oatmeal bath benefits are applicable for skin conditions, irritations and inflammations such as eczema, psoriasis, chickenpox, and sunburn.
It soothes itchy skin as it is anti-inflammatory, moisturizing and calming on the skin. Colloidal oatmeal is added in many different skincare, beauty and health products.
Oatmeal baths provide a residue layer that acts as a skin-protecting agent by soothing and shielding the skin from different irritants that causes itchy, burning, redness and dryness.
Colloidal oatmeal is most effective when used in an oatmeal bath. Oatmeal bath works by shielding your skin with a barrier by binding to your skin.
Soak in an oatmeal bath for 10 – 15 minutes, then pat yourself dry with a clean towel. Allow the oatmeal residue to sit on your skin for about 15 – 20 minutes, then rinse with clean water to remove any sediment.
The layer of protection holds the skin moisture and relieves skin inflammation. It can be used to exfoliate dead skin tissue and as an emollient to minimizes skin irritation.
Dry skin
Oatmeal baths assist in alleviating dry, irritated skin, and it works by moisturizing and shielding the skin from irritants. Oats are rich in antioxidant and anti-inflammatory characteristics present in the beta-glucan fiber and complex starches that retain in the bath water.
The available nutrients increase the moisturizing capabilities of the bath. Water binding sugar agents/polysaccharides, also referred to as hydrocolloids are present in oatmeal, which form a protective shield to sustain your skin from losing more water.
Sunburn
Oatmeal bathes are suggested for relieving sunburn as it provides a cool and calm environment for your sensitive skin. Oatmeal body care products are commonly used to minimize skin inflammation and redness due to sunburn as it is an anti-inflammatory agent.
Oatmeal bathes soothe sunburnt skin and relieve the burning sensation on the skin due to UV damage. No it will not completely remove the burn, however it will provide a calming and soothing relief to your overexposed skin.
Itchy skin
Oatmeal bath eases skin inflammation, retains moisture, eases irritated skin and cleanses your skin all at the same time. It shields the skin by soothing the itch as well as providing a buffering agent that assists in sustaining skin pH.
These plant chemical compounds in the oats naturally curbs the release of interleukin-8 and tumour necrosis alpha-factor, which are known to minimize the impact of psoriasis and other skin related issues resulting in skin dryness, flaking and itching.
Eczema
Eczema is a skin condition resulting in extremely dry skin. An oatmeal bath can soothe and shield the skin irritation and itching due to eczema.
Since ferulic acid, Vitamin E and avenanthamides are present in oatmeal, they rejuvenate your skin by anti-oxidizing the surface. The results are a moisturizing agent that soothes the skin irritation caused by eczema.
Oatmeal Bath Benefits
An oatmeal bath makes your skin feel awesome and it offers several advantages to skincare. Oats act as a buffering agent, sustain skin pH, antioxidant, anti-inflammatory, minimizes irritation, skin protectant, soothes the skin, moisturizes the skin, cleanses the skin, and also acts as an antiviral.
Now let's detail some of the primary benefits oats offer your skin:
Skin protectant: FDA, the Food and Drug Administration, significantly lists that an oatmeal bath made using colloidal oatmeal act as a skin protector that binds to the skin by forming a shielding layer.
Soothing agent: Oatmeal has anti-inflammatory properties that can minimize skin redness due to bug bites or sunburn, minimize infection, and reduce itchiness by soothing the skin. Soak in an oatmeal bath to get natural relief and a calming for many skin conditions.
Moisturizing agent: Oatmeal baths shield your skin by forming a skin barrier that adheres to the skin and holds in the moisture. Soak in an oatmeal bath for about 10 to 15 mins. Over soaking can actually steal moisture from your skin.
Anti-oxidizing agent: Oatmeal has natural antioxidant properties that transpire into an oatmeal bath. The primary nutrients such as beta-glucan fiber, magnesium and Vitamin D along with avenanthamides are present. Oatmeal has twenty polyphenols, avenanthamides are unique to oatmeal, and they are awesome for providing elasticity and moisture to your skin [2].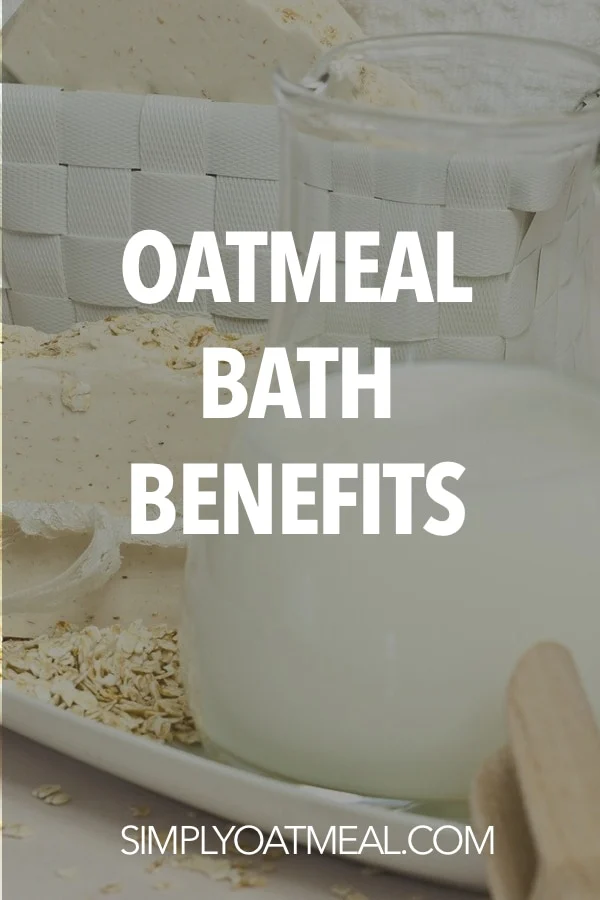 Other oatmeal benefits include:
Sustains the normal pH of the skin by being a buffering agent.
Known antiviral that helps treat skin rashes.
Minimizes the histamine release rate in the mast cells, which are a primary cause of skin allergies.
Cleanses the skin due to the existence of saponins which are identical to the action of soap. It exfoliates and eliminates dirt from the surface of our skin.
Reduce calcineurin and corticosteroid use in people suffering from atopic dermatitis [3].
Soak into an oatmeal bath one or two times per week. Soaking longer than 15-30 mins or soaking in the bath too often can make your skin too dry and release moisture.
Tips for making colloidal oatmeal at home
Oatmeal bath is primarily made from colloidal oatmeal. Colloidal oatmeal is prepared by finely grinding the whole or rolled oats and then suspending them in water.
By following these tips, you can make a silky smooth colloidal oatmeal bath that will nourish, hydrate and moisturize your skin.
Take rolled oats and grind them into a fine powder using a coffee grinder, high speed blender or food processor.
A fine powder is essential for efficient diffusion into the water to make a homogeneous bathing solution.
Making a fine powder of oats will prevent clogging your drain.
Allow the fine particles to fully cover your body.
Check the grind of the oats by placing one tablespoon of powder in a pint of water. The mixture should appear milky and not feel gritty.
If your grinder doesn't give you fine powder, then use a sieve to separate the course grind from the fine powder. Regrind the course grind to achieve the fineness you are looking for.