*This post may contain affiliate links. Please see my
disclosure
to learn more.
Proudly praise oatmeal as a natural and simple ingredient most popularly known as a breakfast item, but oats can also be used as one of the best skin care products. There are a wide range of oatmeal skincare products in the market, so let's focus on the best options available for you soft, smooth and healthy skin.
If you want a glowing skin complexion, then colloidal oatmeal is themes beneficial ingredient. Oats are an effective treatment for several skin problems and have been proven to be beneficial for body care.
This natural and gentle ingredient can help you to nourish and moisturize to restore balance to your skin. If you are suffering from itchy, dry, red, irritated or inflamed skin conditions, then oatmeal is the best skincare product for you.
Is oatmeal good for skincare?
Oatmeal is considered as a superfood for your skin with lots of benefits to meet all your skin care needs. The antioxidant and anti-inflammatory properties can solve dry skin problems, redness and itchiness.
Oats are helpful to exfoliate and remove the dead skin cells. So, if you want glowing skin radiance and follow a healthy skincare routine, oatmeal is the perfect choice for you.
Oats contain saponin that works like a natural cleanser to remove the oil and impurities while opening up clogged pores, this accounts for the many reasons why oatmeal baths are so effective. It acts as a gentle abrasive that deep cleans the skin and leaves you feeling refreshed.
What does oatmeal do for skin?
Oatmeal offers a number of health benefits, and natural skin care is one of the advantages. It can soak up excess oil from your skin along with treat a wide range of problems such as acne, rashes, redness and itchiness.
Oat extract is full of essential vitamins, oil-replenishing lipids, nourishing minerals and rich antioxidants. It also has moisturizing beta-glucan that can soothe the skin and lock the skin moisture in the surface.
So, now you know what does oatmeal do for your skin. If you want a healthy complexion and happy skin, then you should use the oatmeal to your skin care routine.
Can oatmeal lighten your skin?
Oatmeal contains amino acids that are helpful to lighten marks, and dark spots along with protect your skin from skin discoloration. Restore your glowing radiance while reducing dark spots and marks as well.
Use oatmeal based skin care products to fix spots and scarring. Focus on formulations that are geared towards skin restoration to get the best results, you will not regret it.
Why does oatmeal soothe the skin?
Oatmeal is a natural skin-soothing skincare ingredient that contains moisture-retaining and anti-inflammatory properties. It will soothe your skin and reduce the inflammation, rashes, itchiness and redness as well.
Oatmeal has plant based proteins and lipids that nourish the skin and soothe it during the process. Avoid suffering from itchiness and dry skin, use oatmeal skin care products to enjoy multiple skin-soothing benefits.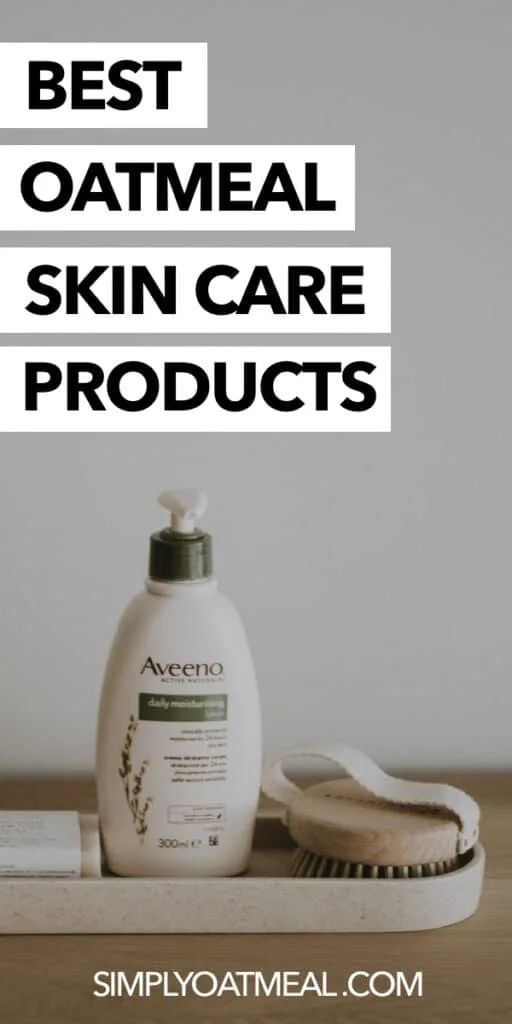 Benefits of Oatmeal for Skincare
Along with be recognized as one of the popular breakfast choices, oatmeal has been used as skincare ingredient for centuries. Oatmeal has a sustainable moisturizing effect can also reduce the dryness, roughness, itchiness and redness of the skin.
Here are some more benefits of oatmeal that you should check:
Keeps skin hydrated by assisting to retain moisture levels.
Gentle cleanser that cleans your skin and makes it glow.
Protect your skin from pollutants and harsh chemicals.
Flavonoids work as a powerful shield for UV rays.
Low risk associated with oat side effect and allergic properties.
Power of reducing acne, eczema and other irritating skin concerns.
Soothing skincare solution for inflammatory conditions.
Best Oatmeal Skin Care Products
Oatmeal is considered to be one of the best skin care products used to treat many skin problems, irritations, and inflammations. It can moisturize the skin, and also lighten the dark spots and acne marks as well.
It also brightens your complexion and is an ideal option for treating dry and itchy skin. Oatmeals can also remove oil, dirt and other kinds of impurities.
As you can see, oatmeal is a perfect option for all types of skins. Here are the best oatmeal skin care products for you to enjoy soft, smooth and healthy looking skin.