*This post may contain affiliate links. Please see my
disclosure
to learn more.
Looking for a healthy meal prep idea to start off each day on the right foot? I have consistently stuck to overnight oats because it is an easy feel good meal that can be eaten at anytime of day.

I frequently get asked a lot of questions about overnight oats and how they are prepared. So I'm going to show you my basic overnight oats recipe, along with sharing a few tips for making them taste delicious every time.
This overnight oats recipe is healthy, tasty and packed with nutrition. You can easily prepare it in advance, and store in a jar for a quick grab and go meal on the run.

Make ahead of time because overnight oats last for up to 5 days. Allow yourself 5 minutes on Sunday evening to assemble no cook oatmeal in a jar and your meal prep for the week will be right on track!
What are overnight oats?
Overnight oats is a no cook alternative to preparing oatmeal on the stovetop or in the microwave. Rather than boiling liquid and cooking the oats, you simply soak the oats and seeds overnight in the fridge.

The next morning you have a convenient ready-to-eat meal. Oats absorb the liquid to hydrate and soften, which makes them both palatable and digestible. The consistency and texture can vary, however they generally creamy and resemble a porridge-style oatmeal.

If you have never had the best overnight oats recipes, then you're in for a treat because there are so many flavor combinations to try. With a few add-ins and toppings, you can make a delicious and healthy meal that matches your desired taste.
Best Overnight Oatmeal Recipe Ideas
Here are the most popular overnight oats recipes featured on Simply Oatmeal. These are the no cook oatmeal recipes our viewers read and share with others. Leave a comment and let us know what you think!
Are overnight oats healthy?
Yes, however there is a caveat to that statement. Oats by themselves are wholesome, nutritious and boast a number of health benefits. They contain plant-based protein, fat, fiber and also an array of essential vitamins and minerals.
Here are some of the benefits of overnight oats:
Only take 5 minutes to prepare
Nutritious source of fat, fiber and protein
Contain essential vitamins, minerals and antioxidant compounds
Help reduce overall cholesterol levels
Lower blood sugar levels
Good for weight loss
Relieve constipation
Although they contain beneficial antioxidant and compounds, the overall advantages can quickly turn away from being a super-healthy meal if you increase the sugar levels with additives like Nutella, chocolate chips or cookie spread. Therefore, its probably best to avoid sugary laced options and stick to the plethora of nutritious add-ins that we listed above.

Furthermore, it's commonly accepted that the least processed oats have more available nutrition. Rolled oats are less processed than quick or instant oats, and therefore are the best option if you're aiming for health.
What overnight oats ingredients do you need?
Do overnight oats taste good? Overnight oats are a yummy pudding like dish that is a perfect combination of texture and flavor.

The overnight oatmeal base is enhanced with your favorite liquid, add-ins and toppings. Here are a few options to consider when assembling your no cook oatmeal:
Oats: This is really the only ingredient that is firmly set in stone and not up for negotiation. There are many types of oats to choose from, however it's best to use old-fashioned rolled oats for the right consistency. Furthermore, you can use gluten-free oats to avoid any wheat-allergy reaction.
Liquid: Did you know that you can actually use water to make overnight oats? The most common liquid used is milk. You can use whole, low-fat or non-fat milk. You can also use plant-based alternatives like almond milk, coconut milk, flaxseed milk, hemp milk, oat milk and soy milk.
Yogurt (optional): Use a dairy or vegan alternative like almond or coconut yogurt. It gives the oats a tangy flavor, creamy consistency and added protein boost. Strained or Greek yogurt is preferred because it helps you control the overall levels of liquid.
Seeds (optional): Chia seeds, flaxseed, hemp seeds, poppy seeds, sesame seeds, etc. Seeds are packed with nutrition, improve the pudding-like texture and some can form a palatable jelly coating when hydrated. In general, I like to include chia seeds in my basic overnight oats recipe.
Sweetener (optional): Life is just better with a little sweetness. I prefer using honey, maple syrup, coconut sugar, dates and agave nectar, however you can use your favorite sweetener.
Vanilla extract (optional): Enhance the overall taste with a few drops of vanilla extract. This builds complexity to the oatmeal and increases the sweetness without any added sugars.
Toppings (optional): This is where you get to be creative and assemble flavor combinations that you are going to look forward to eating. Have fun with fresh fruit, dried fruit, roasted nuts, nut butters, chocolate chips, cocoa nibs, and spices like cinnamon, cardamom and nutmeg. Browse through the best oatmeal toppings and see if anything catches your eye!
Basic Overnight Oats Recipe
In my opinion, the basic overnight oats recipe is all about balance. The perfect overnight oats ratio is 2:1. The result is that the oats are fully hydrated, and the mixture is neither too soggy nor too dry.

Give my base recipe a try before making any drastic changes. Do realize that certain ingredients have a tendency to alter the proportion of fluids.

Yogurt is part of the liquids portion and seeds tend to absorb a significant amount of liquid. If you need to make changes to the ratio, adjust with more or less liquid to find the perfect balance for you!
Here is my overnight oats base recipe:
2 parts liquid + 1 part oats
Some people use cup, but a bowl, mason jar or meal prep container also work well. Start by adding the oats and the liquid.

Next, mix in the optional ingredients like Greek yogurt, seeds, vanilla extract and spices.
Now that the base flavors are assembled, adjust the level of sweetness to suit your desired taste. Give the mixture a quick stir so that the oats are fully coated.

Cover the container and refrigerate for at least 12 hours before eating. This allows the oats time to fully hydrate, and also helps reduce the phytic acid.

Phytates impair the absorption of iron, zinc, calcium and more, and also block the production of digestive enzymes, which make oats much harder for your stomach to digest.
Tips for Overnight Oats
When making no cook oatmeal, there are a few details that are worth acknowledging in order to improve the taste, texture and consistency. Take these tips into consideration when assembling your next batch of overnight oats.
What type of oats are best for overnight oats? It's recommended to use rolled oats for preparing overnight oats because the grain has been steamed and flattened, which exposes more surface area to the soaking liquid.There is a significant difference between steel cut, rolled and quick oats.

Rolled oats are perfect for soaking because the bottom layers become soft while the top layer has a soft bite left in it. When mixed together the result is a nice balance of soft and chewy texture.

Steel cut oats are very chewy when soaked overnight; they become a bit more palatable after a day or two, but are still fairly tough.
Quick oats are far too mushy when soaked and are the least desired option.

How do I make vegan overnight oats? Start with one of the dairy free liquid options. You can use a nondairy yogurt alternative for a tart and creamy taste. Instead of using honey, substitute agave, dates, coconut sugar or maple syrup. Here are the best vegan overnight oats recipes, however each of the overnight oats recipes can be easily modified to be vegan and dairy-free.
Do you eat overnight oats hot or cold? Overnight oats can be served either hot or cold, that really depends on personal preference. However, it's important to note that overnight oats do not need to be cooked. Heat up in the microwave for 30 seconds to a minute or on the stovetop for 2-3 minutes and enjoy a hot meal.
Do overnight oats have to be in a jar? Combine the recipe ingredients in a bowl, cup, jar or meal prep container. Use plastic wrap or an airtight locking lid to seal out the air and trap in the flavor. If you're looking for recommendations, here are the best overnight oats containers.
Do overnight oats need to be refrigerated? Overnight oats should be refrigerated while soaking, otherwise you will activate a fermentation. After the oats have fully hydrated and soaked for a minimum of 12 hours, then they are ready to eat.
How long do overnight oats last? Overnight oats last for five days when stored in an airtight container in the refrigerator. The oats will continue to soften the longer they soak, which results in a super-soft and creamy texture. You can also freeze overnight oats in individual containers for up to 6 months. Single portions means that you won't have to defrost a large batch each time you want a single serving.
Do overnight oats get soggy? In general, the bottom layer of the soaked oats is much softer than the top because the lower portion had the chance to soak up more liquid. Give the overnight oats a quick stir before serving so that you fully combine the soft and crunchy textures together.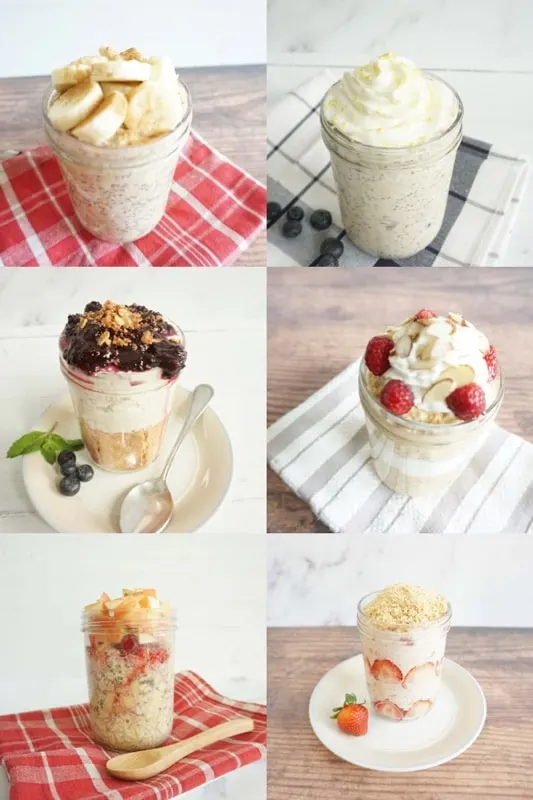 Yield:

1 serving
How To Make Overnight Oats
This easy overnight oats recipe is healthy, delicious and full of nutrition. Make ahead in a cup, jar or meal prep container for a healthy breakfast that you can quickly customize with add-ins and toppings!
Ingredients
Overnight Oats Base Recipe
½ cup rolled oats
¾ cup liquid
¼ cup Greek yogurt
1 tablespoon sweetener
¼ teaspoon vanilla extract
Apple Chia
½ cup grated apple (1 small apple)
1 tablespoon chia seeds
Blueberry Lemon
1 tablespoon chia seeds
1 tablespoon lemon juice
1 tablespoon lemon zest
½ cup fresh or frozen blueberries
Peanut Butter Banana
½ banana, mashed
½ teaspoon cinnamon
Pumpkin Spice Latte
Instructions
Place all of the ingredients into a container and mix well until everything is fully combined.
Cover the container with plastic wrap or an airtight lid.
Store in the refrigerator overnight for at least 12 hours.
The next day, give the mixture a quick stir to combine the soft bottom and crunchy top layers of the soaked oats.
Serve cold, or warm in the microwave for a minute or on top of the stove for 3 minutes.
Add a splash of liquid to loosen and thin the mixture if needed, and then garnish with your preferred oatmeal toppings.
Notes
To make it vegan, use dairy-free milk alternative, plant-based yogurt and avoid using honey.
To make it gluten-free, use gluten-free certified oats.
To make it sugar-free, avoid using ay sweeteners. Consider mashing or pureeing fruit into the base mixture.
To maintain freshness, store the overnight oats in the fridge for up to 5 days in an airtight container.
Recommended Products
As an Amazon Associate and member of other affiliate programs, I earn from qualifying purchases.
Nutrition Information:
Yield:
1
Serving Size:
1
Amount Per Serving:
Calories:

196
Total Fat:

3g
Saturated Fat:

1g
Trans Fat:

0g
Unsaturated Fat:

2g
Cholesterol:

3mg
Sodium:

23mg
Carbohydrates:

31g
Fiber:

4g
Sugar:

4g
Protein:

11g
Please note that the nutrition label provided is a rough estimate based on the basic overnight oats recipe. Overall nutrition will vary based on the specific ingredients and amounts you use. This information should not be considered a valid substitute for any professional nutritionist's advice. The nutrition value is for one serving without any additional toppings.
Easy Overnight Oats Recipes
Here are thorough roundups of overnight oats recipes that include vegan, gluten-free and dairy-free variations of each main ingredient. From apple to banana, blueberry and pumpkin, we have covered countless overnight oats recipes for you to try.