*This post may contain affiliate links. Please see my
disclosure
to learn more.
Take your breakfast game to the next level with this coconut oatmeal pancake recipe. Not only are the pancakes decadently delicious, but the dairy free recipe is packed with whole grain nutrition that will also make you feel full.
Whether you're assembling a brand new breakfast idea or looking for fun pancake recipes, Simply Oatmeal has creative combinations for you to try next. In fact, there are a number of oatmeal pancakes that can liven up your breakfast routine.

From vegan banana oatmeal pancakes to sweet potato oatmeal pancakes, a bowl of porridge is not the only way to incorporate oats into your lifestyle. Give it a try for yourself, and serve up an exciting new taste with these unique breakfast recipes.
You will enjoy coconut oatmeal pancakes because…
Require only 15 minutes to prepare.
Wholesome and nutritious healthy breakfast idea.
Contains plant based protein, insoluble and soluble fiber, and essential vitamins and minerals.
High fiber content makes you feel satiated for longer periods of time!
Perfect blend of sweetness.
Tastes just like toasted coconut with a hearty oatmeal base, its delicious and nutritious!
You will also love these Easy Oat Flour Pancakes!
Not only is this pancake recipe fulfilling, but the coconut and oats also contain nutritional basics like healthy fat, whole grain fiber and essential organic compounds. Each pancake is densely packed with energy boosting nutrition that tastes delicious will also quench your sweet tooth craving.

This panfried cake recipe is easy to follow and only requires a handful of staple ingredients. Enjoy the combination of sweet strawberry syrup and decadent coconut with heart healthy benefits of oats, but this tasty coconut oatmeal pancake combination only scratches the surface of potential.
How to make coconut oatmeal pancakes?
Assembling coconut oatmeal pancakes is really easy to do. All you need is a mixing bowl and a few minutes to soak the oats in the coconut milk. Mix in the dry ingredients and pan fry the cakes in a hot pan until they are golden brown.

Here are the recipe ingredients you need followed by quick and easy steps to follow:
Coconut Oatmeal Pancake Ingredients: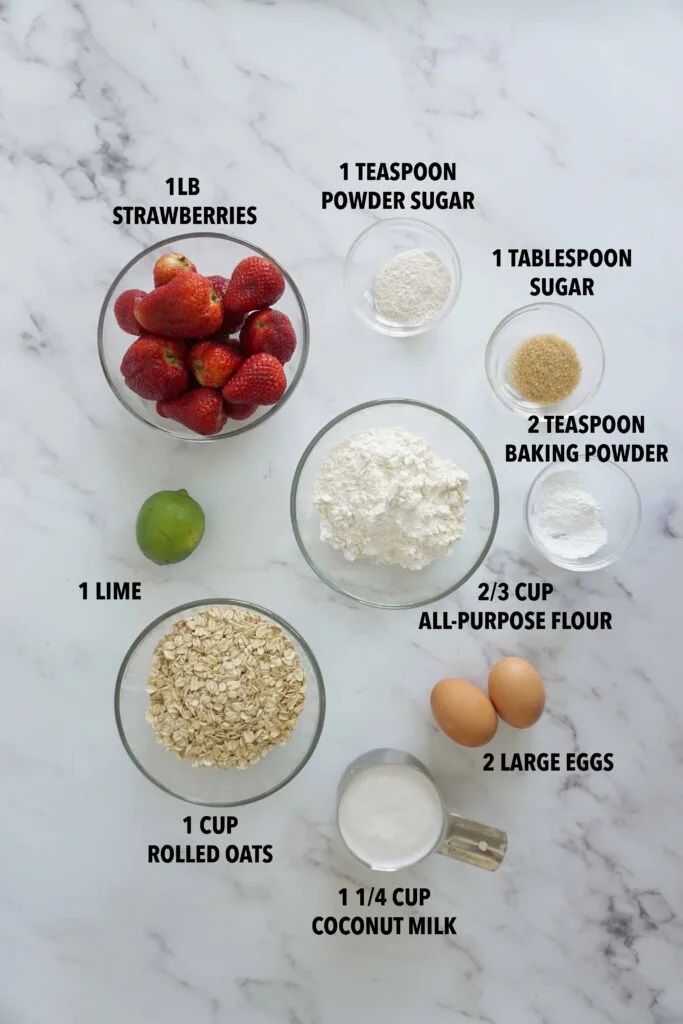 Old-fashioned rolled oats
Coconut milk
Sugar
Eggs
All-purpose flour
Baking powder
Coconut oil
To make the coconut oatmeal pancake batter, soak the rolled oats in coconut milk in a large bowl for 10 minutes.
Melt the coconut oil and cool to room temperature.

Then, mix oil, eggs, and sugar into the oats.
Next, fold in the flour, baking powder, salt, and ground cinnamon; be careful to not over mix the batter at this point.

Allow the pancake batter to rest for 5 minutes before cooking.
Heat a large skillet over medium-high heat, add a spoonful of coconut oil and ladle batter into the hot pan. Cook about 3 minutes or until the bottom turns golden-brown. Flip the pancakes and cook 2 to 3 minutes more.

Continue to cook the remaining batter in batches until finished.
Coconut Oatmeal Pancake Tips
Although the recipe does not yield very many pancakes, each serving is hearty and fulfilling. You'll have to restrain yourself because you'll defiantly want to go back for seconds, but give the meal a chance to digest because the coconut oat pancakes are extremely filling.
Enjoy a dose of sweet and savory coconut oatmeal pancakes. The mixture takes your breakfast experience to the next level. Here are a few tips to improve the results of your pancakes:
Coconut: Unsweetened coconut is a healthy ingredient that packs a balance of flavor, natural sweetness and toasted nutty aroma. Pan fried oats are the predominate flavor, however there is slight hint of coconut to offset the balance.
Strawberry: The sweet tasting strawberry syrup adds a delicious touch to the breakfast recipe. The spongy pancakes will soak up the sweet sauce around the edges of the plate.
Lime: Add uniqueness to the sweet syrup with lime zest and juice. The zesty tartness is guaranteed to spark your tastebuds and get your palate excited about starting the new day.
Oats: Rolled oats and quick oats work well when making this pancake recipe. Rolled oats have thicker flakes that gives texture to the pancake. Quick oats have thinner pieces that are broken up into small bits, only soak quick oats for half the amount of time.
Dried fruit: If you were looking to make a slight variation, apricots, blueberries, cherries, dates, figs, peaches, plums and raspberries would enhance the taste of the syrup and allow for plant of variety to the topping.
Nuts: Almonds, hazelnuts, pecans, pistachios and walnuts are nuts that could easily be added to the pancake topping. There are no nuts in this pancake recipe, but nuts add nutritional benefits like protein, fiber and healthy fat.
Make ahead: Pancake batter can be kept in the fridge for about an hour. Store inside an airtight container or ziplock bag to maintain moisture within the batter.
Storage: Fresh cooked pancakes last for about 5 days when stored inside an airtight container in the refrigerator, or in the freezer for up to 3 months.
MORE DELICIOUS OATMEAL PANCAKE RECIPES: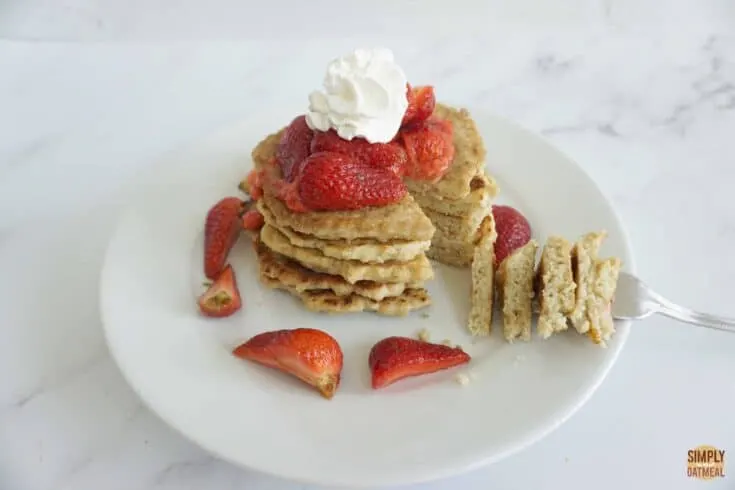 Yield:

8
Coconut Oatmeal Pancakes Recipe With Strawberry Lime Syrup
Coconut oatmeal pancakes are an absolutely delicious dairy-free recipe that tastes amazing! Top the oatmeal pancakes with strawberry lime syrup for a delightful treat during your morning routine.
Ingredients
1 cup old-fashioned rolled oats
1¼ cups coconut milk
2 tablespoons sugar
2 large eggs
⅔ cup all-purpose flour
2 teaspoons baking powder
1 tablespoon coconut oil
1# strawberries, hulled and halved or quartered if large
1 lime, zested and juiced
Instructions
To make the strawberry lime syrup, put the cut strawberries in a bowl with the lime zest, lime juice and 1 tablespoon sugar. Toss together until the sugar dissolves and the strawberries are coated with syrup.

To make the coconut oatmeal pancake batter, whisk the rolled oats and the coconut milk together in a large bowl. Let the oats soak for 10 minutes.

Melt 1 tablespoon coconut oil and set it aside to cool.
Add the coconut oil, 2 eggs, and 1 tablespoon sugar to the oats, and whisk to combine.
Use a spatula to fold in flour, baking powder, salt, and ground cinnamon; do not over mix.

Let the pancake batter rest for 5 minutes.
Heat a large cast iron or nonstick skillet over medium-high heat, add a tablespoon of coconut oil and scoop 2 ounces of batter for each pancake. Cook about 3 minutes or until bubbles appear on the surface, the edges begin to dry up, and the bottom turns golden-brown. Flip the pancakes and cook 2 to 3 minutes more or until the other side is golden-brown.

Transfer the cooked pancakes to a warm plate. Continue cooking the remaining batter.
Stack the pancakes, top with strawberry lime syrup and a dollop of coconut cream or coconut yogurt.

Notes
Storage: Coconut oatmeal pancakes can be refrigerated in an airtight container for up to 5 days or frozen for up to 3 months.
Raw pancake batter is not recommended for storage because the baking powder has already been activated and the resulting pancakes will not be as fluffy.
Nutrition Information:
Yield:
4
Serving Size:
2
Amount Per Serving:
Calories:

385
Total Fat:

22g
Saturated Fat:

17g
Trans Fat:

0g
Unsaturated Fat:

3g
Cholesterol:

93mg
Sodium:

290mg
Carbohydrates:

39g
Fiber:

3g
Sugar:

7g
Protein:

9g