*This post may contain affiliate links. Please see my
disclosure
to learn more.
Are you looking for an easy-to-cook recipe that is both healthy and delicious? If yes, then please look no further as you have already landed on the right page. Today, you are going to reveal the mouthwatering recipe of banana butterscotch oatmeal pancake.
Learn how to make specialty flavors and unique blends using whole grain oatmeal! Made with fresh ingredients and mouthwatering flavor combinations, these oatmeal pancake recipes are guaranteed to knock your socks off.

Whether you enjoy eating hot or cold oats, we have created recipes you are guaranteed for you to fall in love with. From vegan banana oatmeal pancakes to sweet potato oatmeal pancakes, every bite will take you further away from your average diet and much closer to a fulfilling energy packed meal prep idea.
You will love this banana butterscotch oatmeal pancake because:
Only takes 5 minutes to prepare the batter.
Pancakes are cook up in just a few minutes.
Banana butterscotch topping is really easy to make.
Classic flavor is quite popular among enthusiastic connoisseurs.
Heavenly delicious combination of banana and butterscotch topping poured over light and fluffy oatmeal pancakes.
If you are someone that is eager to elevate your taste-buds with a healthy and nutritious recipe, then this banana butterscotch oatmeal pancake will be so apt for you.

There are two significant parts of this recipe that you should take a quick note. Oatmeal is extremely nutritious, and with the many health benefits of oats there is no doubt about it. In fact, oats are considered to be one of the healthiest grains on earth.

You are already been the health and nutrition values of the banana butterscotch oatmeal pancake recipe. Let's now talk about its lip-smacking taste. The finger-licking taste of this recipe will surely satiate the food cravings of both kids and elderly people.
How to make banana butterscotch oatmeal pancakes?
The banana butterscotch oatmeal pancake recipe is extremely easy to make, and even if you are a beginner and trying this recipe for the first time, you won't face any troubles and hassles. Plus, the recipe does not require too many ingredients, and the preparation and cooking time is just moderate. So let's get started!
Banana Butterscotch Oatmeal Pancake Ingredients: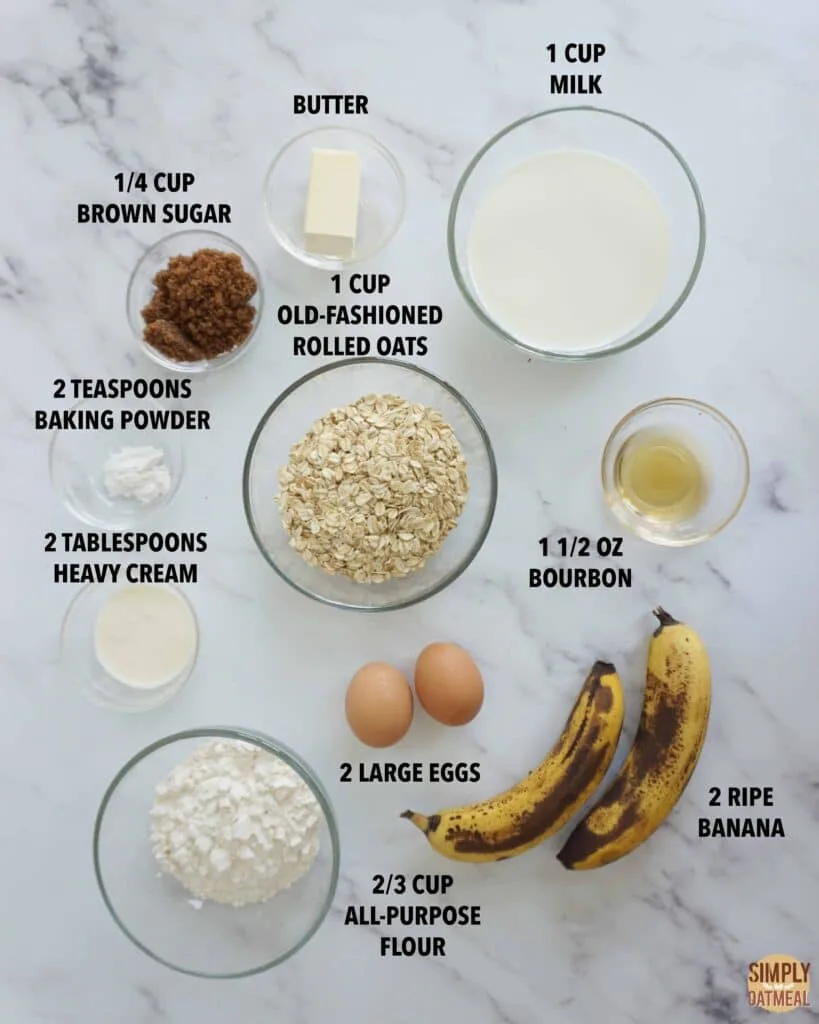 Milk
Eggs
All-purpose flour
Baking powder
Brown sugar
Butter
Bananas
Bourbon
Heavy cream
In a large bowl, soak the rolled oats and milk for 10 minutes.

Whisk in the eggs, then add the all-purpose flour and baking powder, and whisk until just combined; careful to not over mix at this point.

Melt butter in a large skillet over medium-high heat, and cook ¼ cup portions of batter until bubbles form on the surface. Flip the pancakes over, and cook the other side, total about 2-3 minutes per side.
To make the banana butterscotch sauce, melt the sugar and butter in a medium sized nonstick pan.

Add the sliced bananas and cook 3 minutes per side.

Stir in the bourbon and cook for 30 seconds.

Add the cream to finish the emulsified sauce and pour over the top of the oatmeal pancakes.
Banana Butterscotch Oatmeal Pancake Tips:
So, what are you waiting for? When you're tired of the same old thing, make banana butterscotch oatmeal pancakes for fun and exciting breakfast idea.
Please make sure to try this healthy, super delicious, easy-to-cook, and energy-producing recipe today! Here are recommended tips to make your oatmeal pancakes taste fluffy and delicious every bite you take:
Banana: In addition, the recipe even combines the best health benefits of bananas too. Needless to mention, banana is a good source of vitamin C, Potassium, and Manganese. It improves your digestion, beats gastrointestinal issues, and it's free of cholesterol and fats.
Butterscotch: The quick sauce is assembled in the pan while caramelizing the bananas. If you don't have bourbon, no problem! Transition to an easy caramel sauce for a similar result!
Oats: Rolled oats or quick oats are the preferred type of oats for making oatmeal pancakes. Steel-cut oats aren't recommended for baked goods preparations because they are extremely tough and will not fully cook when baked into any dough or batter.
Toppings: To make the recipe even more interesting, please feel free to add your favorite toppings on it. Maple syrup, fresh berries, sliced banana, chocolate chips, and sliced almonds are some of the best topping ideas that go extremely well with this preparation.
Make ahead: Meal prep the batter and cook the pancakes ahead of time for an easy breakfast idea. The pancakes will cool and the banana butterscotch sauce will thicken, but the meal will still be delicious. Loosen up the consistency with a splash of milk and give the pancakes a quick reheat in the microwave or on the stovetop.
Storage: When kept in separate airtight containers inside the fridge, the cooked oatmeal pancakes and banana butterscotch sauce are good for about 5 days. In the freezer, it should last about 3 months. Store each pancake with a layer of parchment or wax paper in between.
LOOKING FOR MORE OATMEAL PANCAKES FOR THIS WEEK?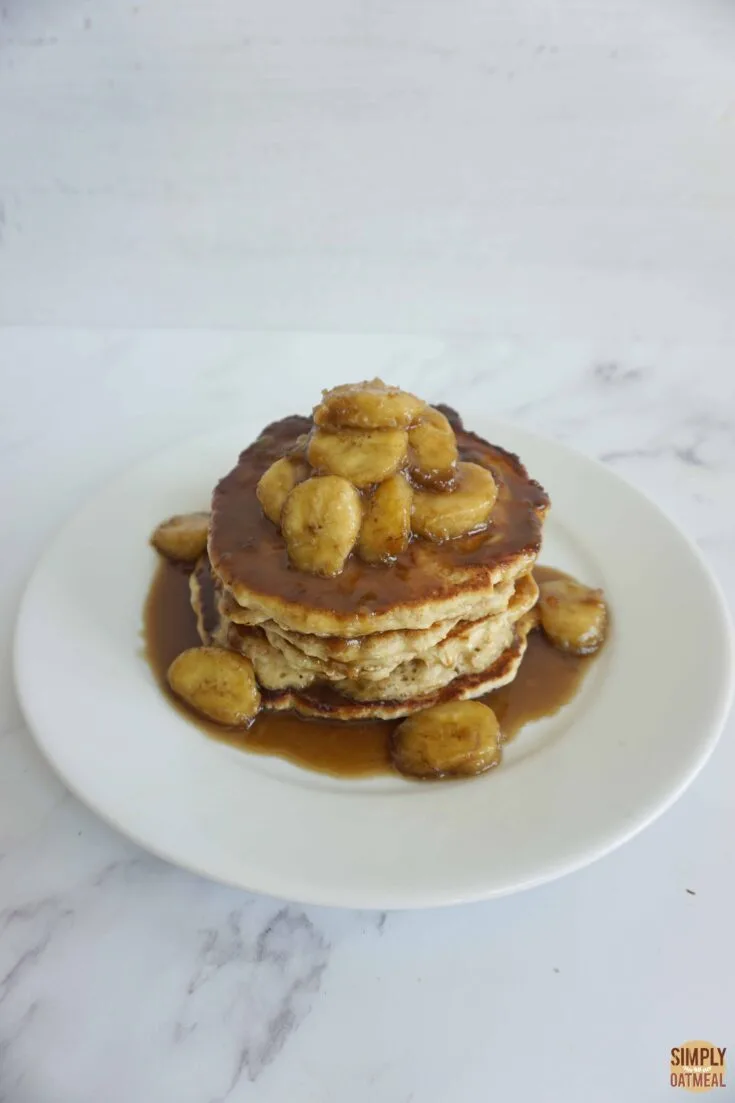 Yield:

8 pancakes
Banana Butterscotch Oatmeal Pancake Recipe
Banana butterscotch oatmeal pancakes are a decadent dessert style breakfast idea that is going to make your senses explode! See how the semi-sweet butterscotch tastes when poured over caramelized bananas and savory oatmeal pancakes. Give it a try for yourself!
Ingredients
Oatmeal Pancakes
1 cup old-fashioned rolled oats
1 cup milk, regular or non-dairy
2 large eggs
⅔ cup all-purpose flour
2 teaspoons baking powder
Banana Butterscotch
¼ cup dark brown sugar
4 tablespoons butter, plus more melted for frying
2 bananas, cut diagonally into ½" slices
1½ oz bourbon
2 tablespoons heavy cream
Instructions
Combine the rolled oats and milk in a large bowl and let stand for 10 minutes so that the oats soften.

Add the eggs to the oats, and whisk to combine.
Add the all-purpose flour and baking powder, and whisk until just combined; do not over mix.

Let the batter rest for 5 minutes.
Heat a large skillet over medium-high heat, melt a teaspoon of butter and scoop ¼ cup portions of batter into the hot pan.
Cook the pancakes about 3 minutes until bubbles begin to form on top and the bottom become golden brown.

Continue cooking until the batter is finished.
Melt the sugar and butter in a medium sized nonstick pan. Add the sliced bananas and cook for a couple minutes on each side.
Stir in the bourbon, cook for 30 seconds and be careful that the alcohol does not ignite.
Then, add the cream and stir to emulsify the sauce. Take off the heat and pour over the top of the oatmeal pancakes to serve.

Notes
Storage: The pancakes can be refrigerated in an airtight container for up to 5 days or frozen for up to 3 months. Layer parchment paper in between each pancake for best results.
Pancake batter and banana butterscotch are best served when fresh. The pancake batter will not be as fluffy and the bananas will become mushy if prepared in advance.
Nutrition Information:
Yield:
4
Serving Size:
2
Amount Per Serving:
Calories:

468
Total Fat:

19g
Saturated Fat:

11g
Trans Fat:

1g
Unsaturated Fat:

7g
Cholesterol:

137mg
Sodium:

410mg
Carbohydrates:

58g
Fiber:

4g
Sugar:

19g
Protein:

11g