*This post may contain affiliate links. Please see my
disclosure
to learn more.
Are you wondering whether oatmeal pancakes are healthy for your breakfast? Of course, they are! Oatmeal pancakes are perfectly ideal for any breakfast table.
Not only do they offer nutritional value, since they contain oatmeal, but also they deliver a mouthwatering taste that you will definitely enjoy. Oatcakes will become a new favorite in the family breakfast menu!
Healthy oatmeal pancakes are considered to be a perfect staple of any balanced diet. Especially, those people who are following a weight loss regime or health conscious consumption, then these recipes will be so apt for you!
You will love oatmeal pancakes because…
Require less than 20 minutes to prepare the batter and cook the oatcakes.
Nutritious combination of dietary fiber, healthy fats and plant based protein.
Balance of wholesome goodness and healthy whole grains.
Has a hint of baked oatmeal, but the taste is not overwhelming and the pancake batter is neither dense nor doughy!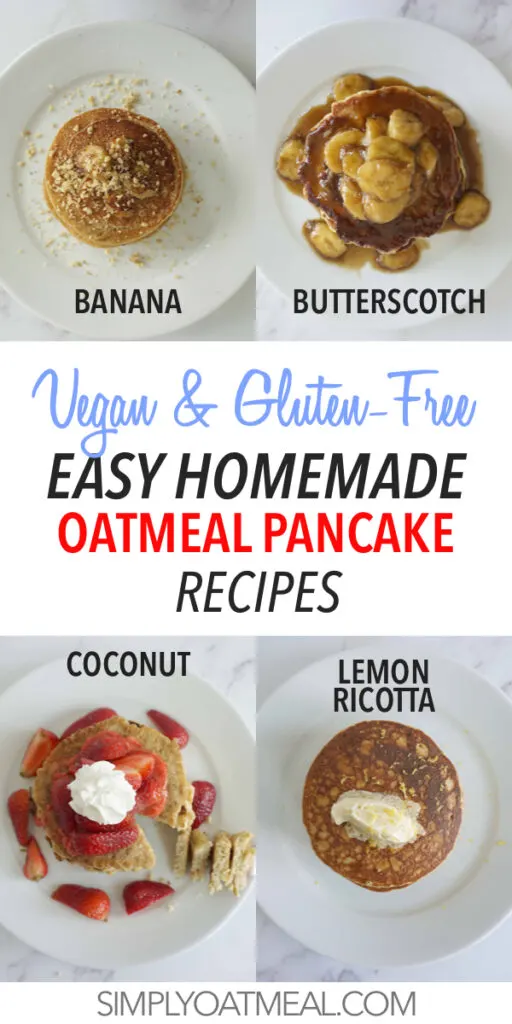 These pancake recipes will keep your stomach full, and that's why you will not have any hunger pains. With lesser cravings, you will be able to manage your weight loss goals more precisely.
In addition to the nutritional boost of oatmeal, these homemade oatcakes are fiber rich and packed with an array of essential vitamins and minerals. Talk about a well-balanced breakfast idea that boasts the nutrition needed to get the day started.
Pancakes are widely considered to be one of the most famous breakfast recipes. Not only are they easy to cook, but also offer finger-licking deliciousness.
Can you use quick oats in pancakes?
When assembling pancake batter with whole grain oats, both quick oats and rolled oats can be used interchangeably. The weight or volume will remain the same, however quick oats soak up the liquid much quicker and take a minutes less to prepare.
If you substitute quick oats for old-fashioned rolled oats, the texture may vary slightly. For most oatcake recipes, the difference in consistency, in general, won't matter very much.
Can you substitute oat flour for all purpose flour in pancakes?
In most pancake recipes, it is generally safe to assume that you can substitute oat flour for about 30% of the all purpose flour.
Adjusting a recipe too much may have an affect on the overall consistency of the batter and cooked pancakes. Oatcakes can be made with 100% oatmeal, so it's best to look for recipes that are specifically formulated for oat flour.
Homemade oat flour is easy to make and can be used in all sorts of baking recipes. Try these Fluffy Oat Flour Pancakes!
So can you make oatcakes with oatmeal flour instead of rolled oats?Oat flour is a gluten-free flour that comes in handy for, however too much oat flour can make the pancake batter dense and doughy.
I do not recommend substituting oat flour for the entire amount of all purpose flour. Depending on the recipe, I prefer a blend of rolled oats and oat flour.
In general, you can substitute the all purpose flour for a gluten free flour when preparing these oatmeal pancake recipes.
Can you substitute oatmeal for flour in pancakes?
Oatmeal pancakes are commonly made with quick oats, rolled oats and oat flour. Substituting regular oats for the flour will result in a chewy texture that is quite palatable.
When making oatcakes, you may substitute rolled oats, quick oats or oat flour for up to one-third of the flour. Rolled oats are thick flakes, while quick oats are smaller sized, thin pieces.
The chewy texture is enjoyable, however because oats do not develop gluten like wheat grains the results can be a denser dough as opposed to an airy and fluffy pancake.
How do you make your oatmeal pancakes moist?
Oats can either be ground into flour or used as whole flakes.
When using old-fashioned rolled oats, soaking the flakes in milk for about 10 minutes is the key to making moist oatmeal pancakes. The oats need to hydrate for enough time to soak up the liquid.
However, the rolled oats will become too soggy if soaked overnight.
In addition, mashed banana, sweet potato puree or applesauce can be used to improve the texture of the oatcakes. Liquid sweeteners like maple syrup also help to increase the moisture content within the pancakes.
How do I make my pancakes light and fluffy?
Oatcakes rely on gases from activated baking powder or baking soda to give the "rise" or elevate the batter to make pancakes light and fluffy. There is a fine line between too much and too little.
Too little and the oatcake won't rise enough.
Too much and the oatmeal pancakes will rise quickly and collapse before the batter sets firmly in the pan.
The proportions within pancake recipes are sometimes adjustable. If you have an oatcake recipe that you truly enjoy, evaluate the proportions to determine how much leavening agents are used and adapt the mix-ins to match a similar ratio.
Are homemade oatmeal pancakes healthy for breakfast?
Oatmeal pancakes feature an exceptional composition of various essential nutrients, such as soluble fibers, vitamins, minerals, vegan protein, and complex carbs. Oatcakes is extremely well-balanced and that's why these recipes are considered to be healthy.
Oats are a healthy whole grain that contain both soluble and insoluble fiber, plant based protein and healthy fats.
Here are some of the benefits of oats when added to an balanced diet:
Fiber rich: Oatmeal contains both soluble and insoluble fiber, which helps you will keep your appetite full for long times and help you shed off extra weight. In addition, they ensure the following health benefits, such as keeping your cholesterol under control and regulating your blood sugar level.
Plant-based protein: Oats are a source of amino acid proteins that support a foundation for strong muscles.
Essential vitamins and minerals: Whole grain oats contain b-vitamins, calcium, iron and magnesium. Around others, these essential vitamins and minerals are key components for a healthy and balanced diet.
Antioxidants: Oats are a nutritious source of beneficial compounds and natural antioxidants that enhance immunity and fight against common heart issues.
The best part is that the nutritional value of these pancakes are increased by adding one main ingredient, oatmeal! Whole grain oats contain plant based protein, healthy fats and dietary fiber.
The high fiber content helps you feel satiated, so that you can avoid unnecessary cravings and excessive snacking. Increase fiber also aids digestion, reduces cholesterol levels and improves heart health.
In addition, oats contain basics for a balanced diet like antioxidants, and essential vitamins, and minerals. With the countless health benefits provided, there is no doubt that whole grain oats are a healthy food to add to your overall diet.
How To Make Oatmeal Pancakes
So, we have revealed some of the incredible nutrition benefits of oatmeal-based healthy pancake recipes. Are you now wondering whether these healthy oatmeal pancakes are easy to make?
Do these oatcakes require lots of cooking hassles, and are oatmeal pancakes suitable for beginners to make? Yes, oatmeal pancakes are extremely easy to cook, and do not require fancy cooking skills.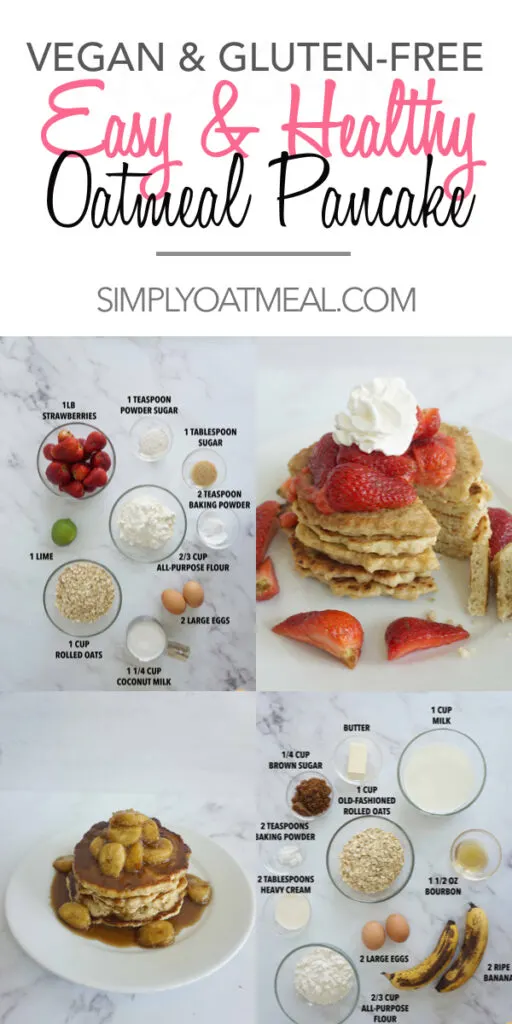 Easy Oatmeal Pancake Recipe
Starting from preparing the ingredients to cooking the oatcakes, the entire dish can be ready in 20 to 30 minutes. Here is an easy oatmeal pancake recipe for a healthy breakfast idea.
Ingredients:
1 cup regular rolled oats
1 cup milk, regular or dairy-free
2 eggs
1 tablespoon unsalted butter, melted
⅔ cup all-purpose flour
2 teaspoons baking powder
1 tablespoon granulated sugar
¼ teaspoon kosher salt
¼ teaspoon ground cinnamon
INSTRUCTIONS:
In a large bowl, combine the rolled oats and milk; let stand for 10 minutes until the oats soften.
Melt the unsalted butter and allow it to cool.
Whisk the butter and eggs into the oats.
Fold in the all-purpose flour, baking powder, granulated sugar, kosher salt, and ground cinnamon; do not over mix.
Let the batter rest for 5 minutes.
Heat a large cast iron or nonstick skillet over medium-high heat.
Add 1 teaspoon butter and scoop ¼ cup oatmeal pancake batter into the hot pan. Cook until bubbles form on top, the edges begin to set, and the bottom turns golden-brown, about 3 minutes. Flip and cook the other side about 3 more minutes.
Transfer the pancakes to a warm plate and continue cooking the remaining batter.
Recipe Notes:
Meal prep: Make the batter ahead of time, however its recommend to used right away so that the pancakes get maximum rise from the leavening agents.

Storage: Cooked oatcakes can be refrigerated in an airtight container for up to 5 days or frozen for up to 2 months.
Basic Ingredients For Oatmeal Pancakes
Oatmeal pancakes will taste even better if you follow the basic ingredients recommendations. Oats have a bland taste, so incorporating unique flavor combinations will improve the overall taste of the fresh oatcakes.
Here are ingredient basics that will improve the batter so that you prepare moist and fluffy pancakes every time:
Oats: Rolled oats and oat flour are used for making oatmeal pancakes that are moist, fluffy, and golden brown on both sides. Quick oats will do, but the tiny pieces will provide less texture and chewiness to the cooked pancakes.
Fruit: Fruits add natural sweetness and delicious flavor into the pancake batter or as a tasty topping over the cooked pancakes. Applesauce and mashed banana can be also used as a binding agent to hold the pancake batter together using less milk. Blueberries, strawberries and raspberries are some delicious berries to use on top of pancakes, but feel free to use your favorite fruits inside the oatcake batter or as a topping.
Nuts: Nuts enhance flavor, aroma, and add crunchy texture, while also providing a nutritional source of dietary fiber, healthy fats and plant based protein. Use classic flavor combinations to pair your favorite nuts with compatible ingredients. Fold them into the batter or use them as a complimentary topping.
Seeds: Make homemade oatmeal pancakes even more healthy by topping with superfood ingredients like chia seeds, flaxseeds, hemp seeds, sesame seeds and sunflower seeds.
Oil: Melted butter or coconut oil are used to make oatmeal pancakes moist and fluffy. The liquified fat is used to moisten the batter and bind the dry ingredients together. In addition, the fat crisps the edges and toasts the batter when pan cooked. Each recipe uses a small amount of melted butter or coconut oil, but feel free to substitute for vegetable oil if you prefer.
Sweetener: Dry sweeteners include granulated sugars, coconut sugar, date sugar, maple sugar and stevia. Liquid sweeteners include agave, brown rice syrup, coconut nectar, honey and maple syrup. It is possible to substitute your favorite sweeteners in these healthy oatmeal pancake recipes.
Spices: The spices brighten up the taste and enhance the overall flavor of the classic flavor combinations. Uses spice and essential oil extracts to compliments the base taste of the oatcakes.
Tips For Making Oatmeal Pancakes At Home
Who doesn't want to start a day with a strong and healthy breakfast that quenches your appetite and keeps you full? If you are looking for some good and reliable options, then healthy oatmeal pancake are a recommended breakfast option for you.
You can serve these easy oatcake recipes to any member of your family, both grown adults and young kids will love it too. Please feel free to add any toppings like maple syrup, honey, fresh fruit, or chocolate chips because your inner child will love it!
If you are now ready to cook these healthy oatmeal pancakes, please follow the cooking tips below for the best outcome:
Vegan: Milk and butter are the main concerns when making vegan oatmeal pancakes. Substitute the liquid for a dairy free alternative, and use a vegan fat such as coconut oil for a flavor that compliments the oatcakes.
Gluten free: Oatmeal pancake recipes can be made with 100% gluten free ingredients. Check the recipe specifications and select a wheat-free recipe. Whole grain oats are naturally gluten free, however its recommended use certified oats to avoid and cross contamination that occurs during production.
Consistency: The batter of the oatmeal pancakes should have a smooth, velvety, and paste-like consistency. Moist batter makes fluffy and airy pancakes.
High heat: Use a non-stick pan to prepare these pancakes so that they won't stick to the surface. Start cooking the oatcakes with medium-high heat to force the batter to spring up quickly and set the top. Flip, and continue cooking for 2 minutes so that the pancakes are nice and tall with a moist center.
Make ahead: Meal prep the batter in advance for a hot breakfast that can be prepared in just a few minutes. Reheat oatmeal pancakes in a hot pan or in the microwave for a minute.
Storage: To maintain freshness, store the oatmeal pancakes in an airtight container for up to days. Fresh made oatcakes also last for up to 3 months in the freezer. Store with a piece of parchment paper in between each layer. Thaw the frozen pancakes in the fridge overnight, then quickly reheat.
Best Flavor Combinations For Oatmeal Pancakes:
Take your healthy oatmeal pancakes to the next level by exploring fun combinations of flavor. Adjust the sweetness to your liking, and vary the toppings or mix-ins to suit the taste you are going for.
From vanilla essence to butterscotch sauce, these pancakes are guaranteed to peak your tastebuds. Here are the best flavor combinations and oatcake toppings that we have explored:
Banana + Brown Sugar + Bourbon + Cream
Banana + Almond + Vanilla
Coconut + Strawberry + Lime
Lemon + Ricotta + Vanilla + Honey
Sweet Potato + Maple + Almond + Cinnamon
The quick cakes are moist in the center with crunch around the outside edge. The batter is not super sweet, but they are guaranteed to quench your cravings for a sweet treat.
Chop large fruit toppings, crush the nuts and sweeten with maple syrup to your likeness. You are going to continue returning to these healthy oatmeal pancakes recipes again and again.
Easy Oatmeal Pancake Recipes
Homemade oatmeal pancakes are easy to make, hearty and mouthwateringly delicious. Explore unique flavor combinations and customize each batch of batter.
Whole grain oats provide nutritional support such as fiber, plant based protein, healthy fats and essential vitamins and minerals. Enjoy the best oatmeal pancake recipes as a heart-healthy meal that benefits a well balanced diet.
Oatcakes are a perfect breakfast if you are looking for a brand new recipe to try. Here are easy oatcake recipes for you to try!