*This post may contain affiliate links. Please see my
disclosure
to learn more.
Are you looking for a dairy free, wheat free, gluten free, and purely vegan breakfast idea? If yes, then we've got the best recommendation, vegan banana oatmeal pancake are here to save the day!
Attention all breakfast lovers! Try the healthy oatmeal pancake recipes that are easy to put together and taste absolutely amazing every time!
From sweet potato oatmeal pancakes to coconut oatmeal pancakes with strawberry lime syrup, we have you covered. Here at Simply Oatmeal, we've tested a variety of ways to incorporate oatmeal into your weekly routine, we guarantee you won't get tired of adding oats into your healthy diet.
You will love this vegan banana oatmeal pancakes because…
Prepared in about 5 minutes.
Vegan, dairy-free and also gluten-free!
Packed with plant based protein, dietary fiber and healthy fats, you'll feel full until all day long!
Just the right balance of sweet and fluffy pancakes that are packed with wholesome goodness.
Tastes just like a quick banana bread with a hearty oatmeal base, the full flavored pancakes are absolutely delicious!
Oats are widely famous for their outstanding health benefits. Enriched with powerful antioxidants, essential vitamins, nutrients, and minerals, the ingredient helps you maintain better heart health.
The best part of this preparation is that it's naturally sweetened, and it will surely fulfill your sweet tooth cravings. Starting from little kids to the adult members, your family will definitely enjoy its heavenly delicious taste.
Needless to mention, it's not easy to find a gluten free and vegan yet tasty breakfast recipe. However, this vegan banana oatmeal pancake is a 100% vegan preparation, super delicious and extremely nutritious breakfast idea!
How to make vegan banana oatmeal pancakes?
Luckily, this preparation combines all the benefits that are often demanded by healthy eating individuals. Vegan banana oatmeal pancakes is a great way to satisfy your sweet tooth with a dairy free and gluten free meal.
The full flavored oatmeal pancake has no dairy, eggs or gluten. On top of that, the recipe is extremely delicious, and it will satiate the taste-buds for all of you.
Treat yourself to a superfood packed recipe that is perfect to eat at any time of day! What's more, Vegan Banana Oatmeal Pancake is extremely healthy, all thanks to its core ingredients like oats and banana.
Do you even know that the recipe is extremely easy to prepare and does not require much preparation time? So, how do we make a batch of vegan pancake batter?
Banana Oatmeal Pancake Ingredients: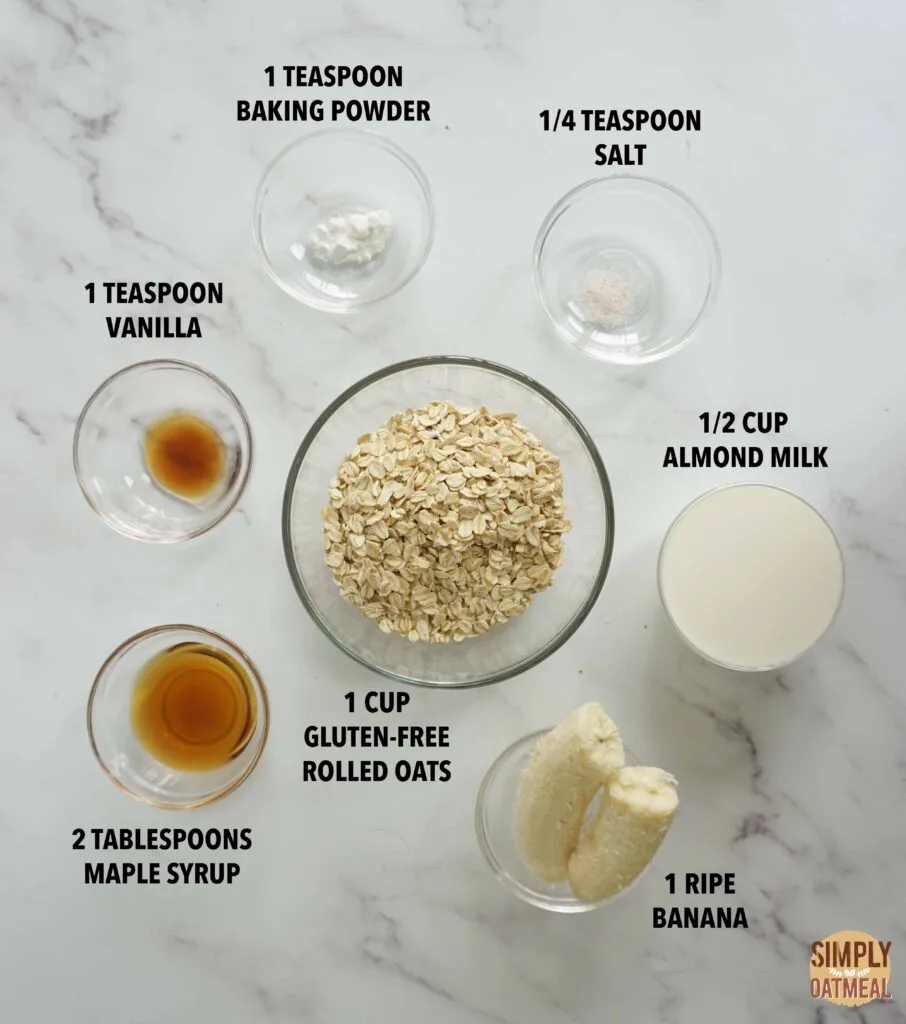 Almond milk
Maple syrup
Banana
Vanilla
Baking powder
Salt
Use a blender or food processor to make oat flour with the rolled oats.

Add remaining ingredients, and blend until smooth.
Heat pan over medium heat, melt a teaspoon of coconut oil and pour ¼ cup of batter into the hot pan.

Cook until bubbles form on the surface, about 2 minutes on each side.
Continue cooking until all of the batter is used up.

Top with fresh berries, maple syrup or any pancake toppings you prefer.
Banana Oatmeal Pancake Tips:
Incorporate the helpful hints to take your vegan banana oatmeal muffins to the next level. So, what are you waiting for, hurry up and try out this recipe today.
To further make it more interesting and delicious, please follow the cooking tips listed below. Here are handy tips to keep your quick bread extra fresh and enjoyable every time:
Banana: Another key ingredient of this recipe is none other than the ripe bananas, both bananas and oats are easily available. Banana adds creaminess and natural sweetness to the quick pancake recipe, along with adding the moisture needed for the dry ingredients bind together.
Milk: I tested this recipe with my homemade 5-minutes almond milk recipe, however any milk product, both dairy or nondairy, would work great.
Oats: It's easy to pulse oats in a blender or food processor to make oat flour. When making your own oat flour, it's recommended to use either rolled oats or quick oats. Steel cut oats are minimally processed, so they require milling equipment to grind.
Vegan: This recipe is dairy free and egg free. Use your favorite non dairy milk alternative to keep this pancake recipe vegan.
Gluten free: No flour is used in this quick bread preparation, so this pancake is gluten-free. Even though oats are gluten free, certified oats are recommended if you are on a strict wheat free diet.
Sweetness: Adjust the sweetness to accommodate your taste preferences. There is a natural sweetness from the banana taste blended into the oatmeal pancake base. The sugar content is kept to a minimum, so feel free to adjust the amount of maple syrup to suit your liking.
Consistency: First of all, the batter of the pancake must be consistent, silky smooth, and neither too thick nor too thin. The batter will produce thin pancakes, but they should not look watery.
Toppings: You can serve this recipe with your favorite choice of pancake toppings like maple syrup, jelly, peanut butter, chocolate chips, or fresh fruit.
Make ahead: These pancakes can be stored in the fridge or freezer. So, if you have made extra pancakes, do not worry. Meal prep ahead of time for a tasty meal the next day. Quickly rewarm the pancakes in the microwave or stovetop.
Storage: You can keep the pancakes separated using parchment paper or wax paper to avoid sticking. To ensure freshness, the oatmeal pancakes should be stored in an airtight container in the refrigerator for about 5 days or up to 3 months if placed in the freezer. Allow to thaw in the fridge overnight and then reheat to your liking.
GRAB THESE TASTY OATMEAL PANCAKE RECIPES: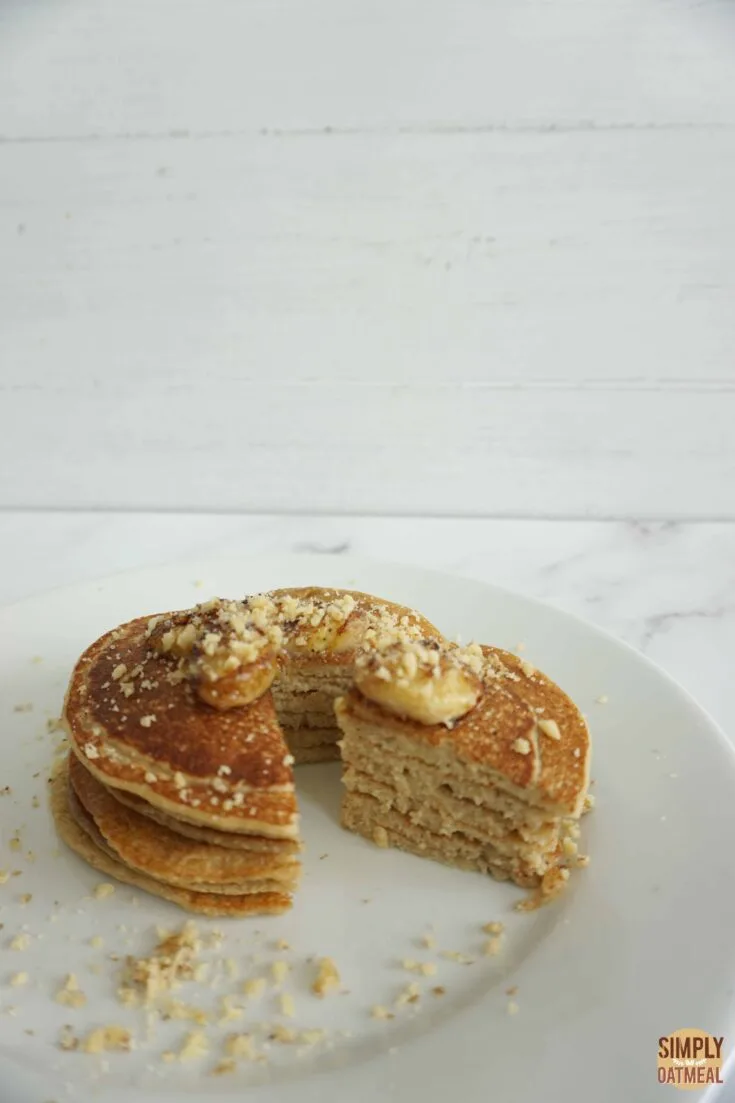 Yield:

8 Pancakes
Vegan Banana Oatmeal Pancakes Recipe
The vegan banana oatmeal pancakes take only a few minutes to prepare. The tasty pan fried cake recipe is dairy-free, gluten free and egg free, so it adapts perfectly with your diet preferences.
Ingredients
1 cup rolled oats
½ cup almond milk
2 tablespoons maple syrup
1 ripe banana
1 teaspoon vanilla extract
1 teaspoon baking powder
¼ teaspoon salt
Instructions
Use a blender (or food processor), to make oat flour with the oats.

Add the almond milk, maple syrup, banana, vanilla, baking powder and salt; blend until smooth.

Heat skillet over medium heat. Pour about ¼ cup batter into hot pan. Cook until bubbles form on the surface and edges begin to set. Pancakes are thin.
Flip the pancake and cook for 1 minute. Remove from pan and set aside.

Continue until all of the batter is finished.
Top with maple syrup, fresh berries or your favorite pancake toppings.

Notes
Storage: Coconut oatmeal pancakes can be refrigerated in an airtight container for up to 5 days or frozen with parchment paper in between each layer for up to 3 months.
Raw pancake batter is not recommended for longterm storage because the baking powder has already been activated and the thin pancakes will be even less airy.
In addition, the pureed banana will begin to oxidize and the batter will start to brown.
Nutrition Information:
Yield:
2
Serving Size:
4
Amount Per Serving:
Calories:

280
Total Fat:

3g
Saturated Fat:

1g
Trans Fat:

0g
Unsaturated Fat:

2g
Cholesterol:

0mg
Sodium:

516mg
Carbohydrates:

57g
Fiber:

6g
Sugar:

22g
Protein:

6g