*This post may contain affiliate links. Please see my
disclosure
to learn more.
Combine the magical flavors of a fresh baked oatmeal cookie with sweet and tart cranberries and the nuttiness of sliced almonds. Cranberry almond oatmeal cookies taste soft and chewy with a delicate sweetness sprinkled throughout each bite!
Whole grain oats are not only eaten for breakfast, consider these healthy oatmeal cookie recipes next time you are on the hunt for a new recipe idea. Explore the variety of soft and chewy cookie combinations to serve up tasty snacks and healthy dessert options!

Whole grain oats blended into decadent cookie dough adds a delightful chewiness to each bite. From white chocolate cherry oatmeal cookies to carrot cake oatmeal cookies, each recipe features a classic combination of flavors that you are going to fall in love with .
You will love cranberry almond oatmeal cookies because…
Prepare this fresh baked recipe in about 10 minutes.
Healthy baked good packed with plant based protein, healthy fats, and dietary fiber.
Great source of essential vitamins and minerals.
Balance of sweet, tart and crunchy flavors.
Almond and cranberry with a soft and chewy oatmeal cookie base makes a delightful combination!
Whether you are searching for a quick snack to keep you going, or a healthy dessert option, almond and cranberry oatmeal cookies will become your new favorite. The dough is not overly sweetened, and the recipe is simple to modify with your favorite fixings.
How to make cranberry almond oatmeal cookies?
This cranberry almond oatmeal cookies will wow your senses with an irresistible balance of sweet and tart cranberries with a nutty almond crunch. Gather together the short list of ingredients to quickly assemble this cookie dough.
Cranberry Almond Oatmeal Cookie Ingredients: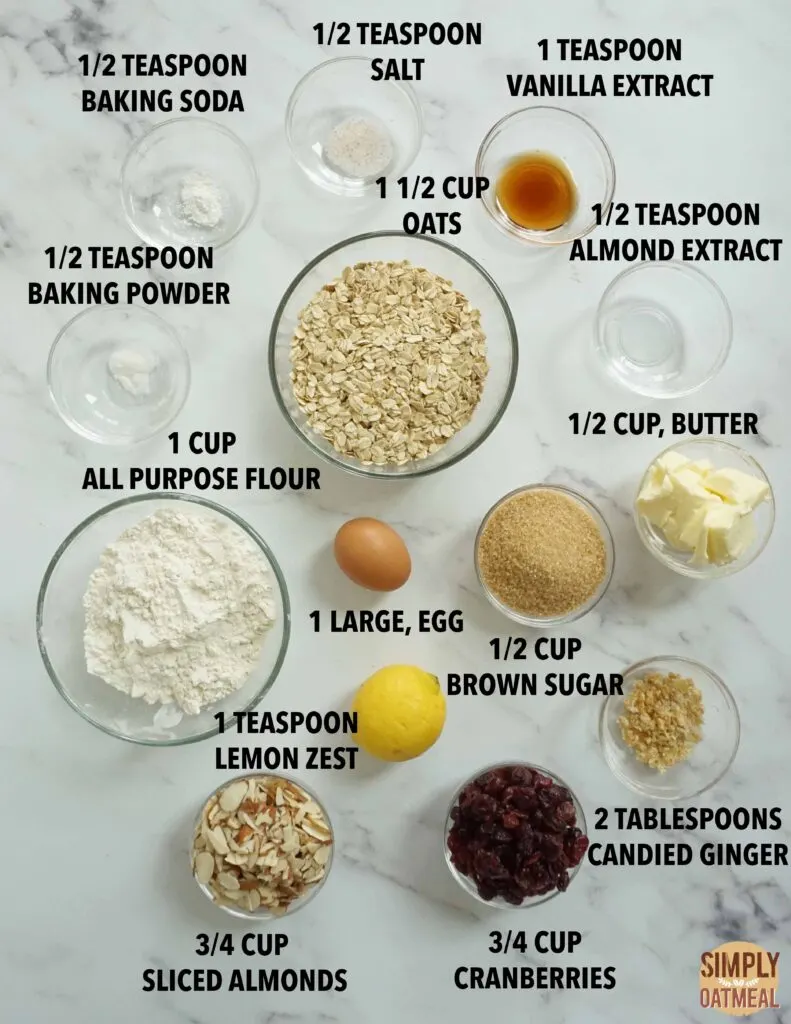 All purpose flour
Baking soda
Baking powder
Salt
Unsalted butter
Brown sugar
Egg
Lemon zest
Vanilla extract
Almond extract
Old fashioned oats
Dried cranberries
Sliced almonds
Candied ginger
Preheat the oven to 350°F and line baking sheets with parchment paper.

Whisk together the flour, baking soda, baking powder and salt in a bowl.
In a separate bowl, use a whisk to cream the butter and brown sugar.
Then, add the egg, lemon zest and vanilla. Whisk well.

Fold in the dry ingredients until almost mixed, then add the rolled oats, almonds, cranberries and candied ginger.
Scoop portions of the cookie dough onto the prepared baking sheet about 2 inches apart.

Bake for about 10 minutes or until the edges of the cookies begin to turn golden brown.

Let cookies rest on the hot baking sheet for about 5 minutes, then transfer to a wire rack to cool.
Cranberry Almond Oatmeal Cookie Tips:
Mix up your cookie routine with an oatmeal cookie recipe featuring cranberry and almonds. Here are some tips to make the mouthwatering treat even more delicious.
Almonds: Almonds are a complimentary flavor to tart cranberries and sweet oatmeal cookies. The nuttiness adds a delicate crunch that is quite enjoyable.
Cranberries: Dried cranberries are a tart berry that packs a ton of nutrition including essential vitamins, minerals and antioxidants.
Oats: Rolled oats and quick oats are your best bet when preparing this cookie dough recipe. Quick oats are thin and will give less texture. Rolled oats are thicker and larger in size which leads to a bit more crunch and texture to the inside of the cookie crumb.
Dried fruit: Dried cranberries are the main attraction in this oatmeal cookie recipe, however they are just a slight twist on the classic oatmeal raisin.
Nuts: The almonds add a slight crunch and toasted aroma to the cookie. In addition, nuts add nutritional benefits like plant based protein, dietary fiber and healthy fats.
Make ahead: Raw cookie dough can be frozen for about 3 months or kept in the fridge for up to a week. For best results, store dough inside an airtight container or ziplock bag to maintain moisture control.
Storage: Fresh baked cookies last for about 5 days when stored at room temperature inside an airtight container. However, they are guaranteed to be eaten before then!
LOOKING FOR MORE OATMEAL COOKIE RECIPES?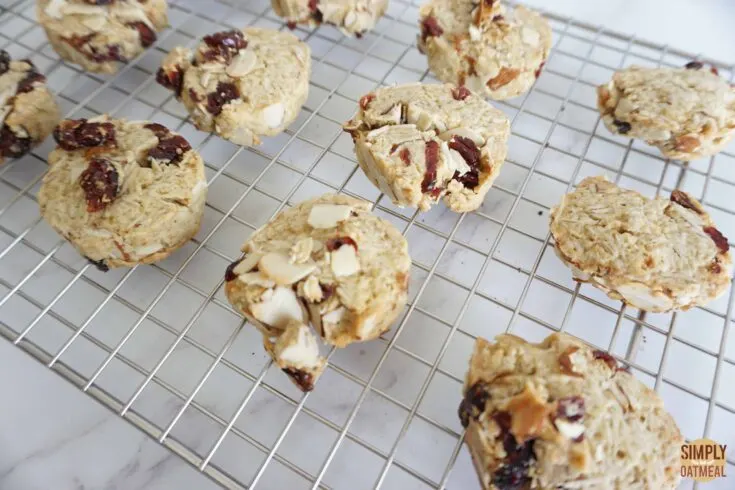 Yield:

24 cookies
Cranberry Almond Oatmeal Cookie Recipe
Cranberry almond oatmeal cookies are a nutty flavored sweet treat. Enjoy this healthy cookie as a midday snack or healthy dessert. This oven baked recipe is wholesome, nutritious and delicious!
Ingredients
1 cup all purpose flour
½ teaspoon baking soda
½ teaspoon baking powder
½ teaspoon salt
½ cup unsalted butter, softened
½ cup light brown sugar
1 large egg, room temperature
1 teaspoon lemon zest
1 teaspoon vanilla extract
½ teaspoon almond extract
1½ cups old fashioned oats
¾ cup cranberries, dried
¾ cup sliced almonds
2 tablespoons candied ginger
Instructions
Preheat oven to 350 degrees F. Prepare two baking sheets with parchment paper liner.
In a medium bowl, whisk together the flour, baking soda, baking powder and salt. Set aside.
In a large bowl, cream the butter and brown sugar with a whisk until light and fluffy, about 2 minutes.
Add the egg, lemon zest and vanilla. Whisk well.
Fold in the dry ingredients until just until the all incorporated.

Stir in the almonds, cranberries, candied ginger and rolled oats.


Place 2 tablespoon sized mounds of cookie dough on prepared baking sheet about 2 inches apart.

Bake for about 10 minutes or until the edges turn light brown.
Let cookies sit on baking sheet for 5 minutes, then move them to a wire rack to completely cool.

Notes
Make Ahead: Raw cookie dough freezes well for about 3 months. Portion the dough before freezing, then add 1-2 minutes of time when baking frozen cookie dough.
Cookie dough will stay fresh for about one week when stored in the fridge.
Baked cookies can also be frozen. Thaw at room temperature for 10 minutes before serving.
Storage: Store the baked cookies in an airtight container at room temperature for up to five days.
Nutrition Information:
Yield:
24
Serving Size:
1
Amount Per Serving:
Calories:

129
Total Fat:

6g
Saturated Fat:

3g
Trans Fat:

0g
Unsaturated Fat:

3g
Cholesterol:

18mg
Sodium:

86mg
Carbohydrates:

17g
Fiber:

1g
Sugar:

8g
Protein:

2g