*This post may contain affiliate links. Please see my
disclosure
to learn more.
Looking for a savory and sweet recipe to fulfill your cookie cravings? This espresso chocolate chip oatmeal cookie is easy to make and hits all the tasty notes that you're searching for. You'll enjoy them so much because they are simply irresistible!

When your sugar craving is calling, then oatmeal cookies are the perfect tidbit to quench your urge; they are hearty, fulfilling and jam-packed with flavor. Whether you are looking for a bite sized snack or main course, Simply Oatmeal has recipes that will fit your needs.

From cranberry almond oatmeal cookies to blueberry lemon oatmeal cookies, we have assembled healthy desserts that are too good to pass up! What are you waiting for? pull out those pantry staples and let's bake a batch!
Superfoods like chocolate, coffee and whole grain oats ensure that each cookie is packed with nutritious ingredients. Combine the complex coffee with sweet chocolate and the benefits of oats in this hearty and wholesome cookie recipe.

The satisfying combination of coffee and chocolate is a winning flavor, no wonder mocha mix has always been such a huge success! The cookies are soft and chewy, with an enthralling profile of taste.
How to make espresso chocolate chip oatmeal cookies?
In order to make oatmeal cookies with coffee and chocolate, you will need to bring the butter and eggs to room temperature. It takes about an hour to do so, and then the rest is quick and easy.

Whip up a batch and store the prepared dough in the fridge or freezer to bake fresh cookies whenever you have a craving. Grab the list of ingredients and let's get started.
Espresso Chocolate Chip Oatmeal Cookies Ingredients: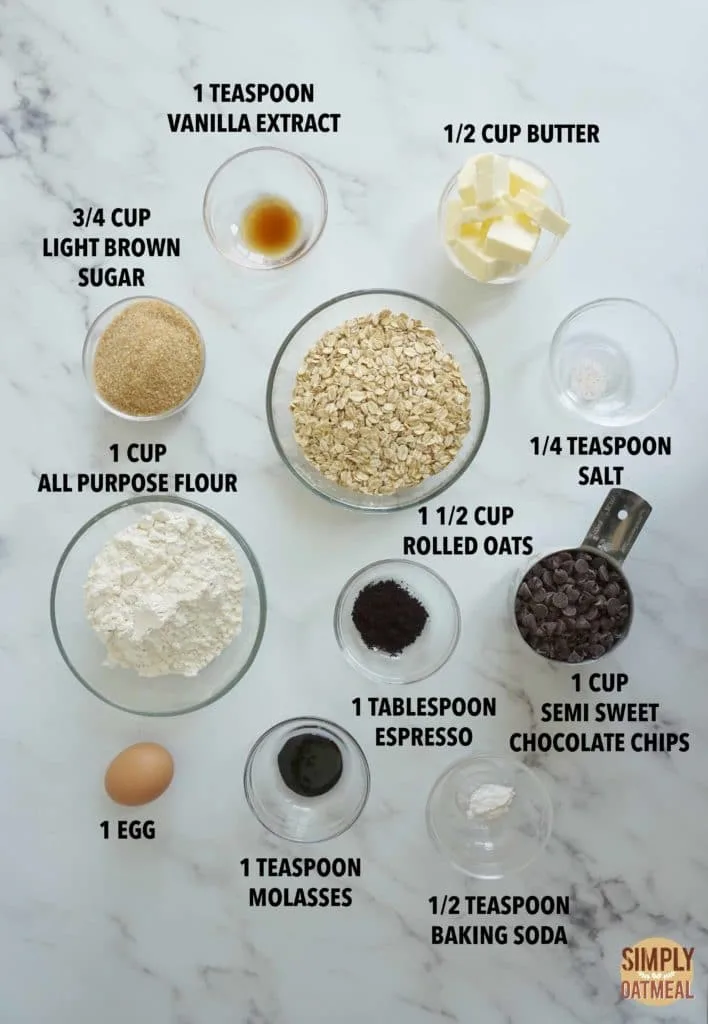 Unsalted butter
Brown sugar
Egg
Molasses
Vanilla extract
Espresso
All purpose flour
Baking soda
Salt
Rolled oats
Chocolate chips
In a medium bowl, mix together the flour, baking soda and salt; set aside.

In a large bowl, whisk the softened butter and sugar until smooth. Next, add the egg, molasses, vanilla and espresso, whisk until whipped very well.
Gradually add the flour mixture and stir with a spatula until just combined.

Over mixing at this point will make the cookies dough tough.

Cover and place in the fridge for about 30 minutes.
Scoop even sized portions of cookie dough onto a parchment lined baking sheet. Bake at 350°F for about 12 minutes.

Remove from the oven and cool on the tray for 5 minutes, then transfer to a wire rack to cool completely.
Espresso Chocolate Chip Oatmeal Cookie Tips
Coffee, chocolate and oatmeal are a fun combination to include in a fresh baked cookie. Make the most nutritious, delicious and fulfilling cookie by understanding a few simple tips. Here are the tidbits that will make your cookie dough preparation go a bit smoother.
Chocolate: Not only is cocoa a beneficial superfood, but it also compliments the savory oats and rich coffee notes.
Coffee: Espresso adds rich complexity that is packed with essential vitamins, minerals and antioxidants.
Oats: Rolled oats and quick oats are the best type of oats for preparing this cookie recipe. Quick oats are thin and have fragmented sizes compared to rolled oats. In contrast, rolled oats have a thicker flake that adds more texture to the cookie.
Dried fruit: The espresso and chocolate are the main attraction in this cookie dough recipe, however dried fruits could add a welcomed compliment. Dried cherries, dates, figs, and raisins would balance well with the taste if you were looking for a slight variation. Orange zest also screams for my attention when I think about this combo.
Nuts: Nuts add nutritional benefits like healthy fat, dietary fiber and protein. Almonds, hazelnuts, macadamia and pecans are nuts that enhance the espresso and chocolate in this recipe.
Make ahead: Raw cookie dough can be refrigerated for up to 1 week, or kept in the freezer for up to 3 months. Place inside an airtight container or ziplock bag to avoid drying out and help maintain the moisture content inside the dough.
Storage: Baked cookies will stay fresh for about 5 days when stored inside an airtight container at room temperature. However, they are so good that it's guaranteed to not last that long!
MORE YUMMY OATMEAL COOKIE RECIPES: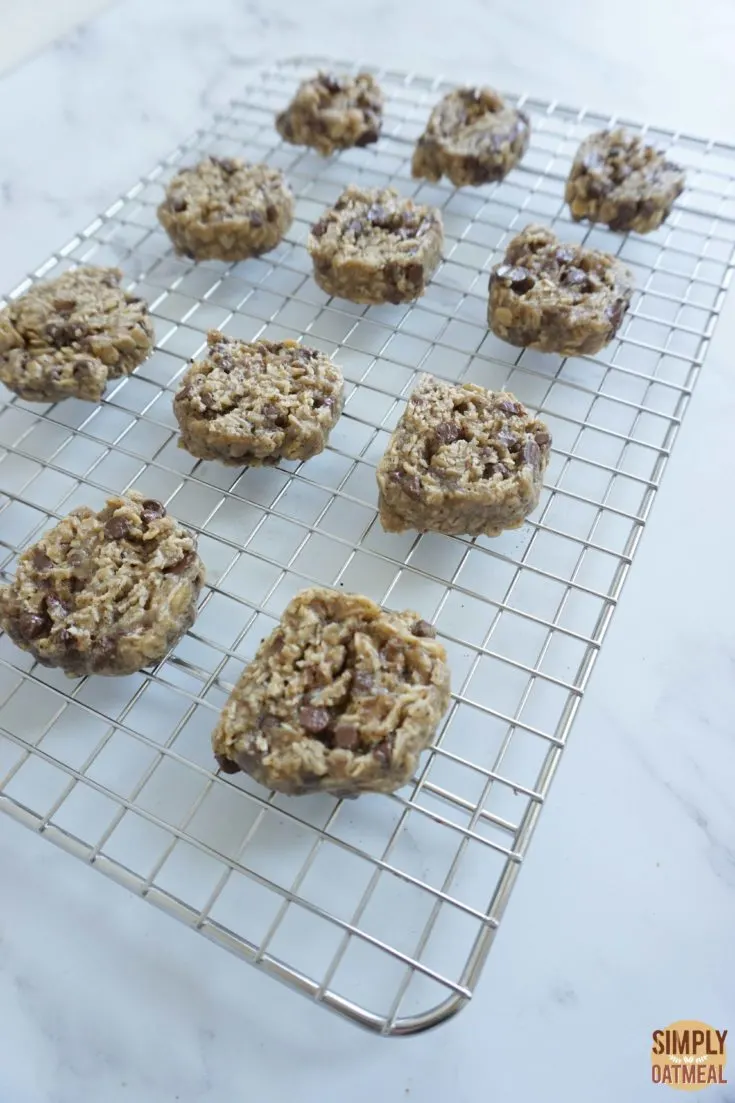 Yield:

24 cookies
Espresso Chocolate Chip Oatmeal Cookies Recipe
Chocolate, espresso and oatmeal cookies are a simple fresh baked solution to your sweet tooth craving. The super simple treat idea is prefect for an afternoon snack or delicious dessert.
Make ahead so that you can easily store the leftovers in the fridge or freezer for a fresh baked good. Quench your urge with an oatmeal cookie remedy at anytime of day.
Ingredients
½ cup unsalted butter, softened
¾ cup light brown sugar
1 egg, room temperature
1 teaspoon molasses
1 teaspoon vanilla extract
1 tablespoon espresso
1 cup all purpose flour
½ teaspoon baking soda
¼ teaspoon salt
1½ cups rolled oats
1 cup semi sweet chocolate chips
Instructions
In a medium bowl, combine the flour, baking soda, and salt; set aside.
In a large mixing bowl, whisk the soft butter and sugar until smooth and creamy. Then, add the egg and whisk until fully incorporated. Next, add the molasses, vanilla and espresso, and mix until combined.
Slowly add the flour mixture into the wet ingredients, mix thoroughly until just combined. Over mixing at this point results in tough cookies.

Gently fold in the rolled oats and chocolate chips.
Divide the cookie dough in half. Roll the cookie dough into a log using a sheet of parchment paper.
Refrigerate the dough for 30 minutes.
Preheat oven to 350°F. Line a baking sheet with parchment paper.
Cut the cookie dough logs into ½" round cookies and place 2 inches apart onto the lined baking sheet.

Bake at 350°F for 10-12 minutes or until lightly browned.
Remove from the oven and cool on the tray for 5 minutes, then transfer the cookies to a wire rack to completely cool.

Notes
Make Ahead: Cookie dough will freeze well for up to 3 months. Frozen cookie dough needs an additional 1-2 minutes when baking.
Fresh baked cookies can also be frozen. Thaw for 10 minutes at room temperature before serving.
Storage: Store baked cookies in an airtight container at room temperature for up to five days.
Nutrition Information:
Yield:
24
Serving Size:
1
Amount Per Serving:
Calories:

133
Total Fat:

7g
Saturated Fat:

4g
Trans Fat:

0g
Unsaturated Fat:

2g
Cholesterol:

18mg
Sodium:

55mg
Carbohydrates:

18g
Fiber:

1g
Sugar:

10g
Protein:

2g