*This post may contain affiliate links. Please see my
disclosure
to learn more.
Oatmeal raisin cookies are delicious treat packed with wholesome goodness. In addition, the make ahead cookie dough is a perfect afternoon treat or healthy dessert option!

If you are looking to try more easy oatmeal cookie recipes, these creative combinations contain staple pantry ingredients that don't require fancy cooking skills. You will find the cookie doughs are easy to make ahead and that each recipe is repeatable!

From cranberry almond oatmeal cookies to carrot cake oatmeal cookies, there are plenty of healthy dessert like options to choose between. Select your favorite flavor combinations and whip up a batch of tasty and wholesome cookies!
Flavor packed ingredients like chocolate and raisins compliment the oatmeal in a harmonious combination. In addition, whole grain superfood ingredients provide heart healthy benefits of oats and nutrition for a balanced diet.

The oatmeal base provides plant-based protein, fiber, and healthy fats for a long lasting energy boost, while the raisins and cinnamon provide the classic flavor profile. Whether you're looking for a healthy treat, grab and go snack or an afternoon pick me up, these oatmeal raisin cookies have you covered.
How to make oatmeal raisin cookies?
Make oatmeal cookies with raisins to enjoy as a refreshing snack in the afternoon or as a hearty dessert. The fresh baked cookies are nutritious and fulfilling, making it the perfect grab and go treat. If you are constantly on the run, then feed your hunger with a nutritious snack on the go.
Oatmeal Raisin Cookie Ingredients: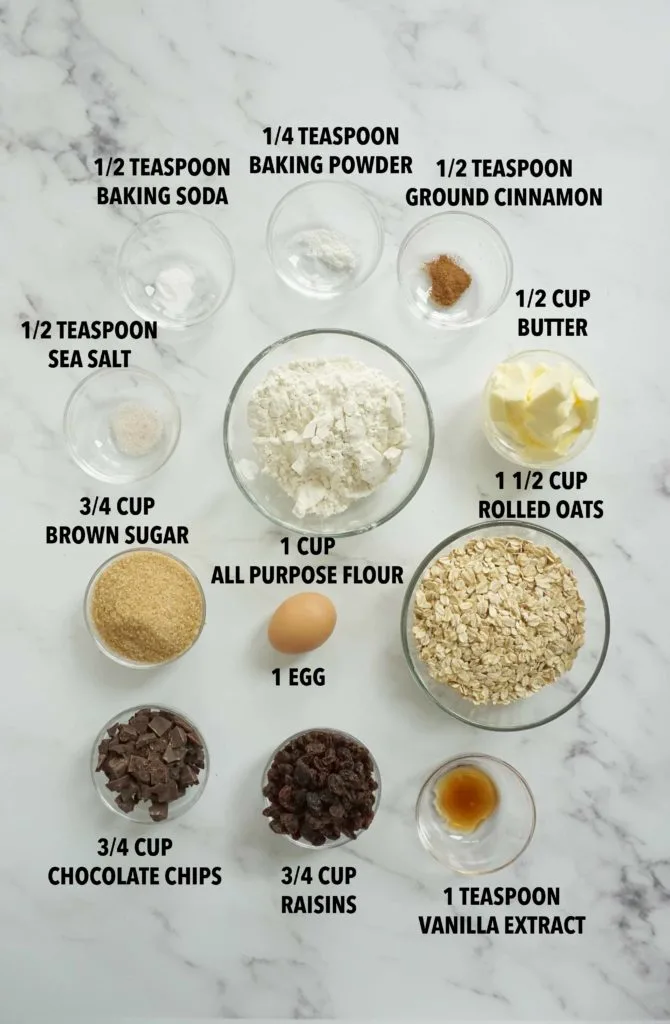 All-purpose flour
Baking soda
Baking powder
Salt
Cinnamon
Unsalted butter
Brown sugar
Egg
Vanilla extract
Old-fashioned rolled oats
Chocolate chips
Raisins
In a medium bowl, combine the flour, baking soda, baking powder, salt and cinnamon. Set the dry ingredients aside.

In a large bowl, whisk the butter and sugar until it turns creamy. Then, add the egg and vanilla extract.
Next, mix the dry ingredients into the wet ingredients until combined, but be careful to not over mix the flour otherwise it results in tough cookies.

Lastly, fold in the rolled oats, raisins and chocolate chips.

Refrigerate the dough for 30 minutes. Bake at 350°F on a parchment paper lined baking sheet.
Use a 2oz portion scoop and space each cookie about 2" apart on the tray.

Bake for about 12 minutes or until the cookie turns a light brown color around the edges.

Remove the tray from the oven and leave the cookies on the hot tray for 3-5 minutes. Then, place the cookies on a wire rack to completely cool.
Oatmeal Raisin Cookie Tips
Oatmeal raisin cookies are easy to prepare, require minimal cooking time and result in a fresh baked treat that everyone will enjoy. Use these simple tips to make your cookies taste great every batch you whip together.
Oats: Rolled oats and quick oats are the preferred type of oats for making cookies. Rolled oats are thicker and add a noticeable texture to the finish cookies. Quick oats are thinner and more fragmented, while allows them to blend into the dough a bit more.
Raisins: The dried grapes add flavor and texture to the classic oatmeal cookie recipe. Feel free to adjust the amount of raisins based on your personal preference.
Chocolate: Add rich and delicious chocolaty goodness to the oatmeal cookie dough. I wouldn't say that chocolate chips are a standard in the classic recipe, however they are a welcomed variations that you can't go wrong with adding.
Nuts: Nuts add nutritional benefits like fat, fiber and protein, however they are not a standard ingredient in oatmeal raisin cookies. Consider adding ½ cup of walnuts as a variation to this classic combination.
Make ahead: Raw cookie dough stays fresh in the fridge for up to a week, and frozen can last for about 3 months. Store inside an airtight container or ziplock bag to maintain moisture levels within the cookie dough.
Storage: Fresh baked cookies keep fresh for about 5 days at room temperature when stored inside an airtight container. However, they will surely be eaten before then! Baked cookies can also be frozen, defrost at room temperature and enjoy.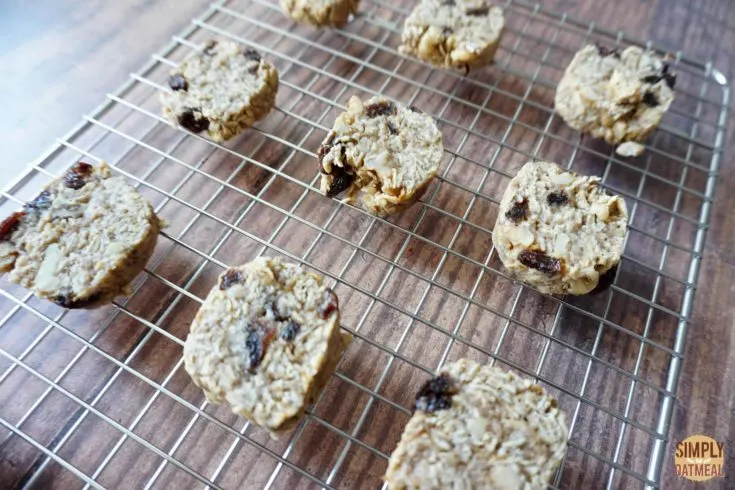 Yield:

24 cookies
Oatmeal Raisin Cookie Recipe
Oatmeal raisin cookies are a healthy dessert idea that will keep you feeling full for an extended period of time. Not only does it contain the benefits of oats, but it is high in healthy fats and whole grain nutrition.
Classic oatmeal raisin cookies are the perfect meal prep idea for a grab and go snack and tasty treat. Spend a few minutes to gather up the ingredients and let's get started with this easy baked goods recipe.
Ingredients
1 cup all-purpose flour
½ tsp baking soda
¼ tsp baking powder
½ tsp sea salt
½ tsp ground cinnamon
½ cup unsalted butter, softened
¾ cup light brown sugar
1 egg, room temperature
1 teaspoon vanilla extract
1½ cup old-fashioned rolled oats
¾ cup raisins
¾ cup chocolate chips (optional)
¾ cup walnuts (optional)
Instructions
In a medium bowl, combine the flour, baking soda, baking powder, salt and cinnamon; set aside.
In a large bowl, whisk the softened butter and brown sugar until combined.
Add egg and vanilla and whisk for about 30 seconds.
Use a spatula to mix in the dry ingredients until just combined.

Fold in the oatmeal and mix ins like raisins, chocolate chips and walnuts if desired. Stir until evenly distributed in the cookie dough.
Cover and refrigerate dough for 30 minutes.
Preheat oven to 375°F.
Line two baking sheets with parchment paper.
Use a 2 tablespoon cookie scoop to portion out the dough.
Roll each dough scoop into balls and place on the prepared cookie sheet.
Gently and press down on the top of the cookies to flatten.

Bake in preheated oven for 8-10 minutes until the top sets.
Remove the pan from the oven and let the cookies sit on the baking pan for 5 minutes. Then, transfer to a wire rack to cool.

Notes
Make Ahead: Cookie dough can be frozen for up to 3 months. Frozen cookie dough needs an additional 1-2 minutes when baking.
Fresh baked cookies can also be frozen. Thaw at room temperature for 10 minutes before serving.
Storage: Store baked cookies for up to five days at room temperature inside an airtight container.
Nutrition Information:
Yield:
24
Serving Size:
1
Amount Per Serving:
Calories:

112
Total Fat:

4g
Saturated Fat:

3g
Trans Fat:

0g
Unsaturated Fat:

2g
Cholesterol:

18mg
Sodium:

86mg
Carbohydrates:

17g
Fiber:

1g
Sugar:

8g
Protein:

2g