*This post may contain affiliate links. Please see my
disclosure
to learn more.
If you're looking for a sweet and tasty treat, then try soft and chewy oatmeal cookies made with pistachios, white chocolate and cherries. Loaded with rich antioxidants and wholesome fiber, the cookies will make you feel full and strike your sweet tooth with the perfect balance of flavor.

If you are new to Simply Oatmeal, the oatmeal cookies are delicious goodness that can be made in advance. Save the leftover uncooked dough in the fridge or freezer so that you can bake them up fresh whenever you want.

From blueberry lemon oatmeal cookies to carrot cake oatmeal cookies, the unique combinations of flavor are calling! Grab a mixing bowl and two sheet pans so that we can bake a batch of healthy cookies!
Combine the health benefits of oats with the antioxidants of cherries and the hearty superfood pistachios. Use pantry staples that are always on hand, to whip up a batch in just a few minutes.

This is such a delicious and nutritious baked good if you're looking for a sweet tidbit. Whether your quenching a mid afternoon craving or late night dessert, give it a whirl and whip up a batch of pistachio, white chocolate and cherry oatmeal cookies to try for yourself!
How to make pistachio white chocolate cherry oatmeal cookies?
Gather the ingredients together, and leave the butter and egg out at room temperature for an hour before mixing. Room temperature butter and eggs are the key to successfully creaming the fat before gently folding in the dry components.
White Chocolate Cherry Oatmeal Cookie Ingredients: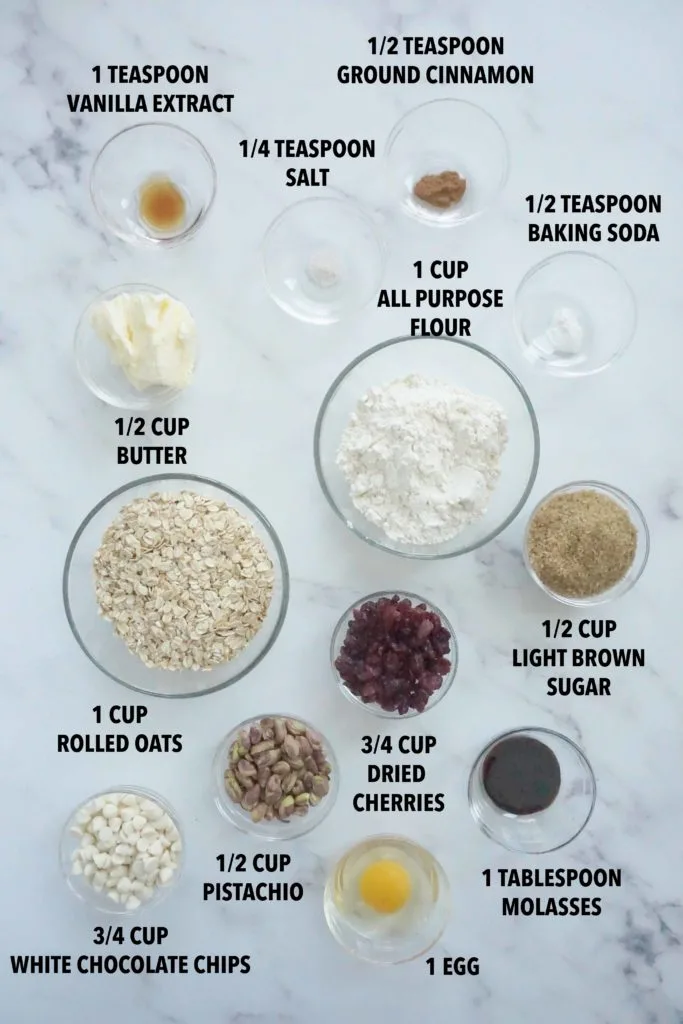 Regular rolled oats
All-purpose flour
Baking soda
Cinnamon
Salt
Unsalted butter
Light brown sugar
Molasses
Egg
Vanilla extract
Dried cherries
White chocolate chips
Pistachios
Use a whisk to cream the softened butter and sugar together in a large bowl.

Add the egg and whisk to ribbon stage where the egg binds to the butter and sugar while beginning to pull away from the bowl in large ribbons. In general, I whisk hard for about 30 seconds and that usually does the trick.

In a separate bowl, mix together the rolled oats, flour, baking soda, cinnamon and salt. When fully blended, add the dry ingredients to the wet ingredients.
Use a rubber spatula to gently fold the mixture.

The flour should be completely mixed into the dough, however it's important to not over mix the flour. Over-mixing will result in dense and tough cookies, not soft and chewy cookies.

Once the flour is fully blended into the dough, gently fold in the crushed pistachios, white chocolate chips and dried cherries.
Cut two separate 12" wide sheets of parchment paper. Place half the dough onto each sheet of parchment.

Use the paper to roll the oatmeal cookie dough into a log. The dough needs to cool in the fridge for at least 1 hour before baking.

Unbaked cookie dough can be kept in the fridge for up to a week, or stored in the freezer for about 3 months.
Preheat the oven to 350°F and prepare a baking sheet with parchment paper on the bottom. Use a knife to cut the cookie dough log into ½" thick slices.

The dough doesn't spread much, so cookies can be placed 2" apart from each other on the baking sheet.
Bake at 350°F for about 12 minutes.

Remove from the oven and keep the cookies on the tray for about 3 minutes before transferring onto a wire rack to fully cool.
White Chocolate Cherry Oatmeal Cookie Tips:
The oatmeal cookies are made with rolled oats, cherries, white chocolate and pistachios. The cookie dough recipe is so easy to make and is a quick baked good to prepare. Utilize the tips so that you ensure that every bite is enjoyable.
Pistachios: Rich aroma, nutty taste and delicate crunch, crushed pistachios are a beneficial compliment to tart cherries and sweet white chocolate.
Cherries: Dried cherries are a nutritious berry that provides a ton a flavor, delightful sweetness and a bit of tartness. In addition, the dried fruit is packed with essential vitamins, minerals and antioxidants.
Oats: Rolled oats and quick oats work best in this cookie recipe. Quick oats are thin and have less texture than the rolled oats. Rolled oats are thicker and larger in flake size which leaves a welcomed texture inside the cookie.
Dried fruit: Dried cherries are the main attraction in this cookie dough recipe. Dried apricots, cranberries and raisins would also enhance the taste is you were looking to make a slight variation. Orange zest would be a welcomed addition to this recipe, an ingredient that will defiantly be added next time around.
Nuts: Nuts add nutritional benefits that boost levels of protein, fiber and fats. Almonds, hazelnuts and walnuts are a few nuts substitutes that also compliment the cherries in this recipe.
Make ahead: Raw cookie dough can be stored in the fridge for about 1 week, or inside the freezer for up to 3 months. Store inside an airtight container or ziplock bag to help maintain the moisture inside the dough.
Storage: Fresh baked cookies last for about 5 days, that is if they are not eaten sooner! Store at room temperature inside an airtight container.
More Tasty Oatmeal Cookie Recipes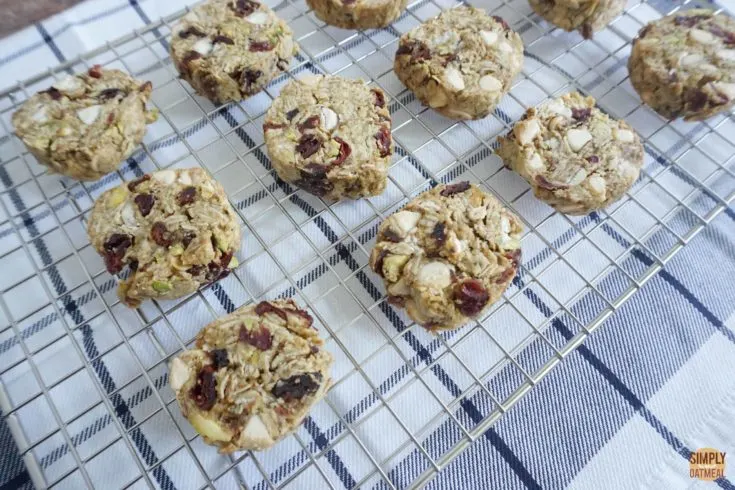 Yield:

24 cookies
Pistachio White Chocolate Cherry Oatmeal Cookies Recipe
Pistachio white chocolate cherry oatmeal cookies are packed with tons of flavor and wholesome nutrition. Fresh baked oatmeal cookies are packed with protein, fiber and core vitamins that promote a healthy balanced diet. Incorporate this easy baked good into your regular routine.
Ingredients
1½ cups old-fashioned rolled oats
1 cup all-purpose flour
½ teaspoon baking soda
½ teaspoon ground cinnamon
¼ teaspoon salt
½ cup unsalted butter, softened to room temperature
½ cup light brown sugar
1 large egg, room temperature
1 teaspoon vanilla extract
1 tablespoon molasses
¾ cup dried cherries
¾ cup white chocolate chips
½ cup pistachios, crushed
Instructions
In a medium bowl, mix the flour, baking soda, cinnamon, and salt. Set aside.
In a large mixing bowl, whisk the butter and brown sugar until smooth. Add the egg and whip until fully combined. Then, mix in the vanilla and molasses, use a rubber spatula to scrape down the sides of the bowl as needed.
Slowly add the flour mixture to the wet ingredients and mix until combined, be careful to not over mix the cookie dough once the flour has been added.

Next, fold in the rolled oats, dried cherries, and white chocolate chips; mix until fully combined.
Grab two pieces of parchment paper that are about 12" wide. Divide the cookie dough in two, and place half on each sheet of parchment paper. Use the paper to roll the cookie dough into a log shape so that it is easier to slice into round cookies for baking.
Refrigerate the cookie dough for at least 30 minutes.
Preheat oven to 350°F. Line two large baking sheets with parchment paper.
Slice the cookie dough logs into ½" wide cookies.

Bake at 350°F for 10-13 minutes. Remove from the oven and cool on the baking sheet for 5 minutes, then transfer to a wire rack to finish cooling.

Notes
Make Ahead: Cookie dough will freeze well for up to 3 months. Add an additional 1-2 minutes when baking frozen cookie dough.
Baked cookies can also be frozen. Thaw at room temperature for 10 minutes before serving.
Storage: Store the cookies at room temperature in an airtight container for up to five days.
Nutrition Information:
Yield:
24
Serving Size:
1
Amount Per Serving:
Calories:

152
Total Fat:

7g
Saturated Fat:

4g
Trans Fat:

0g
Unsaturated Fat:

3g
Cholesterol:

19mg
Sodium:

70mg
Carbohydrates:

20g
Fiber:

1g
Sugar:

11g
Protein:

2g
Nutrition information isn't always accurate.