*This post may contain affiliate links. Please see my
disclosure
to learn more.
Are you tired eating the same old oatmeal with water? Other than adding nuts and spices, topping oatmeal with fun ingredients has a limit when it comes to make microwave oatmeal taste better.
But to make oatmeal creamy, the base of needs to be specially prepared. With press of a microwave button, it is easy and quick as it sounds.
How do you make creamy oatmeal in microwave? To make creamy oatmeal in the microwave, use dairy or non-dairy milk instead of plain water.
Combine desired serving amount of oats, milk, and a pinch of salt in a deep microwave-safe bowl. Add vanilla extract or butter for extra rich flavoring.
Microwave on high for 2 to 3 minutes and stir the mixture at 30 second intervals. Before serving, stir well and add a splash of milk for desired consistency.
Top with raisins, nuts, cinnamon spice, and honey to accomplish delicious and hot bowl of creamy oatmeal to enjoy.
Microwave makes every meal preparation quick and easy. Additionally, it does not alter the nutritional facts when it comes to cooking the superfood grain.
There are many ways to microwave oatmeal including different toppings and ingredients to cook with.
In this article, we are going to share expert tips and make your oatmeal creamy every time you make it. Answered below are frequently asked questions about microwaving creamy oatmeal, and the steps that you should be aware of taking.
Is microwave oatmeal better with milk or water?
Microwave oatmeal is better with milk instead of water. With milk, the consistency of the oatmeal is thicker and creamier than when made with water.
Furthermore, the taste is lot more richer and makes every bite more flavorful with the addition of milk before and after cooking.
Other than taste and texture, milk offers additional protein to make you feel full for longer and offers extra bonus to your daily nutrition. So, if you are looking to make better tasting oatmeal, consider replacing water with dairy or non-dairy milk as the base ingredient.
How do you make microwave oatmeal taste better?
Microwave oatmeal is convenient, super fast, and relatively healthy breakfast alternative. To make microwave oatmeal taste better is quite simple and easy.
The first step is to use milk as the liquid base to add a flavorful taste. The other things to consider in this equation are what toppings you are serving with the porridge.
Here are classic oatmeal topping ideas that actually make it taste better:
Fresh fruits: apples, berries, mangos
Natural sweetness: honey, brown sugar, maple syrup
Nuts: walnuts, almonds, pistachios, hazelnuts
Nut butters: almond or sunflower butter
Milk: whole milk, almond milk, oat milk, coconut milk, soy milk
Spice: cinnamon, pumpkin pie spice, nutmeg
Chocolate chips: milk, dark
Additional topping: cereal, shredded coconut
How can I thicken my microwave oatmeal?
Typically a milk base tends to thicken the oatmeal pretty easily. Depending on the type of non-dairy milk, the resulting consistency may vary.
If you are looking to thicken microwaved oatmeal, here are alternative ways to accomplish your desired texture.
Add one to two tablespoon of coconut flour and let it sit for a minute before serving.
Splash in some coconut cream, creamer or yogurt can thicken the oatmeal and add rich flavor in nutty and earthy at the end of microwaving.
Combine seeds into the oatmeal mixture such as chia, flax, or hemp seeds. These seeds absorbs the base liquid and thicken the oatmeal to make it taste creamier.
Soak the oats overnight with water with a little bit of lemon juice to reduce phytic acid. This method will help to make the oatmeal creamy and thickens the mixture by breaking down the starches to make it easier to digest and cook quickly.
While the oatmeal is hot, add a spoonful of butter or coconut butter helps to make the oats thicker. They will melt instantly and offers a lustrous and creamier consistency.
Tips to make creamy oatmeal in microwave
When making oatmeal in microwave, it can be challenging to control the texture and water ratio to create creamy and thick consistency. The easiest way to cook creamy oatmeal is using milk instead of water.
Milk tends to make microwave oatmeal stickier, thicker, and creamier. However, the texture can easily be destroyed without using caution.
To avoid the issue, here are useful tips to make creamy oatmeal in a microwave:
After microwaving the oatmeal, give it a thorough stir. Cover and let it sit for 2 minutes, then add a splash of additional milk before serving.
Start with water base oatmeal and add milk right before serving.
Don't forget the salt while preparing oatmeal, it helps to enhance the flavor when added with milk, creamer, or yogurt.
Use microwaveable oatmeal bowl that is deep enough to cook without spilling or boiling over any liquid.
Adjust the oatmeal water ratio to control the consistency of oatmeal.
Best way to make creamy oatmeal in microwave
Making creamy oatmeal in the microwave is not very difficult, and it will make your plain old oatmeal taste much better than before. From liquid base to toppings and garnishes, there are many ways to get creamy oatmeal in the microwave.
The easiest method to make any oatmeal creamier is by replacing water with dairy or non-dairy milk such as oat milk, almond milk, coconut milk, or soy milk.
Add all the ingredients to a deep bowl or mug, and mix well. For more flavor, add salt, vanilla extract, or butter with the oat mixture.
Microwave on high for 2 to 3 minutes and stir well every 30 seconds. To make it thick and dense texture, consider covering with a lid, and let it sit a couple of minutes before serving.
Additionally, add seeds, creamer, yogurt, or coconut flour to adjust the texture for a more delicious and creamy oatmeal to enjoy. Lastly, garnish with fruits, nuts or nut butter, spices, and natural sweeteners like maple syrup or honey and enjoy while it's hot.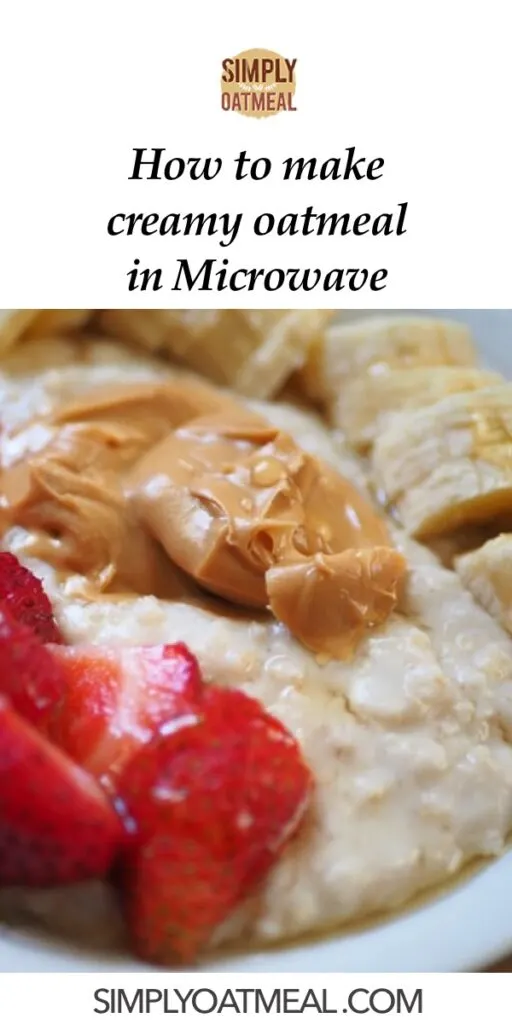 Microwave Creamy Oatmeal: Conclusion
Starting the day with fresh warm bowl of oatmeal is a healthy breakfast choice. And using a microwave can easily make meal prep time short and convenient instead of using the stove top or a rice cooker.
There isn't just one way to make oatmeal. From ingredients to toppings, there are various ways to make oatmeal creamy and more fun to enjoy.
When it comes to liquids, evaluate if water or milk is a better choice. From experience, milk makes creamy oatmeal in the microwave every time and gives it that extra rich flavor.
To improve the taste, add fresh fruits, nuts, nut butters, cinnamon or nutmeg spices, or shredded coconut with drizzle with honey or maple syrup as a topping.
Not only milk base, there are other methods to thicken the microwaved oatmeal. From coconut flour, creamer, yogurt, chia seeds, soaking oats overnight to adding butter to the oats, these microwave tips create wonderful creamy bowl of oats to enjoy at any time of day.