*This post may contain affiliate links. Please see my
disclosure
to learn more.
Whether you ran out of milk or just want to reduce your caloric intake, overnight oats with water are a simple solution to the problem. This recipe is easy to follow and gives you multiple variations for you to follow.
So, how do you make overnight oat with water? If you want to make overnight oats without milk, then water is a great alternative. Soak the oats in a 1½:1 liquid to oats ratio and mix in fruit, nuts or seeds to make a healthy no cook meal prep.
Overnight oats are a method of preparing oatmeal by mixing an appropriate liquid to oats ratio and leaving the mixture to soak overnight. Soaking raw oats makes them both digestible and palatable.
Overnight Oats with water are both nutritious and healthy. For a simplistic and healthy meal prep, it doesn't get much easier than soaking oats in water.
For everything there is to know about overnight oats with water, you have landed on the right page. Let's understand why you would soak oats in water, take a detailed look at process and also tips to improve overall taste.
Can you soak oats in water overnight?
Yes, you can soak oats in water overnight. The raw oats absorb the water and swell in size and shape, resulting in a palatable and digestible dish.
This is almost like cooking them. By soaking oats overnight, it gives a similar effect of cooking but with no heat and the process is slower and takes a longer time.
The reason soaking is more healthy is that it aids in breaking the starches down. Soaking oats overnight reduces the phytic acid that is naturally present in the whole grain, which helps your body make use of nutrients within the oats a lot more efficiently.
Overnight soaking is safe and simpler to digest. It leads to reduced effects of bloating as compared to cooked oats. They are easier on the stomach, and also aid in losing weight by keeping you full from the high fiber content and complex carbs.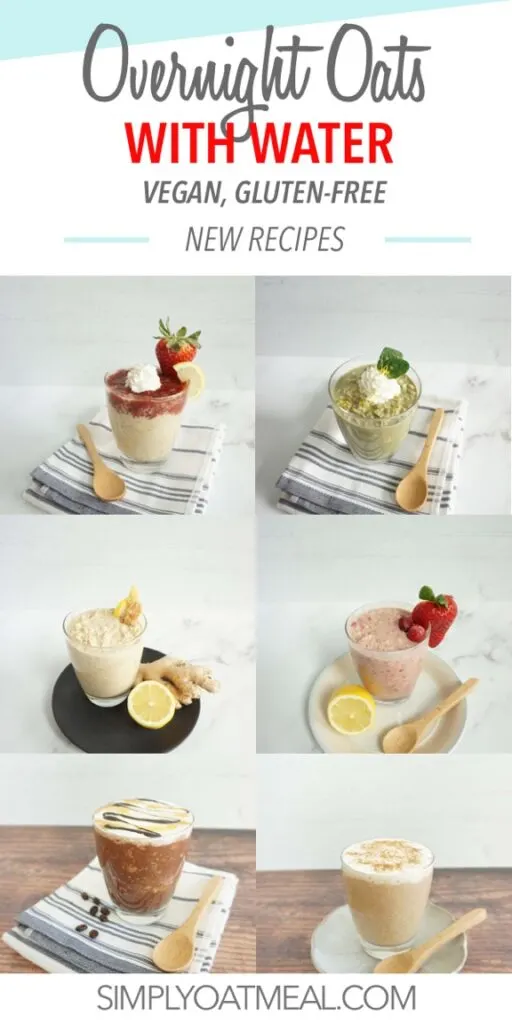 Overnight Oats Water Ratio
The suggested ratio of the oats to water is 1:1½, i.e., for 1 cup of rolled oats, you shall use 1½ cup of water to soak. For thicker consistency of oatmeal, you can utilize lesser liquid and for a runny consistency, add a bit more.
The ratio you ought to keep in mind to make rightly blended overnight oats is 1:1½. Soak a part of rolled oats with a part and a half of water.
The ratio can become finicky when you start to add mix-ins and toppings, so this remains a general guideline. If you also soak chia seeds or nuts, the count on the dry goods also absorbing liquid, so the ratio need adjustment.
For porridge consistency, go as high as a ratio of 2:1 water to oats. When you make the oat mix, add a pinch of salt, give it a good stir and seal in a closed jar.
Overnight oats can be left to sit on the countertop for a night. You can refrigerate for about 5 days maximum or freeze overnight oats for up to 6 months.
Can I use water instead of milk in overnight oats?
Yes, you can use water to make overnight oats without milk. Consuming oats after soaking them overnight in liquid is recommended as an ideal preparation method.
Although milk, yogurt and juice tasty and healthy ways to soak oats, they are not the only options available. Water is a great substitute when you don't have any other choices, or if you want to reduce calories while utilizing the nutrients available in the whole grain oats.
If you started with milk but didn't want to add any more, water can also be added to reduce the concentration in the mix. Water is great for thinning the mixture so that it is not as heavy, thick or gluey.
Do overnight oats taste good with water?
It depends on individual preferences, but overnight oats soaked only in water have an average or neutral taste. It makes a bland oatmeal, and you miss out on the additional creaminess and add protein from having milk with your breakfast.
Since overnight oats only with water can be a little tasteless, adding dairy free alternatives or cow's milk is recommended. This way, you can have creamier and tastier oats.
However, for people who do not want to ingest milk in any form, you can add in chopped nuts, mashed banana, or dairy free yogurt to enhance the flavor. For those who are intolerant to dairy, you can incorporate any other type of milk like soy, almond or coconut milk.
Water can also be used to brew a cup of coffee or tea, and then mixed with the oats for soaking. Starbucks drinks overnight oats offer a few examples of how to use coffee and tea as the soaking liquid.
Here are the best vegan overnight oats recipes for you to broaden the horizons. This way, you make it more healthy oats that stick to the dietary preferences you maintain.
Can you make Quaker overnight oats with water?
Yes, you can add in water to Quaker oats and leave it to soak overnight. Overnight oats will be ready by the morning, which can be eaten by mixing your favorite fixings or toppings to make a delicious meal prep using Quaker oats.
Quick/instant/pre-packaged oats are not the best type of Quaker oats to make overnight oats. No matter which brand you select, rolled oats are the best type of oats for overnight oats.
They are thin, fine flakes that are pleasant tasting, convenient to digest and turn into thick porridge when soaked overnight. This is because they are processed, rolled, steamed, toasted, and dehydrated. It needs little prep time and simple in digesting.
Tips for Overnight Oats with Water
Oat can be soaked with any number of beverage options, however water is a clear cut winner for many reasons. It is nonallergenic, minimizes excess calories and provides a neutral base to layer flavors on top of. Included below are helpful tips to improve the results when you make overnight oats with water:
Add some protein powder as a dietary supplement in your overnight oats. Add in before refrigeration and a little additional water to absorb the dry powder.
Fruits, peanut butter, yogurt, nuts, flax seeds, and chia seeds are great options for extra flavor. This is because oats with water can taste somewhat bland, so they will benefit greatly from flavors layered into the mixture.
Rolled oats are the best options for preparing overnight oats. This is because they provide a silky and smooth texture to oats by soaking up the water evenly and remaining slightly chewy with a soft and tender kernel. They are nutritious and keep you feeling full for longer stretches of time.
Load up your mason jar or overnight oats container with water and oats for an overnight soak.
Top the overnight oats post refrigerating it as the toppings can affect the oat-water ratio. Not only this, eating watery fruits and nuts is unappealing to some. In contrast, others like to mix-in the fixings before soaking so that flavors meld together nicely. Top with crunch items after soaking for the added texture.
When adding in chia seeds, ensure you add in more water as these seeds soak up a lot of extra water.
Add some spice to increase the flavor when preparing overnight oats with water. Try out natural honey, lemon juice, ginger, vanilla extract, and cinnamon. Stick with low-calorie items to keep up with your health goals. Adding in cinnamon can make blood sugar stable in a starchy meal and also minimize insulin spikes.
Add non-fat yogurt in your overnight oats to boost metabolism, add protein, and enhance satiety. Stir in the yogurt before refrigerating the soaked oats as yogurt can also soften the oats.
For adding sweetness to oats, do not dump in maple syrup. Instead, use naturally pure maple syrup or honey in little quantities. About a tablespoon is adequate, and can greatly improve the taste.
Keep your overnight oats simple. Do not add all of the oatmeal toppings at once to each recipe. Take turns to try out different combinations of flavors and textures.
Oats are also nutrition-dense, so they are a healthy base to layer tasty toppings. An ideal overnight oat with water includes 1 or 2 fruits, a protein element, a seasoning like cinnamon, Greek yogurt for creaminess, a pure natural sweetener and a crunchy topping like chopped nuts or toasted coconut.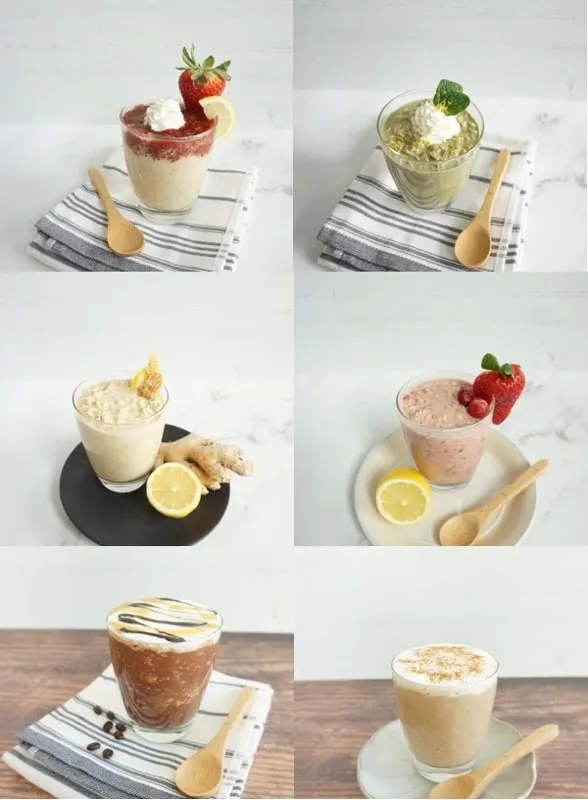 Yield:

1 serving
How To Make Overnight Oats With Water
Overnight oats with water is an easy and healthy meal prep to eat at any time of day. The no cook meal is a lifesaver when it comes to efficiency.
Have it for breakfast as a ready to eat meal just after waking up. Garnish with a sprinkle of nuts, fruits, nut butter, yogurt, and cocoa powder to enhance the flavor of the neutral preparation. This serving of oats soaked in water is a good source of fiber, vitamins, and minerals.
Ingredients
Overnight Oats With Water Base Recipe
½ cup rolled oats
¾ cup water
1 tablespoon sweetener
¼ teaspoon vanilla extract
Applesauce
Blueberry Lemon
½ cup fresh or frozen blueberries
1 tablespoon chia seeds
1 tablespoon lemon juice
1 tablespoon lemon zest
Brown Sugar Banana
½ banana, mashed
1 teaspoon brown sugar
¼ teaspoon ground cinnamon
Raspberry Almond
½ cup raspberries
2 tablespoons sliced almonds
Strawberry Jam
2 tablespoons strawberry chia jam
Instructions
Combine all of the ingredients in a small cup, bowl or mason jar.
Stir well so that the mixture is fully combined.
Transfer to an airtight container.
Place the container to soak in the fridge for a minimum of 12 hours.
To serve, give the no cook mixture a stir and enjoy hot or cold. Overnight oats can be heated in the microwave for a minute or warmed on the stovetop for 3 minutes.
Add a splash of liquid to thin the consistency if needed, and garnish with oatmeal toppings that you enjoy.
Notes
To make it vegan, use dairy-free milk alternative, plant-based yogurt and deter away from honey as a sweetener.
To make it gluten-free, use certified gluten-free oats.
To make it sugar-free, avoid using too much sweeteners. Mash or puree fruit into the base mixture for natural sweetness.
To maintain freshness, store it in a sealed container. Overnight oats will keep fresh for up to 5 days in the fridge or for up to 6 months in the freezer.
Recommended Products
As an Amazon Associate and member of other affiliate programs, I earn from qualifying purchases.
Nutrition Information:
Yield:
1
Serving Size:
1
Amount Per Serving:
Calories:

196
Total Fat:

3g
Saturated Fat:

1g
Trans Fat:

0g
Unsaturated Fat:

2g
Cholesterol:

3mg
Sodium:

23mg
Carbohydrates:

31g
Fiber:

4g
Sugar:

4g
Protein:

11g
Please note that the nutrition label provided is a rough estimate based on the basic overnight oats recipe. Overall nutrition will vary based on the specific ingredients and amounts you use. This information should not be considered a valid substitute for any professional nutritionist's advice. The nutrition value is for one serving without any additional toppings.