*This post may contain affiliate links. Please see my
disclosure
to learn more.
There are few things that are as satisfying and a tall glass or freshly made almond milk. This almond milk recipe is easy to follow, affordable and offers viable nutritional value.

Store bought almond milk can't even compare to the nutty aroma, creamy mouth feel and rich taste of this homemade recipe. I bet you never considered how easy it is to make for yourself.
Is it cheaper to make your own almond milk? No, its not cheaper to make your own almond milk at home. However, there is a vast difference in the quality of homemade and store-bought brands.

The most important thing to consider is that there are no added ingredients like preservatives, just purely almonds and water. In addition, you have the option to customize almond milk flavors, I promise that's the best part!
How many almonds does it take to make a gallon of almond milk? This recipe uses 1 cup of almonds to make about 5 cups of rich and creamy almond milk. The recipe could be slightly thinned or thickened, depending of you personal preference.

Following this recipe, you could make a gallon of almond milk with between 2½ to 3½ cups of almonds. The consistency will range from thin to thick, but the aroma and taste of almonds will definitely be present.
Is drinking almond milk the same as eating almonds? Almond milk contains some of the super-healthy benefits as eating almonds. However, the nutrient levels within almond milk are vastly lower than those present in whole almonds.

Equate the similarities to eating an apple verse drinking apple juice. Yes its an apple, but you're definitely missing some parts.

Follow along and let's cover the basics that you need to know in order to make your own batch of almond milk at home.
How to make almond milk
Making almond milk requires a handful of almonds and a high-speed blender. When you're finished, you will have a rich and creamy beverage that goes well in everything from baked goods to overnight oats.

In order to rustle up some almond milk on your own, you have the ability to control the finished flavors. Sweetened or unsweetened are not the only choices you get.

From chocolate to vanilla and coffee to pumpkin spice, there are countless variations for you to explore. Grab your blender and a few pantry staples to get the project started.
Almond milk ingredients:
The process actually begins the day before. You much soak the almond overnight so that they are easier to blend in the morning.

After the almonds have soaked for at least 8 hours, then they are ready to blend. Grab you high-speed blender and some filtered water.

At this point, you can also incorporate any almond milk flavors that you are yearning. From coffee to pumpkin spice, the options are endless to the creamy combinations you can concoct.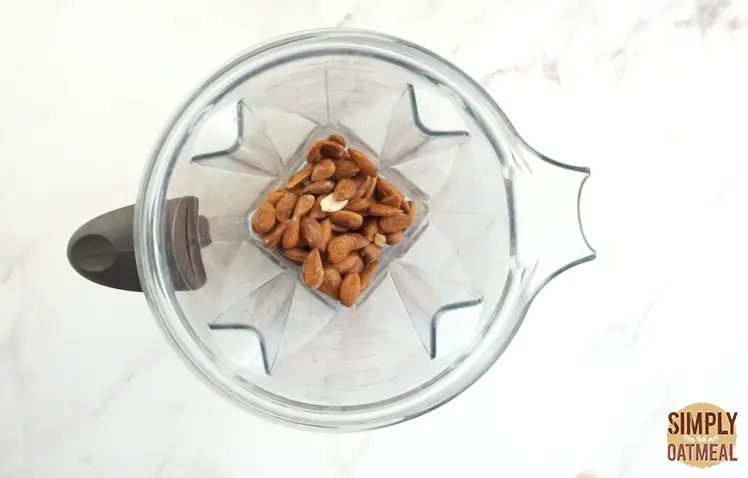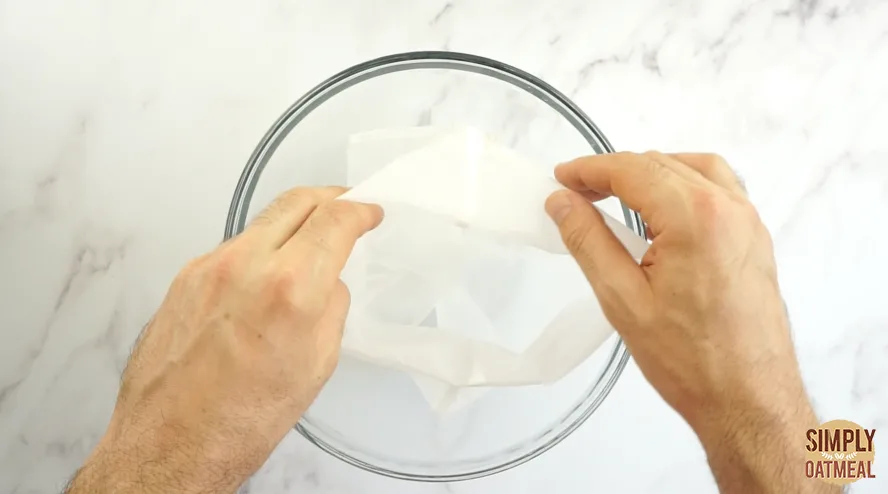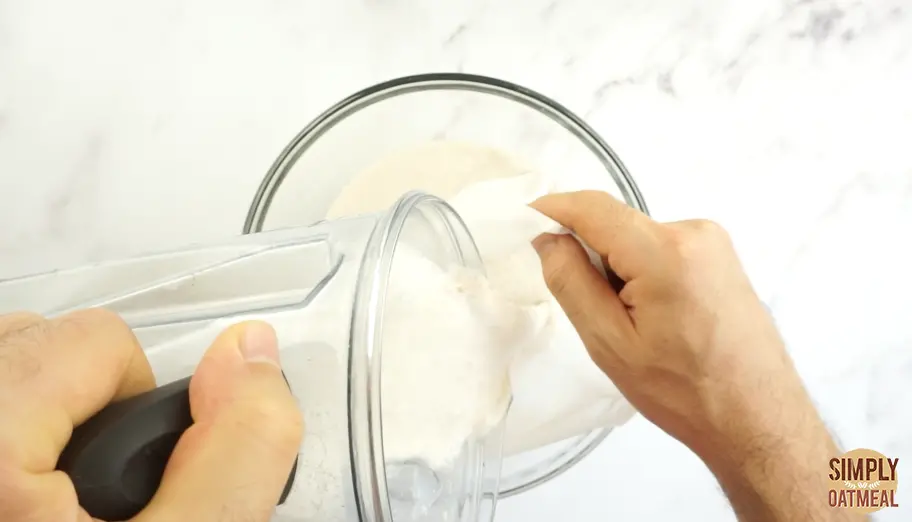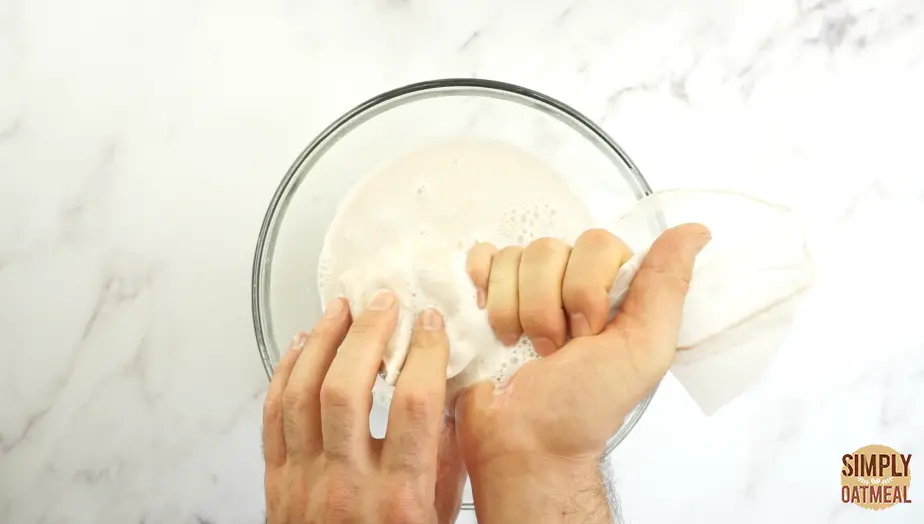 Whirl away until the nuts and add-ins are almost completely blended. Then, strain the liquid through a nut milk bag, cheesecloth or even a clean dish linen from the kitchen drawer.

Pour the strained liquid into a mason jar, bottle or container that you see fit. Store in the refrigerator and that's it, you've made homemade almond milk!

It stays fresh for about 5 days, but may last a bit longer based on storage conditions like fridge temperature, container cleanliness and freshness of the almonds.
Can you drink almond milk after 7 days? In short, the answer is yes. It's recommended to consume the almond milk while at its freshest, which is about 5 days.

However, there are many instances where the almond milk you made lasts for more than a week. Let your sense be the final determining factor, check for any visual signs of spoilage or foul odors before drinking.

However, there are many instances where the almond milk you made lasts for more than a week. Let your sense be the final determining factor, check for any visual signs of spoilage or foul odors before drinking.
Almond Milk Flavors
This list of delicious almond milk flavors guarantees that you never get bored with a plain taste again. Whether you're looking for a delicious afternoon treat, or a morning pick me up, here are some delightful combinations for you to try.

To make flavored almond milk, insert the desired add-ins during the blending process. You want to make sure that the ingredients are fully blended in order to expel as much flavor as possible.

When you strain the almonds from the liquid, you will capture any additional pieces as well. As a result, you wont have chunks of dates or shredded coconut that settles to the bottom of your glass.
Sweetened: add 2-4 pitted dates
Chocolate: add 2 tablespoons cocoa powder
Vanilla: add 1-2 teaspoons vanilla extract
Apple Pie: add ¼ cup apple butter and 1 teaspoon apple pie spice
Banana: add 1 ripe banana
Blueberry: add ½ cup blueberries
Butterscotch-brandy: add 2 tablespoons butterscotch and 1 oz brandy
Caramel-apple: add 2 tablespoons caramel sauce and ¼ cup applesauce
Coffee: replace 1 cup of water with 1 cup of cold brew coffee
Orange: add 1 tablespoon orange zest and ½ cup fresh squeezed orange juice
Pumpkin spice: add ¼ cup pumpkin puree and 1 teaspoon pumpkin pie spice
Strawberry: add ½ cup strawberries
Toasted coconut: add ¼ cup unsweetened shredded toasted coconut
Almond Milk Tips
There are a handful of tips that you will really benefit from when making almond milk. Here are the basics so that you save yourself from any difficulties.
Soak the almonds beforehand. Not only does it make the almonds super soft, but they also blend up much finer.
Pick the almond milk flavor you want and blend the additives with the almonds.
Setup a straining system so that you are prepared to efficiently strain the liquids from the solids.
Save the almond pulp to make almond meal. It can be used in multiple baked goods and cooking recipes!
Don't overly force the liquid out of the nut milk bag. This exacerbates the possibility of breaking the fine mesh material.
Have a clean jar or sealable container ready to pour the almond milk into once finished.
Use the almond milk in baking recipes, overnight oats or enjoy a glass of cold dairy-free milk.
Try these recipes from scratch: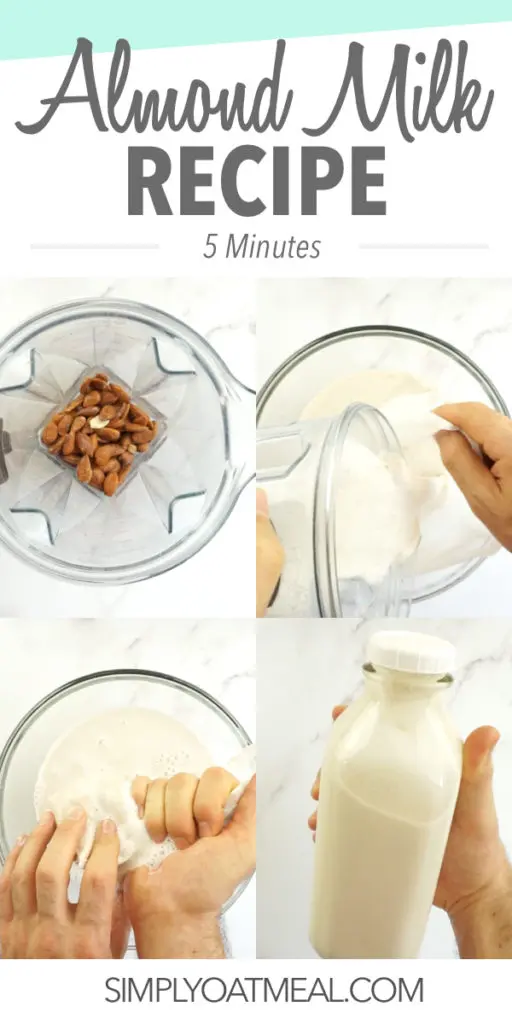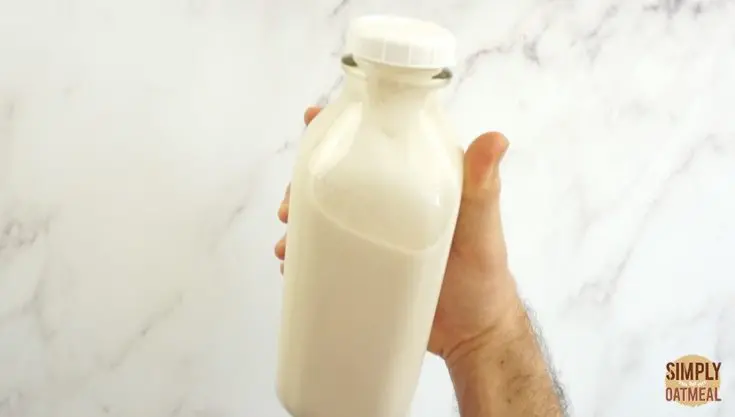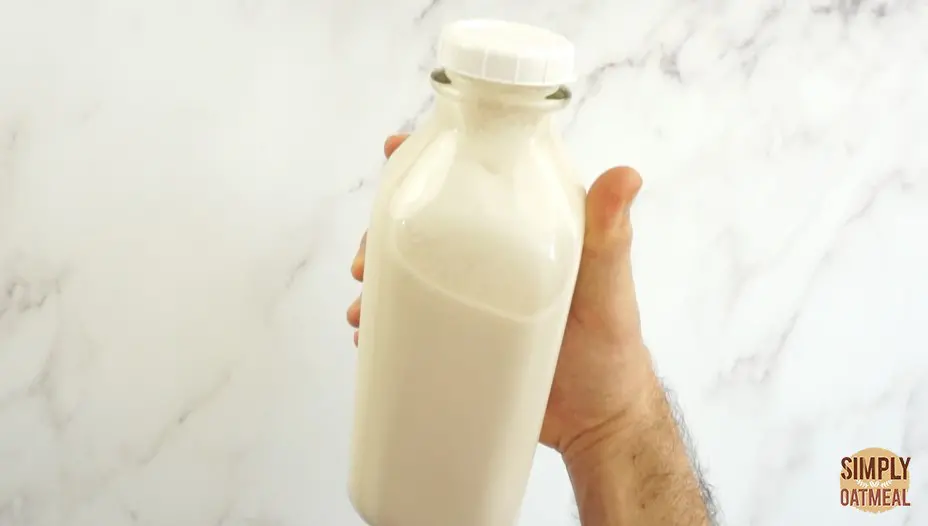 Yield:

1 qt
Easy Almond Milk Recipe
Additional Time:
4 minutes
Learn how to make almond milk from scratch. Here are the ingredients and steps required to make homemade almond milk.
Almond milk is a non-dairy alternative to cow's milk. It is commonly used in cooking, baking and no cook preparations.
This easy almond milk recipe only takes 5 minutes to prepare. Afterwards, you will have a bottle of fresh nut milk that tastes incredibly delicious.
Sweeten the beverage, or even add your desired almond milk flavors. The options are endless and you are guaranteed to never get tired of drinking this refreshing beverage.
Ingredients
1 cup raw almonds (soaked overnight in cool water)
5 cups filtered water (less to thicken, more to thin)
Instructions
Soak the almonds in water for a minimum of 8 hours.
In a high-speed blender, add the soaked almonds, water, salt, and any almond milk flavors.
Blend for at least 1-2 minutes until the liquid is creamy. The
smoother the liquid, the more flavor that will be extracted.
Strain the liquid through a nut milk bag, cheesecloth or a clean dish towel from the kitchen drawer. Carefully gather the four corners and squeeze until all the liquid is extracted.
If you only used almonds and there are no additional flavors
incorporated, then take the extra few minutes and make almond meal. It's a wonderful supplement for baked goods and also makes an easy oatmeal topping.
Transfer the almond milk to a mason jar, bottle or container that suits you best and then place in the refrigerator.
Notes
Shake well before pouring because the liquid tends to separate.
The almond milk stays fresh for about 5 days, but may hold a bit longer.
Adding flavor ingredients can shorten or lengthen the duration based upon the items. Check for any signs of spoilage or off-putting smells before consuming.
Nutrition Information:
Yield:
6
Serving Size:
1
Amount Per Serving:
Calories:

106
Total Fat:

9g
Saturated Fat:

1g
Trans Fat:

0g
Unsaturated Fat:

8g
Cholesterol:

0mg
Sodium:

8mg
Carbohydrates:

4g
Fiber:

2g
Sugar:

1g
Protein:

4g
Nutrition information isn't always accurate.