*This post may contain affiliate links. Please see my
disclosure
to learn more.
This easy peanut butter oatmeal recipe takes only a few minutes to make! It is perfect for busy mornings. This stovetop oatmeal recipe is simple to make and full of cozy flavors. It will keep you feeling satisfied all morning. This classic breakfast is great all year long!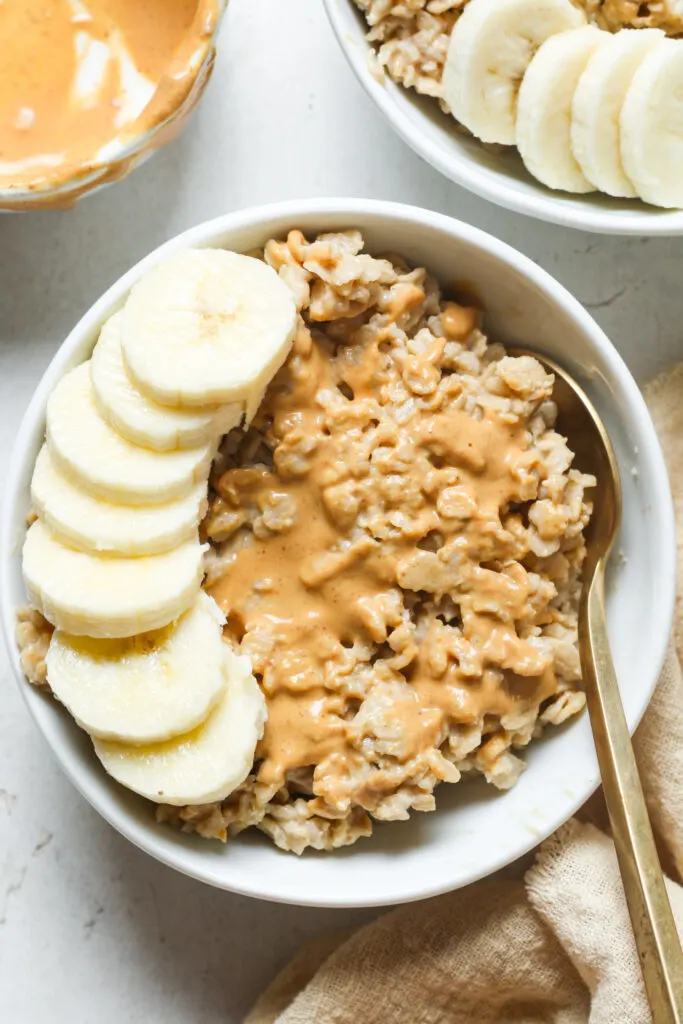 Why You'll Love This Recipe
Satisfying and nutritious: Oatmeal is a great source of fiber. This can help keep you feeling full and satisfied until your next meal. It is also packed with essential vitamins and minerals, making it a healthy breakfast option.
Quick and easy to make: This peanut butter oatmeal recipe requires just a few basic ingredients. You will likely already have them in your pantry.
Customizable: You can adjust the sweetness, creaminess, and toppings to suit your personal preferences.
Delicious and comforting meal: The combination of warm, creamy oatmeal and nutty, rich peanut butter is a comforting and hearty way to start your morning.
To make a big batch, try this Instant Pot Oatmeal!
Diet-friendly: This oatmeal can be made gluten-free, dairy-free, and vegan. This recipe is naturally egg-free and refined sugar-free.
Ingredients & Substitutions
These are the main ingredients and substitutions for this peanut butter oatmeal recipe. Scroll down to the recipe for the full ingredients list and directions.
Rolled oats: These can be regular or gluten-free depending on your dietary needs or preferences. Use old-fashioned rolled oats, not quick or instant oats.
Milk: The amount of milk needed depends on how creamy or thick you prefer your oatmeal. You can use regular milk or a dairy-free alternative such as almond milk, soy milk, or oat milk.
Sea salt: A small amount of sea salt is used to enhance the flavors of the other ingredients and balance out the sweetness.
Cinnamon: This warm spice adds a cozy flavor and aroma to the oatmeal.
Peanut butter: Natural creamy peanut butter is the best choice as it has a smooth and creamy texture without any added sugars or oils.
Banana: A sliced banana is used as a garnish for the oatmeal, but you can use any other fruit that you like or have on hand, such as strawberries, blueberries, or raspberries.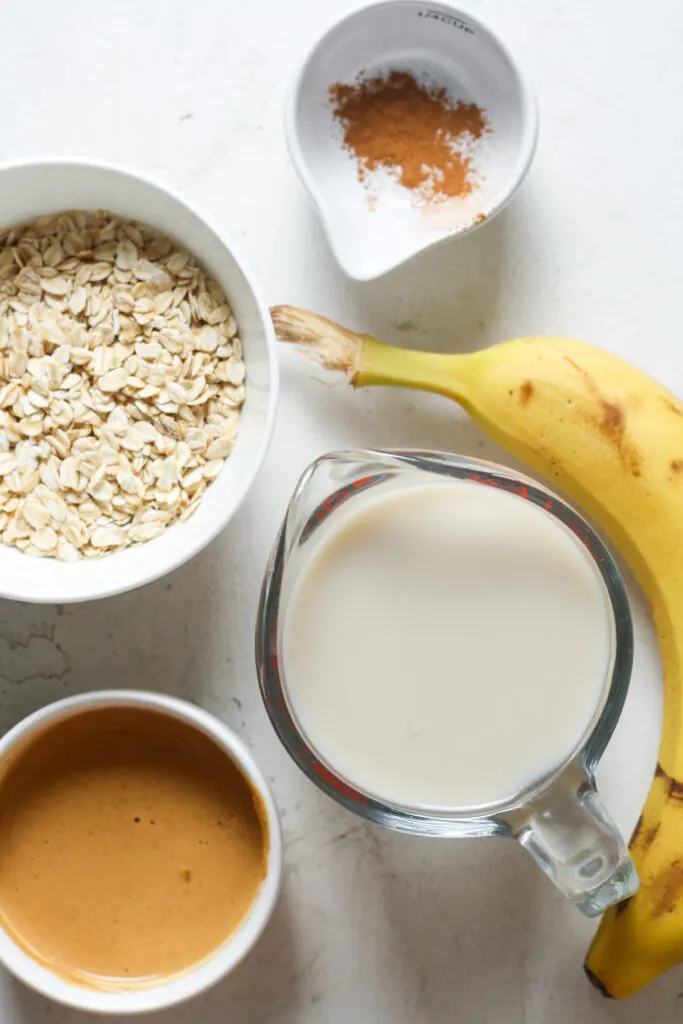 Taste & Texture
Peanut butter oatmeal combines the nutty taste and unctuous consistency of peanut butter with the comforting, filling texture of oatmeal.
The oatmeal is cooked until it is tender and creamy, with a slightly chewy texture that's complemented by the peanut butter.
The sea salt and cinnamon add a warm, cozy taste that balances the sweetness of the banana garnish.
How to Make
Step 1
First, heat the milk, oats, salt, and cinnamon in a small saucepan over medium heat. Stir constantly until the milk has been mostly absorbed.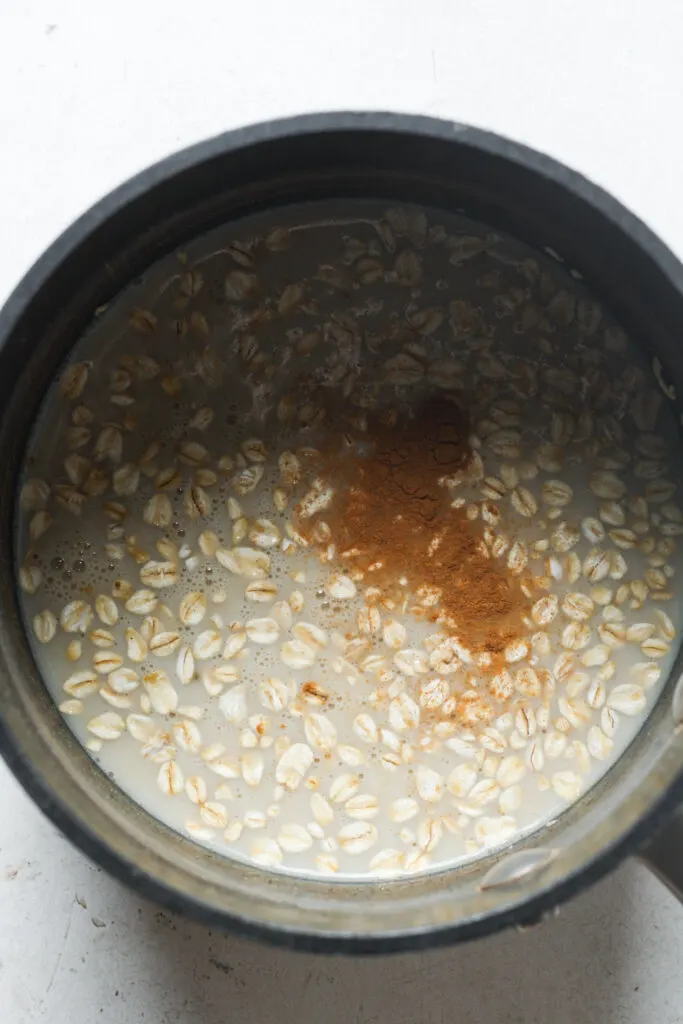 Step 2
Remove the oatmeal from the heat. Stir in peanut butter and transfer to two bowls.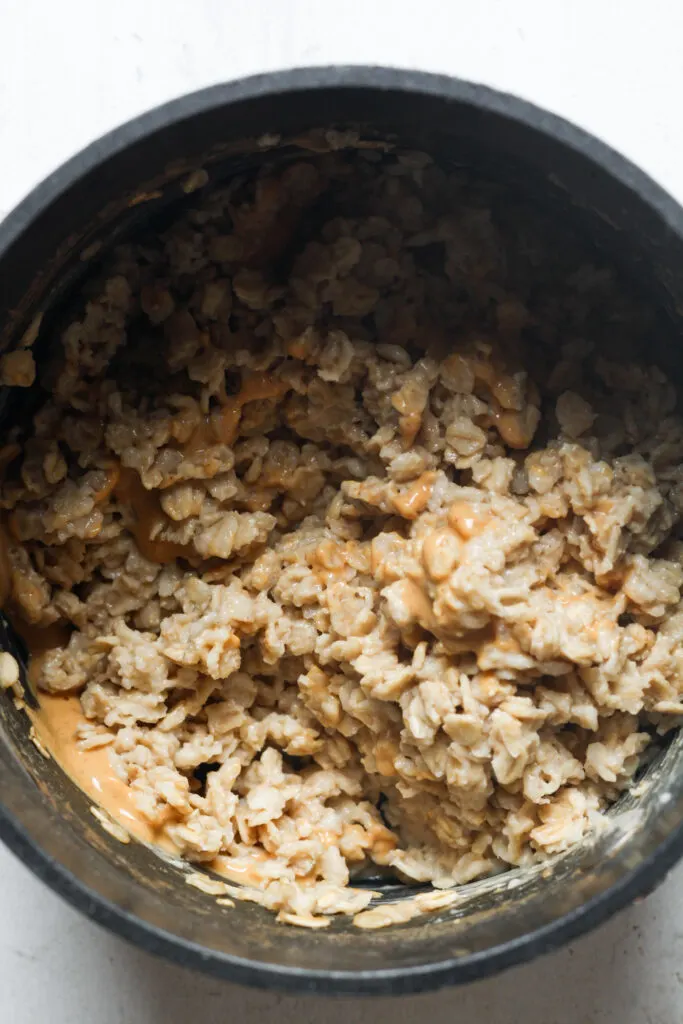 Step 3
Lastly, top with sliced banana.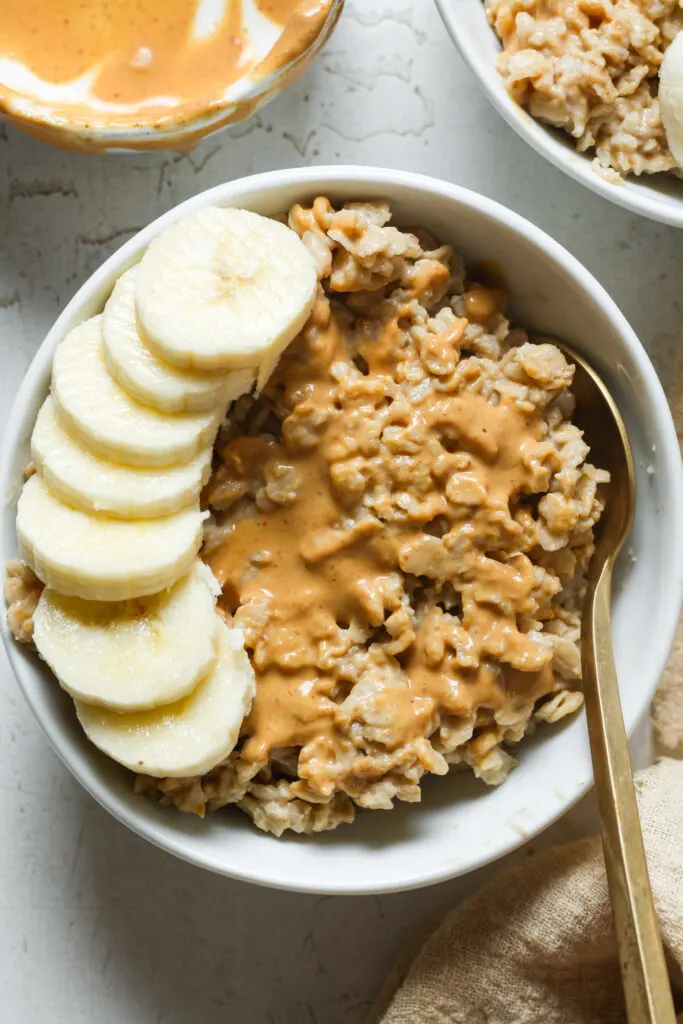 Expert Tips & Tricks
Use the right oats: Rolled oats are the best choice for this recipe as they cook evenly and have a nice texture. Quick oats or instant oats may become mushy and lose their texture through the cooking process.
Add the peanut butter at the right time: It is important to add the peanut butter after the oatmeal has cooked so that it does not stick to the bottom of the pot while cooking.
Add toppings for extra flavor and texture: Experiment with other toppings such as chopped nuts, dried fruit, or a drizzle of honey or maple syrup for added sweetness.
Adjust the sweetness and creaminess to your liking: This recipe is easily customizable, so feel free to adjust the amount of milk and peanut butter to achieve your desired level of creaminess and sweetness.
Flavor Variations & Add-Ins
Here are some delicious toppings and flavor additions for creamy peanut butter oatmeal:
Protein powder: Adding a scoop of protein powder to your oatmeal is an excellent way to add protein to your breakfast and keep you feeling full throughout the morning.
Chocolate chips: Chocolate and peanut butter are a match made in heaven!
Crushed cookies: For a fun twist, try adding some crushed cookies. This creates dessert oatmeal!
Energy balls: Add a chopped-up energy ball or bar to your oatmeal to add some extra protein, fiber, and healthy fats to your breakfast. Plus, it adds a nice texture and flavor contrast to the creamy oatmeal.
How to Serve & Store
To serve creamy peanut butter oatmeal, simply ladle the hot oatmeal into bowls and garnish with your desired toppings.
Sliced bananas, chopped nuts, and a drizzle of maple syrup are all delicious options. Add a splash of milk to make it even creamier.
Store leftovers in an airtight container in the refrigerator for up to 3 to 4 days. When reheating, add a splash of milk and heat in the microwave or on the stovetop until warm.
Note that the oatmeal will get thick as it cools, so you may need to add some extra milk or water when reheating to get the desired consistency.
To make a larger batch ahead of time, store cooked oatmeal in the freezer for up to 3 months. Simply thaw overnight in the refrigerator and reheat as desired.
For dessert, try these Iced Sweet Oatmeal Cookies!
Frequently Asked Questions
Is putting peanut butter in oatmeal good?
Yes, it adds flavor and protein to your breakfast. Peanut butter is high in healthy fats and can help keep you feeling full throughout the morning.
What is the healthiest thing to add to oatmeal?
Some healthy things to add to oatmeal include fresh fruit, nuts, seeds, and spices such as cinnamon or turmeric. Greek yogurt or a scoop of protein powder are also great options for adding protein.
Do you add peanut butter before or after cooking oatmeal?
Adding your peanut butter after cooking the oatmeal keeps it from sticking to the pot and results in better overall consistency.
Which type of peanut butter should I use?
You can use any type of peanut butter for this recipe, but natural creamy peanut butter without added sugar or salt is a healthier option. If you have a peanut allergy, you can substitute almond butter or another nut butter of your choice.
Is this recipe gluten-free?
Yes, this recipe is gluten-free as long as you use gluten-free oats.
What type of oats are best for oatmeal?
Rolled oats, also known as old-fashioned oats, are the best type of oats for oatmeal. They have a chewy texture and cook relatively quickly, making them perfect for a quick breakfast.
Is this recipe vegan?
This recipe can be made vegan if you use dairy-free milk such as almond milk or soy milk. For another vegan recipe, make these Chocolate No Bake Oatmeal Cookies!
Can I make this in the microwave?
While you can make oatmeal in the microwave, cooking it on the stove allows you to have more control over the texture and prevents it from becoming too watery or mushy.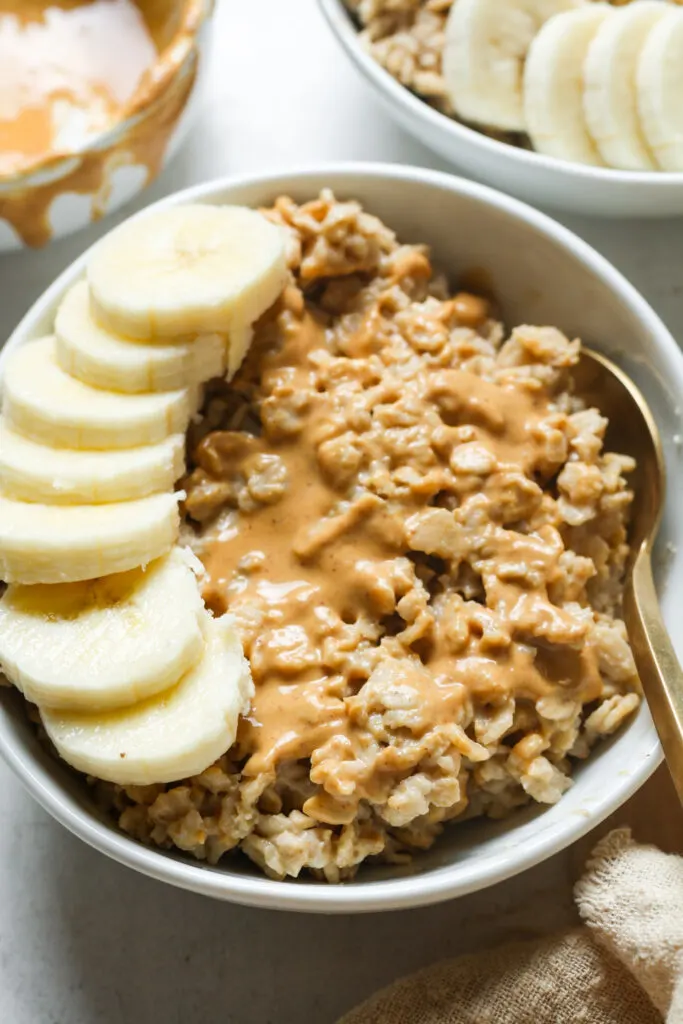 Equipment Needed
Nonstick Saucepan: Use this nonstick pan for cooking peanut butter oatmeal.
Pyrex Glass Measuring Cups: These are my favorite easy-to-clean measuring cups.
You May Also Like
If you enjoy this peanut butter oatmeal recipe, please leave a rating and review!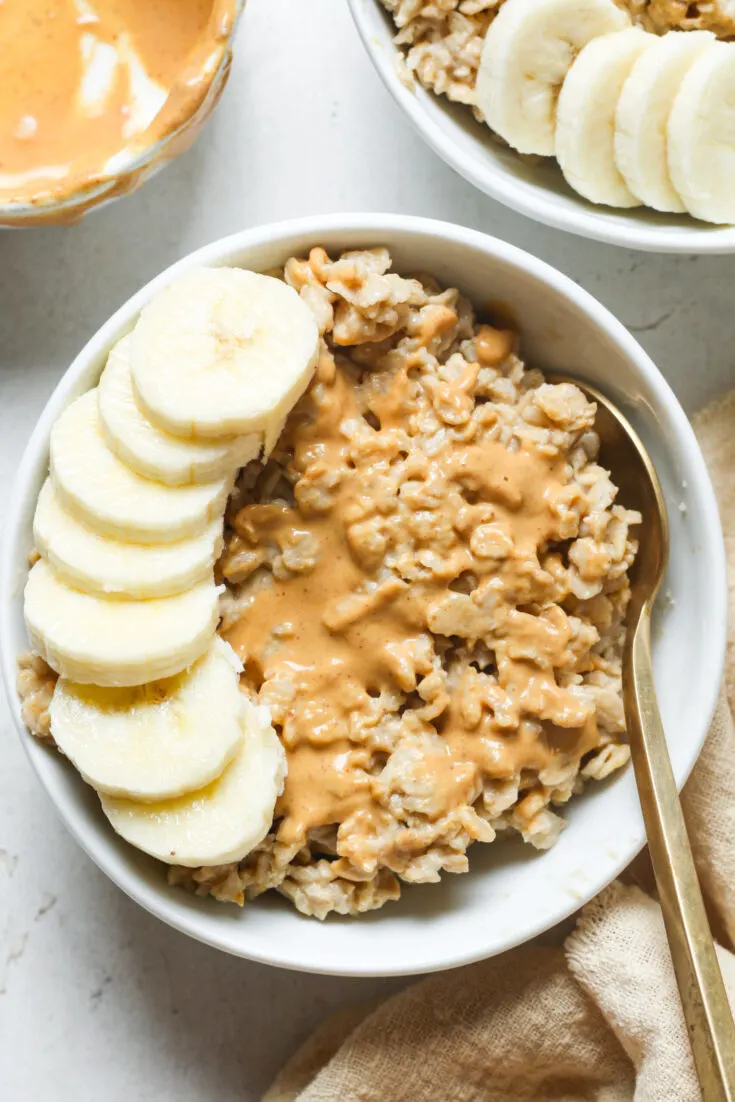 Yield:

2
Peanut Butter Oatmeal
This peanut butter oatmeal recipe is thick, creamy, and so flavorful! This quick and easy recipe takes only 5 to 10 minutes. It is great for a filling breakfast, a hearty snack, or even a healthy dessert!
Ingredients
2 1/2 cups milk
1 1/2 cups rolled oats
Pinch sea salt
1 tsp cinnamon
3 tbsp creamy peanut butter
1 banana, sliced
Instructions
First, heat the milk, oats, salt, and cinnamon in a small saucepan, over medium heat. Stir continuously until the milk has been mostly absorbed.
Remove the oatmeal from the heat. Stir in peanut butter and transfer to two
bowls.
Finally, top with sliced banana.
Notes
Use rolled oats for the best texture.
Feel free to use your favorite milk. Dairy-free and regular both work well.
For a crunchy texture, use crunchy peanut butter.
Almond butter and cashew butter work well too.
Store leftovers in the fridge for up to 3 days.
Nutrition Information:
Yield:
2
Amount Per Serving:
Calories:

406
Total Fat:

16.1g
Saturated Fat:

3.2g
Cholesterol:

0mg
Sodium:

1498mg
Carbohydrates:

65g
Fiber:

10.1g
Sugar:

7.5g
Protein:

16.4g