*This post may contain affiliate links. Please see my
disclosure
to learn more.
Have you tried chocolate chips mixed with no bake peanut butter oatmeal balls? If you haven't done so, here is a quick and easy meal prep snack idea that will give you a power packed energy boost!

Here at Simply Oatmeal, we have explored the countless ways the oats can be prepared. Explore the creative no bake oatmeal balls recipes that we have put together, you'll quickly find ones to make on repeat.

Every bitesized ball is high in protein, packed with fiber, and loaded with antioxidants. This no bake recipe is so simple and can make ahead of time because it stays fresh in the fridge for up to 5 days.
How to make no bake peanut butter oatmeal balls?
No bake peanut butter oatmeal balls are super easy to make and a healthy make ahead snack idea that everyone will enjoy. Gather a few key components and quickly assemble this no cook snack in no time at all.

You may also enjoy making a batch of 5-minute homemade peanut butter. This recipe is uses only 3 ingredients to make super fresh tasting peanut spread. In addition, there are so many fun twists that you can mix in like cinnamon, vanilla and cocoa powder. Or, use it in this Peanut Butter Oatmeal recipe.
No Bake Peanut Butter Oatmeal Balls Ingredients:
Peanut butter
Maple syrup
Chocolate chips
Water
Coconut oil
Roasted peanuts
Coconut flakes
In a medium sided bowl, stir together the peanut butter and maple syrup. Afterwards, add in the rolled oats, chocolate chips, coconut oil and water. Stir until the oats are fully combined.

If the mixture requires a bit more moisture for it to stick together and form ball shapes, then add a splash of water or coconut oil. The extra moisture will make it easier to bind the oatmeal mixture together.
Use a 1 ounce scoop to equally portion the oatmeal mixture. Roll each portion in the palm of your hands. It's best to wet your hands so that the dough doesn't stick to your hands.

While the no cook peanut butter oatmeal balls are still moist, coat the outer layer with shredded or toasted coconut, roasted peanuts, cocoa powder or your preferred coating.
No Bake Peanut Butter Oatmeal Balls Tips
Decadent peanut butter, crunchy coconut flakes, and a sweet touch of mini chocolate chips combines with no bake oatmeal balls to create a delicious and healthy bitesized snack.
Rolled oats and quick oats work the best in this recipe. Steel cut oats are unprocessed and therefore don't work well in raw food preparations.
If you're not a fan of peanut butter, then substitute the nut butter with your personal favorite.
To make this no bake recipe is both vegan and gluten-free, select dairy-free chocolate chips and gluten free oats.
Try other coating like cocoa powder or crushed banana chips.
Easy meal prep snack idea for quick grab and go energy bites.
Store is a sealed container in the fridge and enjoy within 5 days to maintain freshness.
ADDITIONAL NO BAKE OATMEAL BALLS RECIPES: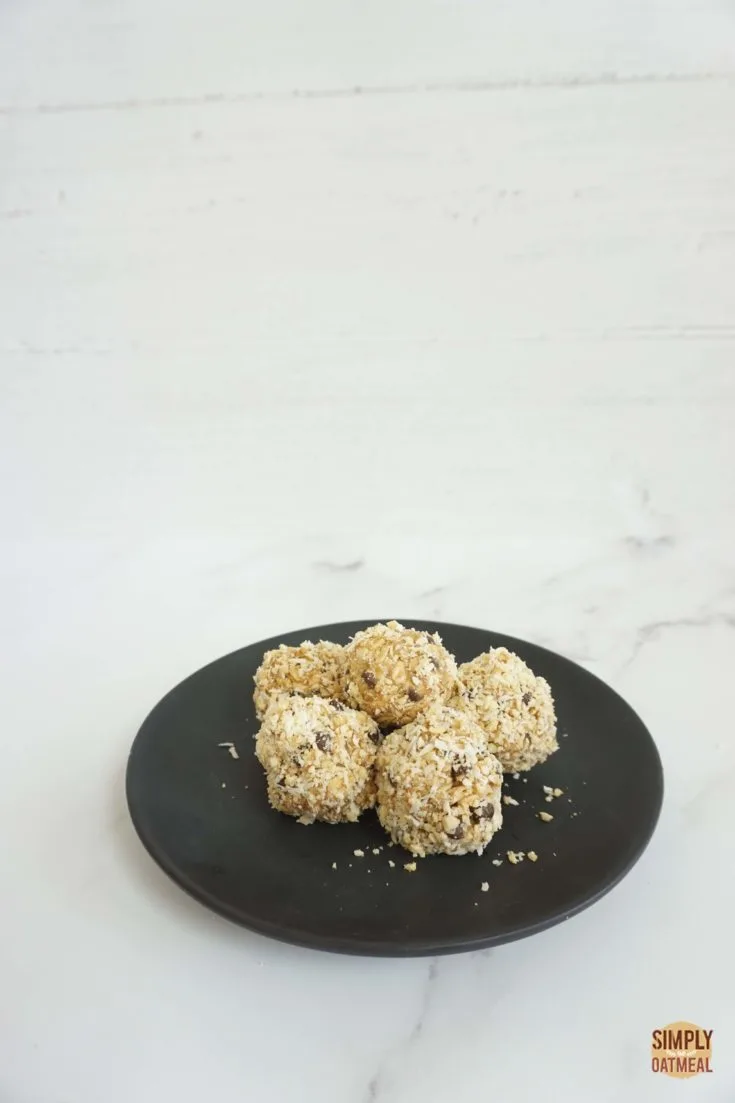 Yield:

12 Balls
No Bake Peanut Butter Oatmeal Balls Recipe
Additional Time:
10 minutes
No bake peanut butter oatmeal balls are the perfect balance of wholesome goodness with delicious flavor. One bitesized ball simply wont cut it, and you find yourself falling in love with this magical concoction of sweet chocolate chips, savory peanut butter and decadent coconut flake coating.
Antioxidants, plant based protein and dietary fiber, the benefits of oats provide a source of balanced whole grain nutrition.
The no bake recipe is easy to make and only takes a few minutes to put together. Assemble the meal prep snack idea so that you have an easy grab and go snack idea prepared when you need a quick energy boost.
Ingredients
1½ cups rolled oats
⅓ cup maple syrup
⅓ cup mini chocolate chips
¼ cup water
2 tablespoons coconut oil
Coating
½ cup roasted peanuts
¼ cup unsweetened coconut flakes
Instructions
In a large bowl, mix together the rolled oats, peanut butter, maple syrup and chocolate chips until well combined. Cover and chill in the refrigerator for about 1 hour to let the mixture firm up.
Use a 1 ounce cookie scoop to divide the mixture into 16 evenly sized energy bites.
One at a time, press a portion into the palm of your hands to form a ball. Repeat with the remaining oatmeal energy bites.
Use a food processor or high-speed blender to grind the peanuts and coconut flakes into a powder. Be careful not to over grind because it will turn into a paste.
Roll the no bake peanut butter oatmeal balls in the peanut coconut powder to coat the outer layer.
Store in a sealed container in the refrigerator and serve at room temperature.

Notes
Make Ahead: Prepare in advance and let sit at room temperature for 10 minutes before serving.
Storage: Store leftovers in an airtight container in the refrigerator for up to 5 days.
Nutrition Information:
Yield:
12
Serving Size:
1
Amount Per Serving:
Calories:

215
Total Fat:

14g
Saturated Fat:

5g
Trans Fat:

0g
Unsaturated Fat:

7g
Cholesterol:

0mg
Sodium:

79mg
Carbohydrates:

20g
Fiber:

3g
Sugar:

9g
Protein:

6g