*This post may contain affiliate links. Please see my
disclosure
to learn more.
Do you love raspberries and peanut butter? Then you are in the right place! Make this healthy overnight oats recipes that taste just like a classic peanut butter and jelly sandwich.
Looking for more recipe ideas to make with raspberries? Don't worry! Whether you choose fresh or frozen, we've rounded up the best raspberry overnight oats recipes to make you feel satisfied no matter what time of day you take a bite.

From raspberry mocha overnight oats to lemon raspberry overnight oats, each recipe can be specifically customized for your taste and dietary preference. Meal prep a large batch and you will be ready with breakfast or afternoon snack ideas for the week.
You will love this raspberry peanut butter overnight oats because…
Only takes 5 minutes to meal prep.
Packed with plant based protein, dietary fiber and healthy fats. Healthy meal that'll energize your mind and body to start the day!
Perfect amount of nuttiness, tartness and sweetness.
Tastes just like a peanut butter and jelly with a hearty oatmeal base, its delicious and nutritious!
We all know that the morning time requires a boost of energy. Oats are hearty, wholesome and packed with research based health benefits. Start your day off on the right foot with a fulfilling meal that requires zero cooking.

As the spring weather comes to fruition and the seasons transition into warmer weather, its time for a hearty serving of raspberry peanut butter overnight oats. The blend of hearty oats, natural sweetness and semi-tart raspberries melds super well together.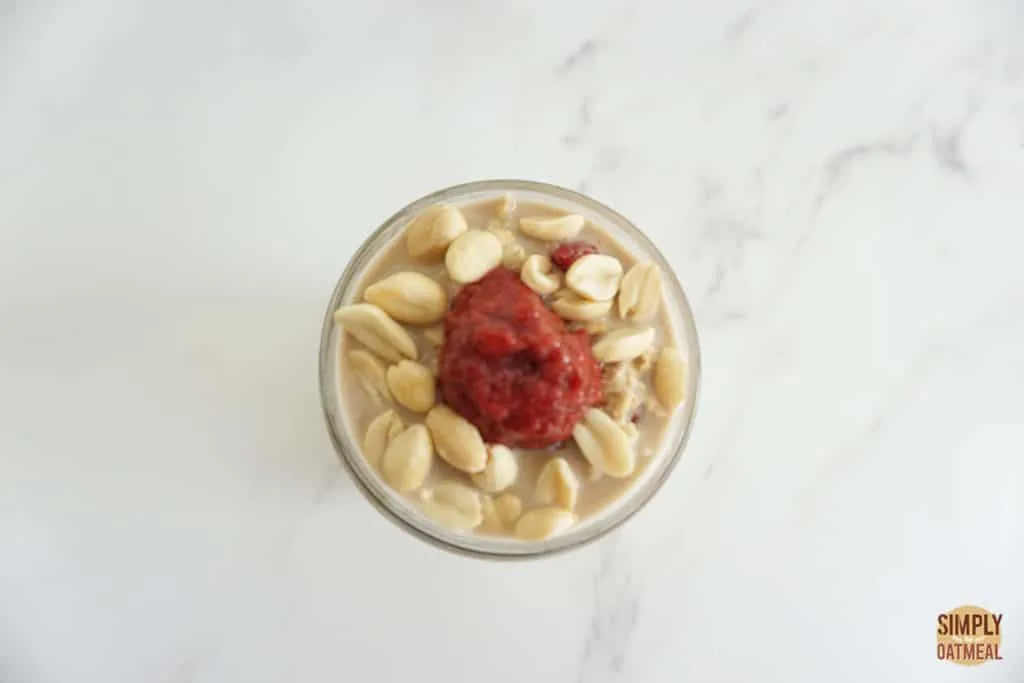 How to make raspberry peanut butter overnight oats?
Raspberry peanut butter overnight oats are really easy to make. The popular breakfast on the go uses only 6 ingredients that are commonly found in the kitchen pantry. Simply blend together the components for the healthy recipe.

You may also enjoy this 5-minute homemade peanut butter recipe! Making peanut butter from scratch tastes so fresh and is super easy to make. Puree the ingredients in a food processor and viola! Add your favorite mix-ins like cocoa powder, honey, vanilla extract or cinnamon for a unique twist to the nut butter. Stir it into this Oatmeal with Peanut Butter!
Raspberry Peanut Butter Overnight Oatmeal Ingredients:
Coconut milk
Raspberries
Peanut butter
Honey
Vanilla extract
Combine the coconut milk, peanut butter, honey and vanilla extract in a mason jar. Stir until very smooth and everything is combined well.

Fold in the oats and raspberries. Cover and place in the refrigerator overnight.
In the morning or late afternoon snack, give the no cook oats a good stir. Add any additional liquid to soften the oats and make a porridge style oatmeal before serving.

Garnish with your preferred oatmeal toppings. Be creative and add granola, an extra scoop of peanut butter, raspberry-chia jam, a drizzle of maple syrup over the top, and mini chocolate chips to fuel your sweet cravings for the day! Crushed peanuts, hemp seeds and cocoa nibs also sound great to me!
Raspberry Peanut Butter Overnight Oats Tips:
There are countless variations to consider when assembling soaked oatmeal. Here are important tips to remember when preparing raspberry peanut butter overnight oats.
Peanut butter: Peanut butter is packed with flavor and wholesome nutrition that compliments a balanced diet. Fat, protein and dietary fiber are all benefits of peanut butter. Creamy or crunchy, both types work well in overnight oats.
Raspberries: Raspberries are a powerful immunity booster that adds both sweetness and tartness to your soaked oats. Raspberries can be added fresh or frozen. Frozen berries will defrost while soaking overnight an actually turn into a jam like consistency when soaked into the oats.
Oats: Use old fashioned rolled oats instead of quick oats to give your creamy and smooth texture to the overnight oatmeal. Quick oats become too mushy when soaked overnight.
Liquid ratio: To achieve a spoonable porridge-like consistency when making overnight oats, follow the general guideline of 2:1 ratio of liquid to oats. If necessary, you can always adjust the consistency by adding more liquid when it comes time to serve.
Seeds: Chia seeds, flaxseed and hempseed offer superfood neutron that can easily be added to this recipe. If you are looking for that extra boost, then add a spoonful of seeds. Be aware that this will require an extra splash of liquid, but you can always adjust when it comes time to serve.
Vegan: Stick with a dairy free milk alternative and substitute the honey for a sweetener like coconut sugar, maple syrup or agave to make this recipe vegan.
Gluten free: Gluten sensitive affects everyone in different ways. Although oat are gluten free, certified oats are recommended if you are on a strict wheat free diet.
Protein powder: A scoop of protein powder will boost the availability of nutrition. Select your favorite brand of unflavored or vanilla nutritional supplement.
Sweetener: Substitute your favorite sweetener if you prefer to make this recipe vegan and not use honey.
Give it a stir: Before garnishing with any toppings, give the no cook oats a quick stir to combine the soft bottom layer with the chewy parts on top. This will give the oatmeal a consistent mouthfeel throughout the entire dish.
Add-ins: Add a pinch of salt to enhance the flavor and make the overnight oats taste extra delicious. Fresh fruit and chopped nuts will add a bit of crunch to the creaminess. For more fun ideas, check out this list of 75+ oatmeal toppings.
Storage: Store individual batches in the best overnight oats containers for an easy meal prep that is all set to go. Overnight oats stay fresh for up to 5 days when stored in the fridge inside an airtight container.
MORE RASPBERRY OVERNIGHT OATS TO TRY NEXT: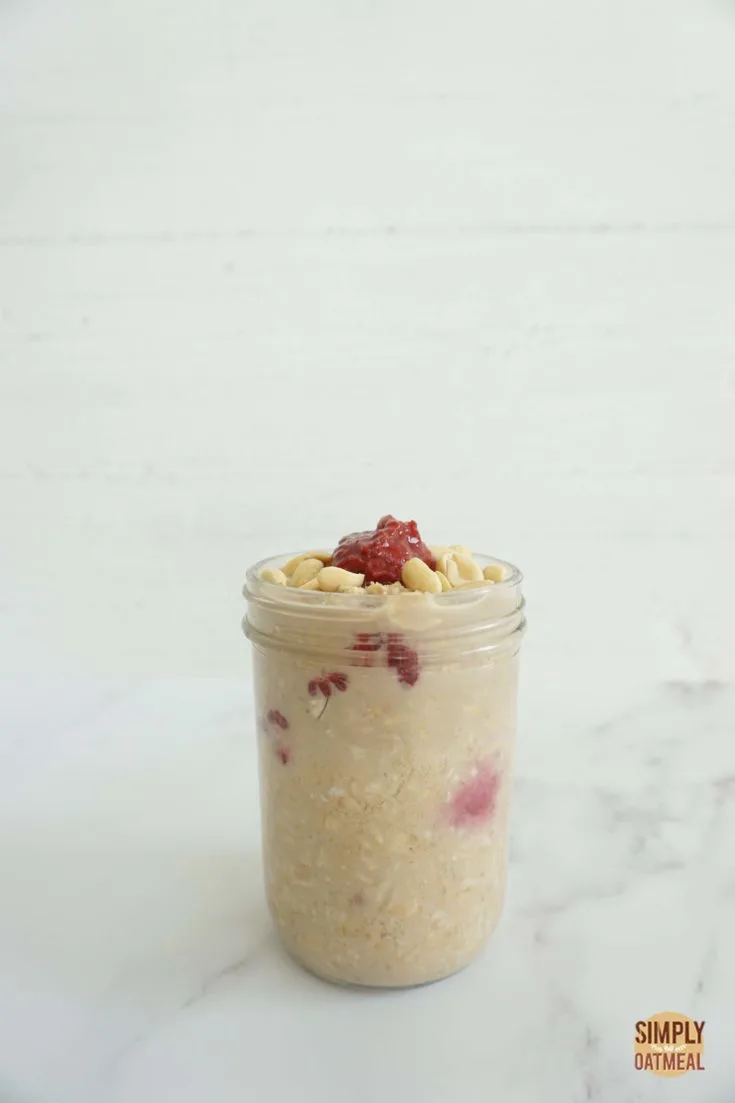 Yield:

1 Serving
Raspberry Peanut Butter Overnight Oats Recipe
Raspberry peanut butter overnight oats are a sweet and decadent combination of flavor. Give your body a boost of energy from the hearty oats, raspberries and wholesome peanut butter.
There is a perfect balance between the creamy peanut butter and tart raspberry sourness. Assemble this make ahead meal prep for an easy grab and go so that don't leave the house hungry in the morning.
Ingredients
½ cup regular oats
¾ cup unsweetened coconut milk
½ cup raspberries
1 teaspoon honey
¼ teaspoon vanilla extract
Instructions
In a medium-sized bowl or overnight oats jar, add the coconut milk, peanut butter, honey and vanilla. Stir well to fully blend the liquid together.
Fold in the rolled oats and raspberries.
Cover and store overnight in the refrigerator overnight for at least 12 hours before consuming.
To serve, remove from the fridge and top with crushed peanuts, raspberries, peanut butter, cocoa powder, chocolate chips, coca nibs, or your favorite oatmeal toppings.

Notes
Make it vegan and gluten free!
Adjust the consistency and sweetness if necessary.
Store in the refrigerator for up to 5 days.
Recommended Products
As an Amazon Associate and member of other affiliate programs, I earn from qualifying purchases.
Nutrition Information:
Yield:
1
Serving Size:
1
Amount Per Serving:
Calories:

433
Total Fat:

23g
Saturated Fat:

7g
Trans Fat:

0g
Unsaturated Fat:

13g
Cholesterol:

0mg
Sodium:

165mg
Carbohydrates:

49g
Fiber:

10g
Sugar:

11g
Protein:

13g
Nutrition information isn't always accurate.