*This post may contain affiliate links. Please see my
disclosure
to learn more.
Quickly blended chocolate, peanut butter and banana with whole grain oats for a perfect protein-packed, energizing and healthy breakfast. Plus, the hearty beverage is ready to drink right away with zero cooking time required!
If you have frozen or fresh fruit leftover in the freezer, try more of the best oatmeal smoothie recipes. Each repeatable combination contains staple ingredients that don't require cooking nor fancy knife skills.

You also have versatile meal prep combinations like blueberry lemon oatmeal smoothie and oatmeal raisin cookie smoothie. The two are my favorite creamy and soul-satisfying blended beverages that you'll ever try!
You will love this chocolate peanut butter banana oatmeal smoothie because…
Easy to make in just 5 minutes.
Packed with nutritional compounds like plant based protein, dietary fiber and omega-3 fats. All around healthy meal that can be consumed for breakfast or an afternoon snack.
Balances rich cocoa, creamy peanut butter and sublet banana essence with the hearty whole grain oatmeal base.
Tastes delicious!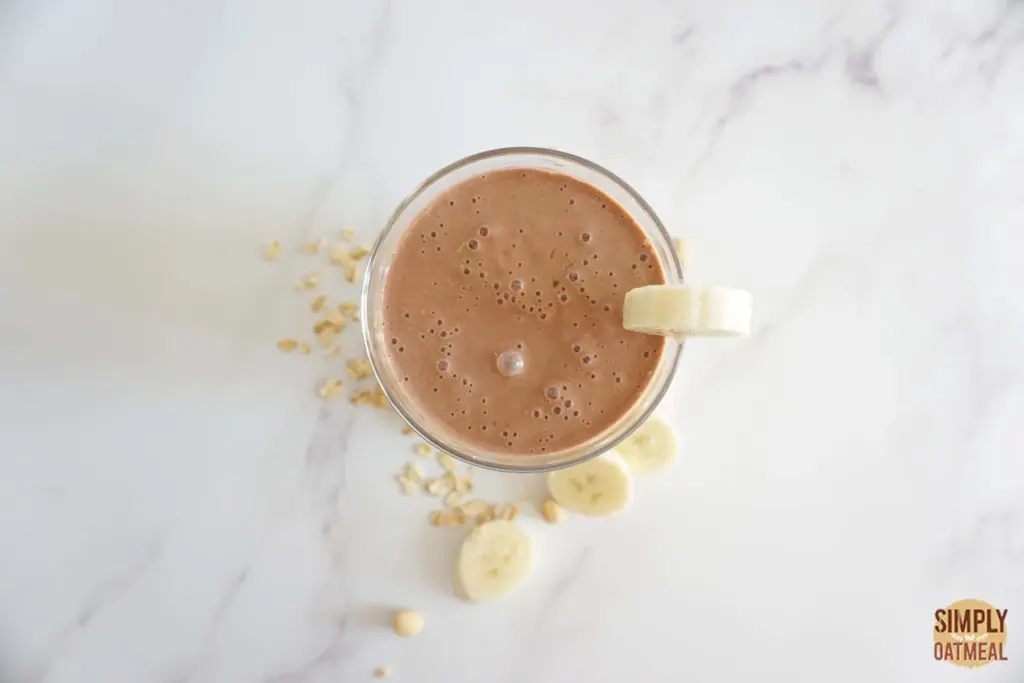 The oat base provides plant-based protein, fiber, and healthy fats for energy, but when combined with cocoa, peanut butter and banana you get a well balance heathy smoothie. Whether you are looking for a protein packed meal or just to add another healthy breakfast item to your morning routine, let this chocolate peanut butter banana oatmeal smoothie be the solution to your request.
How to make chocolate peanut butter banana oatmeal smoothie?
Make this chocolate peanut butter banana oatmeal smoothie to start your day off in a refreshing and rejuvenating way. It's nutritious and ready-to-drink right away, which makes it the perfect breakfast solution for a grab and go meal on the run. If you are always on the go, then you don't have to leave the house without having breakfast anymore.
Chocolate Peanut Butter Banana Oatmeal Smoothie Ingredients: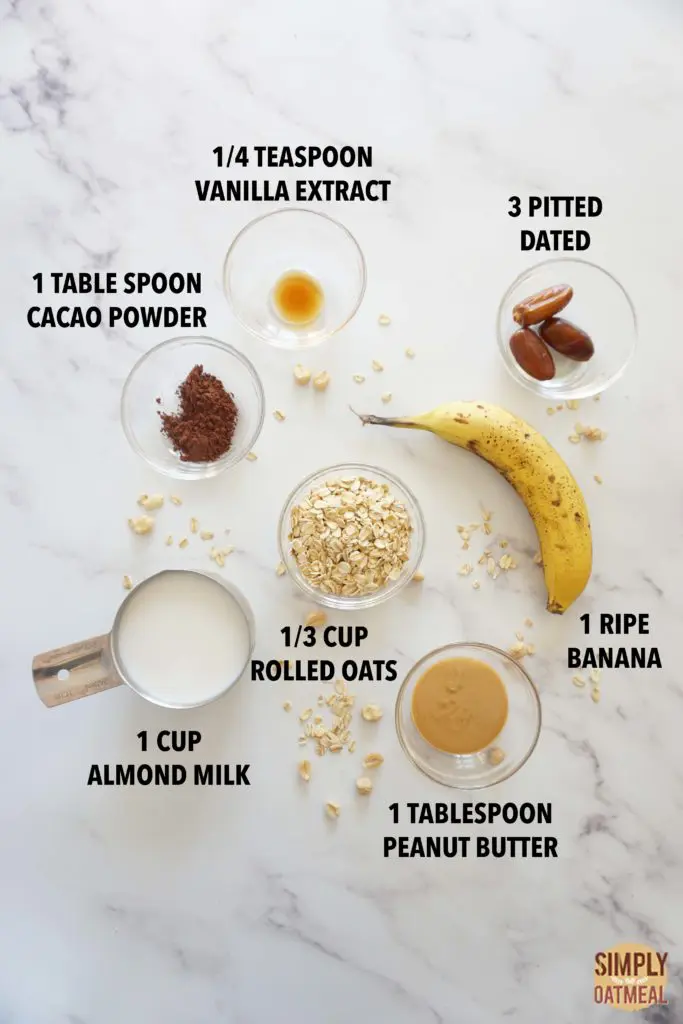 Almond milk
Banana
Peanut butter
Cacao powder
Dates
Vanilla syrup

Place all of the ingredients into a blender and blend on high speed for 30-60 seconds. The resulting puree should be smoothy and creamy.

Adjust the sweetness and add a splash of extra liquid if necessary. The dates will be the toughest ingredient to grind up finely, so check for chunks before pouring the smoothie into a cup.

Enjoy immediately or store in an airtight container for an easy grab and go the next day.
Chocolate Peanut Butter Banana Oatmeal Smoothie Tips
Chocolate peanut butter banana oatmeal smoothie only takes 5 minutes to prepare a hearty and healthy meal. Use these simple tips to make fulfilling meal that will keep you satiated all day long.
Chocolate: Use an unsweetened cocoa powder so that you have better control over the levels of added sugar. A sweetened chocolate may no require the dates for sweetness.
Nut butter: If you are allergic to peanut butter, or simply do not like the taste, then substitute for your favorite nut butter like almond, cashew or sunflower seed butter.
Frozen banana: Fresh or frozen banana adds creaminess, but frozen fruits will eliminate the need to add ice if you are craving a cold blended beverage.
Oats: Raw steel-cut oats are not recommended for blending. Therefore, rolled oats or quick oats are the preferred type of oats for a smooth and silky mouthfeel.
Vegan: Select dairy free milk alternatives to keep this recipe vegan.
Gluten free: Although oats are gluten free, certified oats are recommended if you are on a strict wheat free diet.
Protein powder: This recipe gets extra protein and fat from the addition of nut butter, but if you're looking to boost the available nutrition, add a scoop of protein powder to this blended drink. Use your favorite brand of chocolate, vanilla or unflavored protein powder.
Sweetness: When using an unsweetened cocoa powder, you may find that you will need to add sweetness. This recipe uses dates, but you can substitute for your favorite sweetener like coconut sugar, maple syrup or agave. Adjust the sweetness to accommodate your personal taste.
Consistency: Add a few ice cubes or an extra splash of liquid to thin out the viscosity if the smoothie is too thick.
Make ahead: Meal prep ahead of time for a healthy grab and go meal. The smoothie will thicken when stored in the fridge, so give it a quick stir and a splash of milk to loosen up the consistency.
Storage: For best results, the no cook oatmeal smoothie is good for about 3 days when stored in the fridge or 1 month if stored in the freezer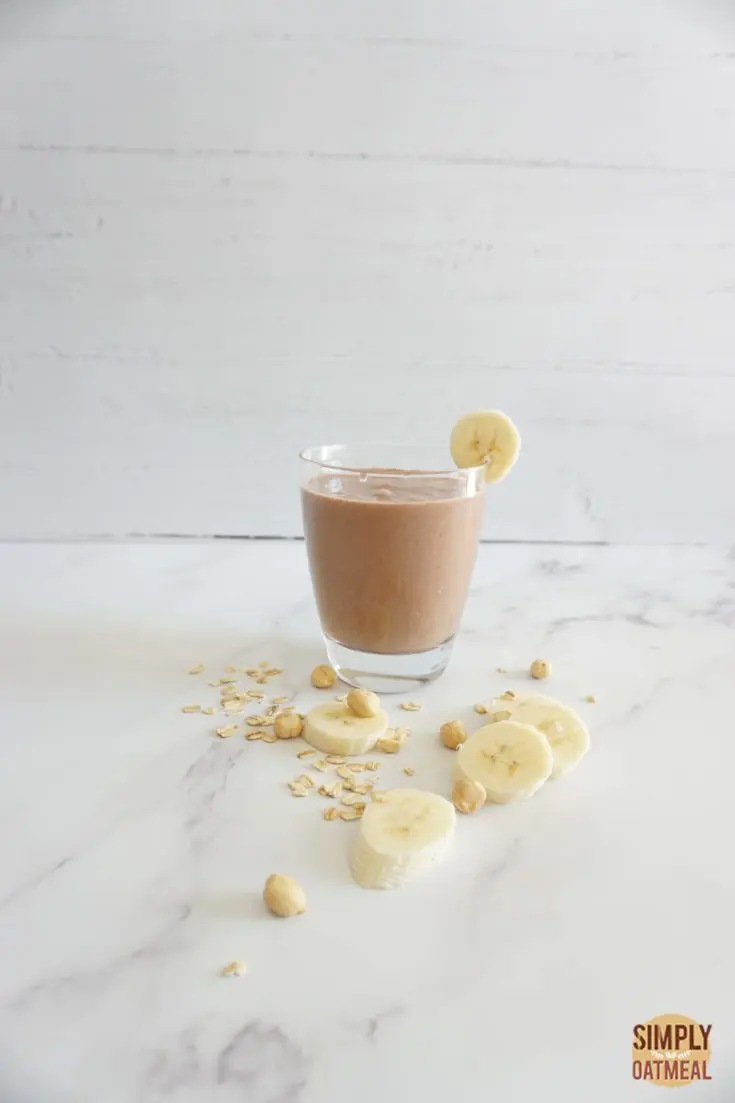 Yield:

10 fl oz
Chocolate Peanut Butter Banana Oatmeal Smoothie Recipe
Chocolate, peanut butter and banana oatmeal smoothie is a healthy balanced meal that will keep you feeling full until the next mealtime. Not only does it include the wholesome benefits of oats, but it is a great protein packed post workout meal to help you rebuild muscle.
Customize your smoothie to build a flavor combination you will fall in love with. Make ahead in a meal prep container for a grab and go breakfast that fits into your hectic schedule.
Ingredients
⅓ cup old fashioned rolled oats
1 ripe banana
1 tablespoon unsweetened cacao powder
3 pitted dates
¼ teaspoon vanilla syrup
Instructions
Add all ingredients to a blender and blend until very smooth. Smoothie may be refrigerated overnight or frozen.

Notes
Make it vegan and gluten free!
Recommended Products
As an Amazon Associate and member of other affiliate programs, I earn from qualifying purchases.
Nutrition Information:
Yield:
1
Serving Size:
1
Amount Per Serving:
Calories:

521
Total Fat:

14g
Saturated Fat:

2g
Trans Fat:

0g
Unsaturated Fat:

9g
Cholesterol:

0mg
Sodium:

233mg
Carbohydrates:

93g
Fiber:

11g
Sugar:

52g
Protein:

12g
Nutrition information isn't always accurate.