*This post may contain affiliate links. Please see my
disclosure
to learn more.
Yogurt is quite a common ingredient used for preparing overnight oats, but many of you may not like a yogurt base mixed with oats. Luckily, for those, I have come up with an alternative way for making overnight oats without yogurt.
Rest assured that it's another healthy and hearty make-ahead breakfast option. Only the thing is that this specific recipe does not include yogurt.
Let's quickly summarize the benefits of eating overnight oats without yogurt…
Great meal to eat any time of day.
Easy meal prep.
Requires little effort to prepare.
Loaded with dietary fiber and essential nutrients.
Promotes a feeling of fullness.
Accelerates your metabolism.
Prevents dramatic spikes in blood sugar levels.
Thus, if you are one of those people who don't prefer the smell, taste, and flavor of yogurt, or if you are allergic to it, then this particular preparation will be so suitable for you!
Why make overnight oats without yogurt?
Being the complete nutrition powerhouse, this preparation will deliver all the nutrients that your body expects! The health benefits of oats are numerous, and this preparation can supply your body with a wealth of minerals and nutrients like potassium, magnesium, and omega 3 fatty acids.
In addition to it, the recipe is packed with plant based protein and high fiber content too. Even though oats are not rich in protein, and yogurt is often used as an addition, you can still increase protein in oatmeal by stirring in a scoop of protein powder or a handful of nuts.
Raw oats may not be easy to digest. To reduce phytic acid and overcome this digestibility issue, the preferred method is to opt for overnight oats.
This recipe offers increased digestibility. When you soak oats overnight, the texture will be softened, and it will be ready to savor your appetite and satisfy your stomach.
Due to the complex starch content, overnights oats recipes without yogurt will aid in weight loss, decrease insulin spikes, and ensure a sense of fullness. Specifically, if you are following a fat-burning or fat-loss milestone, then it's very important that you put extra attention to your diet always.
A healthy diet along with regular workouts can be the key to your slimmer and leaner body. And, a well rounded diet starts with a healthy breakfast. Doesn't it?
So, if you are now wondering if overnight oats without yogurt is healthy for you or not, then please do not think twice.
This preparation is extremely healthy. In addition to it, it's incredibly delicious. Plus, it's an absolute time and money saver!
Before heading into a busy day, you can quickly prepare this recipe and you will be all set with a perfect breakfast to feed the entire family.
How to make overnight oats with yogurt
Since overnight oats are extremely versatile, it allows you plenty of options to customize the recipe based on your preferences. Skip the yogurt and elevate the meal prep with your preferred toppings.
Here's a quick list of toppings that you can include in this recipe.
If you prefer to add some crunchy elements to your dish, then you can try the following options, such as nuts, chopped pecans, and granola.
Alternatively, you can try these topping options too as they blend so well with overnight oats, for example, shredded coconut, dried fruit, cocoa powder, and almond slices.
Overnight Oats Without Yogurt Ingredients:
Rolled oats
Liquid
Sweetener
Spice
Fruit
Nuts
Seeds
Combine the ingredients in a small bowl, meal prep container or mason jar; mix thoroughly.
Cover the container with a lid and store in the refrigerator. Soak the oats in liquid for a minimum of 12 hours.
Before serving, give the no cook oatmeal a good stir to combine the soft bits on the bottom with the crunchier lay on top.
Serve overnight oats hot or cold, and garnish with oatmeal toppings that you love most.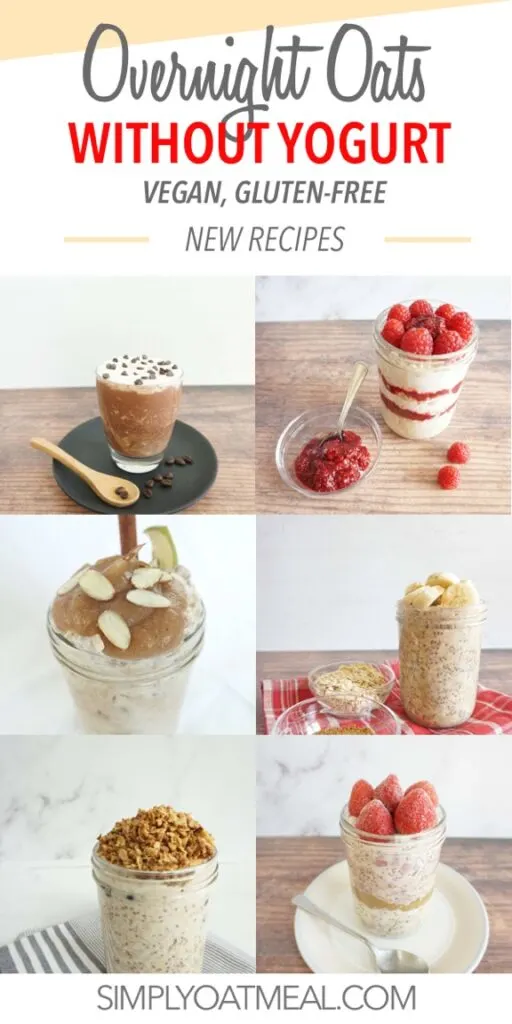 Tips For Making Overnight Oats Without Yogurt
Yogurt is not a necessity when preparing overnight oats. Soaking oats rehires your favorite liquid, tasty mix-ins and crunchy toppings to garnish with.
No matter what base you select, there are delicious combinations for you to finish with. Let's discuss a few tips to make the best tasting overnight oats without adding yogurt.
Included below are tips that are helpful for improving the results when leaving out the yogurt in your overnight oats recipe:
Oats: It's best to make overnight oats with rolled oats instead of using other types of oats. Old fashioned oats are steamed and flattened into flakes, which exposes more surface area and allows them to soak up liquid easily. Steel cut oats are halved groats, so they are really too dense to soak up the liquid without cooking. Additionally, quick oats are fragmented pieces that tend to get very mushy when soaked.
Fruit: Oats are very bland without combining with flavorful toppings, fruits being a great starting point. Dried, fresh and frozen fruits make an excellent addition to no cook oatmeal. Mash banana, unsweetened applesauce and frozen blueberry are great mix-ins to stir into overnight oats.
Nuts: From crunchy topping to dairy free milk and creamy butters, nuts have a variety of uses. Nuts are a healthy way to increase protein in oatmeal and add nutritious fats to the dish.
Sweetener: Too much sweetness with jeopardize the nutritional benefits of eating oats. Try to stick with natural sweeteners and use a minimal amount to avoid over saturating the dish with empty calories. Maple syrup, dates, and honey are great options when used in moderation.
Protein: Oats have a modest amount of protein, however that can be supplemented by adding protein powder. Stir in a scoop to give your body the amino acid boost that it is looking for,
Gluten free: Oats are a wheat free grain that naturally does not contain gluten. That being said, it is recommended to purchase certified oats to avoid cross contamination during the harvesting and packaging process.
Vegan: Stick with a dairy free milk that is made from a plant based source. In addition, honey is a big no-no more vegans so that must be avoided by substituting your favorite sweetener instead.
Make ahead: Overnight oats are a healthy meal prep that can be prepared in advance. Mix the overnight oats with your liquid selection and keep in an overnight oats container for an easy grab and go meal at any time of day.
Storage: Since you are not using yogurt in this recipe, the soaked oats can be left out on the counter overnight. The oats will ferment and become even more digestible. If the meal prep is meant to be consumed in the next few days, then overnight oats can be refrigerated for up to 5 days, or store in the freezer for up to 6 months.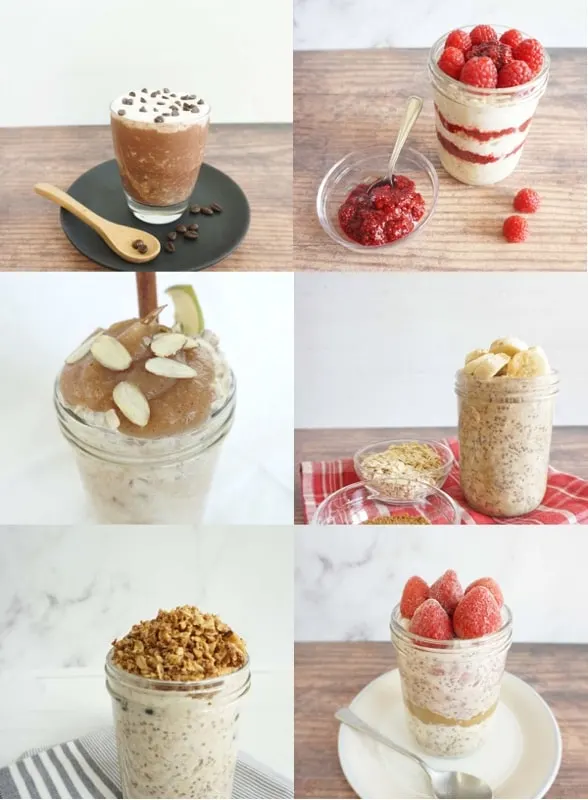 Yield:

1 serving
How To Make Overnight Oats Without Yogurt
This overnight oats without yogurt recipe is healthy, hearty and nutritious. Mix the ingredients in a small bowl and store in a cup, jar or meal prep container. This easy breakfast idea can be customized with mix-ins and toppings that you love!
Ingredients
Overnight Oats Without Yogurt Base Recipe
½ cup rolled oats
¾ cup liquid
1 tablespoon sweetener
¼ teaspoon vanilla extract
Applesauce
Blueberry Cobbler
½ cup fresh or frozen blueberries
1 tablespoon chia seeds
1 tablespoon sliced almonds
¼ teaspoon cinnamon
Brown Sugar Banana
½ banana, mashed
1 teaspoon brown sugar
¼ teaspoon ground cinnamon
Raspberry Jam
2 tablespoons raspberry chia jam
2 tablespoons sliced almonds
Strawberry Chia
½ cup large strawberries, diced
1 tablespoons chia seeds
Caffè Mocha
¾ cup cold brew coffee
1 tablespoon half and half
2 tablespoon unsweetened cocoa powder
Instructions
Combine all of the ingredients in a small bowl.
Mix well so that the oats are fully combined.
Place into an airtight storage container.
Store the container in the fridge to soak for a minimum of 12 hours.
Before serving, give the no cook mixture a quick stir.
Serve cold or hot. Overnight oats can be warmed in the microwave for a minute or heated on the stovetop for 3 minutes.
Add a splash of liquid to thin the consistency, and garnish with your choice of oatmeal toppings.
Notes
To make it vegan, use dairy-free milk, plant-based yogurt and avoid using honey as a sweetener.
To make it gluten-free, use gluten-free certified oats.
To make it sugar-free, avoid using too much sweeteners. Mash or puree fruit into the base mixture for natural sweetness.
To maintain freshness, store the overnight oats in an airtight container. It will stay fresh in the fridge for up to 5 days or freezer for up to 6 months .
Recommended Products
As an Amazon Associate and member of other affiliate programs, I earn from qualifying purchases.
Nutrition Information:
Yield:
1
Serving Size:
1
Amount Per Serving:
Calories:

196
Total Fat:

3g
Saturated Fat:

1g
Trans Fat:

0g
Unsaturated Fat:

2g
Cholesterol:

3mg
Sodium:

23mg
Carbohydrates:

31g
Fiber:

4g
Sugar:

4g
Protein:

11g
Please note that the nutrition label provided is a rough estimate based on the basic overnight oats recipe. Overall nutrition will vary based on the specific ingredients and amounts you use. This information should not be considered a valid substitute for any professional nutritionist's advice. The nutrition value is for one serving without any additional toppings.
Best Overnight Oats Without Yogurt
Overnight oats without yogurt make a healthy and wholesome meal prep that will make you feel full for a long time. Both oats and yogurt are extremely nutritious, so you will get a balance of healthy fats, protein and fiber that your body needs.