*This post may contain affiliate links. Please see my
disclosure
to learn more.
Learn how to make almond butter from scratch in order to use it in your favorite almond recipes. Here are the tips you need to make easy almond butter at home.

The recipe only requires six ingredients, however four of them are technically optional. You are looking at 10 minutes of roasting time and also 10 minutes of grinding in a food processor. That's really not too bad considering you'll end up with delicious homemade almond butter to use with your favorite recipes.

Making almond butter from scratch is much easier than you think. Not only that, but it is reasonable affordable, healthy and also has a far superior taste than the store bought varieties.
Is it cheaper to make your own almond butter?
Almonds are relatively expensive, and almond butter maintains the same high standards. Almonds currently cost about $7 a pound and a 16 ounces jar of almond butter is $7.

This recipe converts 16 oz of raw almonds into about 14 ounces of almond butter. Without any additions like honey, vanilla or cinnamon, this recipe yields slightly less and therefore costs a little bit more money.

However, I will contend that you get what you pay for. With the flavor enhancements like vanilla, cinnamon and honey, you end up with a far superior and fresher product that commercially manufactured almond butter.
How long does almond butter last in the fridge?
You can make almond butter in advance. I keep my homemade nut butters in the fridge because I find that they stay fresher for a longer period of time.

Do you refrigerate almond butter? Homemade almond butter is best to keep almond butter in the refrigerator to further extend the life. It stays fresh in the fridge for about a month or maybe a bit longer.

Before consuming, check for any signs of spoilage like mold or foul odors.
How to make almond butter?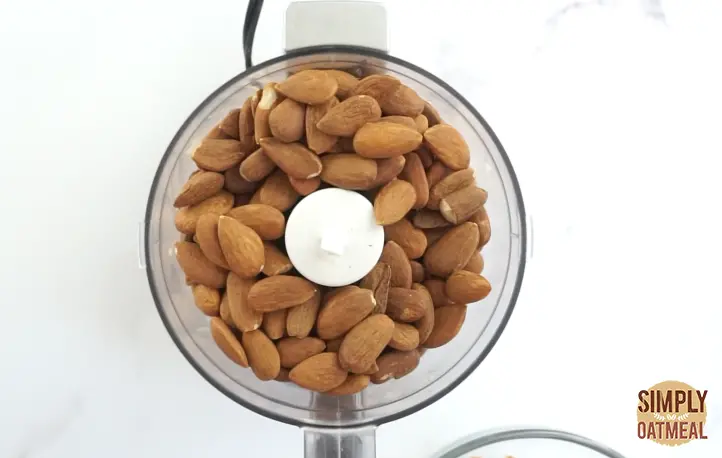 What is almond butter made of?Using a food processor and a handful of almonds, we are going to make the best almond butter you have ever tried. Here are the simple steps that you need to make this almond butter recipe at home.

Almond butter is the final step in the process of chopping and grinding almonds. The almonds go from a course chop to a flour-like powder and finally turn into a smooth ground paste that is creamy and delicious.

To make almond butter, you will need a powerful food processor or a high-speed blender, almonds, and a handful of flavorings.

You may also like: This homemade peanut butter recipe follows the exact same steps. Based on your personal preference, you can either make peanut butter that is creamy or chunky.
Almond butter ingredients:
Almonds
Salt
Almond oil
Cinnamon
Vanilla extract
Honey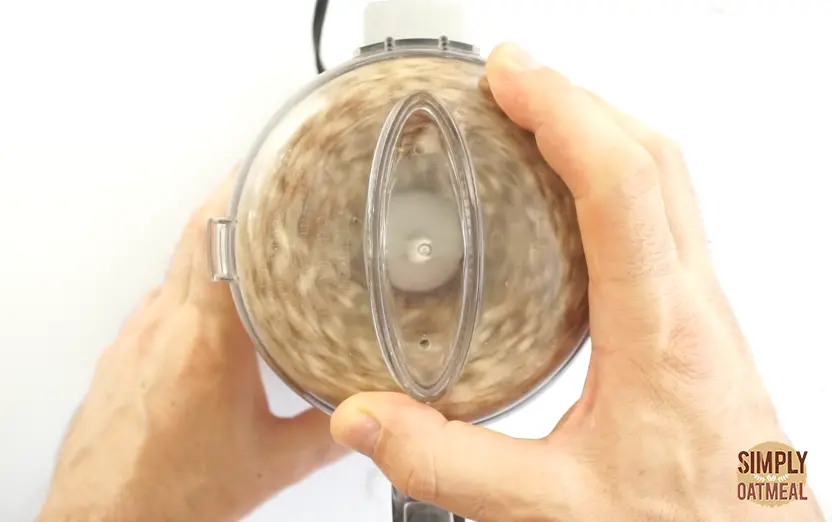 Add all of the almond butter ingredients to the blender or food processor. Turn the appliance on high and grind the almonds until they turn into a spreadable paste.

Be sure to scrape down the sides of the container every 10 seconds. The entire process will take about 5 minutes.

The almonds and machine may begin to heat up as the duration lengthens. Be aware of the gradually increasing temperature and take a break in between if necessary.
How to make almond butter in a blender?
The process works the same, but instead of a food processor you will use a high-speed blender. If you choose to use a blender, I recommend a powerful model like a Vitamix.

This isn't the only brand and I realize that they are quite expensive. However, as a professional chef this was the only blender that I ever saw in the vast number of professional kitchens that I worked in. Basically, they are indestructible.
Start by soaking the almonds for about 8 hours. Then, add the almond butter ingredients in a blender and pulse at high speed.

The almonds will go through a number of phases. First it will resemble a course chop, then become a fine powder that eventually clumps up into a large ball. This mass will bounce around the inside of the machine for a few minutes.
Break up the ball each time that it forms. Scrap down the sides to make sure all of the nut butter gets ground up.

Eventually, the paste will smooth out and slowly become a creamy and delectable nut butter.
Almond Butter Recipe Tips:
The materials list for almond butter is short, and the prep time in minimal. However, there are a few tips you should be aware of when making this almond butter recipe.
You can use raw almonds or toasted almonds, whichever you prefer.
If you toast raw almonds before grinding, make sure they have fully cooled before placing them in your appliance. Hot almonds will increase the machine temperature, which accelerates the risk of the appliance overheating.
Take a short break if the appliance begins to overheat.
Press the reset button (usually found on the bottom of the machine) if the appliance does overheat. Then, place it in the freezer or cold storage for a few minutes to cool down before resuming.
Don't overwork the machine's capacity. Only grind the amount of almonds that your machine can comfortably support.
Sesame, peanut oil and canola are good substitutes for the almond oil. Add more oil to give a richer and creamier consistency.
For a crunchy texture, reserve some of the chopped almonds to mix into the spread at the end.
Salt is a powerful flavor enhancer that elevates the taste of the natural essences.
Cinnamon and vanilla extract are used to add a slight background complexity to the overall taste.
Honey and maple syrup are natural sweeteners that can be used instead of regular sugar. However, omit the sugars if unsweetened is your personal preference.
More recipes from scratch: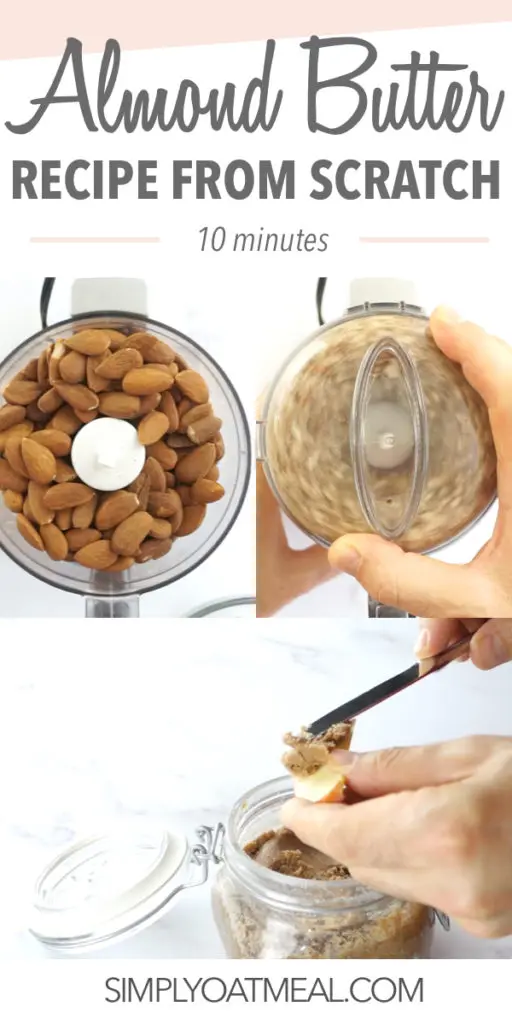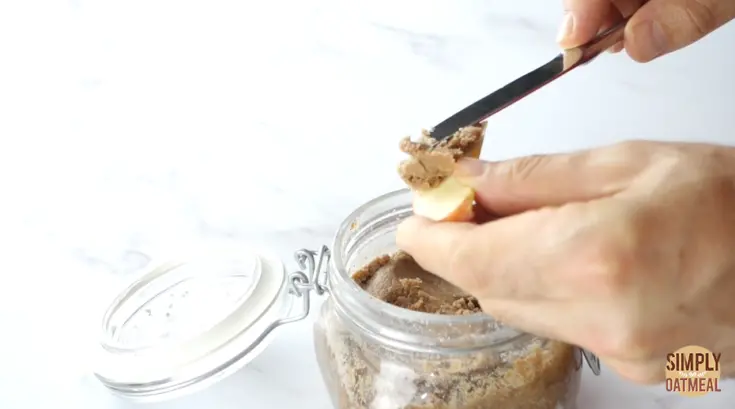 Yield:

14 fl oz
Easy Almond Butter Recipe
Additional Time:
10 minutes
Making homemade almond butter is much easier than you think. Not only is the product fresher, but you also get to add flavorings that may not be found in the commercial varieties.
You get to have control over added ingredients like maple syrup, vanilla and cinnamon that will enhance the flavor. The results are much fresher and far superior tasting than any store bought product off the shelf.
Follow this easy almond butter recipe and let's whip up a batch creamy goodness. And be sure to store your homemade almond butter in the fridge to preserve the freshness.
Ingredients
16 ounces (3 cups) raw almonds
¼ teaspoon salt
4 tablespoon of almond oil
Optional: ¼ teaspoon ground cinnamon
Optional: ½ teaspoon vanilla extract
Optional: 2 tablespoons maple syrup or honey
Instructions
Preheat the oven to 350 degrees Fahrenheit. Spread out the almonds across a large baking sheet and toast the almonds for 10-15 minutes. Stir the almonds halfway through an check to make sure they are not burning..
Let the almonds cool to room temperature before beginning the grinding.
Transfer the almonds to a high-speed blender or powerful food processor. Pulse the almonds at first the get the initial chop. Reserve some of the chopped almonds if you wish to mix them into the almond butter.
Otherwise, resume the blending until you reach a rich and creamy paste. Pause every 10 to 15 seconds to scrap down the sides of the bowl.
If necessary, let the mixture cool and then continue blending
until you reach the creamy consistency you are after.
Once the creamy consistency has been reached (and no sooner!!!), then you can mix in the flavor add-ins. I always add a pinch of salt, and the cinnamon and vanilla guarantees that it taste better than anything you buy at the store.
Blend once more to make sure that all of the optional add-ins are fully mixed in.
Let the almond butter cool to room temperature before sealing in an airtight jar and storing in the fridge.
Notes
You're going to think the almonds will never blend, but just be patient!
The almonds will go from flour-like powder into a large ball that will bounce against the side of the food processor. Keep scraping down the sides and break up the ball so that it can fully process. Finally, the almond butter will turn into a creamy and luscious paste that simply looks magnificent.
Be sure to give the machine a break in between before it
overheats.
To extend the life of the homemade almond butter, pour a thin layer of almond oil over the top after you have placed it into a jar. The oil will act as an airtight barrier to help preserve freshness.
Homemade almond butter can be stored in the fridge for about 4 weeks, or until you observe any signs of spoilage or funky smells.
Nutrition Information:
Yield:
8
Serving Size:
1
Amount Per Serving:
Calories:

97
Total Fat:

8g
Saturated Fat:

1g
Trans Fat:

0g
Unsaturated Fat:

7g
Cholesterol:

0mg
Sodium:

80mg
Carbohydrates:

6g
Fiber:

0g
Sugar:

5g
Protein:

1g
Nutrition information isn't always accurate.