*This post may contain affiliate links. Please see my
disclosure
to learn more.
Learn how to make an easy apple butter recipe for you to add to your favorite apple recipes. Follow along so that you can see how we make it taste so rich and delicious.

The recipe requires a handful of kitchen pantry basics and time. You are looking at a 2 hour cooking time, but that's really not to bad because you house will be filled with the aroma of roasted and caramelized apples.
How long is apple butter good for? You can also make apple butter in advance.It can be successfully canned for shelf stable product, refrigerated for about 1 month or even frozen for a year. You wont notice any difference no matter how you choose to store it.

You may also like: How to make apple butter overnight oats from scratch. This is one of our favorite ways to use apple butter in an oatmeal recipe.
Apple Butter vs. Applesauce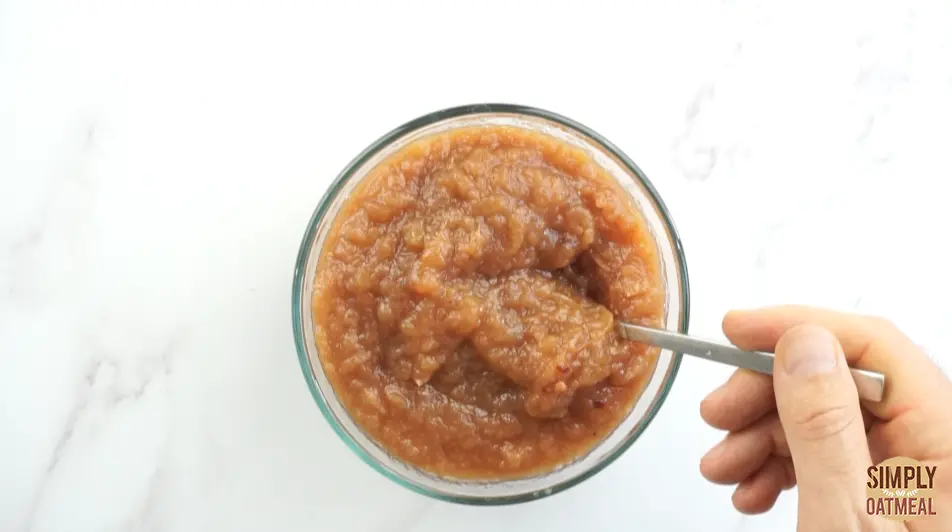 Both apple butter and applesauce are made by slow cooking apples, water and spice into a saucy consistency. Apple butter is cooked down until it reaches a thick, shiny and caramelized spread.

The ingredients don't vary much between apple butter and applesauce. The real difference between apple butter and applesauce is the length of cooking time.

An extended cooking time is needed to successfully caramelize the sugars within the apples that result in a deep, rich flavor. Thickness is achieved by cooking out much of the water and activating the natural pectin within the apple.

You may also like: How to make homemade applesauce from scratch. This recipe is super simple to follow. We use the decadent puree in baked goods and applesauce overnight oats.
How To Make Homemade Apple Butter
You want to use a good cooking apple like Gala, Granny Smith, Gravenstein or Honeycrisp. The fresher the better, but there is no problem using apples that are a bit pasted their prime. Look to remove any spots on the apples that have been bruise or damaged.

If you're at the local farmer's market, then ask a farmer to recommend the best apple variety for slow cooking. They'll know best!
Apple Butter Ingredients
Apples
Apple cider vinegar
Sugar
Brown coconut sugar
Apple pie spice
Lemon
Vanilla
Salt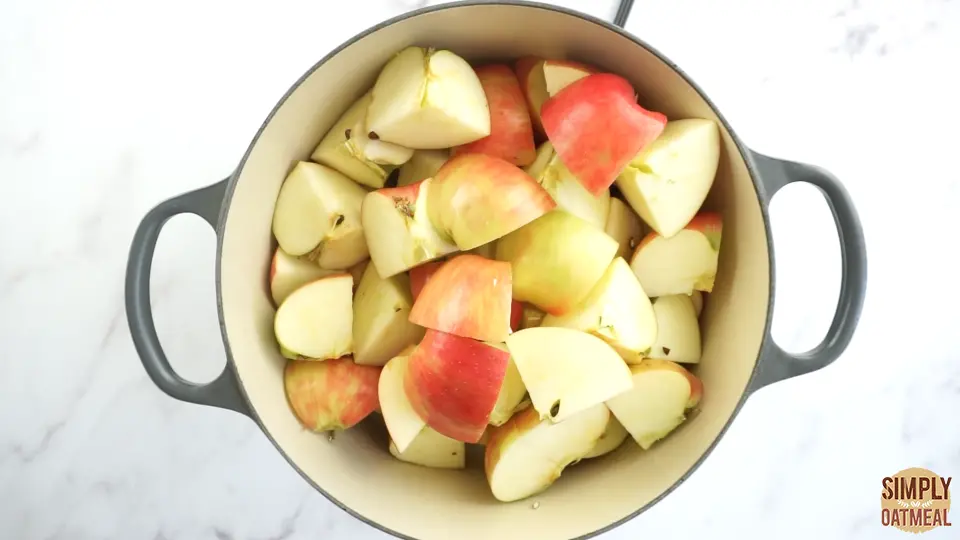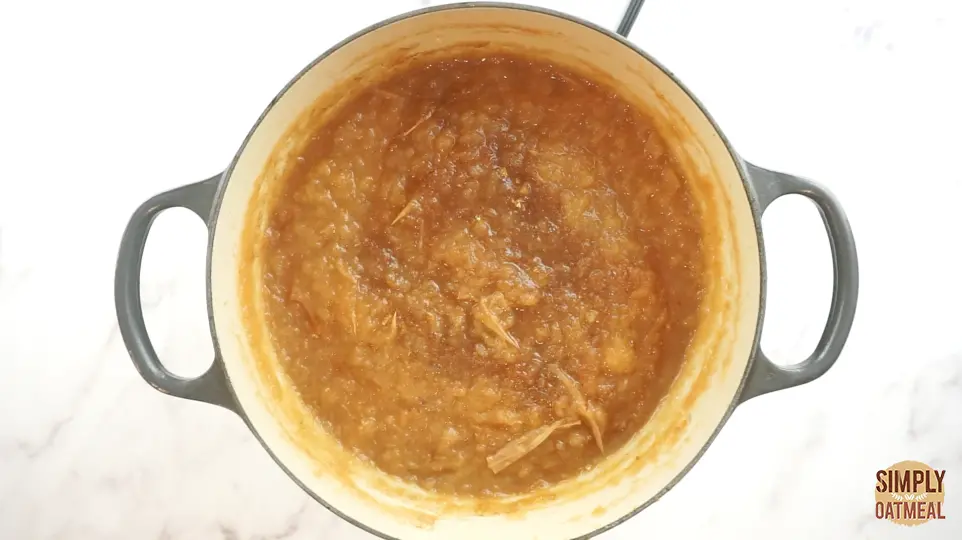 Wash and dry the apple to remove any residue or wax coating on the outside. Organic apples are best because they will have less chemical build up on the skins.

Remove the stem and cut the apples into quarters without peeling. The skin has the most flavor and core has lots of pectin. As a result, we will be using the entire apple to obtain as much flavor and natural thickness as possible.

Take minute to scrap out any seeds. That way you don't have to worry about them being blended up.
Add all of the apple butter ingredients into a large heavy bottomed pot. You can also use an instant pot, crock-pot or pressure cooker if you wish.

The apples will become soft after cooking for about 20 to 30 minutes. Puree the mixture until smooth with an immersion blender, food mill or chinois.

Continue cooking the mixture for another hour or two while stirring often. The moisture will slowly evaporate and the apple butter will begin to transform into a thick, shiny caramelized spread.

Cook until the spread is thick and not runny. Place a spoonful onto a chill (placed into the freezer for a few minutes) plate to check the consistency.

The apple butter can be refrigerated, frozen or even canned while it's still hot.
Apple Butter Recipe Tips
Apple butter is a rich and complex addition to many dishes. Whether you use it on ice cream, as an oatmeal topping or as the base for a pie, the depth of flavor is unparalleled.

Making this easy apple butter recipe is fairly straightforward. However, there are a few tips that we would like to pass along to improve your results:
Select good cooking apples.
Clean the apples and remove any blemishes.
Keep the skin for flavor and the core for natural pectin.
Remove all the seeds from the core.
Cook until the apples are soft and then its easy to puree.
Set aside 2 to 3 hours of cooking time to fully reach the desired caramelized color and richness of flavor.
Place into a sterilized jar while still hot or cool to room temperature before placing in the fridge or freezer.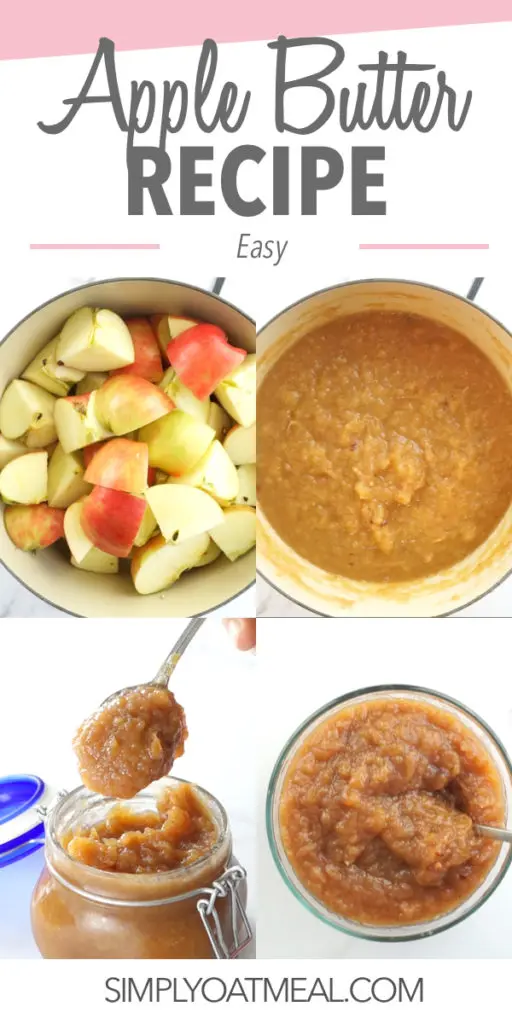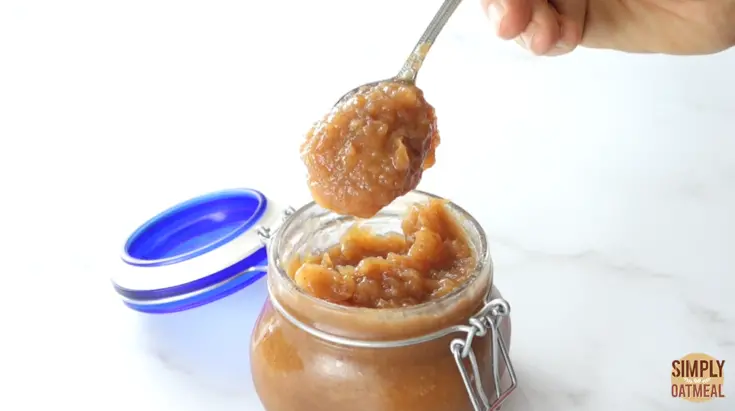 Yield:

8 cups
Easy Apple Butter Recipe
Total Time:
2 hours
10 minutes
How to make easy apple butter recipe without any fuss. Homemade apple butter is rich and delicious caramelized goodness.
If you're looking for tips and tricks to make apple butter from scratch, then this is the right place. We cover the basic steps and techniques that are important to look out for.
Apple butter takes time to develop the dark caramel flavor. As a result, it tends to be produced in a relatively large batch. Learn tips for to store it properly by canning or in the fridge an freezer.
Use it as a spread for you toast in the morning, to fill a pie crust or even as an oatmeal topping. Follow along and lets make the best tasting apple butter you have ever tried.
Ingredients
6 pounds apples peeled, cored and sliced
1 cup water
1 cup apple cider vinegar
½ cup raw sugar
½ cup brown coconut sugar
1 lemon zest and juice
1 tablespoon vanilla extract
¼ teaspoon salt
Instructions
Prepare the fruit by washing and drying the apples. Remove any blemishes from the apple with a small paring knife.
Cut the apples into quarters, without peeling or coring in order to preserve as much flavor and pectin as possible. Remove all the seeds from the cores.
In a heavy bottomed 8 quart pot, add the quartered apples, water, apple cider vinegar, sugar, apple pie spice, lemon zest, lemon juice, vanilla extract and salt. Cover and simmer for about 20 minutes until the apples are soft.
Purée the apples with an immersion blender or using a food mill.
Cook the apple mixture uncovered while continuing to stir often. Stirring is required to scrape the bottom and prevent burning. Make sure the avoid having a crust for on the bottom of the pan because that will eventually begin to burn.
Cook on medium low heat for about 1 to 2 hours until the apple butter begins to thicken.
You can cook on low heat, which is easier to manage and require less stirring. However, it will take much longer fully evaporate the water from the spread.
Proceed to canning the apple butter, or simple cool to room temperature and then refrigerate or freeze in small batches.
How To Can Homemade Apple Butter
Sterilize the canning jars by using one of the ways to properly sterilize jars for canning:
· Run the jars through a short dishwasher cycle.
· Boil them for 10 minutes in a large pot of water with a steaming rack so that the jars don't touch the bottom of the pot.
· Wash and dry the jars, and then place them (without the lids) into a 200°F oven for 10 minutes.
· Sterilize the lids by placing them in a bowl and pouring hot water over the top of them.
Pour the apple butter into sterilized jars while they are still hot. Wipe the rim of the jars clean, and then seal with the sterilized lids.
You should hear the lids "popping" as an airtight seal is formed on the jars. When properly canned, the jars will be shelf stable for a few years.
Keep them in a cool, dark and dry place to preserve the integrity of the apple butter. Refrigerate or freeze the apple butter after opening the jar.
Notes
Cooking tip: A wider the pot creates more surface area for evaporation.In addition, the more often you stir really helps to encourage water to evaporate even faster.
Cooking alternative method: A crock pot, slow cooker, instant pot or pressure cooker can also be used to cook the apple butter on a low setting.Expect the apple butter to cook for 6 to 8 hours and will still require consistent stirring.
To test for doneness, place a small plate in the freezer. Once cold, add a spoonful of apple butter to the cold plate. If the spread is thick, and not runny, then it is finished cooking.
Adjust the sugar and vinegar to your preference!
Cover and refrigerate for up to a month.
Freeze in small containers for up to a year.
Can in sterilized jars for a shelf stabile product.
Nutrition Information:
Yield:
32
Serving Size:
1
Amount Per Serving:
Calories:

76
Total Fat:

0g
Saturated Fat:

0g
Trans Fat:

0g
Unsaturated Fat:

0g
Cholesterol:

0mg
Sodium:

25mg
Carbohydrates:

19g
Fiber:

2g
Sugar:

16g
Protein:

0g
Nutrition information isn't always accurate.