*This post may contain affiliate links. Please see my
disclosure
to learn more.
Soak your overnight oats in the home staple apple cider vinegar to create a super nutritious with a brighter flavor profile! Not only is this apple cider overnight oats delicious, but it also takes your nutrient absorption to the next level.

The reason to soak oats in apple cider is to help you unblock the production of digestive enzymes and absorb the nutrients. The acid from the apple cider vinegar helps to break down the phytates within the oats.
It's a great practice to soak in an acid like apple cider vinegar, and then add milk or liquid. This really helps your body to extract the complete benefits of oats rather than spending time interacting with anti-nutrients.

If you're concerned about the taste, don't worry because you really can't taste the apple cider vinegar.
Soaking oats in apple cider vinegar
Soaking oats overnight in an acid helps to break down the anti-nutrient phytic acid. Oats are very low in the enzyme phytase, which is needed to naturally breakdown the phytates.

Soaking oats in apple cider vinegar is the best way to unblock the digestive enzymes. Soak the oats for at least 12 hours, however 24 hours is optimal.
Soaking in water is great, but if you have hard time digesting oats then its best to meal prep all overnight oatmeal recipes by soaking with apple cider vinegar. Here are 14 apple overnight oats that integrate well with apple cider vinegar and you can easily make at home on a busy day.

From apple juice overnight oats to apple pie overnight oats, we've rounded up quick and easy meal prep ideas for you to survive the workweek and save money. Munch healthy eats while maintaining a temptation-free attitude towards chips and sweets at work all day.
How to make apple cider overnight oat?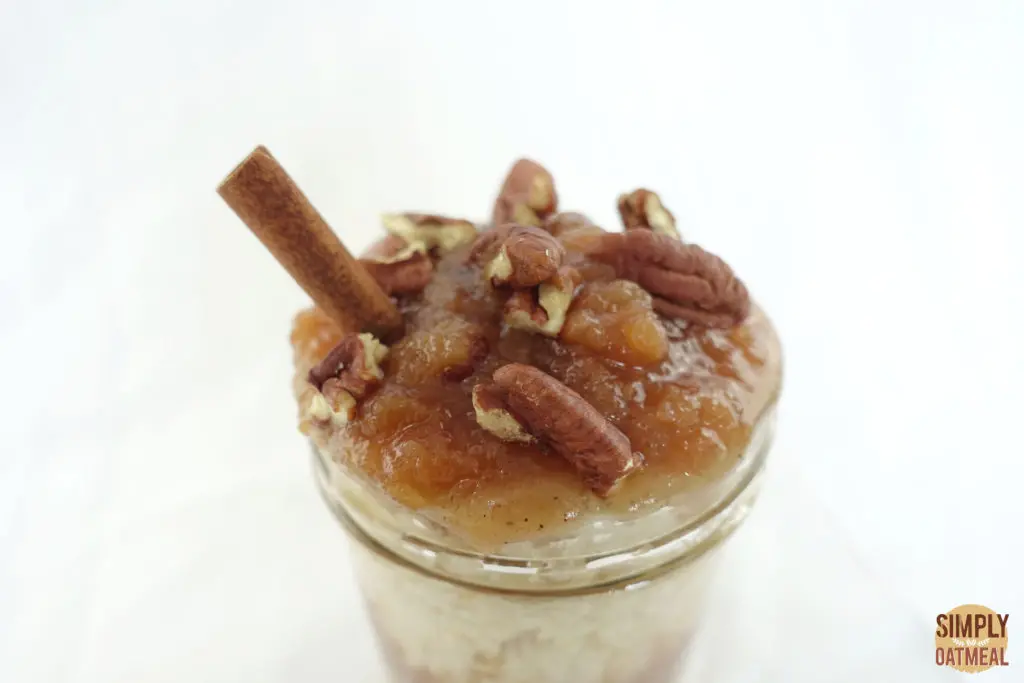 Grab the namesake ingredient, apple cider, and the remaining short list of items to make this healthy and delicious overnight oat:
Apple cider overnight oatmeal ingredients:
Apple cider
Apple cider vinegar
Apple pie spice
Pecans or almonds for topping
Combine the oats, apple cider and apple cider vinegar in a mason jar. Stir well, cover and then soak overnight in the refrigerator.

Serve cold or heat up the oats in the microwave for 1-2 minutes before eating. Top with sliced fruit, mixed berries, a sprinkle of cinnamon and your choice of crushed nuts.
Apple Cider Overnight Oats Tips: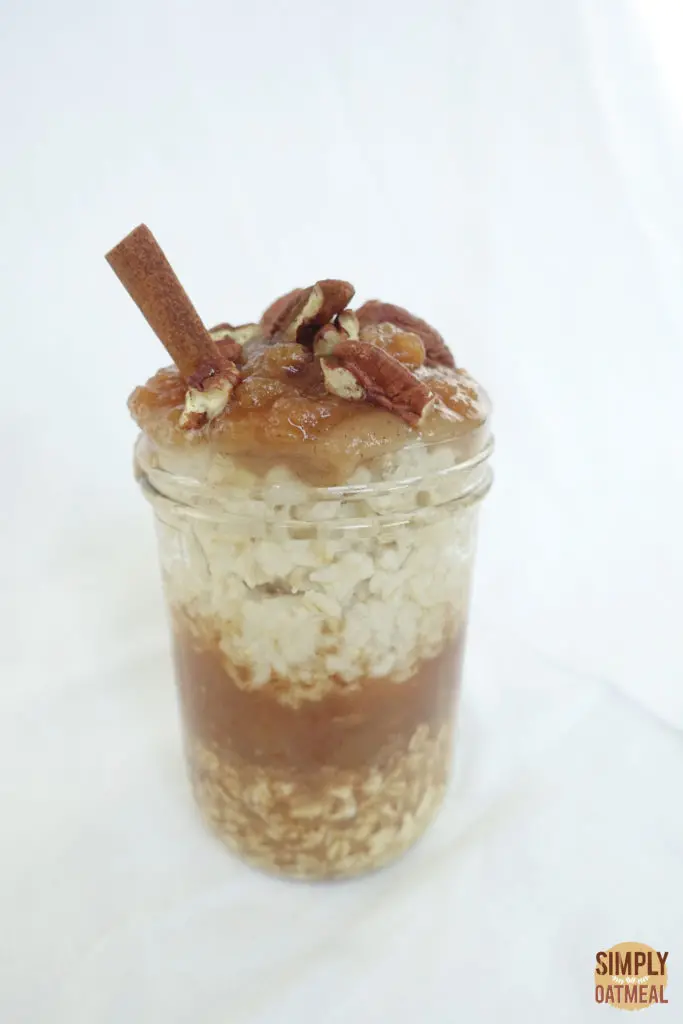 There are a few more tips and tricks to making this the best apple cider overnight oats you ever had. Read through the following suggestions to make simple changes that will ensure you never get bored eating the same old thing every time.
Add enough liquid to safeguard the result from being a thick, pasty or cement-like texture. Keep in mind that overnight oats absorb lots of liquid.
If you like a spoonable meal, then double the liquid to a 2:1 ratio per each serving of oats. You can always adjust the thickness by adding more liquid when its time to serve
For a smooth and silky texture, choose rolled oats instead of steel-cut oats. Steel-cut oats result in a much chewier texture if that's what you desire.
Boost your metabolism with available nutrition by adding a scoop of protein powder or plain Greek yogurt.
Go with a natural sweetener such as maple syrup or honey if you're looking to satisfy a sweet tooth!
Top with fresh fruit instead of sweetened dried fruit. Fresh fruits have less sugar and are a healthier option in the long run.
More apple overnight oats for your next week meal prep: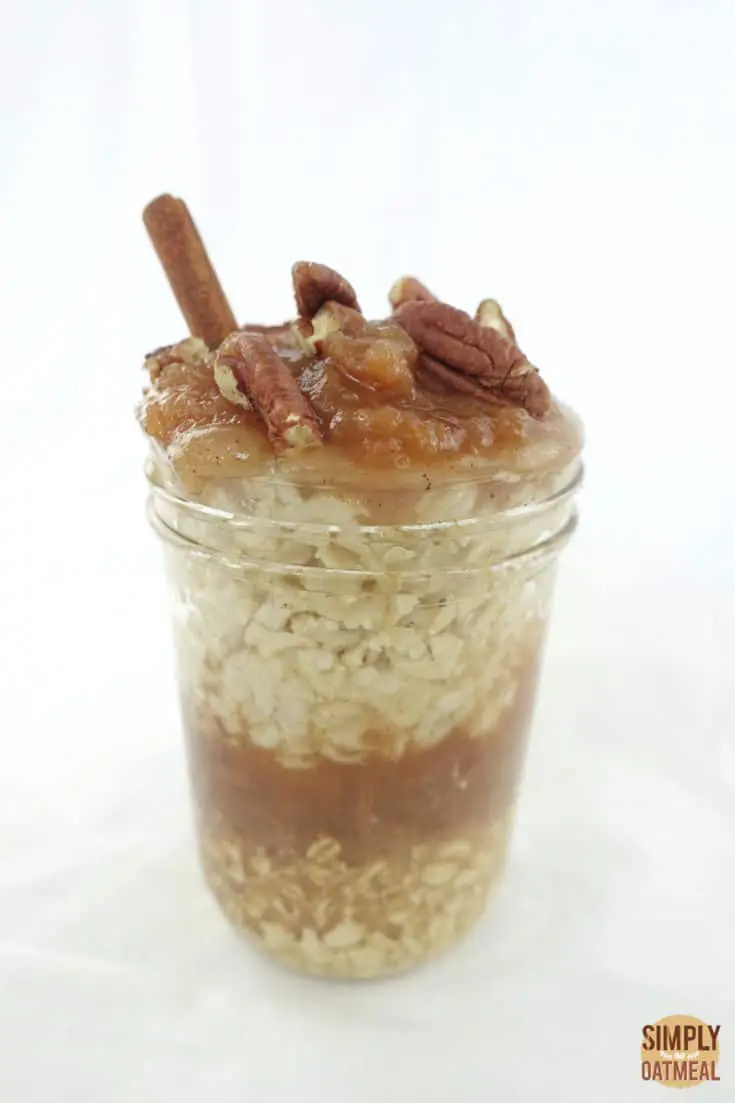 Yield:

1 serving
Apple Cider Overnight Oats Recipe
Do you believe in the health benefits of apple cider vinegar? Well then this apple cider overnight oats recipes is perfect for you.
Soaking oats in apple cider vinegar helps to breakdown the phytic acid within the oats. This dilutes the antinutrient and improves overall digestion.
If you are having a hard time digesting oats, then this meal prep idea may work for you. When prepared in a container or jar, it is an easy grab and go meal during a busy workday.
Ingredients
½ cup rolled oats
¾ cup apple cider
1 tablespoon apple cider vinegar
Instructions
In a medium-sized bowl or overnight oats jar, combine the oats, apple cider, apple cider vinegar and apple pie spice.
Cover the jar and store overnight in the refrigerator for at least 12 to 24 hours before consuming.
To serve, remove from the fridge and top with yogurt, fresh fruit, chopped nuts, a dash of cinnamon or your preferred oatmeal toppings!
Notes
This recipe is vegan, gluten-free and non-dairy!
This overnight oatmeal ratio results in a thick spoonable oatmeal. For a creamy porridge-like oatmeal texture, add almond milk or another liquid to thin out the mixture before serving.
For freshness and to ensure ingredients don't spoil, this overnight oats recipe should be consumed within 4-5 days of preparation. Enjoy!
Recommended Products
As an Amazon Associate and member of other affiliate programs, I earn from qualifying purchases.
Nutrition Information:
Yield:
1
Serving Size:
1
Amount Per Serving:
Calories:

246
Total Fat:

3g
Saturated Fat:

1g
Trans Fat:

0g
Unsaturated Fat:

2g
Cholesterol:

0mg
Sodium:

13mg
Carbohydrates:

49g
Fiber:

4g
Sugar:

19g
Protein:

6g
Nutrition information isn't always accurate.