*This post may contain affiliate links. Please see my
disclosure
to learn more.
Oatmeal doesn't always have to be served as a steaming hot bowl of porridge. Increase your dietary fiber intake with this vegan and gluten free oatmeal muffin that combines the richness of applesauce with the creaminess of mashed banana and the nuttiness of crushed walnuts.
Attention all lovers of fresh baked goods! Try the best oatmeal muffin recipes that are easy to put together and taste absolutely amazing!

From blueberry lemon oatmeal muffins to maple brown sugar oatmeal muffins, we have you covered. Here at Simply Oatmeal, we've tested healthy ways to incorporate oatmeal into your weekly routine. We guarantee that you won't get tired of adding oats into your diet.
You will love this vegan banana oatmeal muffin because…
Prepared in about 10 minutes.
Packed with plant based protein, dietary fiber and healthy fats, it'll keep you feeling full until the next meal!
Just the right balance of sweetness, creaminess and wholesome goodness.
Tastes just like banana nut bread with a hearty oatmeal base, its full of flavor and absolutely delicious!
This vegan muffin recipe is a great way to combine banana and whole grain oats into your regular diet routine! Take the bland and boring taste of oats to the next level with the tasty dairy free muffin recipe.

Banana oatmeal muffins are delicious, nutritious and wholesome. In addition to the health benefits of oats, the gluten free recipe also includes plant-based protein, dietary fiber and essential vitamins and minerals.

If you're looking to change up your morning routine with a fresh baked good, then this vegan banana oatmeal muffin is perfect for you. Its perfect for a quick afternoon snack or a healthy grab and go breakfast.
How to make vegan banana oatmeal muffins?
Vegan banana oatmeal muffins is a great way to satisfy your sweet tooth with a dairy free baked good. The full flavored oatmeal muffin has no dairy, eggs or gluten. Treat yourself to a superfood packed recipe that is perfect to eat at any time of day!
You may also enjoy this 15-minute applesauce recipe! It take just a few minutes to prepare and the unsweetened applesauce tastes extra fresh compared to store bought. Peel, simmer and blend, keep food the food prep simple and wholesome!
Banana Oatmeal Muffin Ingredients: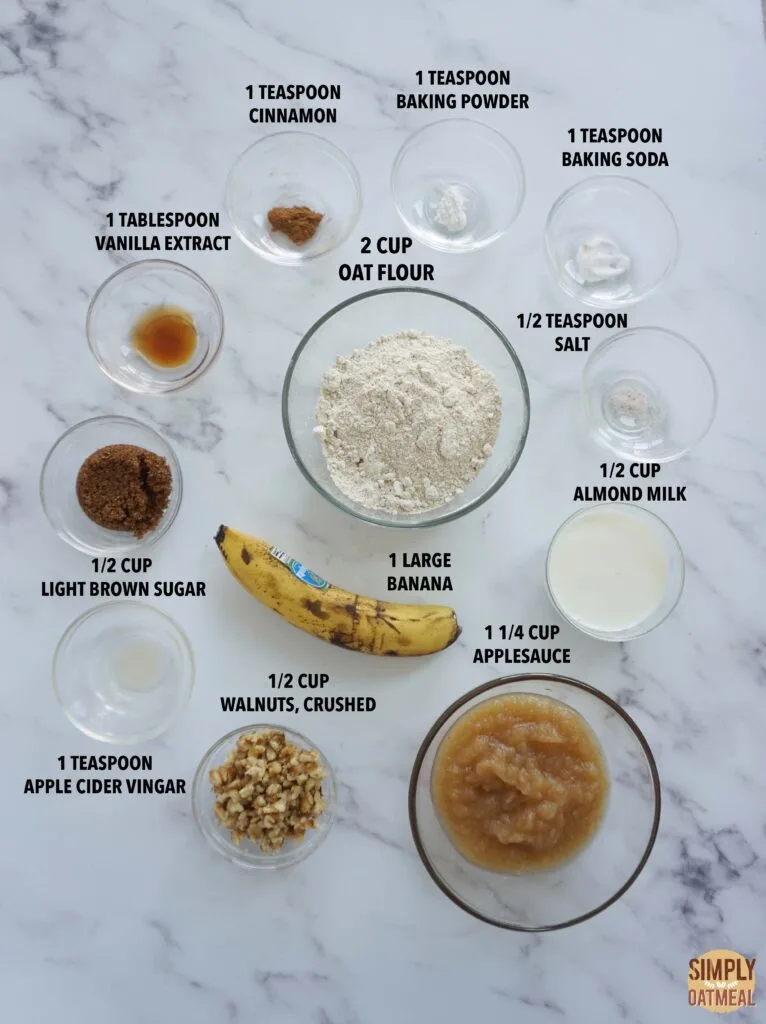 Rolled oats
Baking powder
Baking soda
Cinnamon
Salt
Brown sugar
Bananas
Applesauce
Almond milk
Vanilla extract
Apple cider vinegar
Walnuts
Make oat flour by pulsing the oats in a blender or food processor.

In a large bowl, mix all the dry ingredients; mix well.
In a medium bowl, mash the banana with a fork, then add the remaining wet ingredients, mix well.

Combine the wet ingredients with the dry ingredients, stir until just mixed.
Gently fold in the crushed walnuts.
Scoop the batter into a nonstick muffin baking pan.
Place the pan into a preheated oven and bake for about 25 minutes.

Remove from oven, allow to slightly cool, and then transfer to a wire rack.
Banana Oatmeal Muffin Tips:
Incorporate the helpful hints to take your vegan banana oatmeal muffins to the next level. Here handy tips to keep your quick bread extra fresh and enjoyable every time.
Applesauce: Unsweetened applesauce is a great way to increase the rich flavor with plant-based goodness. This helps to keep the oil and water content down, while adding the moisture needed for the dry ingredients.
Banana: Mashed banana adds creaminess and moisture to the quick muffin recipe. We enjoy banana, so we doubled up the amount, however you could easily go with 1 banana instead of using 2.
Milk: I tested this recipe with homemade 5-minute almond milk, however any milk dairy or nondairy would work.
Oats: It's easy to make oat flour by pulsing oats in a blender or food processor. When making your own oat flour, it's recommended to start with rolled oats or quick oats. Steel cut oats are much harder and require proper milling equipment.
Vegan: Use your favorite dairy free milk; unflavored, vanilla and chocolate flavors will taste great.
Gluten free: No flour is used in this fresh baked preparation, so this muffin is gluten-free. Even though oats are gluten free, it's recommended to use certified oats if you are on a strict wheat free diet.
Sweetness: Adjust the sweetness to accommodate your taste preferences. There is a subtle balance of rich applesauce and creamy banana taste blended into the oatmeal base. The sugar content is kept to a minimum but each muffin could also be topped with a sprinkle of raw sugar to create a crust topping.
Consistency: The recipe is on the moist side, which is great because who really wants to eat a dry muffin. As a result, it's best to avoid using a muffin liner because the paper will stick to the muffin. Fully bake the muffin in a nonstick pan resulting in a crispy top and sides with moisture remaining inside the quick bread.
High heat: The initial burst of hot air will quickly spring up the top of the muffin, then the inside of the muffin will bake for the remainder of the time. This helps the muffins rise nice and tall.
Make ahead: Meal prep ahead of time for a tasty grab and go that you can take with you the next day. Rewarm the muffin in the oven for 10 minutes to easily reheat.
Storage: To ensure freshness, the oatmeal muffin is good for about 3 days when stored in an airtight container or up to 3 months if placed in the freezer. Allow to thaw overnight in the fridge and then bring to room temp before eating.
MORE OATMEAL MUFFIN RECIPES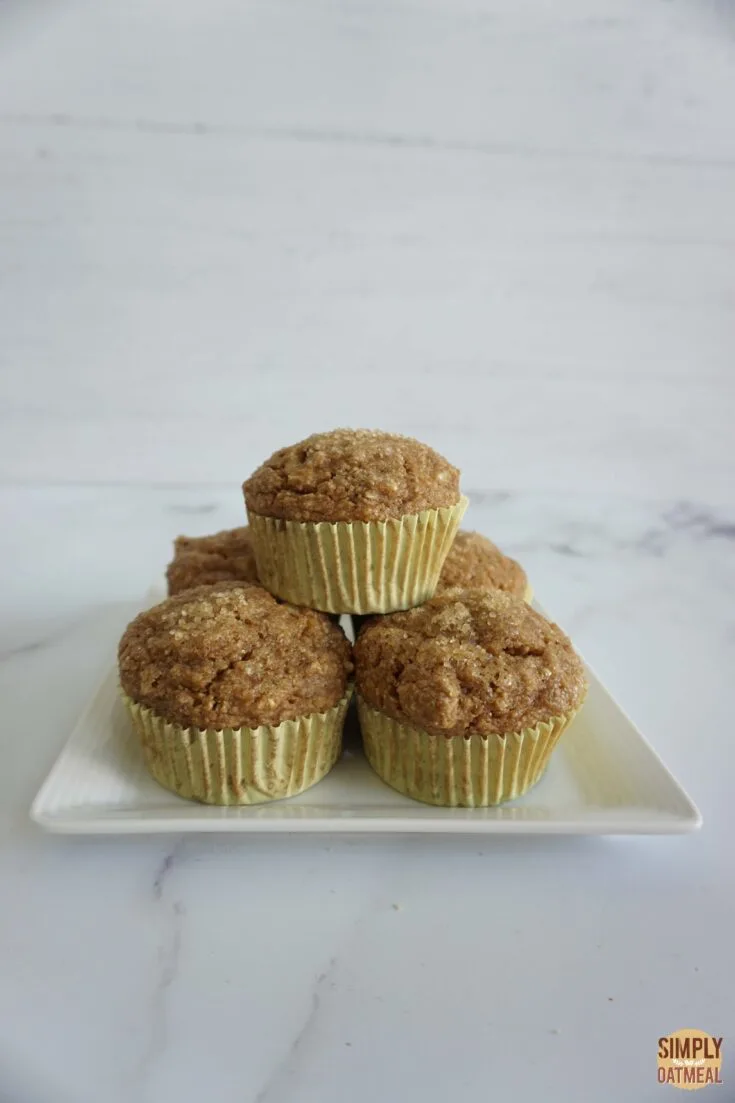 Yield:

12 oatmeal muffins
Banana Oatmeal Muffin Recipe
The vegan oatmeal muffin takes just a few minutes to prepare. The tasty quick bread recipe is dairy-free, gluten free and egg free, so it fits perfectly into your personalized diet preferences.
Ingredients
2 cups rolled oats (or oat flour)
1 teaspoon baking powder
1 teaspoon baking soda
1 teaspoon cinnamon
½ teaspoon salt
½ cup light brown sugar
2 large bananas
1 tablespoon vanilla extract
1 teaspoon apple cider vinegar
½ cup walnuts, crushed
Instructions
Preheat oven to 425°F. Prepare a muffin pan with nonstick spray.
Make oat flour by pulsing the rolled oats in a blender for approximately 20 seconds.
In a large bowl, mix the oat flour, baking powder, baking soda, salt, brown sugar and cinnamon.

In a medium bowl, mash the bananas with a fork.
Then, whisk in the applesauce, almond milk, vanilla and vinegar.

Pour the wet mixture into the dry ingredients.

Add the crushed walnuts and mix well.
Scoop the muffin batter into the muffin pan.
I recommend not using muffin liners because the moist batter seems to stick to paper after baking.

Top the batter with a sprinkle of rolled oats and raw sugar.

Place in preheated oven and bake for 5 minutes.
Then, reduce the temperature to 350°F and continue baking for 15-20 minutes or until a toothpick inserted into the center comes out completely dry.
Remove from oven and leave in the pan for 5 minutes.
Then, transfer to a wire rack to completely cool.

Nutrition Information:
Yield:
12
Serving Size:
1
Amount Per Serving:
Calories:

145
Total Fat:

4g
Saturated Fat:

0g
Trans Fat:

0g
Unsaturated Fat:

3g
Cholesterol:

0mg
Sodium:

238mg
Carbohydrates:

26g
Fiber:

3g
Sugar:

13g
Protein:

3g