*This post may contain affiliate links. Please see my
disclosure
to learn more.
Oatmeal muffins combined with sweet maple syrup and brown sugar is a magical way to invite coax your tastebuds into enjoying whole grain oats! The classic oatmeal combination pairs extremely well with fresh baked muffins.
Serve as a healthy grab and go breakfast or tasty afternoon snack! Try the best oatmeal muffin recipes that take less than 10 minutes to prepare with hassle free instructions.

From vegan banana oatmeal muffins to blueberry lemon oatmeal muffins, we have you covered. Here at Simply Oatmeal, we've assembled delicious ways to prepare whole grain oats so that you don't get tired of eating the same combinations.
You will love this maple syrup brown sugar oatmeal muffin because…
Requires just 10 minutes to gather ingredients together and mix the muffin based.
Healthy meal prep that contains plant based protein, dietary fiber and healthy fats.
Balance of sweetness and wholesome goodness.
Has a hint of brown sugar and maple syrup, but its not overwhelmingly sweet!
In addition to the health benefits of oats, the baked good features dietary fiber and plant-based protein that are accompanied by an array of essential vitamins and minerals.

Level up the taste of your breakfast quick bread by blending maple syrup and brown sugar into the recipe. If your schedule allows for time to prepare a fresh baked muffin, then this easy recipe introduces tons of exciting add-in options!
How to make maple brown sugar oatmeal muffins?
Brown sugar and maple syrup compliment the bland taste of oatmeal in a great way that satisfies your craving for something hearty, delicious and nutritious. Baked oatmeal muffins seriously tastes delicious!, so mix up a batch and stick them in the oven for a tasty treat!

There are no artificial flavors or sweeteners added to this healthy meal prep. So treat yourself to a superfood packed meal that is appetizing to eat at anytime of day!
Maple Brown Sugar Oatmeal Muffin Ingredients: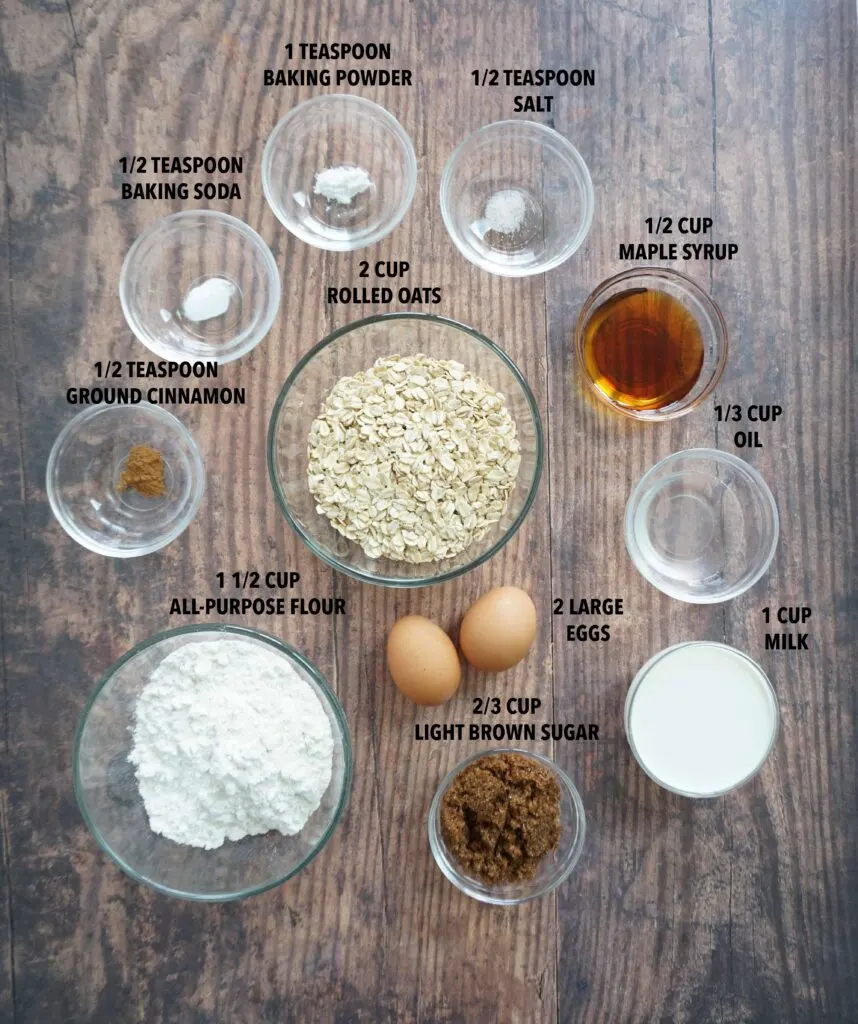 Milk
Maple syrup
Coconut oil
Brown sugar
Eggs
All-purpose flour
Baking powder
Baking soda
Cinnamon
Salt
Preheat the oven to 425°F. Prepare a 12-cup muffin tin with nonstick spray.

Combine the oats and milk in a large bowl and let it sit for 10 minutes.
Then, whisk in the maple syrup, oil, brown sugar, and eggs.
Use a rubber spatula to stir in the flour, baking powder, cinnamon, baking soda, and salt until just combined.
Divide the batter between the prepared muffin tins.

Sprinkle sugar over batter.
Bake for about 5 minutes, and then reduce the temperature to 350°F.

Continue to bake for about 15 minutes, or until a toothpick inserted into the center of a muffin comes out completely dry.
Let the muffins cool in the pan for 5 minutes.

Remove to wire rack to completely cool down.
Maple Brown Sugar Oatmeal Muffin Tips:
Brown sugar and maple oatmeal muffins will taste much better if you follow these handy tips. Level up your cooking skills and make your fresh baked muffins even more enjoyable every time you take a bite.
Sweetener: Sweeten the fresh baked oatmeal muffins as needed by adjusting the maple syrup and brown sugar. Adjust the level of sweetness to suit your tastebuds, however I should mention that this recipe is not overly sweet. There is a nice flavor balance between the sweetness and the hearty taste of oats. If you prefer muffins that aren't as sweet, reduce the brown sugar to ½ cup or ⅓ cup.
Liquid: Any type of milk will do. Make it dairy-free by using a nondairy milk alternative such as unsweetened almond milk.
Oil: Any neutral oil such as canola oil, ghee or even melted butter will work.
Oats: Rolled oats are the type of oats used when making this recipe. However, quick oat could do, but the smaller bits and pieces will soak up the liquid quicker so reduce the soaking time to only 5 minutes.
Dried fruit: Cranberries, dates, figs, and raisin are some options to consider adding to this simple oatmeal muffin recipe.
Nuts: Walnuts and pecans pair well with the taste of maple syrup. However, you could your favorite nuts such as almonds, hazelnuts, or peanuts.
Consistency: The recipe is doughier than others, but there is no concern over the muffins being dry. It's best to avoid using using a muffin liner because it's been my experience that the muffin sticks to the paper. Bake the muffin in a nonstick pan without a liner, this results in a crispy outside with a moist center.
High heat: Begin the bake with high heat to force the muffin to spring up quickly. Then, reduce the heat to bake the inside of the muffin. The results are a tall muffin that has a moist center.
Make ahead: Meal prep ahead of time for a tasty breakfast muffin or delicious afternoon snack. Quickly reheat the muffin in the microwave, or warmup in a hot oven for 10 minutes.
Storage: Oatmeal muffins stay fresh for up to 3 days when stored in an airtight container, or in the freezer for up to 3 months. Thaw the frozen muffin in the refrigerator overnight, then bring to room temperature before eating.
MORE TASTY OATMEAL MUFFIN RECIPE IDEAS: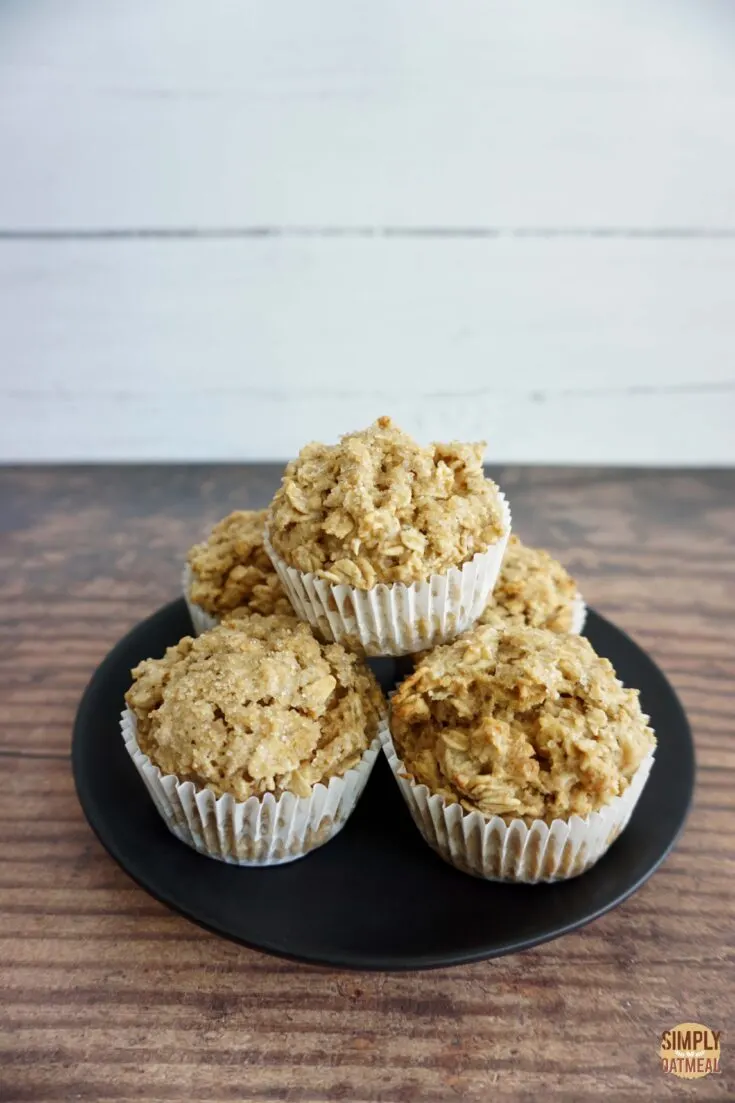 Yield:

12 oatmeal muffins
Maple Brown Sugar Oatmeal Muffin Recipe
Maple and brown sugar oatmeal muffins are delicious, nutritious and wholesome. It is healthy grab and go snack that is a perfect meal on the run.
Ingredients
2 cups old-fashioned rolled oats
1 cup milk
½ cup maple syrup
⅓ cup coconut oil
⅔ cup brown sugar
2 large eggs
1½ cups all-purpose flour
1 teaspoon baking powder
½ teaspoon baking soda
½ teaspoon ground cinnamon
¼ teaspoon salt
Instructions
Preheat the oven to 425°F. Prepare a 12-cup muffin pan with nonstick spray.
In a large bowl, mix the oats and milk. Let soak for 10 minutes.

In a small bowl, which together the maple syrup, coconut oil, brown sugar, and eggs.

In a small bowl, mix the flour, baking powder, cinnamon, baking soda, and salt.
Add the egg mixture and the flour mixture to the bowl with the soaked oats. Stir together just until combined.

Divide the muffin batter evenly into the prepared muffin pan.

Sprinkle raw sugar over the top of the batter.

Bake for 5 minutes, and then reduce the oven temperature to 350°F. Continue baking for about 15 minutes or until a tooth inserted into the center of the muffin comes out clean.
Let the muffins cool in the muffin pan for 5 minutes.
Remove to a wire rack to finish cooling.

Nutrition Information:
Yield:
12
Serving Size:
1
Amount Per Serving:
Calories:

258
Total Fat:

8g
Saturated Fat:

6g
Trans Fat:

0g
Unsaturated Fat:

2g
Cholesterol:

33mg
Sodium:

165mg
Carbohydrates:

41g
Fiber:

2g
Sugar:

18g
Protein:

5g