*This post may contain affiliate links. Please see my
disclosure
to learn more.
Creamy and mouth melting apple butter overnight oats are healthy and satisfy your sweet cravings! You will have a tough time waiting to have a bite for breakfast.

Homemade apple butter is the secret ingredient to make this cozy magic happen! The apples are cooked down into a highly concentrated mixture that is rich with a caramelized flavor.

From morning toast to drizzle over ice cream, apple butter can be a solution for every meal throughout the day. Putting a spoonful in your morning overnight oats is no exception.

It's near perfection when you swirl apple butter into overnight oats. Top with nuts and seeds to fuel your day.

Choose your favorite type of apple and gather together a small list of ingredients in order to prepare the best 14 apple overnight oats for the entire week.

Try this applesauce overnight oats, if you feel that the apple butter is too rich for you. Peanut butter apple overnight oats can replace the heavy carbs from that morning jelly sandwich.

Sprinkle some dried apple or crushed pecans on top when serving. Taste the fall season flavors and also add a bit of crunch into every bite.
How to make apple butter overnight oats?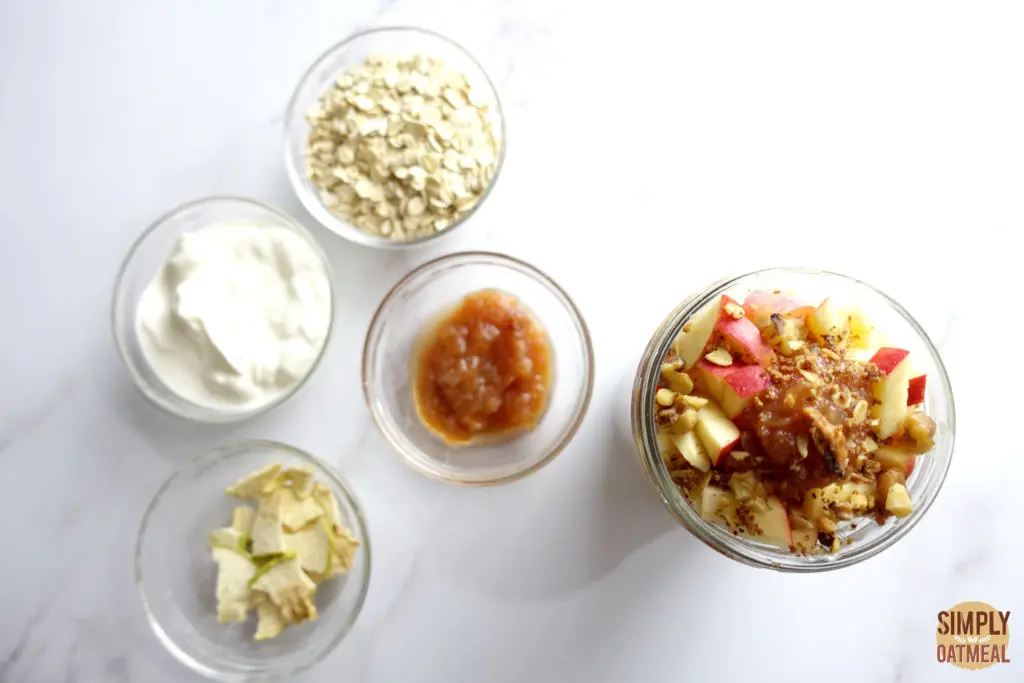 If you feel like challenging your cooking skills, follow the apple butter recipe. The steps are super easy, quick preparation, and also tastes better than any store-bought sauce when preparing this overnight oatmeal recipe.

Put together a short list of home staple ingredients so that you can make a batch of apple butter overnight oats today.
Apple butter overnight oatmeal ingredients:
Liquid of your choice
Yogurt
Dried apples
Apple pie spice
Apple butter
Mix together the oats, liquid of your choice, yogurt, dried apples, apple pie spice, and pinch of salt in a medium sized bowl. Next, pour the mixture in a mason jar and swirl in a spoonful of the apple butter. Refrigerate overnight and let the magic happen!

When serving, top with crispy apple chips and toasted pecans. Eat cold or heat up for about one minute in the microwave and viola!
Apple Butter Overnight Oats Tips: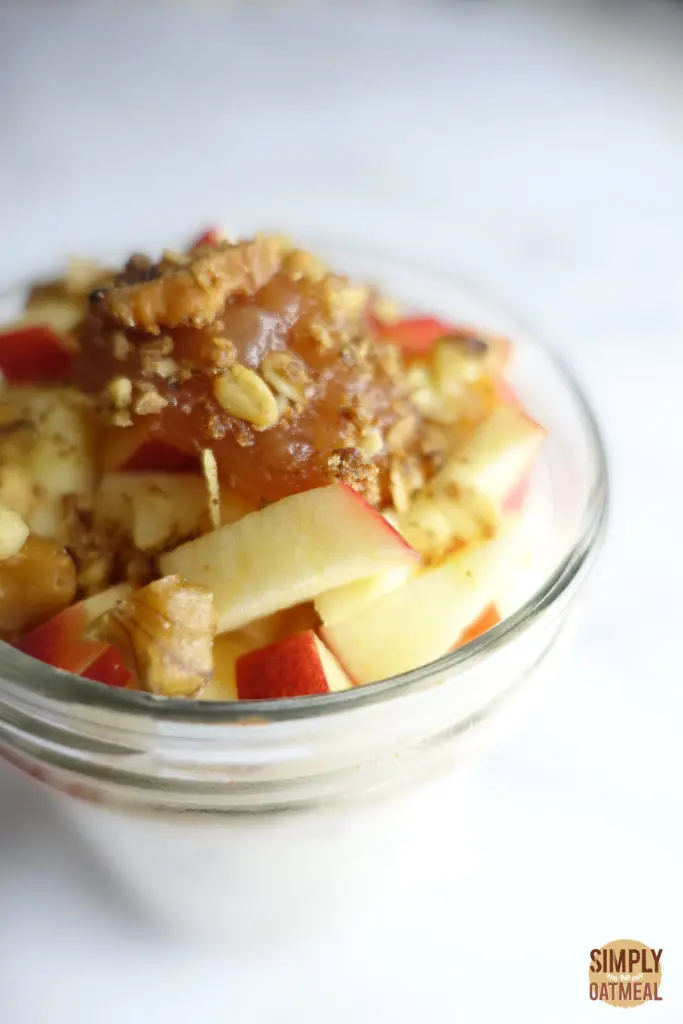 Enjoy your apple butter overnight oatmeal at anytime with these simple tips. We've rounded up the best advice so that you keep your soaked oats fresh and tasty:
Add an extra scoop of apple butter on top of your oatmeal if your craving more sweetness. There is no need to use conventional sugar with this recipe.
Feel free to use whole milk, almond milk or even water if you want to make it less creamy.
Personalize your oatmeal with chia seeds or protein powder to give yourself an extra boost for the day.
Store in airtight mason jar for up to 4 or 5 days in the refrigerator.
Serve cold or hot, your choice with this spiced specialty. The overnight oats are still chewy and tasty even 3 to 4 days after preparing.
Recommended apple overnight oats to try next: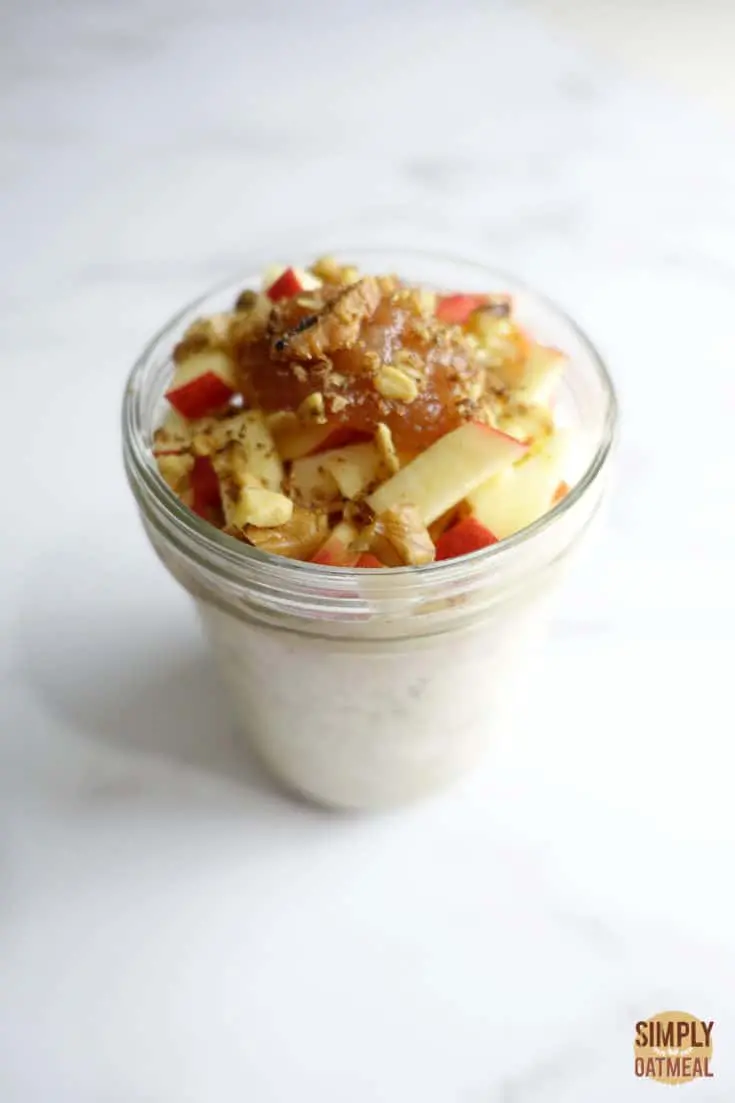 Yield:

1 serving
Apple Butter Overnight Oats Recipe
Apple butter is ooey gooey goodness that is simply irresistible. As a result, this apple butter overnight oats recipe is exploding with a deep rich caramelized flavor.
If you take the extra time to make homemade apple butter, then you will not regret it. Store the leftovers so that you can make this apple butter overnight oatmeal at any time throughout the year.
This recipe is easy to follow and only requires a few ingredients. Dry the apples and play around with the oatmeal toppings, you'll really enjoy all the different variations that you can create.
Ingredients
½ cup old fashioned rolled oats
½ cup vanilla Greek yogurt
2 tablespoons diced dried apples
Pinch salt
Instructions
In a medium-sized bowl or overnight oats container, mix
together the oats, soy milk, yogurt, dried apples, cinnamon and salt.
Cover and store in the refrigerator overnight for 12 to 24 hours before eating.
To serve, add a spoonful of apple butter, diced apples, crushed nuts or your choice oatmeal toppings.
Notes
This recipe contains a decent amount of liquid, which results in a creamy oats texture. If you prefer a thicker mouth feel, then adjust the overnight oats ratio by simply
reducing the soy milk or adding a tablespoon of chia seeds to soak up some extra liquid.
The Greek yogurt can be substituted for coconut or almond yogurt to make this recipe dairy-free and also vegan-friendly.
For freshness and to ensure the ingredients don't spoil, this apple butter overnight oats recipe should be consumed within 4-5 days of preparation. Enjoy!
Recommended Products
As an Amazon Associate and member of other affiliate programs, I earn from qualifying purchases.
Nutrition Information:
Yield:
1
Serving Size:
1
Amount Per Serving:
Calories:

381
Total Fat:

5g
Saturated Fat:

1g
Trans Fat:

0g
Unsaturated Fat:

2g
Cholesterol:

3mg
Sodium:

238mg
Carbohydrates:

66g
Fiber:

7g
Sugar:

33g
Protein:

18g
Nutrition information isn't always accurate.