*This post may contain affiliate links. Please see my
disclosure
to learn more.
Mint and chocolate is a match made perfectly for each other! Now combine that with crunchy granola clusters, and you have something magical!
Crunchy granola is delicious when combined with yogurt or in a bowl with milk and topped with berries. Save these healthy granola recipes so that you can bake up a batch of homemade goodness next time your in the mood for a delicious treat!

Although mint and chocolate are a classic flavor combination, granola also works perfectly for recipes like oatmeal raisin cookie granola or dark chocolate cherry quinoa granola.The subtle sweetness and complex crunch of granola actually pairs well with many fruits, nuts and assorted seasonings.
You will love this mint chocolate granola because…
Take only 10 minutes to prepare this gluten-free recipe.
Healthy recipe packed with superfood ingredients.
Balance of plant based protein, healthy fats and dietary fiber.
Perfect amount of sweet, spice and crunch.
Mint and chocolate blend with crunchy oat clusters to make a delicious baked treat!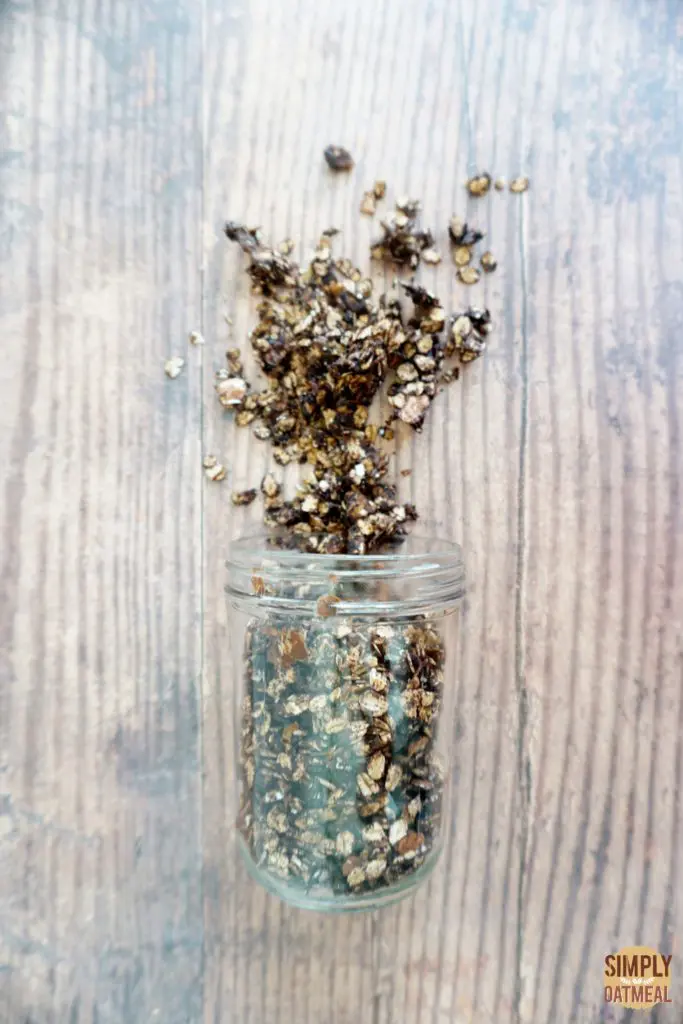 Start your day with bright and refreshing serving of mint chocolate granola. The fresh baked recipe is easy to make, packs tons of flavor and also contains hearty ingredients.

Don't leave home every morning with an empty stomach.

Whether you're looking for a nutritious breakfast, or need a change up your midday snack routine, then this mint chocolate granola will be perfect for you!
How to make mint chocolate granola?
Chocolate and mint make the most amazing oven baked granola recipe. If you're looking for a nutritious, delicious and a fulfilling meal prep to add to your routine, gather these staple ingredients and let's make a batch of mint chocolate granola.
Mint Chocolate Granola Ingredients: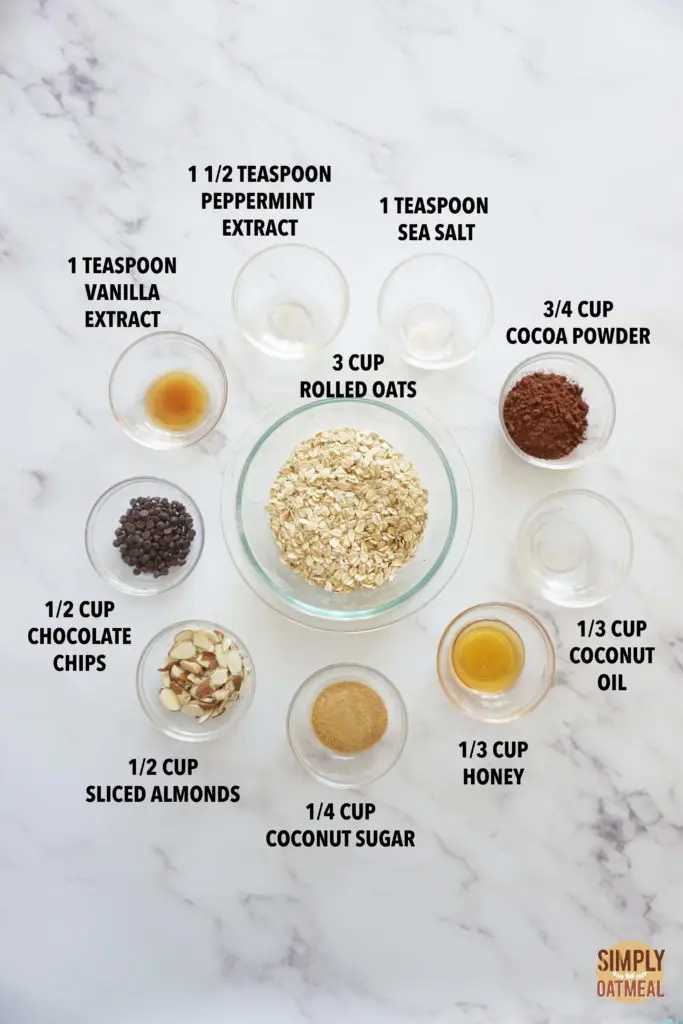 Cocoa powder
Coconut sugar
Sea salt
Almonds
Honey
Coconut oil
Vanilla extract
Peppermint extract
Chocolate chips
Combine the oats, cocoa powder, sugar, sea salt and almonds in a medium sized bowl.

In a separate bowl, mix together the honey, coconut oil, vanilla extract and peppermint extract.

Add the wet ingredients to the dry ingredients and mix well so the oats are fully coated.
Spread out evenly on a baking sheet lined with parchment paper. Bake at 350°F for about 20 minutes until the granola begins to toast slightly around the edges.

Cool to room temperature and store in airtight containers.
Mint Chocolate Granola Tips:
Mint chocolate granola is loaded with hearty nutrition that is supported by a rich, decadent, crunchy taste in every cluster. Not only is this a ready made heathy breakfast, but it also works well as an afternoon snack.

These tips will guarantee your baked granola taste great every bite you take.
Chocolate: Cocoa powder gives this recipe a deep, dark, chocolaty flavor. Unsweetened cocoa powder is recommended so that you have better control over the sweetness of the granola. If you cocoa powder is sweetened, then you may need to adjust the amount of sweetener that you use.
The chocolate chips are not baked, instead stir them into the granola after removed from the oven. The chocolate chips will melt and allow the granola to cluster together with a gooey chocolate coating. Yum!
Mint: Peppermint blends extremely well with dark chocolate. Peppermint oil is a concentrated flavoring that maximizes the taste of mint in this granola recipe. The recipe has a nice balance of mint flavor that is present but not overwhelming; you can adjust the amount based on your personal preference.
Oats: Rolled oats and quick oats are recommended for assembling this oven baked granola recipe. Rolled oats make it easier to maintain large granola clusters, while quick oats tend to break up into crumbled pieces.
Dried fruit: There is no fruit in this recipe, however you could consider adding dried apple, citrus, mango or strawberries because they all pair well with chocolate and peppermint.
Nuts: Cashews and coconut pair well with mint if you are looking to add a handful of nuts to this batch of mint chocolate granola.
Seeds: Superfood nutrition can be added in the form of hemp seeds, chia seeds or flaxseeds.
Vegan: Use dairy free chocolate chips and substitute the honey for maple syrup or your favorite sweetener to make this recipe vegan.
Gluten free: Gluten free oats are recommended if you are on a celiac diet. Even though oats are gluten free, certified oats help to prevent cross contamination that occurs during harvesting and packaging.
Sweetener: Sweeten the granola as needed to meet your personal taste. Use maple syrup, coconut nectar, agave or any sweetener you prefer. Exchange the honey for one of these recommendations to make this recipe vegan.
Clusters or crumble: If you want to maintain large clusters, don't stir the granola while baking. Instead, just rotate the pan and watch for the edges to begin browning before removing the pan from the oven. Stirring bakes the granola quicker, but it breaks up the clusters into smaller crumbly pieces.
Storage: To ensure quality and freshness. fully cool the granola before storing it in airtight containers. Store at room temperature for up to 3 weeks
LOOKING FOR MORE GRANOLA FOR NEXT WEEK?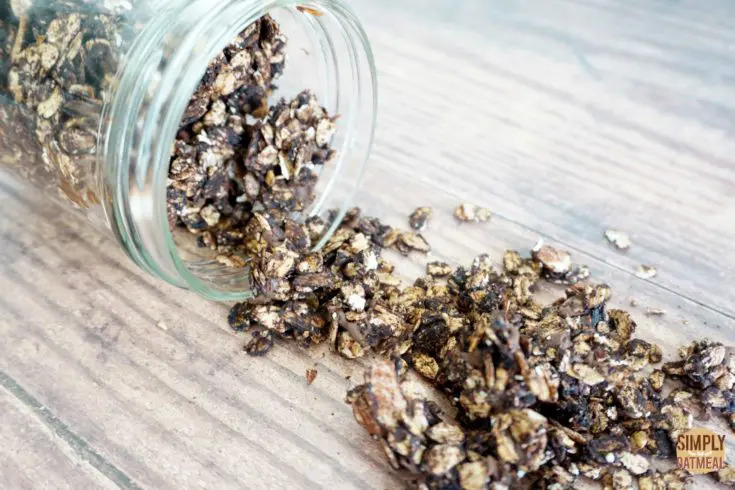 Yield:

16 Servings
Mint Chocolate Granola Recipe
Mint chocolate granola is a dreamy recipe that tastes delicious and is super easy to make. The wholesome combination of ingredients makes it a great addition to your overall diet.
Chocolate, mint and whole grain oats, yum! Make a large batch to share with family and friends. Top your bowl of yogurt and berries with a generous serving of crunchy granola!
Ingredients
3 cups rolled oats
¾ cup unsweetened cocoa powder
¼ cup coconut sugar
1 teaspoon sea salt
½ cup sliced almonds
⅓ cup honey
⅓ cup coconut oil
1 teaspoon vanilla extract
1½ teaspoon peppermint extract
½ cup chocolate chips
Instructions
Preheat oven to 350 degrees. Line two baking sheets with parchment paper. Set aside.
Combine all dry ingredients except for chocolate chips in a large bowl. Next, add the wet ingredients and stir to combine.

Spread the mixture evenly on both baking sheets. Bake for 20-25 minutes, gently stir halfway through.

Remove from the oven and scatter the chocolate chips over the top of the crunchy granola. Cool on the baking tray and store in an airtight container.

Notes
Make it vegan and gluten free!
Adjust the amount of sweetness if necessary.
Store inside an airtight container for up to 3 weeks.
Nutrition Information:
Yield:
16
Serving Size:
½ cup
Amount Per Serving:
Calories:

194
Total Fat:

9g
Saturated Fat:

5g
Trans Fat:

0g
Unsaturated Fat:

3g
Cholesterol:

0mg
Sodium:

134mg
Carbohydrates:

26g
Fiber:

3g
Sugar:

12g
Protein:

4g
Nutrition information isn't always accurate.