*This post may contain affiliate links. Please see my
disclosure
to learn more.
Apricot and pistachio compliment each others taste with a balance of sweetness and distinct nuttiness. The whole grain oats makes this freshly baked recipe a healthy breakfast or mid afternoon snack that is guaranteed to satisfy your hunger pains.
Whether you have leftover oats on the shelf or simply looking for a healthy meal prep idea, try making easy homemade granola. A large batch can easily be stored in airtight containers for weeks. As a result, you are guaranteed to have a satisfying snack within reach!

Not only are crunchy oat clusters the perfect grab and go breakfast in the morning, but preparing a few batches in advance is actually super easy. From blueberry muffin granola to cashew curry granola, you will be tempted to eat every last piece at the bottom of the jar.
You will love this apricot pistachio granola because…
Prepare the easy bake recipe in only 10 minutes.
Healthy meal prep packed with nutritious ingredients.
Wholesome balance of plant based protein, dietary fiber and healthy fats.
Generous amounts of sweetness, nuttiness and crunchy flavors.
Apricot and pistachio with a hearty base of oats is both nutritious and delicious!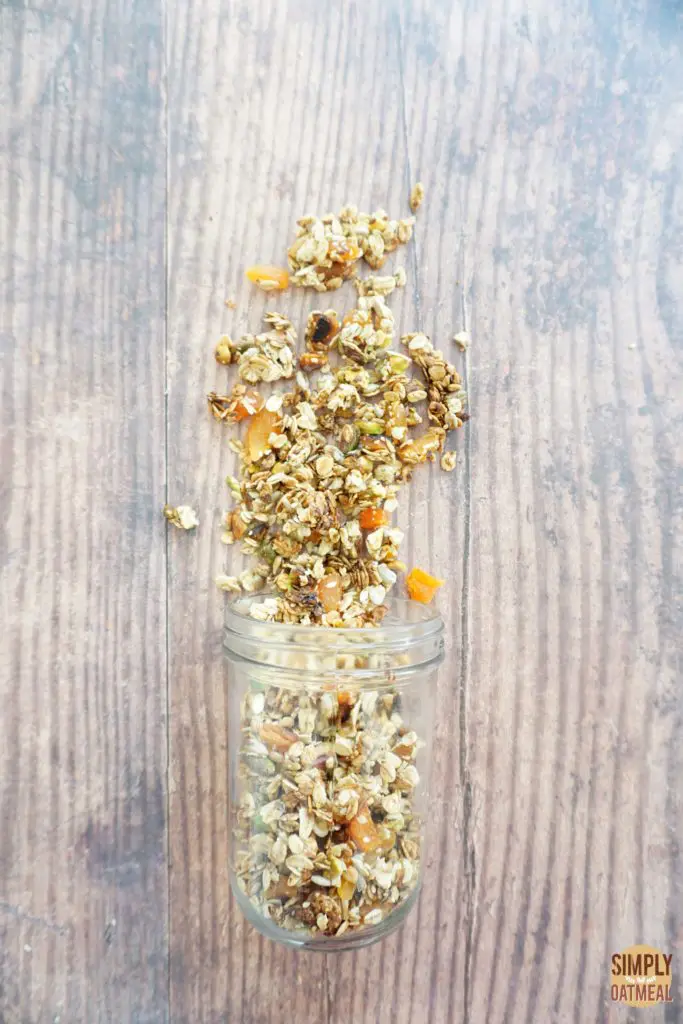 Whether you're looking for a new breakfast twist or a healthy meal prep for that midday snack, the combination of apricot pistachio granola brings a flavorful experience directly to your tastebuds. In addition, the benefits of whole grain oats include plant based protein, dietary fiber, and essential vitamins and minerals.
How to make apricot pistachio granola?
Satisfy your tastebuds with an irresistible batch of apricot and pistachio flavored granola. Include this oven baked recipe in your meal prep plan for the week.

Gather together a few staple ingredients listed below to make a batch in about 10 minutes of prep time.
Apricot Pistachio Granola Ingredients: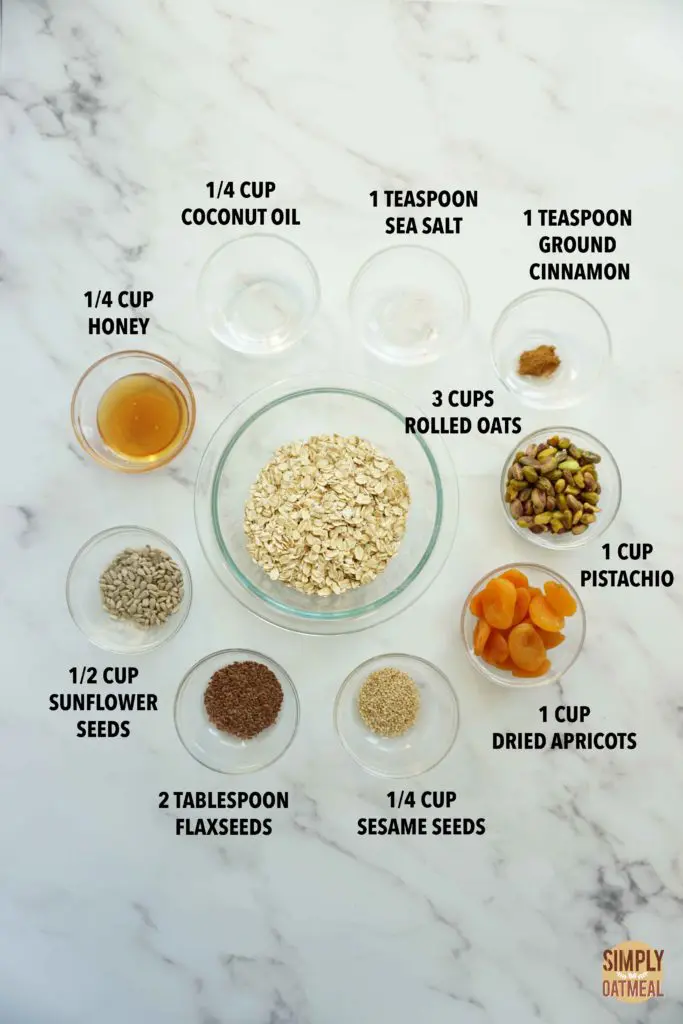 Dried apricots
Flaxseeds
Sunflower seeds
Sesame seeds
Pistachios
Sea salt
Cinnamon
Coconut oil
Honey
Add the oats, apricots, flaxseeds, sunflower seeds, sesame seeds, pistachios, sea salt and cinnamon to a medium sized bowl.

In a small bowl, combine the coconut oil and honey. Pour the wet ingredients over the dry ingredients and mix well so that the oats are coated with flavorful liquid.
Spread the oat mixture in an even layer onto a baking sheet lined with parchment paper. Bake at 325°F for about 35 minutes and stir gently every 10 minutes to promote even doneness.
Apricot Pistachio Granola Tips:
Apricot pistachio granola has a classic flavor profile that is a balance of sweet, aromatic, and crunchy. Here are some tips to keep your baked oats fresh and delicious for every bite you take.
Apricot: A predominant taste in this flavor packed recipe. The dried apricots are cut up into smaller pieces and then baked into granola, this further enhances their aroma and taste. The sugars should not burn while in the oven, but carefully observe the apricot pieces as you get closer to the end of the bake time.
Pistachio: Not only do pistachios and apricots have a flavor that plays well off of each other, but the unique nuttiness really adds a fun flavor profile to this recipe. Chop the pistachios but don't crush up the pieces too small.
Oats: Quick oats break up into small clusters when baked because they are thin tiny pieces. Therefore, rolled oats are the preferred type of oats to prepare this oven baked recipe because they hold the shape of large dense clusters.
Dried fruit: Dried apricots and pistachios are a classic favor combination. Some other complimentary dried fruits to consider adding or substituting are apples, bananas, cherries, cranberries, figs, mangoes and raisins.
Nuts: Pistachios are a significant taste in this recipe and they don't play very well with other nut varieties. If you feel like changing up the base flavor, it's best to substitute them for almonds, coconut, hazelnuts, pine nuts or walnuts.
Seeds: Superfood ingredients like hemp seeds, chia seeds, flaxseeds, pumpkin seeds and sesame seeds can easily added to this healthy recipe.
Vegan: The recipe uses honey because it pairs beautifully with apricots and pistachios. To make this recipe vegan, just substitute the sweetener for your favorite ingredient.
Gluten free: Although oats are naturally gluten free, certified rolled oats are recommended if you want to make this recipe gluten-free.
Sweetener: Sweeten the oat base to your personal preference. Substitute the sweetener with your favorite like agave, brown sugar, maple syrup or stevia.
Clusters or crumble: Stir the gently while baking to promote even cooking throughout. If you stir to aggressively, then you will break up the large clusters of granola into small crumbly pieces.
Storage: Cool the baked good to room temperature before storing in airtight containers They typically stay fresh on the shelf for up to 3 weeks when sealed tightly.
TRY THESE DELICIOUS GRANOLA RECIPES: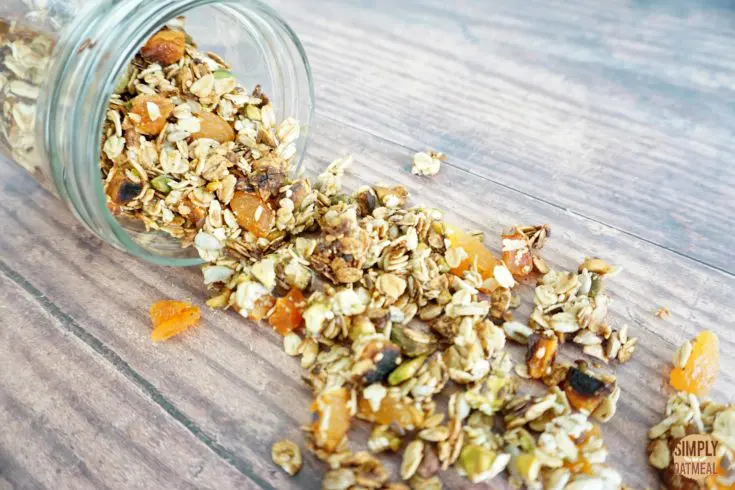 Yield:

16 Servings
Apricot Pistachio Granola Recipe
Combine the fragrant notes of apricot and rich nutty pistachios with the delicate crunchy of oat based granola. This healthy meal is packed with beneficial ingredients, wholesome nutrition and heart healthy oats.
This tasty apricot pistachio recipe only takes a few minutes to prepare. Bake up this gluten free snack for a delicious alternative to prepackaged foods.
Ingredients
3 cups rolled oats
1 cup dried apricots, chopped
2 tablespoons flaxseeds
½ cup sunflower seeds
¼ cup sesame seeds
1 cup pistachio nuts, crushed
1 teaspoon sea salt
1 teaspoon ground cinnamon
¼ cup coconut oil
¼ cup honey
Instructions
Preheat oven to 325°F. Line two baking sheets with parchment paper.
In a large bowl, mix the dry ingredients.
In a small bowl, mix together coconut oil and honey.

Pour the wet ingredients over the dry ingredients and toss to fully coat the oats.
Evenly spread granola mixture onto both baking sheets and bake for 35-40 minutes until the oats begin to crisp up and turn a slightly golden brown. Gently stir the granola every 10 minutes to bake the mixture evenly.

Remove from the oven and cool on the baking tray. Store in airtight container at room temperature and stay fresh for about 3 weeks.

Notes
Make it vegan and gluten free!
Adjust the amount of sweetness if necessary.
Store inside an airtight container for up to 3 weeks.
Nutrition Information:
Yield:
16
Serving Size:
½ cup
Amount Per Serving:
Calories:

201
Total Fat:

11g
Saturated Fat:

4g
Trans Fat:

0g
Unsaturated Fat:

6g
Cholesterol:

0mg
Sodium:

408mg
Carbohydrates:

23g
Fiber:

4g
Sugar:

10g
Protein:

5g
Nutrition information isn't always accurate.