*This post may contain affiliate links. Please see my
disclosure
to learn more.
Looking for a make ahead meal prep idea that is fulfilling, healthy and tastes great? Lemon blueberry granola is an easy oven baked recipe that is crunchy, delicious, and utterly magical.
Hot food isn't always the best solution, especially when you have the option to eat crunchy clusters of whole grain oats. It's true that easy homemade granola is a healthy year round staple because it adds a refreshing twist to the timeless whole grain!

From cranberry almond granola to blueberry muffin granola, we've prepared many tasty preparations to enjoy the classic whole grain. Pick your favorite dried fruits, nuts, seeds and tasty base flavors that you love the most.
You will love this lemon blueberry granola because…
10 minutes is all it takes to prepare this oven baked recipe.
Healthy meal prep contains essential vitamins, minerals and beneficial antioxidants.
Combines plant based protein, healthy fats, and both soluble and insoluble fiber.
Perfect balance of sweetness, tartness and crunch.
Blend lemon and blueberry with hearty oats in this alluring and appealing granola recipe!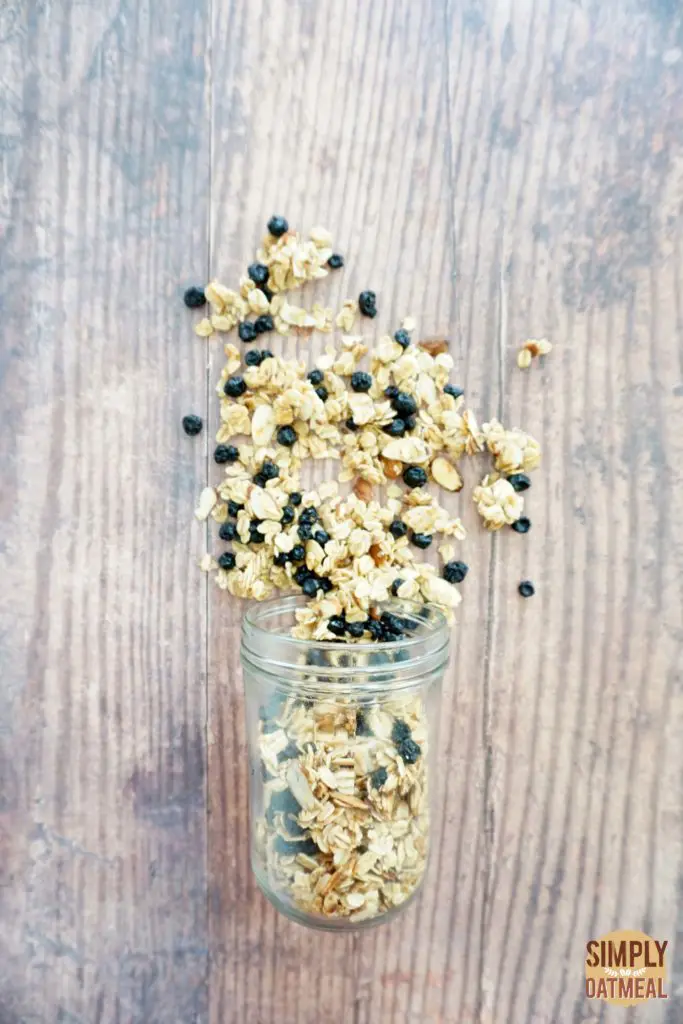 If you become irritable when you get hungry, then add a scoop of homemade granola to your morning routine so that you don't leave the house on an empty stomach. Lemon and blueberry granola combines the health benefits of oatmeal with other antioxidant rich superfoods for a truly mouthwatering experience!
How to make lemon blueberry granola?
Lemon blueberry granola is a simple oven baked recipe that is actually quite delicious. The best part of this healthy meal prep is that the recipe takes only 10 minutes to prepare. Here are the handful of ingredients needed to get started.
Lemon Blueberry Granola Ingredients: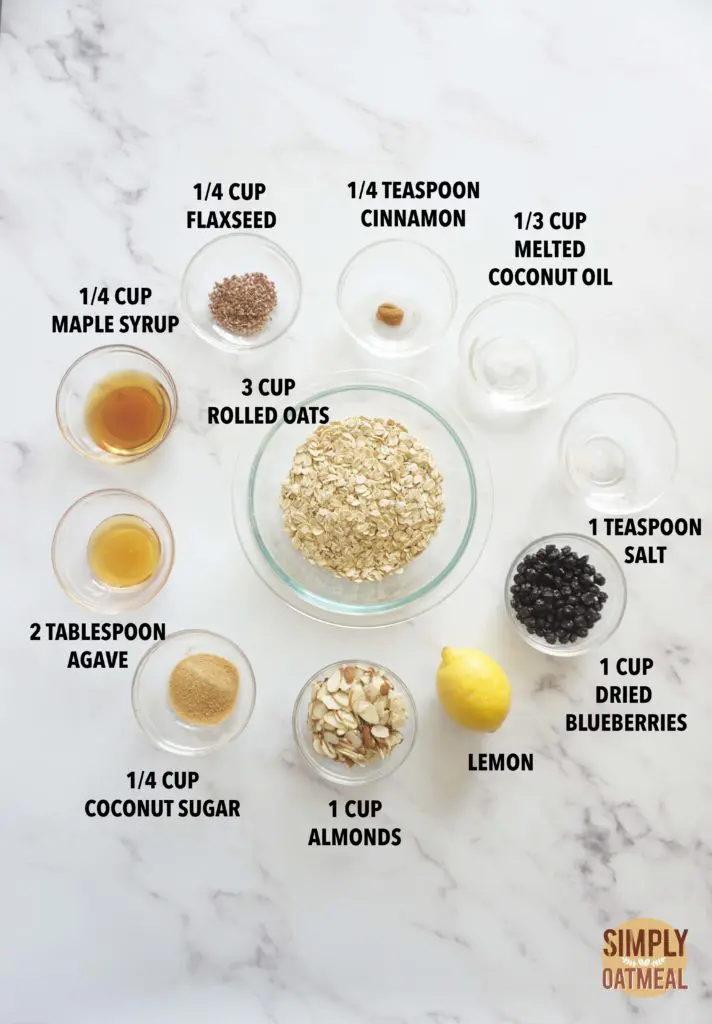 Lemons
Coconut sugar
Flaxseed
Almonds
Sea salt
Cinnamon
Coconut oil
Maple syrup
Agave syrup
Dried blueberries
There is one key to the intense flavor of this recipe. Massage the lemon zest with the sugar to really activate the essential oils locked inside the lemon peel.
In a medium sized bowl, zest the lemons and add the sugar. Use the back of a spoon to press the sugar into the zest. Stir for about 30 seconds and mash the zest with the sugar. Afterwards, add the oats, flaxseed, almonds, sea salt and cinnamon.

In a small bowl, juice the lemons and add the coconut oil, maple syrup and agave. Stir well and combine the wet ingredients with the dry ingredients. Mix so that the oats are fully coated with the liquid.
Spread the mixture evenly onto a baking sheet lined with parchment paper. Bake at 350°F for about 20 minutes until the edges start to turn a golden brown color.
Lemon Blueberry Granola Tips:
Lemon blueberry granola is an easy to make meal prep idea that is perfect for breakfast time. Not only is this healthy and delicious, but the recipe is also vegan and gluten-free. Here are a few handy tips to make the granola fresh tasting every time you dive in for a bite.
Lemon: Fresh lemon zest and juice gives this granola recipe a zesty twist with a refreshing citrusy flavor. Zest the lemon before juicing. Mash the lemon zest into the sugar to really activate the essential oils found in the peel.
Blueberries: Blueberries pair extremely well with lemon and also contain beneficial antioxidants, vitamins and minerals.
Oats: Rolled oats are the preferred type of oats for preparing this oven baked recipe. Quick oats are also ok, but the granola will break up into small crumbles because the oats are small bits with thinner pieces.
Dried fruits: Dried blueberries pack a flavorful punch in this tasty recipe. Consider adding a handful of dried apples, apricots, bananas or mango for a slight variation.
Nuts: Almonds are a fantastic addition to the lemon blueberry combination. If you are looking for a substitution, then hazelnuts, pecans, pine nuts and walnuts are a great addition.
Seeds: Flaxseeds are already a part of this recipe, but consider adding superfood ingredients like hemp seeds and chia seeds to your oven baked granola.
Vegan: This recipe is vegan.
Gluten free: Certified oats are recommended even though oats are gluten free. This helps to prevent cross contamination with gluten during the harvesting and packaging of the whole grain.
Sweetener: Use your favorite sweetener to sweeten the soaked granola as needed. Agave syrup, coconut sugar, honey or stevia are some of the available options. Avoid honey if you want to make a vegan recipe.
Clusters or crumble: If you want large clusters of granola, then don't stir the mixture while baking. Rotate the pan while baking, watch for the granola to brown around the edges of the pan and it will harden in large clusters that are easy to break up.
Storage: Cool the fresh baked granola to room temperature and then store in airtight containers. Eat within 3 weeks for best quality and fresh taste.
PLAN TO MAKE MORE DELICIOUS GRANOLA THIS WEEKEND: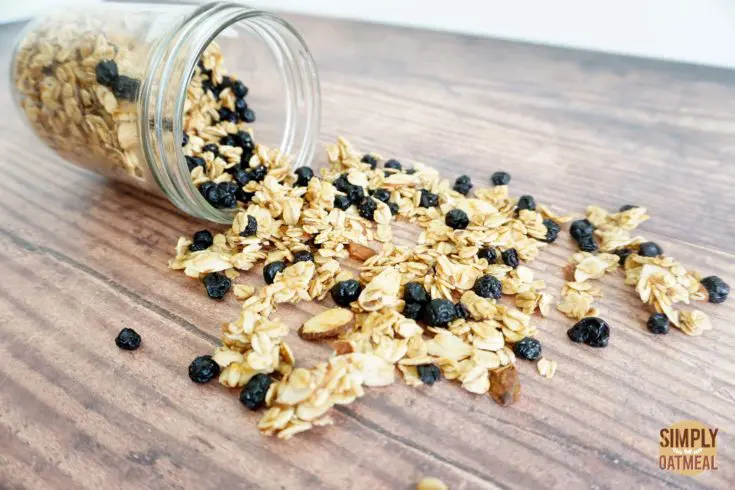 Yield:

16 Servings
Lemon Blueberry Granola Recipe
This Lemon Blueberry Granola is a healthy breakfast or snack idea that is made with wholesome ingredients! The lemon and blueberry combination is a forever classic that tastes absolutely magical in granola.
Sprinkled over greek yogurt and berries, serves as a bowl of cereal with your favorite milk, or just eat a handful as a crunchy snack!
Ingredients
3 cups rolled oats
2 lemons, zest and juice
¼ cup coconut sugar
¼ cup flaxseed
1 cup raw almonds, coarsely chopped
1 teaspoon salt
¼ teaspoon cinnamon
⅓ cup melted coconut oil
¼ cup maple syrup
2 tablespoons agave syrup
1 cup dried blueberries
Instructions
Preheat oven to 350℉. Line two large baking sheets with parchment paper.
In a large bowl, zest the lemon and then add sugar. Use a spoon to massage the lemon zest with the sugar to release essential oils and flavor.
Next, add the oats, ground flaxseed, almonds, salt, and cinnamon. Mix well.
In a separate bowl, combine the lemon juice, coconut oil, maple syrup, and agave.

Pour the wet ingredients over the oat mixture and stir until completely moistened.
Spread in an even layer on both baking sheet pans. Bake for 20-25 minutes until lightly golden and beginning to crisp up around the edges. Gently stir once in the middle of baking.

Remove from the oven and toss in the dried blueberries.
Completely cool to room temperature and store in an airtight container for up to 3 weeks.

Notes
Make it vegan and gluten free!
Adjust the amount of sweetness if necessary.
Store inside an airtight container for up to 3 weeks.
Nutrition Information:
Yield:
16
Serving Size:
½ cup
Amount Per Serving:
Calories:

199
Total Fat:

10g
Saturated Fat:

4g
Trans Fat:

0g
Unsaturated Fat:

5g
Cholesterol:

0mg
Sodium:

144mg
Carbohydrates:

25g
Fiber:

4g
Sugar:

11g
Protein:

4g
Nutrition information isn't always accurate.