*This post may contain affiliate links. Please see my
disclosure
to learn more.
Rich dark chocolate, tart cherries and savory quinoa in every cluster of this oven baked granola! Finger licking deliciousness packed with wholesome superfoods, its the perfect component for a balanced breakfast or a midday snack.
If baked goods are not part of your go-to routine, then you need to try these easy granola recipes. Explore the various uniquely inspired oats to add to your menu plan!

From lemon blueberry granola to cranberry almond granola, each oven baked recipe is a perfect meal prep. Here are healthy eating solutions for your busy workweek so that you can easily avoid unnecessary snacking on prepackaged foods full of added sugars.
You will love this dark chocolate cherry quinoa granola because…
Only takes just 10 minutes to prepare.
Fresh baked recipe consisting of plant based protein, dietary fiber and healthy fats.
Balance sweet, tart and crunch in perfect harmony.
Dark chocolate, cherry and quinoa with hearty oats makes a hearty flavor that is simply irresistible!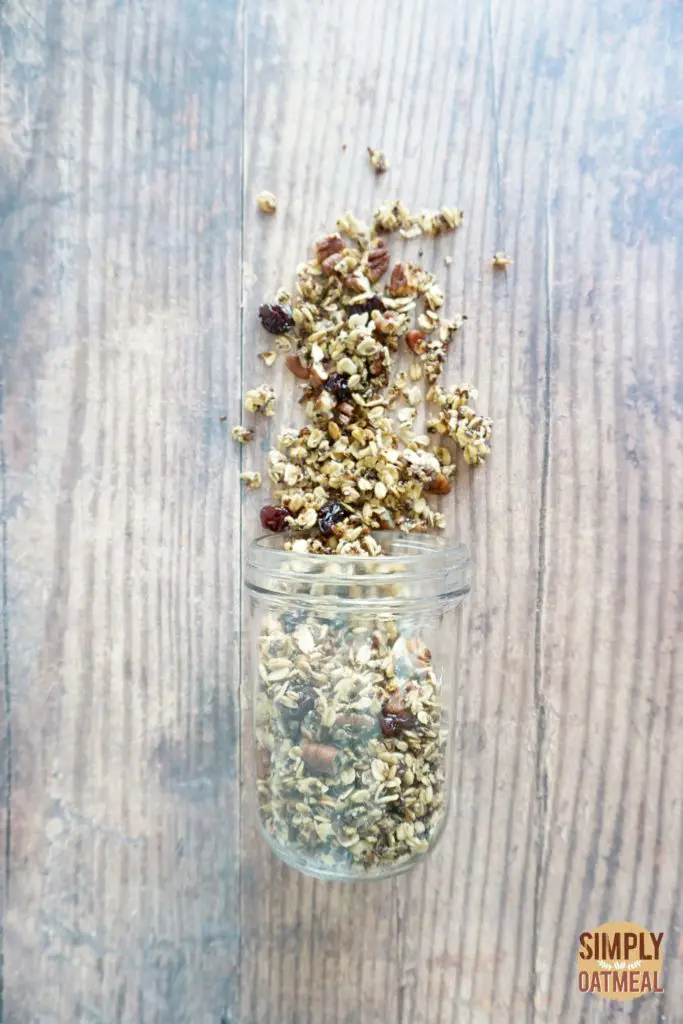 Whether you prefer in a bowl with milk or placed on top of yogurt and berries, this chocolate cherry granola recipe can be easily modified to fit your personal preferences. Mix and match your favorite add-ins for endless options that you can't really go wrong with.
How to make dark chocolate cherry quinoa granola?
This chocolate cherry granola will wow your sense and blow you taste buds away with a myriad of sweet maple and tart cherry flavors. Gather a few simple ingredients to quickly assemble this healthy baked goods recipe.
Dark Chocolate Cherry Quinoa Granola Ingredients: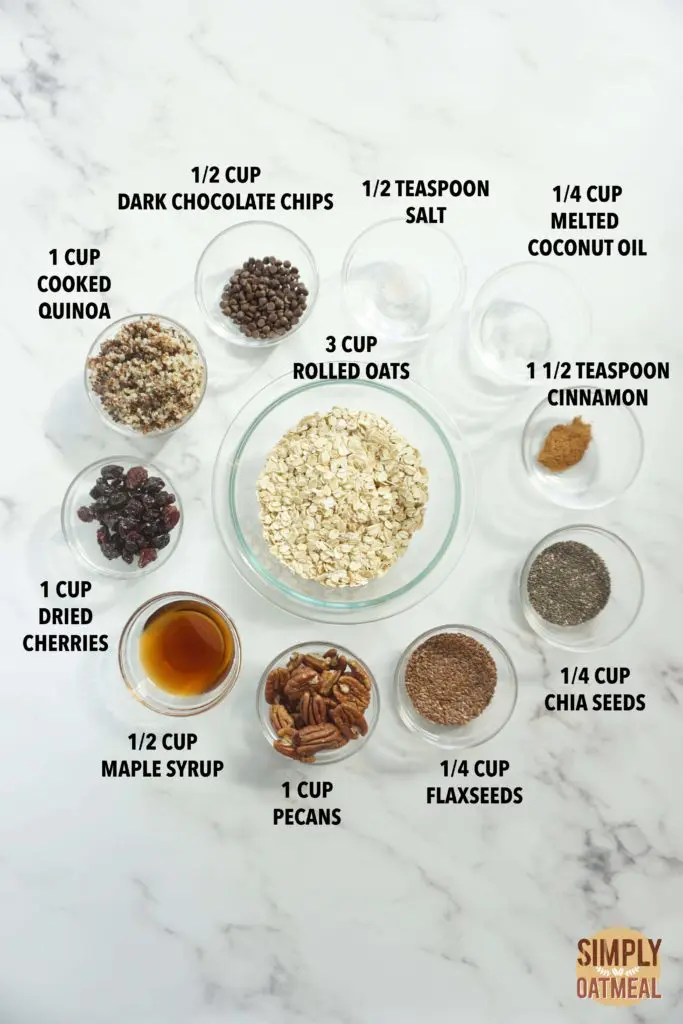 Quinoa
Pecans
Chia seeds
Flaxseeds
Cinnamon
Salt
Coconut oil
Maple syrup
Cherries
Dark chocolate chips
In a bowl, combine the oats with cooked quinoa, pecans, chia seeds, flax seeds, cinnamon and salt.

In a smaller bowl, stir together the melted coconut oil and maple syrup. Pour the wet ingredients over the dry ingredients and mix until the oats are fully coated.
Spread the mixture in an even layer onto a baking sheet lined with parchment paper. Bake at 325°F for about 35 minutes until the granola begins to crisp up and turn light brown around the edges.
Dark Chocolate Cherry Quinoa Granola Tips:
Change up your meal-on-the-go routine with a hearty serving of chocolate cherry granola. Here are tips to make your crunchy meal prep even more enjoyable.
Cherry: Cherries provide a delicious tartness that explodes with flavor when you chew into a piece. In addition, they harness a ton of beneficial antioxidants, vitamins and minerals.
Chocolate: Dark chocolate adds a richness to the crunchy granola that is magically delicious. Mix in the chocolate after the granola is removed from the oven so that it melts over the clusters coating with finger licking goodness.
Quinoa: Cooked quinoa is added to the granola based for another hearty and whole grain addition. When baked, the quinoa crisps up as a marvelous addition to the crunchy granola.
Oats: Select rolled oats or quick oats for this recipe instead of using steel cut oats. Quick oats are thin and have less texture that results in a smaller granola crumble. Rolled oats are bigger pieces that are much thicker that results in larger clusters.
Dried fruit: Dried cherries are the star in this granola recipe. However, you could easily add to cherries or substitute for another dried fruit such as apricots, currants, figs, peaches or plums.
Nuts: Pecans imparts a complex nuttiness to the finished granola. You could add to the pecans or substitute with almonds, coconut, hazelnuts, pistachios and walnuts.
Seeds: Chia seeds and flaxseeds are superfood ingredients that are already added this tasty recipe. Consider varying the amount and also adding hemp seeds.
Vegan: The recipe is vegan if you select dairy free chocolate chips.
Gluten free: Even though oats are gluten free, it's recommended to use certified oats to prevent cross contamination that often occurs during the harvesting, processing and packaging of the grain.
Sweetener: Sweeten the granola as needed. Coconut sugar, honey and agave are some of the available options to substitute in place of the maple syrup. Stay away from honey if you want this to be a vegan recipe.
Clusters or crumble: Stir the granola while baking if you want to break up the clusters into crumble. To maintain large clusters, don't stir while baking and instead spread the mixture in a thin even layer and rotate the pan while baking until the edges begin to brown.
Storage: Bake the granola until completed dried out and crunchy, then cool to room temperature before storing in an airtight container. Eat within3 weeks to ensure quality and freshness.
LOOKING FOR MORE GRANOLA RECIPES TO MAKE THIS WEEK?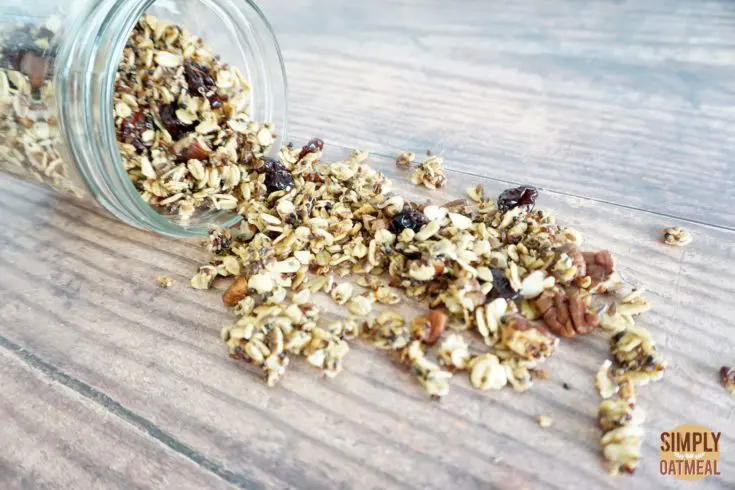 Yield:

16 Servings
Dark Chocolate Cherry Quinoa Granola Recipe
Dark chocolate cherry quinoa is a sweet, tart and savory combination of flavor. Enjoy this healthy meal prep as a fantastic grab and go breakfast idea or a mid afternoon snack to tide you over.
This oven baked recipe is vegan and gluten free if you use dairy free chocolate and steer clear of honey. Viola!
Ingredients
3 cups rolled oats
1 cup cooked quinoa
1 cup chopped pecans
¼ cup chia seeds
¼ cup flaxseeds
1½ teaspoons cinnamon
½ teaspoon salt
¼ cup melted coconut oil
½ cup maple syrup
1 cup dried cherries
½ cup dark chocolate chips
Instructions
Pre-heat your oven to 325°F. Prepare two baking sheets and line with parchment paper.
In a large bowl combine the oats, cooked quinoa, nuts, seeds, cinnamon and salt.
In a small bowl, whisk together the coconut oil and maple syrup.

Pour the wet ingredients over the dry ingredients and mix well to fully coat the oat mixture.
Spread the granola in an even layer onto both parchment lined baking sheets.

Bake for 35-40 minutes until crispy and golden brown. Gently stir the granola half way through to promote even cooking.
When the granola turns a golden brown color and begins to crisp up, the remove it from the oven and toss in the dried cherries.
Cool completely and fold in the dark chocolate chips.
Store the granola in an airtight container for up to 3 weeks.

Notes
Make it vegan and gluten free!
Adjust the amount of sweetness if necessary.
Store inside an airtight container for up to 3 weeks.
Nutrition Information:
Yield:
16
Serving Size:
½ cup
Amount Per Serving:
Calories:

253
Total Fat:

12g
Saturated Fat:

5g
Trans Fat:

0g
Unsaturated Fat:

7g
Cholesterol:

0mg
Sodium:

72mg
Carbohydrates:

33g
Fiber:

4g
Sugar:

16g
Protein:

4g
Nutrition information isn't always accurate.