*This post may contain affiliate links. Please see my
disclosure
to learn more.
Have you ever considered flavoring your crunchy granola with the taste of an oatmeal raisin cookie? Not only is it irresistibly delicious, but the fresh baked recipe is packed with heart healthy ingredients and natural antioxidants.
Hot breakfast doesn't always sound good in the morning, especially as the temperature begins to climb. It's true that homemade granola is a staple that can be enjoyed all year round, whether you choose to top your yogurt and berries or as a bowl of cereal with your favorite type of milk!

From dark chocolate cherry quinoa granola to lemon blueberry granola, we've got so many fun recipes for you to explore. Personalize your favorite dishes with the crunchy toppings that you are guaranteed to love.
You will love this oatmeal raisin cookie granola because…
10 minutes is all you need to prepare this gluten-free recipe.
Healthy recipe consisting of nutrient rich ingredients.
Contains plant based protein, healthy fats, and both dietary fiber.
Perfect balance of crunchy sweetness.
Fresh baked granola that tastes just like a crunchy oatmeal raisin cookie, its magically delicious!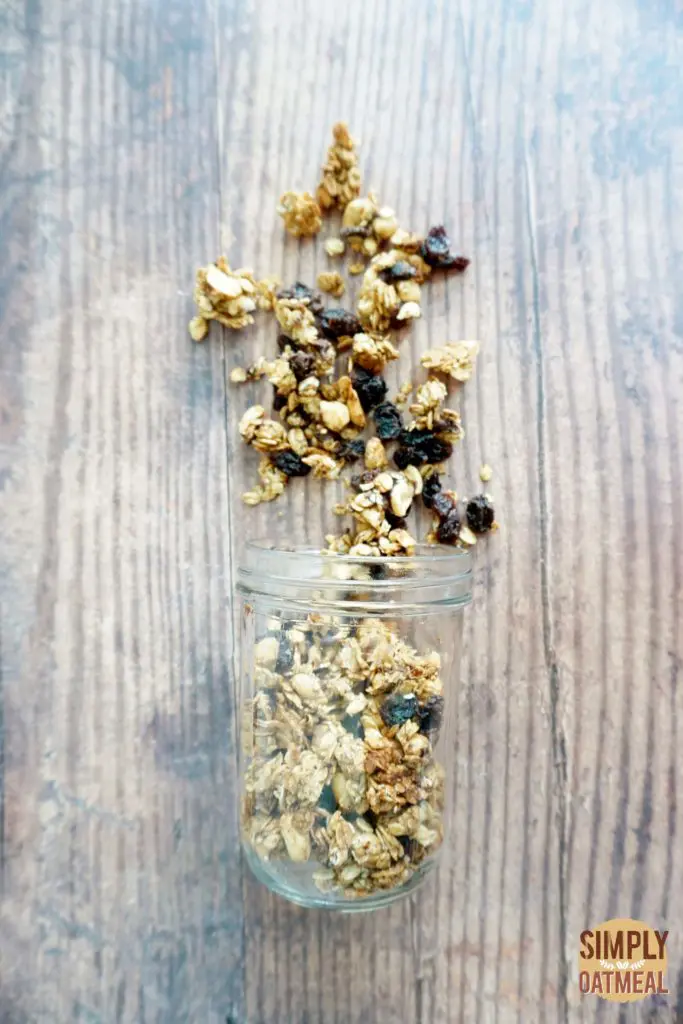 If your hunger turns to anger, then grab a serving of oatmeal raisin cookie for breakfast, lunch or midday snack to tide you over. Soak up all of the health benefits of oats combined with antioxidant rich super foods like cinnamon and honey!
How to make oatmeal raisin cookie granola?
Oatmeal raisin flavored granola is easy to make. You only need 7 staples ingredients and just 10 minutes of time to prepare this healthy oven baked recipe.

You may also enjoy this 5-minute homemade peanut butter recipe! Peanut butter is super easy to make and taste extremely fresh. In addition, you can make simple variations with fun flavor add-ins like chocolate, honey and sea salt.
Oatmeal Raisin Cookie Granola Ingredients: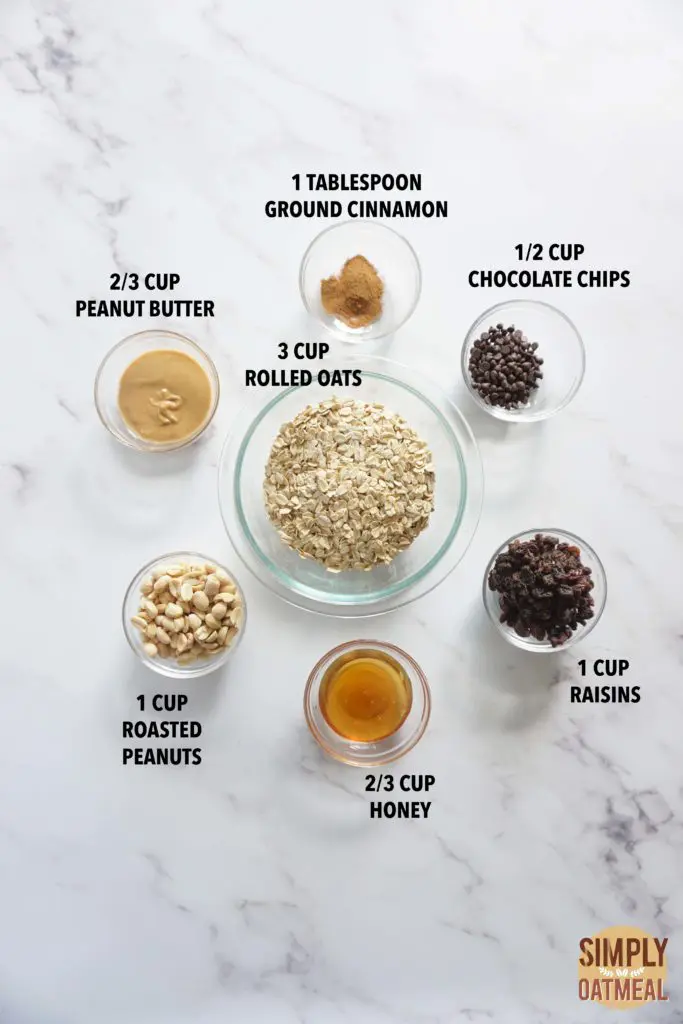 Peanuts
Cinnamon
Honey
Peanut butter
Raisins
Chocolate chips
Combine the oats, peanuts and cinnamon in a medium sized bowl.

In a separate bowl, add the honey and peanut butter. Stir well, and then mix the wet ingredients with the dry ingredients to fully coat the oats.

Spread the mixture evenly on a baking sheet lined with parchment paper.
Bake at 350°F for about 25 minutes. Rotate the pan half way through and watch for the outside edges of the granola to be browning. Stirring will break up the large clusters, so spread the granola out on the baking tray to promote even cooking.

Remove the pan from the oven, and even disperse the chocolate chips and raisins. The chocolate will melt making a gooey chocolatey coating for the granola clusters.
Oatmeal Raisin Cookie Granola Tips:
Oatmeal raisin cookie taste with a crunchy granola look is a healthy breakfast idea and easy to bake fresh. This tasty recipe is a gluten free treat that can also be made with vegan ingredients.

Here are handy tips to keep your oatmeal raisin granola crispy and fresh tasting every time you take a bite.
Raisins: Raisins are a signature taste in any oatmeal raisin cookie, in addition to being a beneficial ingredient that provides nourishing antioxidants, vitamins and minerals. Unsweetened is best so that you have better control over the sweetness of the recipe.
Chocolate: Chocolate is a fun addition to any cookie preparation, so imparting the flavor into this granola recipe was a no brainer. Tossed the chocolate chips into the granola immediately after you remove the pan from the oven, that way the chocolate melts over the top and coats the granola gooey deliciousness.
Oats: Rolled oats and quick oats are the preferred type of oats for preparing this recipe. Rolled oats promote large clusters while quick oats tend to break up into smaller crumbly pieces.
Dried fruit: Raisins are the star of this recipe, however there are complimentary flavors that could be added to this batch. consider dried apples, apricots, bananas, citrus, currents, dates, figs, pears and prunes.
Nuts: Peanuts are already used in this recipe, however some people are allergic or do not care for the taste. Consider adding or substituting for almonds, chestnuts, hazelnuts, pecans, pine nuts, pistachios and walnuts.
Seeds: Hemp seeds, chia seeds or flaxseeds are nutritional superfoods that can also added to this recipe.
Vegan: Make it vegan by substituting the honey for sweeteners like agave, coconut nectar or maple syrup. In addition, select dairy free chocolate chips.
Gluten free: Gluten free oats are recommended if you follow a strict celiac diet. Oats are naturally gluten free, but it's best to avoid cross contamination during harvesting and packaging.
Sweetener: Use the sweetener as needed to meet your personal taste. Maple syrup, coconut sugar or agave are excellent substitutions if you want to avoid using honey.
Clusters of crumble: Stirring the oats while baking breaks up the clusters into smaller crumbly pieces. If you want to keep the large granola clusters, then don't stir the granola while baking, instead rotate the pan and watch for the edges to start to brown.
Storage: Allow the granola to fully cool before storing in an airtight container. Eat within 3 weeks to ensure quality and freshness.
PLAN TO MAKE THESE DELICIOUS GRANOLA THIS WEEKEND: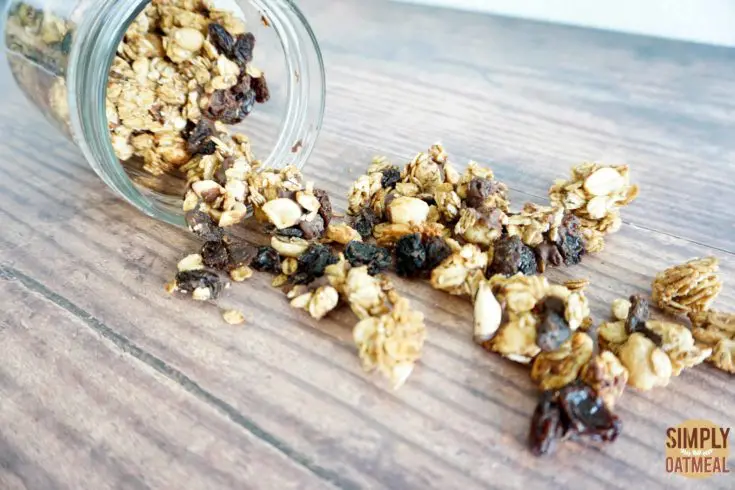 Yield:

16 Servings
Oatmeal Raisin Cookie Granola Recipe
Oatmeal Raisin Cookie Granola is super easy to make and tastes just like crispy pieces of old-fashioned oatmeal raisin cookies!
Make a large batch and store the granola in separate mason jars for a simple grab and go snack to tide you over. Don't leave home with an empty stomach, reach into the pantry for this healthy meal on the run.
Ingredients
3 cups old-fashioned rolled oats
1 cup peanuts
1 tablespoon ground cinnamon
⅔ cup honey
1 cup raisins
½ cup chocolate chips
Instructions
Preheat oven to 350°F. Line two baking sheets with parchment paper.
In a large bowl, mix together oats, peanuts, and cinnamon.
In a microwave safe bowl, slightly warm the peanut butter and honey for about 30 seconds.

Pour the liquid over the dry ingredients. Mix well until all oats are fully coated.
Spread evenly onto both prepared baking sheets and bake for 25-30 minutes. Gently stir halfway through.

Remove the pans from the oven and toss in the raisins and chocolate chips. The chocolate will instantly melt and clump together larger clusters.
Cool to room temperature and store in an airtight container for up to 3 weeks.

Notes
Make it vegan and gluten free!
Adjust the amount of sweetness if necessary.
Store inside an airtight container for up to 3 weeks.
Nutrition Information:
Yield:
16
Serving Size:
½ cup
Amount Per Serving:
Calories:

274
Total Fat:

13g
Saturated Fat:

3g
Trans Fat:

0g
Unsaturated Fat:

8g
Cholesterol:

0mg
Sodium:

92mg
Carbohydrates:

38g
Fiber:

4g
Sugar:

22g
Protein:

7g
Nutrition information isn't always accurate.