*This post may contain affiliate links. Please see my
disclosure
to learn more.
If you're looking for the best breakfast idea or post-workout snack, then try no bake strawberry oatmeal bars. Loaded with tons of antioxidants and fiber, the bars will keep you extra full, the protein content also makes it a perfect meal to restore energy during a midday snack.

If you are new to Simply Oatmeal, the no bake oatmeal bars are healthy and can be made in advance. Use pantry staples that are always on hand, to whip up a batch in just a few minutes and save the leftovers in the fridge or freezer.

This is such a delicious and versatile snack idea if you're looking for a vegan and gluten free alternative. Whether your looking for breakfast, an afternoon snack or a health dessert, give it a whirl and whip up a batch of bars to try for yourself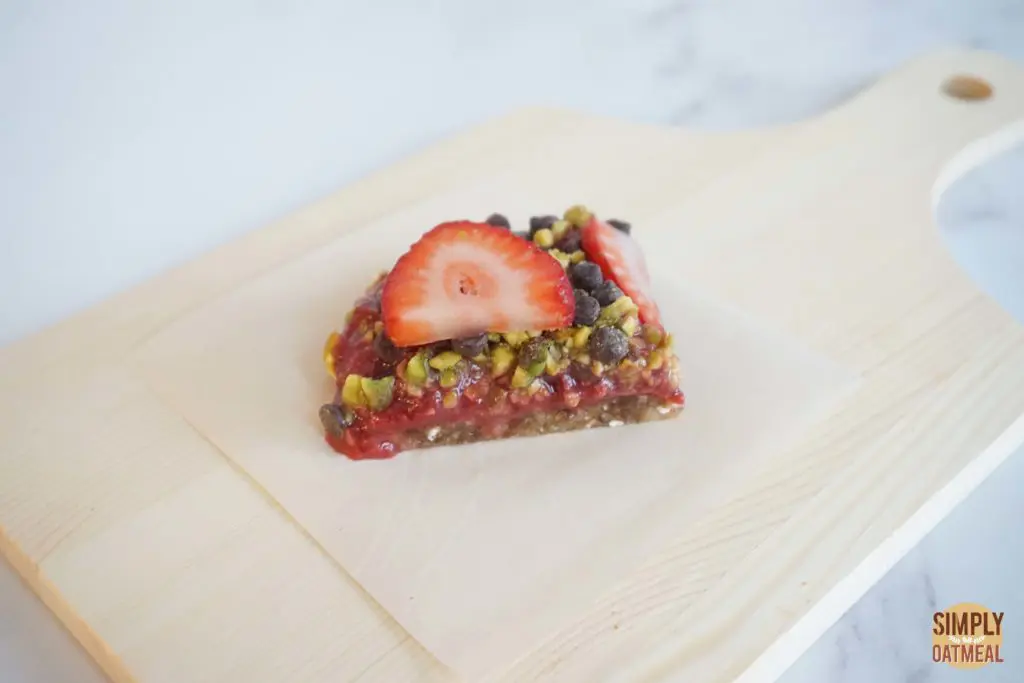 How to make no bake strawberry oatmeal bars?
Meal prep a batch of no bake strawberry oatmeal bars the night before. Mix the oats base and top with a layer of strawberry jam, pistachios, chocolate chips and sliced strawberries to enhance the flavor.

You may also like the 5 minutes strawberry-chia jam recipe. We used the quick jam in the preparations for this no bake oatmeal bar. Feel free to substitute another type of jam or even consider layering the 5-minute homemade peanut butter underneath the jam for a classic combination, boost in health fats and added protein.
No Bake Strawberry Oatmeal Bars Ingredients: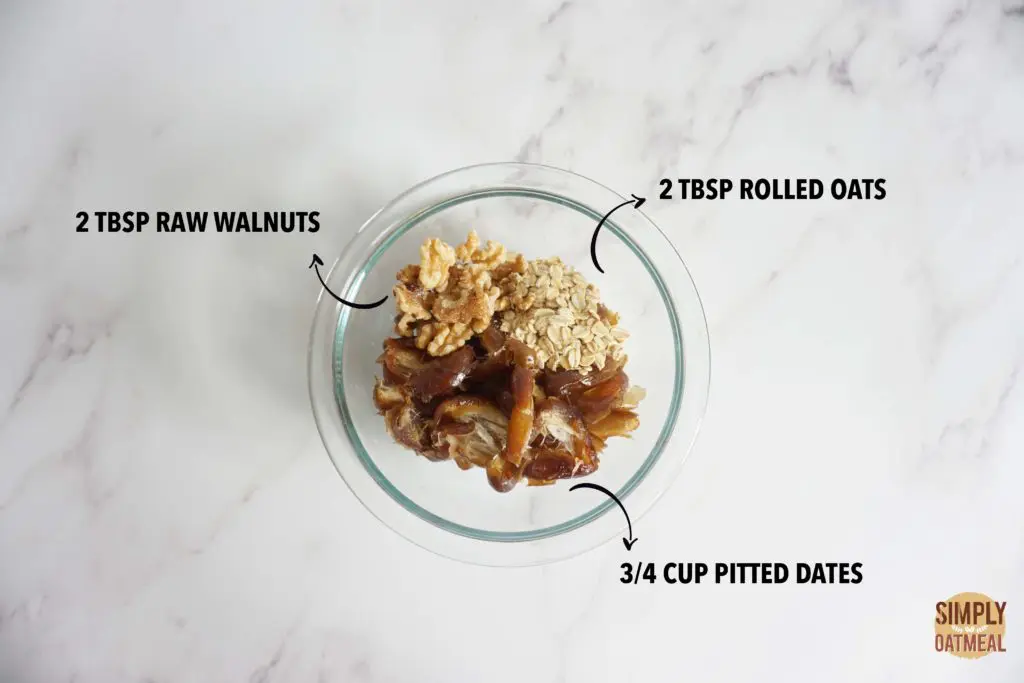 Dates
Walnuts
Vanilla extract
Salt
Strawberry-chia jam
Strawberries
Mini chocolate chips
Pistachios
Add the rolled oats, pitted dates, walnuts, vanilla extract and salt into a food processor. Chop the ingredients into small bits and the mixture is well combined.

Prepare an 8×8 inch baking pan with a sheet of parchment paper at the bottom. Press the oats mixture into the bottom of the pan using a fork or a sheet of parchment on top. Press until the mixture is firm and flat all the way across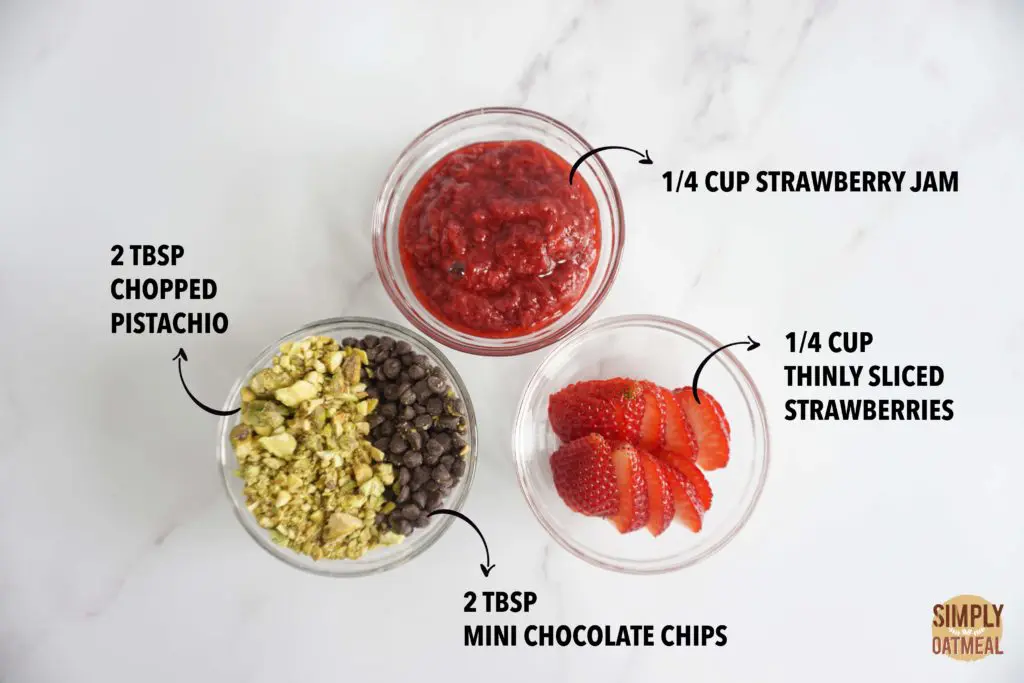 Top the oatmeal base with the strawberry-chia jam, then sprinkle the mini chocolate chips and chopped pistachios on top. finished with sliced strawberries.

Allow the bars to harden in the fridge for 1 hour or the freezer for 15 minutes. Then cut into 2×2 inch pieces and serve at room temperature.
No Bake Strawberry Oatmeal Bars Tips
The no bake strawberry oatmeal bars are made with rolled oats, strawberries, walnuts and pistachios. The recipe is so easy to make and is perfect for a quick healthy snack on the go. Utilize the tips so that you ensure that every bite is as enjoyable as the last.
Both rolled oats and quick oats can be used for this recipe, however steel cut oats are not recommended for raw preparations.
Try this recipe with raspberry-chia jam and fresh raspberries on top.
Start with a layer of peanut butter on peanut butter on top of the oatmeal base, then add the jam for a classic PB & J combination.
If you don't have fresh strawberries, replace with frozen ones, thaw first then slice thinly.
If the oatmeal base is too thick and crumbly, add a splash of water to allow the mixture to bind together and hold its shape.
Leftover no bake oatmeal bars can be stored in an airtight container in the refrigerator for up to 5 days.
MORE DELICIOUS NO BAKE OATMEAL BARS RECIPES YOU MIGHT LIKE: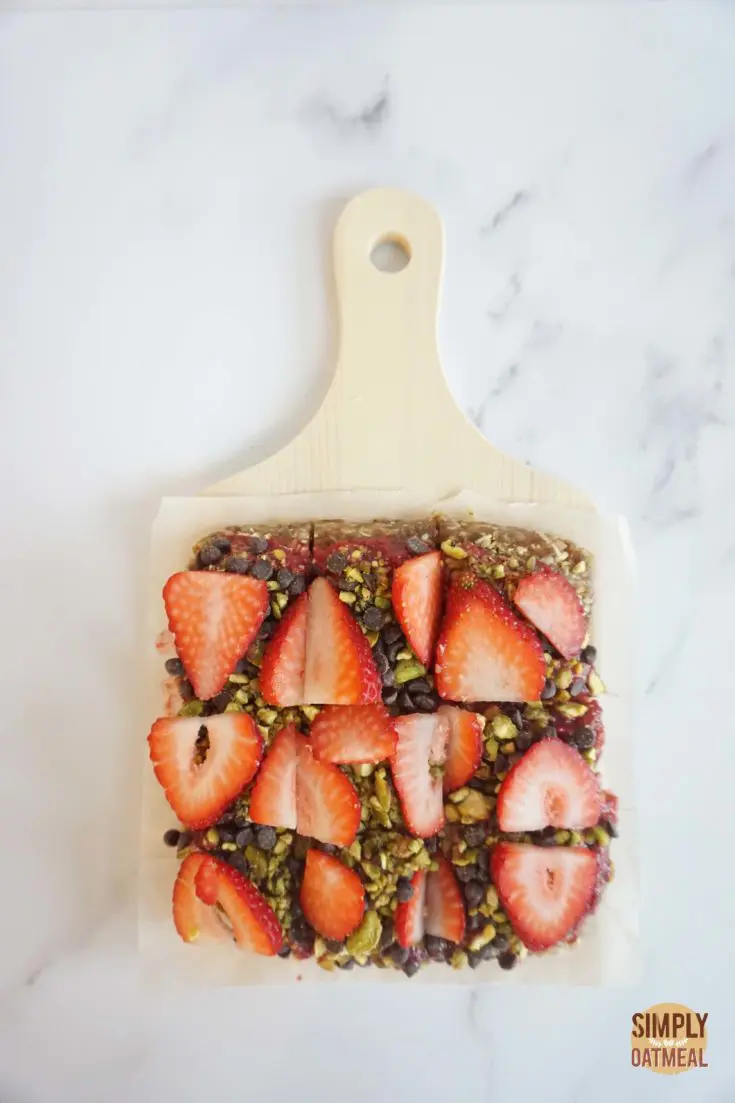 Yield:

8 Bars
No Bake Strawberry Oatmeal Bars Recipe
Additional Time:
10 minutes
No bake strawberry oatmeal bars are a fulfilling snack that is packed with balanced nutrition. Combine the health benefits of oats with the antioxidants of strawberries and the wholesome super food walnuts, pistachios and chocolate.
No cook oatmeal bars are packed with protein, fiber and essential vitamins that promote a healthy balanced snack. Include this no bake recipe in your weekly meal prep plan so that you have easy grab and go snacks that are prepared ahead of time.
Healthy snacks are extremely helpful during the busy workweek because that is often when we forget to take good care of ourselves. Incorporate this easy no bake snack into your regular meal prep routine.
Ingredients
1 cup pitted dates
3 tablespoons rolled oats
3 tablespoons walnuts
½ teaspoon vanilla extract
¼ teaspoon salt
¼ cup strawberry-chia jam
½ cup sliced strawberries
⅛ cup mini chocolate chips
⅛ cup chopped pistachios
Instructions
In a high-speed food processor, chop the dates, rolled oats, walnuts, vanilla extract and salt to form a sticky dough.
(You can also use a high-speed blender like a Vitamix, but the resulting dough may be too sticky if the mixture is ground too fine.)
Line a 8×8 baking pan with parchment paper. Scoop the dough into the pan, and use another sheet of parchment on top to press the dough evenly into the bottom of the pan.
Place the pan into the fridge for an hour so that the dough firms up.
Peel the top sheet of parchment paper of the dough and invert the pan onto a cutting board.
Spread the strawberry-chia jam on top of the oatmeal base.
Cover with a single layer of mini chocolate chips and chopped pistachios. Lastly, put sliced strawberries on top.
Cut into bars using a sharp knife.
Notes
Make Ahead: The oatmeal base can be prepared in advanced and kept at room temperature.
Storage: Store the leftover bars in an airtight container inside the fridge for up to 2 days.
To Serve: Remove the bars from the fridge and allow to sit at room temp for about 10 minutes before serving.
Nutrition Information:
Yield:
8
Serving Size:
1
Amount Per Serving:
Calories:

119
Total Fat:

4g
Saturated Fat:

1g
Trans Fat:

0g
Unsaturated Fat:

3g
Cholesterol:

0mg
Sodium:

77mg
Carbohydrates:

21g
Fiber:

3g
Sugar:

15g
Protein:

2g
Nutrition information isn't always accurate.