*This post may contain affiliate links. Please see my
disclosure
to learn more.
Need an oatmeal crumble topping recipe to add on a cake, muffin or oatmeal. This gluten free oatmeal crumble is easy to make and only uses a few ingredients.

The recipe requires only five ingredients if you don't count the salt and walnuts, which are technically optional. In total, you are looking at 15 minutes of baking time, but that really not too bad because the house will smell like toasted oats and aromatic cinnamon.
You can also make the oatmeal crumble topping in advance. When fully baked, it will keep for about a week in an airtight container and also holds up for months in the freezer.

Furthermore, the unbaked mixture can be frozen. If you choose to freeze raw oatmeal crumble, then remove the mixture, spread it evenly on a baking sheet and immediately place in the oven to bake.

You may also like: How to make apple crumble overnight oats from scratch. This is our favorite way to make overnight oats! The crunchy topping adds a bit of spice and texture to the soaked oatmeal.
How To Make Oatmeal Crumble Topping?
You want to use rolled oats and oat flour to make this recipe gluten-free. Oats are naturally gluten free, but if wheat contamination is an issue you are trying to avoid then purchase oats that have been certified gluten-free.

Oat flour is available at many major supermarkets. However, when you're in a pinch then it is very easy to make oat flour at home. It looks similar, taste the same and I guarantee that no one will notice a difference.
Oatmeal Crumble Topping Ingredients:
Rolled oats
Oat flour
Unsalted butter
Brown sugar
Apple pie spice
Pinch of salt (optional)
Chopped walnuts nuts (optional)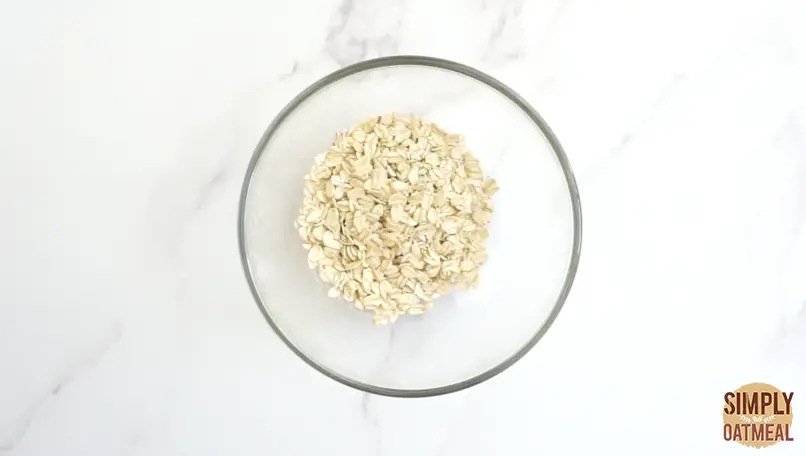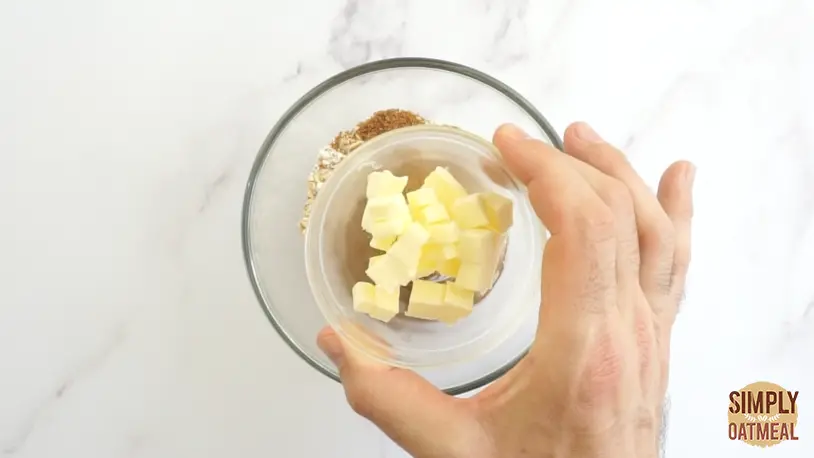 Once you have gathered together the oatmeal crumble ingredients, then its time to start preparing. Preheat the oven, because the butter needs to be cold when placed into the oven. (This is an important technique when making crisp, crumble and streusel topping.)

I like to dice the butter into small cubes and then put it into the freezer while preparing the dry ingredients. This helps to keep the butter extra cold instead of leaving it out at room temperature.

Then, gather together the dry ingredients including oat flour, sugar, spice and salt. The rolled oats and chopped walnuts are added at the end so that they are not crushed along the way. When the components are fully mixed, then its time to add the butter.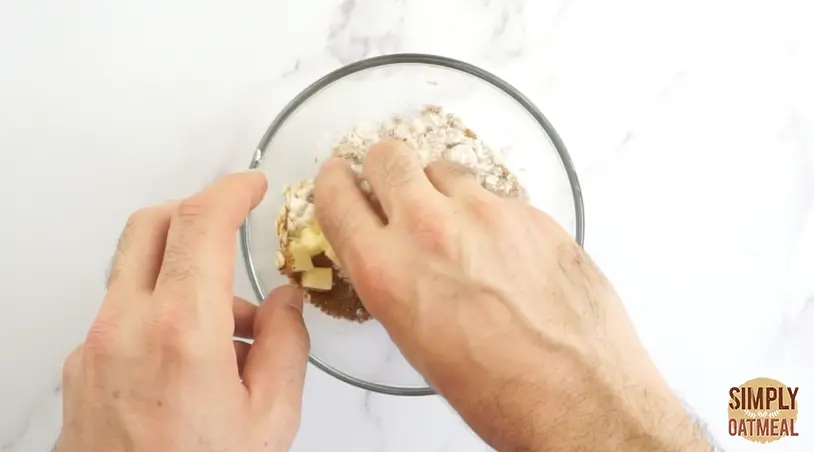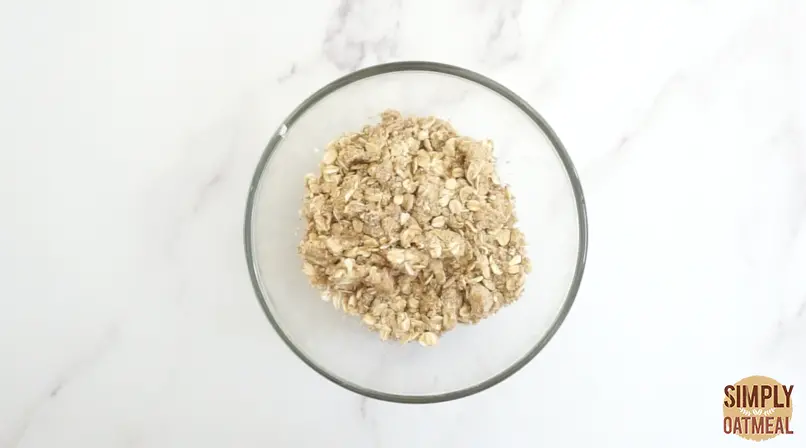 Using the tips of your fingers, work the butter into the dry ingredients. Smush the butter cubes between your fingers until you reach small pea-sized crumbs.

Crumble topping can easily be made in a food processor or with the help of a pastry cutter. However, the fancy tools are not necessary and your fingers will work perfectly well for this small batch.

After the butter has been worked into the crumble, then add the rolled oats and chopped walnuts. That way if you choose to use a pastry cutter or food process then you don't destroy the rolled oats and walnuts during the process.

It's important to move quickly so that the butter stays cold and does not soften to room temperature.

It's important to move quickly so that the butter stays cold and does not soften to room temperature.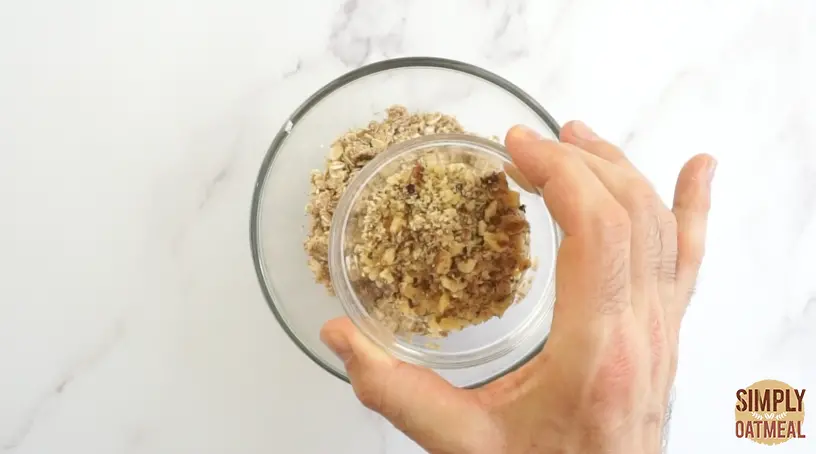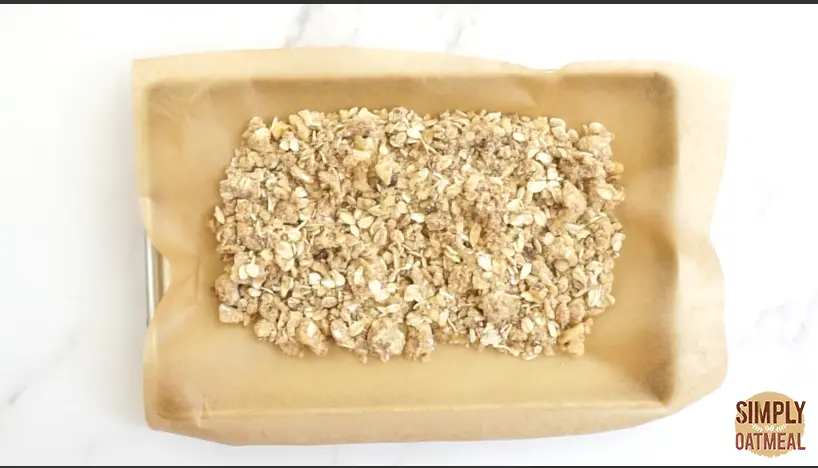 How To Use Oatmeal Crumble Topping
Oatmeal crumble topping can be baked by itself and sprinkled onto a variety of dessert-like dishes, or it can be baked directly on top of fruit pies, muffins and cookies.

Cookies, muffins and fruit pies should be baked as directed. The crumble will toast while forming a crunchy crust on the baked goods.
When baking crumble topping by itself, then evenly spread the raw oatmeal crumble topping onto a baking sheet with wax paper. Insert the pan directly into a preheated oven.

Toast for about 15 minutes. Pay close attention to the crumble as the timer counts down the last few minutes.
Crumble has a tendency to burn around the edges. Remove the pan before any burning start to happen, and stir around the mixture to promote a crunchier texture and rich toasted flavor.

And there you have it. Let it cool to room temperature and the baked oatmeal crumble topping can be stored in an airtight container for up to a week.
Oatmeal Crumble Topping Tips:
Making oatmeal crumble is quick and easy, however there are a few tips that will improve the process along the way.
Keep the butter cold. Dice the butter into small cubes and then place it into the freezer while mixing the dry ingredients.
Combine the dry ingredients, mix well and then add the diced butter cubes.
Work to butter into a pea-sized crumbs. Use your fingers, pastry cutter or food processor to achieve the results.
Add the rolled oats and chopped walnuts after the butter has been worked into the crumble.
Use on fruit pies, muffins or cookies.
To use as it on ice cream, yogurt or as an oatmeal topping, bake the crumble on a baking sheet with wax paper.
Bake immediately while the butter is still cold. Don't let the butter soften otherwise crumble will turn into a large cookie rather than be a crumble topping.
More oatmeal topping recipes: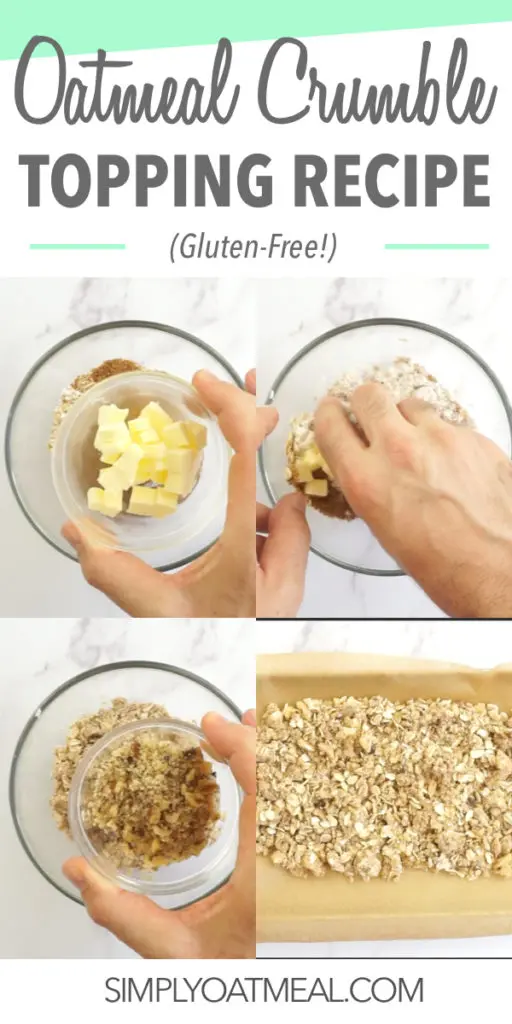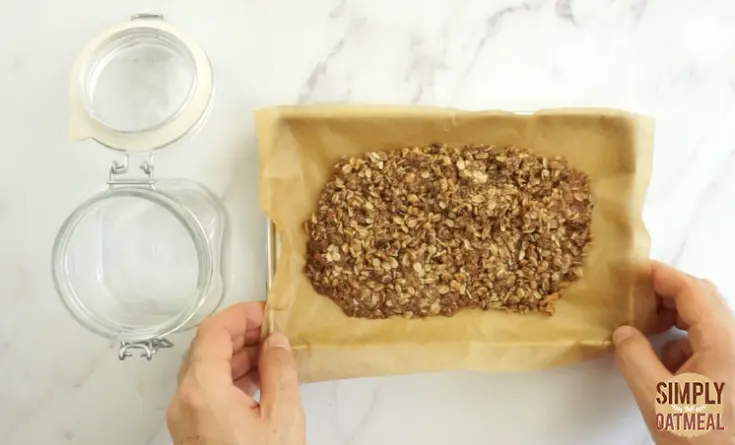 Yield:

¼ cup
Gluten-Free Oatmeal Crumble Topping Recipe
Here is a gluten free oatmeal crumble topping recipe that is easy to make. There are only a handful of ingredients, and preparing the crumble topping recipe is simple to do.
The crumble topping can be baked and then used as a garnish on yogurt, ice cream or oatmeal. In addition, the crumble topping can be added to your favorite fruit pies, cobblers or crisps.
Keep the nuts and rolled oats whole by adding them at the last minute, especially if you are using the food processor method. I use my fingers to crumble the butter into pea-sized balls, especially because its such a small batch.
Learn the basic and tips for making homemade crumble topping using gluten free ingredients..
Ingredients
¼ cup rolled oats
⅛ cup light brown sugar
Pinch of salt
⅛ cup chopped walnuts nuts
⅛ cup unsalted butter
Instructions
Mix together the oat flour sugar, apple pie spice and salt.
Cut the butter into small pieces and work it into the dry ingredients with your fingers until it resembles small pea-sized crumbs.
Then, mix in the rolled oats and chopped walnuts.
Spread the crumble flat onto a baking sheet and bake at 350 °F for 15 minutes.
Cool the crumble and use immediately or store in an airtight container for up to a week.
Notes
Raw mixture can be stored in the freezer for months. Do not defrost. Simply spread the crumble mixture onto a baking sheet and place directly into a preheated oven.
Fully baked crumble can also be kept in the freezer for month.
If the crumble has softened after a few days in a container or after being stored in the freezer, then briefly toast it in an oven or toaster for a few minutes to freshen it back up.
Nutrition Information:
Yield:
2
Serving Size:
1
Amount Per Serving:
Calories:

351
Total Fat:

25g
Saturated Fat:

9g
Trans Fat:

0g
Unsaturated Fat:

15g
Cholesterol:

29mg
Sodium:

113mg
Carbohydrates:

28g
Fiber:

3g
Sugar:

12g
Protein:

7g
Nutrition information isn't always accurate.