*This post may contain affiliate links. Please see my
disclosure
to learn more.
Crunchy and sweet is all you need to create this make-ahead breakfast apple crumble overnight oats. The ingredients are also comforting, creamy and flavorful enough to satisfy everyone's taste buds.

The smooth texture of overnight oats with the crusty crumble resembles a fresh-baked homemade cobbler. And the best part is that it only takes 5 minutes to make.

If health benefits are of concern, then you've have found a well-balanced recipe. Apples, cinnamon and oats are all full of potentially beneficial nutrition.
From Apple Pie Overnight Oats to Apple Walnut Overnight Oats, we have the best recipes to fit the taste you're looking for. Start your day with this delicious and healthy fall breakfast on-the-go that tastes better than dessert!

Sift through the best 14 Apple Overnight Oats recipes to find your all-time favorite! Otherwise, grab a serving of this decadent apple crumble overnight oats and begin the day on the right foot.
How to make apple crumble oatmeal?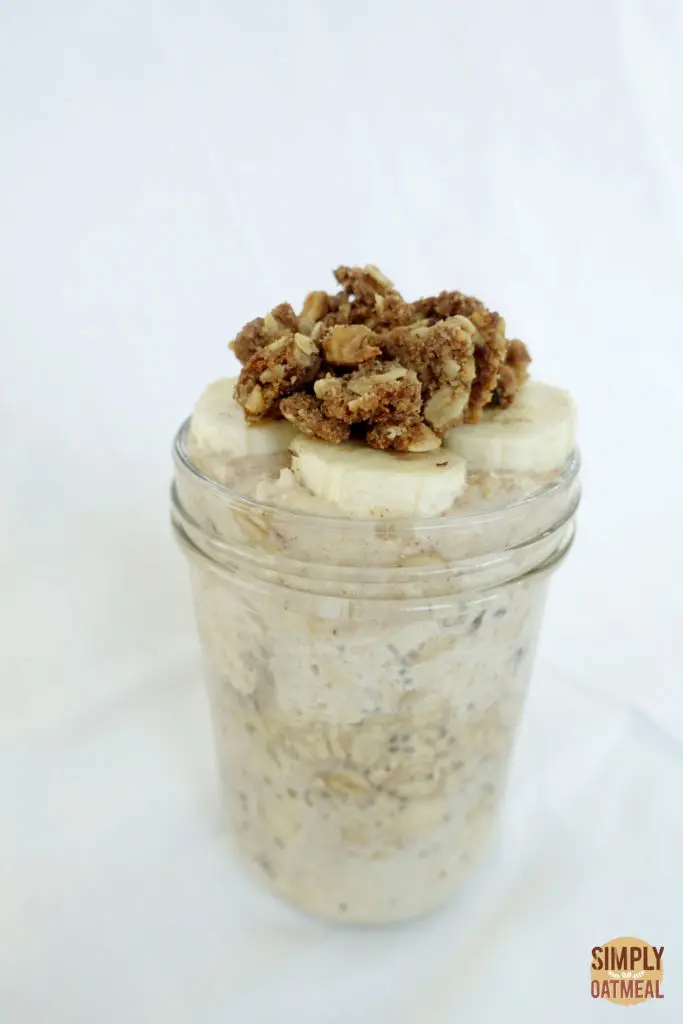 Finely dice the apple and mix all ingredients, except the crumble topping, in a mason jar. Refrigerate overnight to make the oats ready to eat.

The gluten free oatmeal crumble topping must be baked for 15 minutes ahead of time. As a result, this recipe has a delicious toasty and crunchy texture to the completed dish.

To finish the meal prep, add the baked crumble topping to oats right before serving.

Prepare these ingredients to start making your own mouth-watering apple crumble overnight oats.
Apple crumble overnight oatmeal ingredients:
Liquid of your choice
Chia seeds
Cinnamon
Maple syrup
Salt
Flour
Brown sugar
Walnuts
Butter
Apple Crumble Overnight Oats Tips: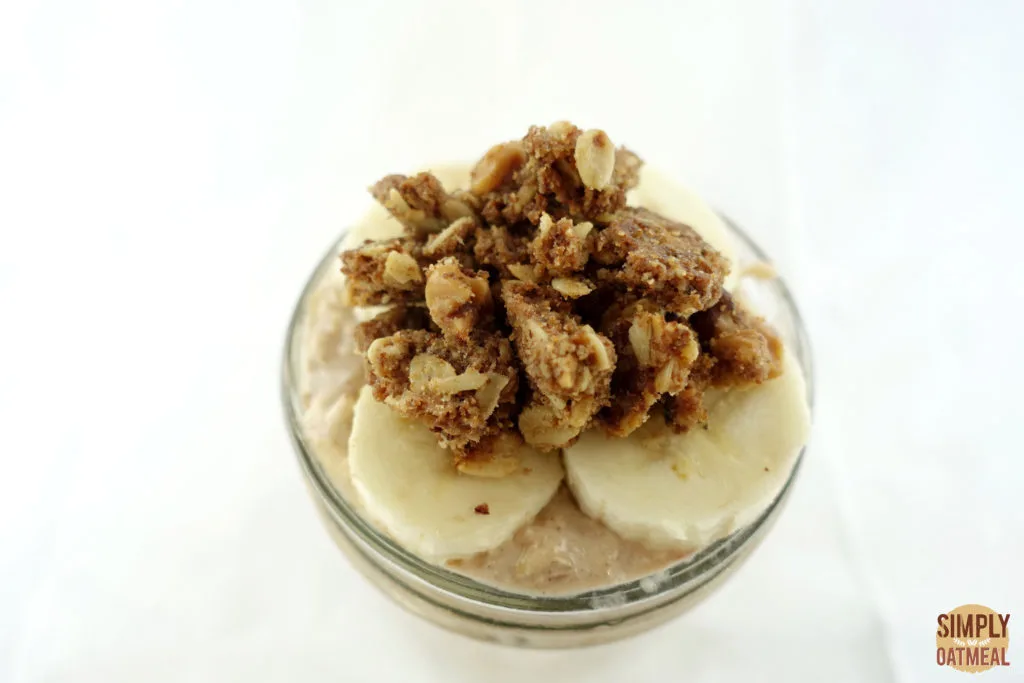 Don't like soft crumble or soggy oatmeal? Neither do we!

Here are the best tips to keep your apple crumble overnight oats crunchy all the time:
The baked crumble topping keeps fresh for several weeks when stored in an airtight container.
If you don't like maple syrup, feel free to substitute coconut sugar, honey and sweetener alternatives to adjust the oats flavor to your personal preference.
The apple pie spice adds a nice complexity to the flavor profile. For a hint of bold spice, add extra cinnamon!
Make it the night before so that the oats have enough time to soak and develop all the delicious flavors.
Add any additional flavors such as orange juice, lemon zest or vanilla extract.
Make this apple crumble overnight oats recipe in a mason jar if you're taking this meal on the go!
More delicious apple oatmeal recipes you might like: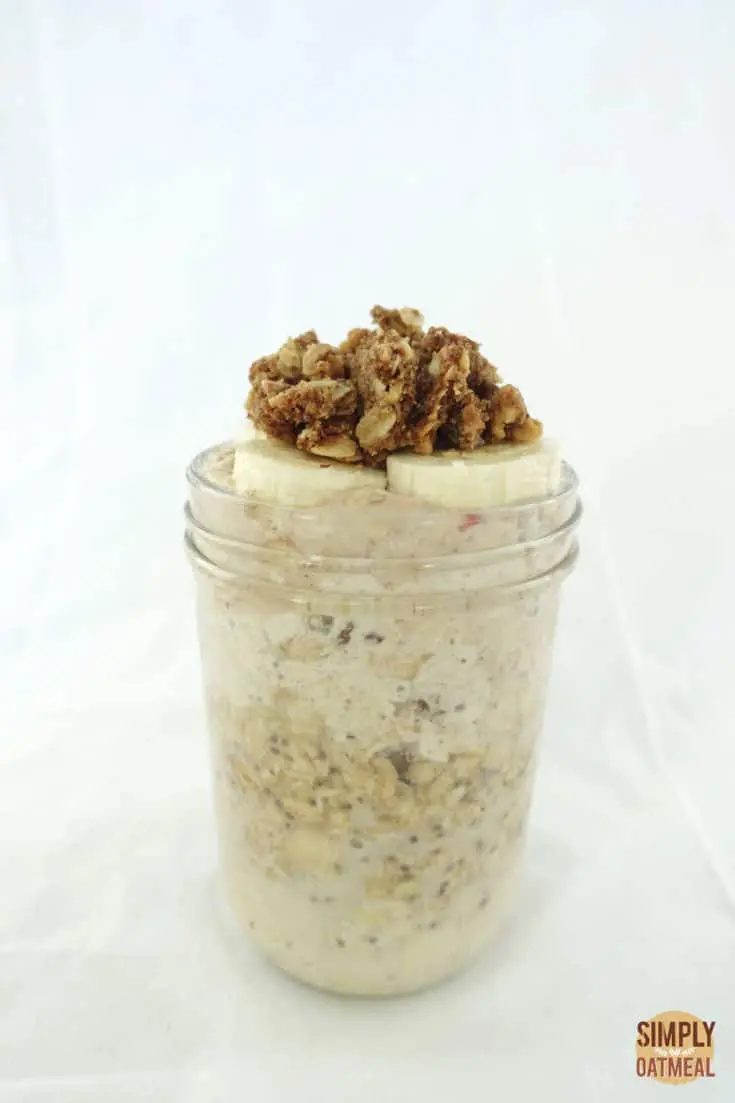 Yield:

1 serving
Apple Crumble Overnight Oats Recipe
Looking for a crunchy texture on top of your soaked oats? Then give this apple crumble overnight oats recipe a try!
The crumble topping is gluten-free because it uses oat flour instead of all-purpose flour. The texture and taste are so similar that I bet you wont notice a difference.
The toasted flavor of the crumble topping combined with the fresh apple and aromatic spices make this make ahead meal seem like dessert. Grab this meal prep and have it for breakfast or a quick snack at any time of day.
Ingredients
Overnight Oats
½ cup rolled oats
½ cup chopped apple (1 small apple)
1 tablespoon maple syrup
1 teaspoon chia seeds
¼ teaspoon cinnamon
pinch salt
Oatmeal Crumble Topping
¼ cup rolled oats
⅛ cup light brown sugar
Pinch of salt
⅛ cup chopped walnuts nuts
⅛ cup unsalted butter
Instructions
Peel apple and finely dice. Place into a medium-sized bowl or overnight oats container.
Add the remaining overnight oatmeal ingredients and mix well.
Cover and store in overnight refrigerator for 12 to 24 hours before consuming.
For the oatmeal crumble topping, mix together the oats, oat flour
sugar, apple pie spice and salt. Cut the butter into small pieces and work it into the dry ingredients with your fingers until it resembles pea-sized crumbs. Then, mix in the chopped walnuts.
Spread the crumble flat onto a baking sheet and bake at 350 for 15 minutes.
Cool the crumble, and store in an airtight container.
To serve, add your desired oatmeal topping and finish with the crumble topping for a crunchy texture! Enjoy!
Notes
The crumble browns quickly, so take extra care to remove the pan from the oven before any burning occurs. The goal is to achieve a lightly toasted color and flavor.
To make this recipe vegan, substitute coconut oil for the butter when making the crumble topping. The final result will still be a nicely toasted crunchy crust.
Some apples release more liquid than others, but either way the consistency of the liquid can easily be adjusted. Simply make changes to the overnight oats ratio in the morning once you see how much liquid was released from the apples.
For freshness and to ensure ingredients don't spoil, this overnight oats recipe should be consumed within 4-5 days of preparation. Enjoy!
Recommended Products
As an Amazon Associate and member of other affiliate programs, I earn from qualifying purchases.
Nutrition Information:
Yield:
1
Serving Size:
1
Amount Per Serving:
Calories:

1001
Total Fat:

55g
Saturated Fat:

18g
Trans Fat:

0g
Unsaturated Fat:

33g
Cholesterol:

59mg
Sodium:

369mg
Carbohydrates:

115g
Fiber:

15g
Sugar:

48g
Protein:

22g
Nutrition information isn't always accurate.