*This post may contain affiliate links. Please see my
disclosure
to learn more.
Level up you keto diet with a low carb oatmeal smoothie made with fat bomb ingredients like coconut milk, avocado and peanut butter. 84 grams of total fat will take your fat bomb smoothie to the next level!

It's hard to keep the fat high and carbs low when making an oatmeal smoothie. This recipe is specially formulated with a high fat content that makes you feel full for extended periods of time and also keeps your body in ketosis.
You will love this keto avocado fat bomb oatmeal smoothie because…
Takes only 5 minutes to prepare.
Low carb and extremely high fat content.
Packed with high fat, both soluble and insoluble fiber and plant based protein. Fat burning meal prep that'll keep you feeling full all day long!
Just enough oatmeal to aid digestion and also thicken the beverage. 1 tablespoon of rolled oats only has 3 grams of net carbs.
Perfect blend of creaminess and full flavored deliciousness.
If you enjoy coconut milk with a subtle hint of nuts, lime and ginger, then you are absolutely going to love this keto smoothie, its delicious!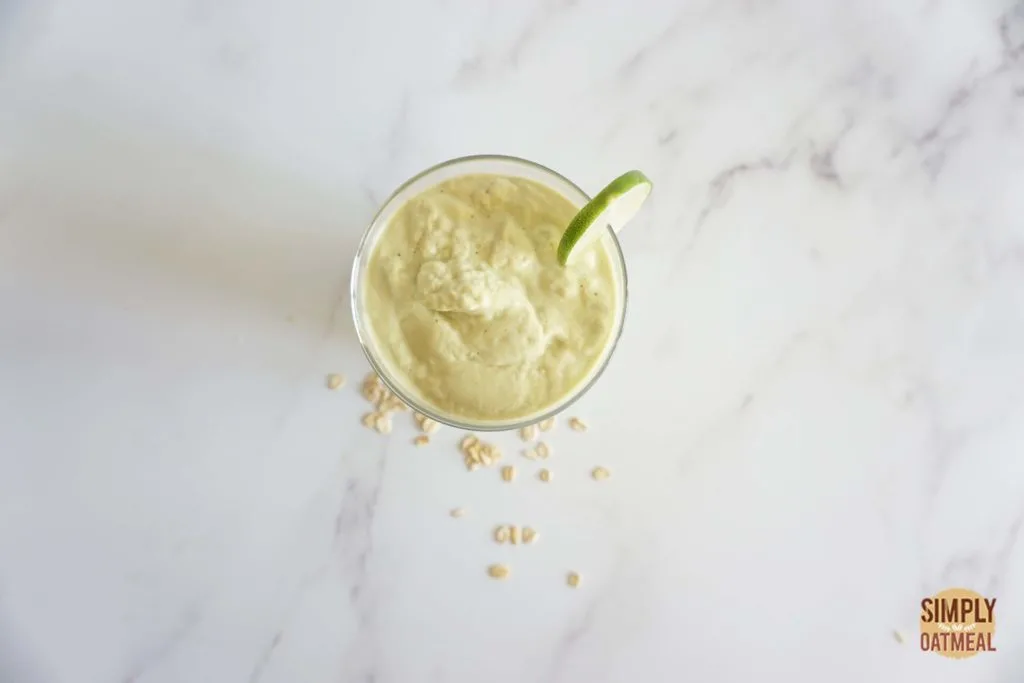 Keto diets are no joke and require serious commitment to retaining low carb consumption while increasing fat intake. If you're looking for a meal that will meet the necessary requirement without any cooking, than this keto avocado fat bomb oatmeal smoothie will work for you!
How to make keto avocado fat bomb oatmeal smoothie?
Attention keto dieters! Keep you daily carb intake to a minimum while enjoying this high fat, low carb keto avocado fat bomb oatmeal smoothie.

Over 80 grams of total fat and less than 8 grams of net carbs per serving. This fat burner will fill you up and knock out your sweet tooth craving at the same time. Treat yourself to a delicious superfood packed meal that you are guaranteed to enjoy!
Keto Avocado Fat Bomb Oatmeal Smoothie Ingredients: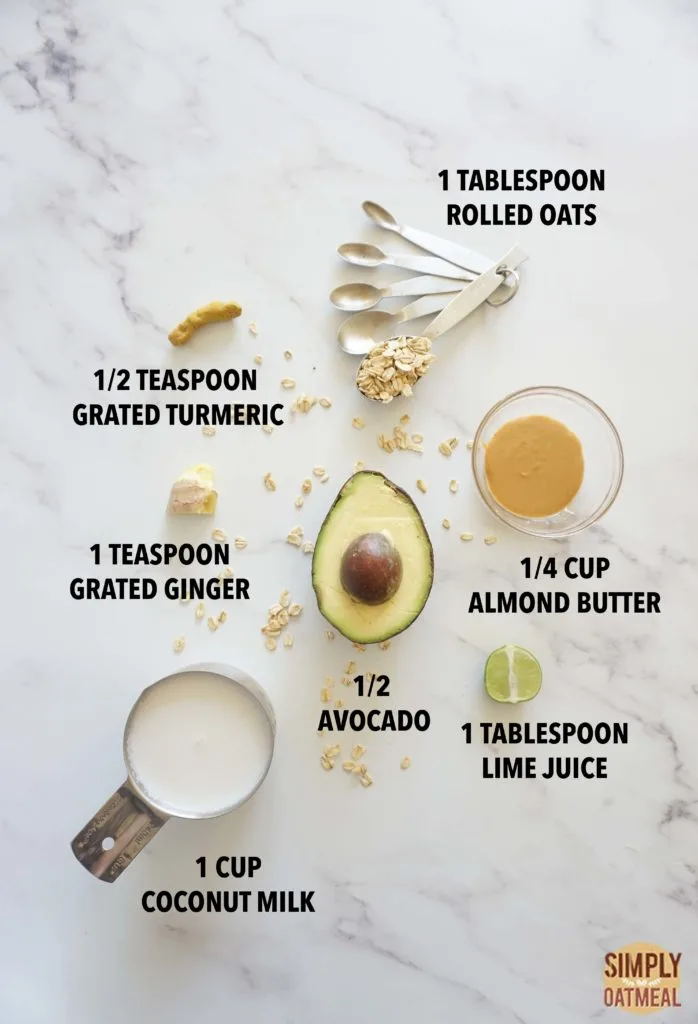 Coconut milk
Avocado
Almond butter
Lime juice
Ginger
Turmeric
Add the power packed ingredients into a blender and blend on high speed until everything is smooth. Blend in ice to make a cold beverage if you want to drink immediately, or store in the fridge for a refreshing fat bomb meal prep.
Total Net Carbs: 7.5 g
Coconut milk: 2 g net carbs
Rolled oats: 3 g net carbs
Avocado: 1 g net carbs
Almond butter: .5 g net carbs
Lime juice: .5 net g carbs
Ginger: .25 g net carbs
Turmeric: .25 g net carbs
Total Fat: 84 g
Coconut milk: 48 g total fat
Rolled oats: 1 g total fat
Avocado: 15 g total fat
Almond butter: 20 g total fat
Keto Avocado Fat Bomb Oatmeal Smoothie Tips:
The no cook recipe balances hearty ingredients with fat bomb keto power. Incorporate the helpful hints to take your keto avocado fat bomb oatmeal smoothie to the next level.
Coconut milk: Unsweetened coconut milk from the can is extremely high fat. The full flavored coconut milk adds a rich creaminess that'll make your fat bomb smoothie irresistible. Creamy = delicious!
Avocado: Adds another layer of creaminess and healthy omega fats that don't distract from the subtle flavors of the nutritious blend. Avocado compliments the fattiness without imparting too much flavor.
Nut butter: Choose your favorite nut butter to add to this combination. Almond, cashew, peanut or sunflower seed butter are all viable components. Whichever you choose, be sure to use one that is unsweetened and salt-free when making a keto fat bomb smoothie.
Oats: This smoothie adds a small amount of oatmeal to aid digestion without interfering in your low carb goals. Rolled oats or quick oats are the preferred type of oats for this smoothie because steel-cut oats aren't recommended for blending.
Vegan: Full fat coconut milk is vegan, so as long as you stick with dairy free milk alternatives this recipe should be free of animal byproducts.
Gluten free: Even though oats are gluten free, wheat free certified oats are recommended if you are on a regimented diet.
Protein powder: Supplement the nutrition by adding a scoop of protein powder to the drink blend. Use your favorite low carb protein powder for this power packed keto fat bomb smoothie.
Lime: Adjust the acidity to accommodate your taste. There is a subtle balance of lime flavor in the keto oatmeal smoothie base, but add an extra spoonful of lime juice to give a bit more zing to the blended beverage.
Spice: Ginger and turmeric are incredibly beneficial spices to add to you diet routine. They pair well together, and also go well with the coconut milk, nut better and lime juice for a wholesome classic combination of flavor.
Consistency: Blend in a few ice cubes if you are going to drink the smoothie right away. If the smoothie is too thick for your preference, adjust the thickness with a splash of liquid to loosen up the mixture as necessary.
Make ahead: Meal prep ahead of time. If the smoothie thickens too much when stored in the fridge or freezer, adjust the consistency with a splash of liquid and a quick stir.
Storage: The no cook keto fat bomb oatmeal smoothie is good for about 3 days when stored in the fridge or 1 month if placed in the freezer.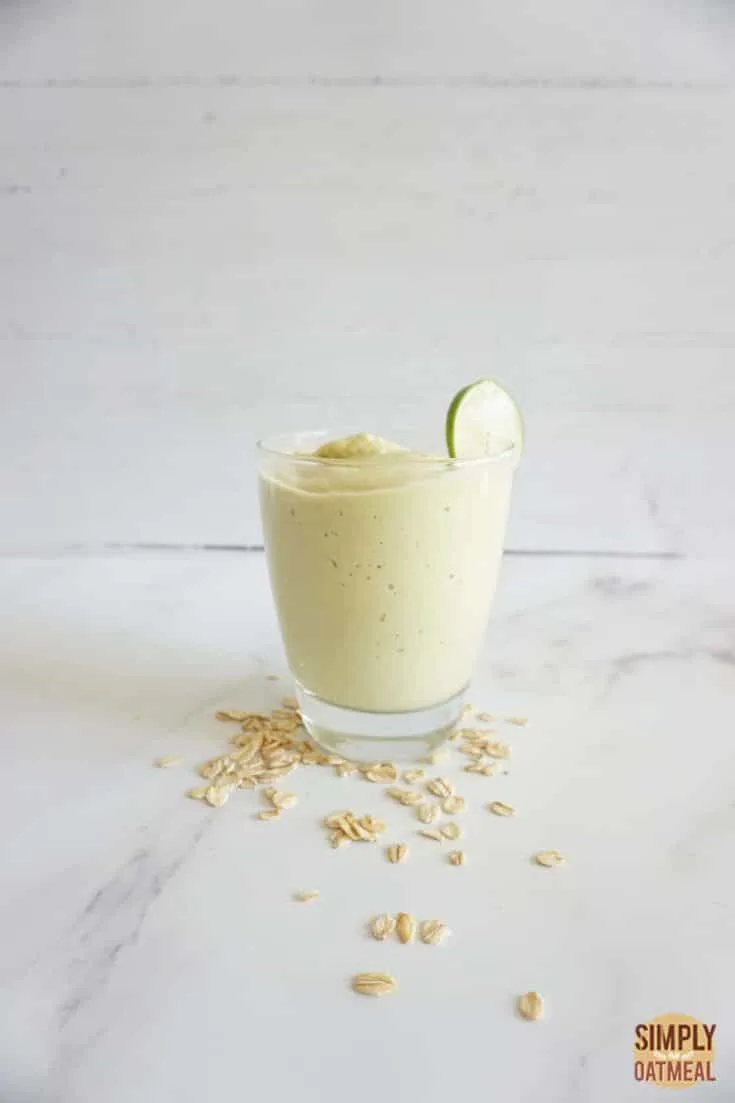 Yield:

10 fl oz
Keto Avocado Fat Bomb Oatmeal Smoothie Recipe
Keto avocado fat bomb oatmeal smoothie is delicious, nutritious and wholesome. In addition to the health benefits of oats, the no cook meal prep features plant-based protein, dietary fiber and essential vitamins and minerals.
The keto diet recipe takes only a few minutes to prepare and requires 7 ingredients. This fat bomb smoothie will leave you feeling full all day long.
Ingredients
1 tablespoon rolled oats
1 cup coconut milk
½ avocado (3-4 oz)
1 tablespoon lime juice
1 teaspoon fresh grated ginger (about 1/2 inch piece)
½ teaspoon fresh grated turmeric (about 1/4 inch piece)
Instructions
Add all the ingredients to a blender and blend 30-60 seconds on high-speed until smooth.
Add crushed ice or extra liquid to adjust the consistency as needed.
Taste and adjust tartness and seasoning per your tastebuds.
Serve immediately or place in an airtight contain inside the fridge for a grab and go meal prep.

Notes
Make it vegan and gluten free!
Adding a pinch of black pepper will make the curcumin in the turmeric more bioavailable. A small dash will have no impact the overall taste.
Recommended Products
As an Amazon Associate and member of other affiliate programs, I earn from qualifying purchases.
Nutrition Information:
Yield:
1
Serving Size:
1
Amount Per Serving:
Calories:

830
Total Fat:

84g
Saturated Fat:

46g
Trans Fat:

0g
Unsaturated Fat:

29g
Cholesterol:

0mg
Sodium:

40mg
Net Carbohydrates:

7.5g
Sugar:

2g
Protein:

14g
Nutrition information isn't always accurate.