*This post may contain affiliate links. Please see my
disclosure
to learn more.
Try the world-class combination of almonds, chocolate and coconut to take your smoothie game to the next level. Made with almond flavor, cocoa powder and shredded coconut this smoothie tastes just like you blended an almond joy bar into a drinkable beverage.
If you are new to Simply Oatmeal, the oatmeal smoothie recipes are healthy and are great make ahead meal prep ideas. Using pantry staples, whip up a wholesome and fulfilling meal in just a few minutes.

From caramel apple oatmeal smoothie to chocolate covered strawberry oatmeal smoothie, the oats are full of plant based protein, fiber, and healthy omega-3 fats. The perfect grab-n-go breakfast is right at your fingertips; so make your morning just a little bit brighter and more colorful with a serving of these tasty oatmeal beverages.
You will enjoy this almond joy oatmeal smoothie because…
Meal prep takes just 5 minutes.
Perfect meal to restore energy because its loaded with nutritional elements like protein, fiber and healthy fats.
Healthy breakfast that'll keep you feeling full until the next mealtime!
Just the right amount of rich cocoa taste and creamy almond with a hint of coconut.
Tastes just like you put an almond joy candy bar in the blender with a hearty oatmeal base. It tastes delicious!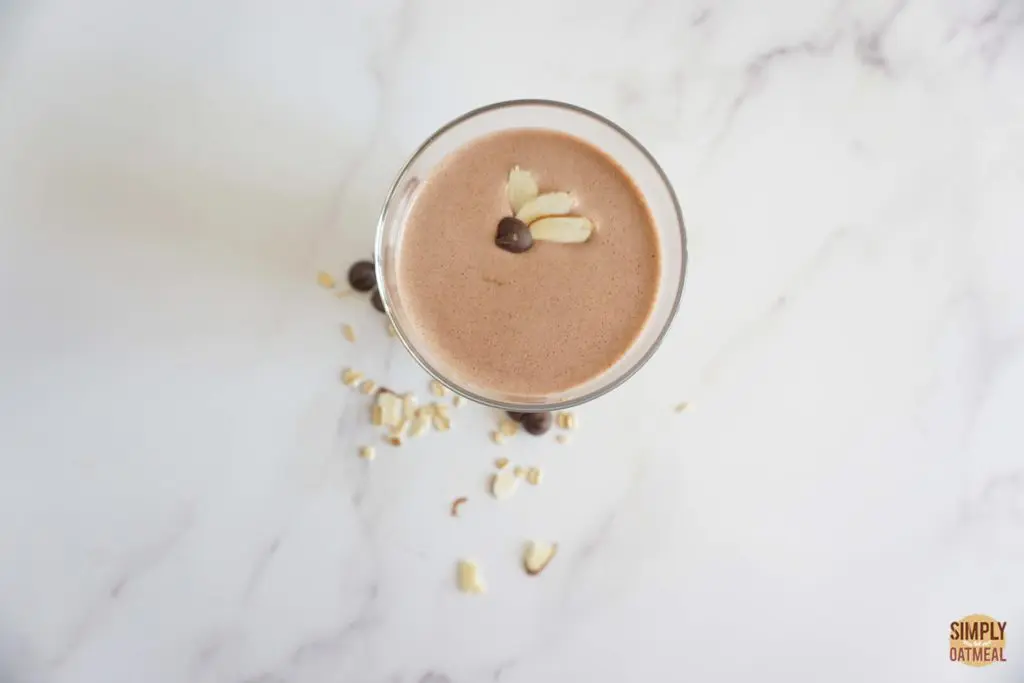 Loaded up with tons of antioxidants, high protein content and dietary fiber to keep you feeling extra full. If you're looking to spice up your regular routine, need a new breakfast inspiration or in search of a new afternoon snack to keep you energized and feeling full, then this almond joy oatmeal smoothie is perfect for you!
How to make almond joy oatmeal smoothie?
If you encounter a busy workday morning routine, prep this almond joy oatmeal smoothie the night before. Add a scoop of almond butter or protein powder to boost your nutritional intake make the blended drink even more filling.
You may also like the 5-minute almond milk recipe. Quickly blend up the almond milk before making the smoothie. The result is a fresh tasting dairy free beverage that you can add your favorite flavorings for something new to drink everyday.

Best part of all, you don't have to clean the blender in between making the almond milk and then blending your oatmeal smoothie. Quickly go from one task to the next in an efficient way!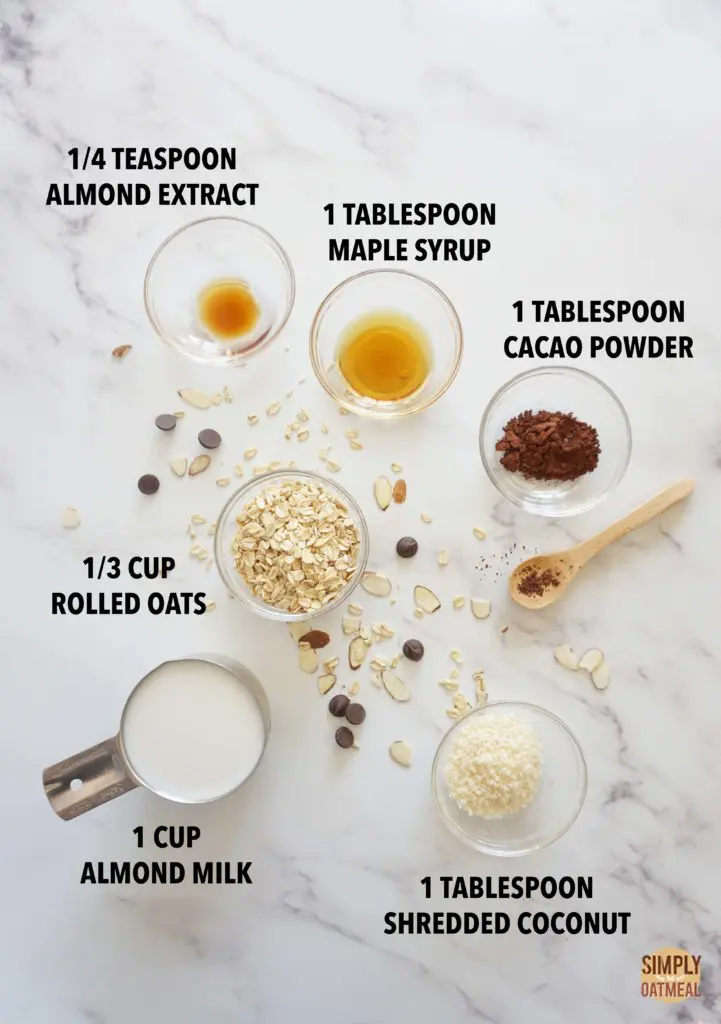 Almond Joy Oatmeal Smoothie Ingredients:
Almond milk
Cocoa powder
Shredded coconut
Maple syrup
Almond extract
Mix all the ingredients in a blender and buzz for 30-60 seconds until everything is smooth and velvety. Drink immediately or store it in the fridge for an easy grab and go meal!
Almond Joy Oatmeal Smoothie Tips:
The almond joy oatmeal smoothie is so easy to make and is perfect for a quick healthy breakfast on the run. Utilize these tips to ensure that every sip is good til the last drop.
Almonds: The signature namesake ingredient is almonds. Without almonds there is no joy, so to make sure that almonds are integrated we used almond milk and almond oil. The two combine to give a subtle taste without overpowering the smoothie.
Chocolate: For that decadent chocolate taste without the added sugars, use an unsweetened cocoa powder. The full flavored ingredient will impart a rich flavor without the over exaggerated sweetness.
Coconut: Coconut is the foundation of flavor for the classic almond joy candy bar. The shredded coconut adds lots of delicious flavor, but you can also use coconut milk for an extra burst.
Oats: Rolled oats or quick oats are preferred for blending smoothies. Raw steel-cut oats aren't recommended for blending because they are whole kernels that will not grind in a blender.
Vegan: Select dairy free milk and cocoa alternatives to prepare this as a vegan recipe.
Gluten free: Although oats are gluten free, certified oats reduce the risk of cross contamination if you are on a strict wheat free diet.
Protein powder: A scoop of protein powder will provide a nutritional boost to this blended drink. Use your favorite brand of unflavored, chocolate or vanilla protein powder.
Sweetness: Unsweetened cocoa powder will add a rich chocolate taste without the unnecessary sugars. There is a subtle balance of sweet taste and hearty oatmeal base. Adjust the sweetness to accommodate your personal craving.
Consistency: Blend in a couple ice cubes or an extra splash of liquid to loosen up the thickness to suit your preference.
Make ahead: Meal prep ahead and store for an easy meal on the go. If the smoothie thickens too much, give it a good stir and loosen up the consistency with a splash of milk.
Storage: To maintain freshness, an oatmeal smoothie is good for about 3 days when stored in the refrigerator or 1 month if placed in the freezer.
Add-ins: Consider add a frozen banana, ½ cup of tofu or ½ avocado to increase the rich creamy taste while complimenting the classic almond, coconut and chocolate taste. Almond butter will also add creaminess with additional fat and protein, but overwhelming presence will defiantly impact the subtle taste of the chocolate and coconut flavors.
MORE DELICIOUS OATMEAL SMOOTHIE RECIPES YOU MIGHT LIKE: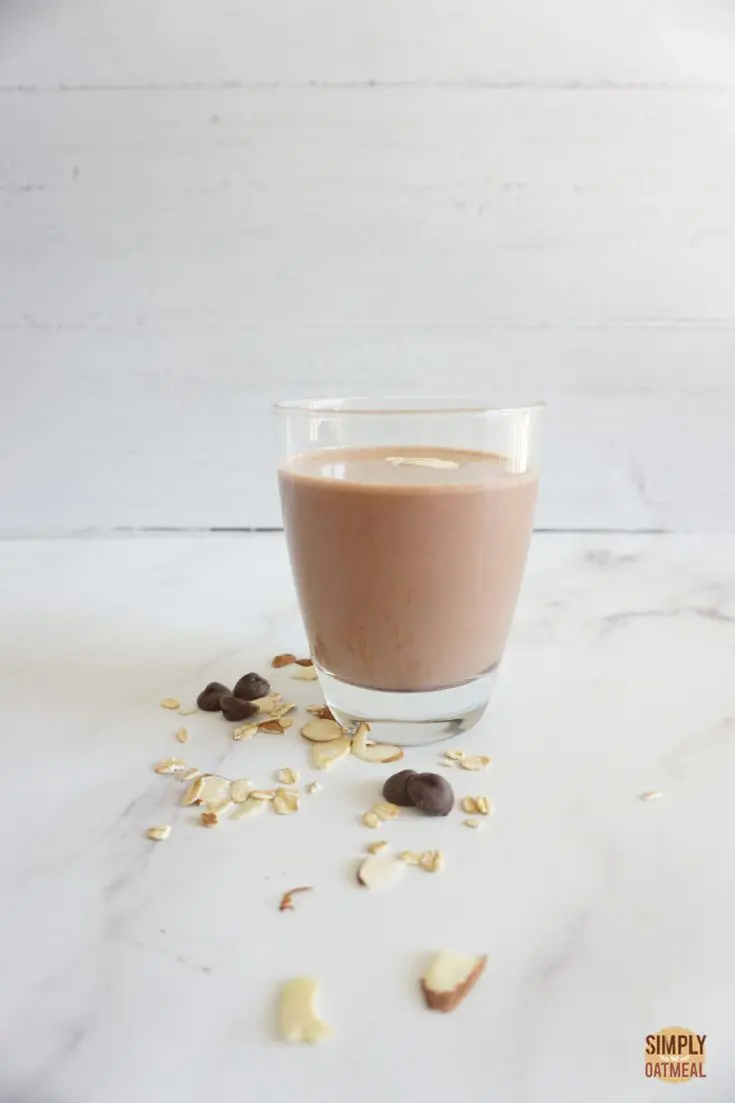 Yield:

10 fl oz
Almond Joy Oatmeal Smoothie Recipe
Almond joy oatmeal smoothie is a fulfilling meal that is packed with balanced nutrition. Combine the health benefits of oats with the antioxidants of wholesome superfoods like coconut, cocoa and the almond.
The no cook meal prep is packed with protein, fiber and essential vitamins that promote a healthy balanced diet. Include this recipe in your weekly meal prep routine so that you can easily grab a tasty meal that is prepared ahead of time.
Healthy to go meals are extremely helpful during the busy workweek. Incorporate this easy recipe into your weekly routine so you don't forget to take good care of yourself.
Ingredients
⅓ cup rolled oats
1 tablespoon cacao powder
1 tablespoon unsweetened shredded coconut
1 tablespoon maple syrup
¼ teaspoon almond extract
Instructions
Blend all ingredients until a smooth and creamy consistency is achieved.
Add a splash of milk if the mixture is too thick.
Transfer to glass and enjoy, or store in the fridge for a quick grab and go meal!

Notes
Make it vegan and gluten free!
Recommended Products
As an Amazon Associate and member of other affiliate programs, I earn from qualifying purchases.
Nutrition Information:
Yield:
1
Serving Size:
1
Amount Per Serving:
Calories:

340
Total Fat:

9g
Saturated Fat:

3g
Trans Fat:

0g
Unsaturated Fat:

3g
Cholesterol:

0mg
Sodium:

176mg
Carbohydrates:

60g
Fiber:

6g
Sugar:

34g
Protein:

7g
Nutrition information isn't always accurate.