*This post may contain affiliate links. Please see my
disclosure
to learn more.
Create real magic with these delicious and healthy no bake blueberry muffin oatmeal balls. Each ingredient is packed with fiber and nutrimental benefits that are highly recommended for a balanced energy snack to refuel your body.

If you are looking for healthy snack to add into your meal prep routine, try no bake oatmeal balls. They require zero cooking or fancy equipment and each flavor packed combination is super delicious.
This no cook recipe is super simple to make ahead of time. It's perfect to eat at any time of day or when you need a simple snack after a hard workout.

Made with oats, dried blueberries, almond butter, maple syrup and cinnamon, it is a delicious and healthy snack idea that you'll truly love. Assemble ahead of time for an easy grab and go snack idea that will give you a power packed boost of energy.
How to make no bake blueberry muffin oatmeal balls?
Blueberry muffin flavored oatmeal balls are a delicious and healthy snack that can be eaten for breakfast, midday snack or even for a healthy dessert option. Assemble ahead of time for an easy meal prep energy bite.. The recipe requires no cooking skills or extravagant equipment and only takes a few minutes to make it work!

You may also enjoy making homemade almond butter from scratch. This easy recipe only takes a few minutes and allows for many fun recipe variations with add-ins like cinnamon, vanilla, cocoa and much more!
No Bake Blueberry Muffin Oatmeal Balls Ingredients:
Crispy brown rice cereal
Almond butter
Dried blueberries
Maple syrup
Water
Flaxseed
Chia seeds
Hemp seeds
Vanilla extract
Cinnamon
Salt
In a medium sized bowl, mix together the almond butter and maple syrup. After the wet ingredients are mixed together very well, then add all of the remaining dry components.

If the oatmeal mixture isn't binding together to form a ball, then add a splash of water to help the dry ingredients clump together.
Use a 1 ounce scoop to evenly divide the recipe into equal portions. Wet your hands to prevent the oatmeal mixture to stick to your hands while rolling the pieces into balls.

While the oatmeal balls are still moist, coat them with sliced almonds for a tasty and crunchy outer coating.
No Bake Blueberry Muffin Oatmeal Balls Tips
We've put together tips to make your no bake blueberry muffin oatmeal balls extra tasty. We want every bite you take to be as good or better than the last.
Choose old-fashioned rolled oats or quick oats to make this recipe. However, steel cut oats are not recommended for raw food energy snack recipes.
Use either freeze dried, dehydrated or dried blueberries to make this no bake recipe.
Make this no bake recipe is both vegan and gluten-free by using dairy-free chocolate chips and gluten free oats.
If you don't like almond butter, then substitute for peanut butter, sunflower seed butter or cashew butter. Follow the same proportions for a tasty variation.
Experiment with other coatings like coconut flakes, crushed banana chips and roasted peanuts.
The no bake recipe can be made ahead of time as a simple meal prep.
Store leftover inside an airtight container in the fridge for up to 1 week so you have meal prep snacks for the entire week..
NEED MORE NO BAKE OATMEAL BALL RECIPE IDEAS? TRY THESE: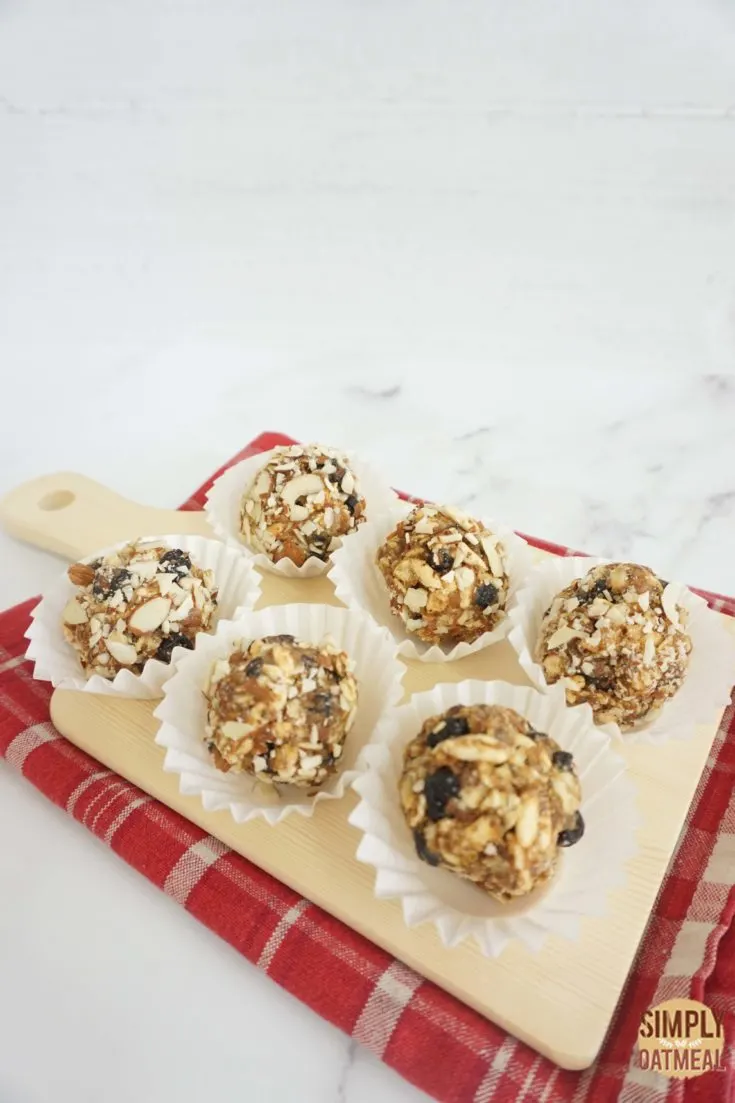 Yield:

12 Balls
No Bake Blueberry Muffin Oatmeal Balls Recipe
Additional Time:
10 minutes
Blueberry muffin oatmeal balls are a healthy no bake snack that is super easy to make. Assemble the no cook energy bite by following a few easy steps.
Blueberries are rich in antioxidants and there are many health benefits of oats. Store the bitesized energy balls in a meal prep container for a quick and hearty serving. The grab and go snacks are perfect for breakfast or even a quick afternoon snack.
Ingredients
½ cup rolled oats
½ cup crispy brown rice cereal
½ cup dried blueberries
⅛ cup maple syrup
2 tablespoons water
¼ cup ground flaxseed
1 tablespoon ground chia seeds
1 tablespoon ground hemp seeds
1 teaspoon vanilla extract
¼ teaspoon cinnamon
pinch of salt
Coating
¼ cup sliced almond, chopped
Instructions
In a large bowl, combine the almond butter, maple syrup and vanilla extract; mix well.
Add the remaining ingredients to the bowl and stir until the oats and crispy rice are fully coated.
(If the mixture seems to wet, then add a bit more oats, and if the mixture seems to dry, then add a splash of water to make it moist enough to hold a ball shape.
Refrigerate the mixture for about 20 minutes to allow it to firm up.
Using a 1 ounce cookie scooper, to portion the mixture into 16 energy bites. Roll each piece into ball using the palm of your hands.
Refrigerate until need and serve at room temperature.

Notes
Make Ahead: This recipe can be prepared in advance and stored in a sealed container. Allow the oatmeal balls to come to room temperature before serving.
Storage: Store in an airtight container in the refrigerator for up to one week or in the freezer for 3 months.
Nutrition Information:
Yield:
12
Serving Size:
1
Amount Per Serving:
Calories:

108
Total Fat:

7g
Saturated Fat:

1g
Trans Fat:

0g
Unsaturated Fat:

6g
Cholesterol:

0mg
Sodium:

34mg
Carbohydrates:

10g
Fiber:

3g
Sugar:

3g
Protein:

3g
Nutrition information isn't always accurate.