*This post may contain affiliate links. Please see my
disclosure
to learn more.
Looking for healthy snacks that you can eat all year round. From almond joy to blueberry muffin, we've rounded up the best no bake oatmeal balls that are power packed with nutritional energy to give you a quick boost and help quench your hunger cravings.

If you're only familiar with hot oatmeal and overnight oats, then let us introduce you to no bake oatmeal balls. Oats are readily available in bulk at the supermarket, can be used in many types of recipes and also contain a number of health benefits.

The easy snack recipes require just a handful of ingredients, are super simple to execute and require zero baking at all! From homemade peanut butter to sliced almonds and coconut flakes, open up to exploring creative oatmeal toppings that will pair nicely with these delicious and nutritious energy snacks.
No bake oatmeal balls are made with ingredients that are commonly found the local market. If you want to change it up with a fun new snack idea, upgrade your meal prep by exploring these simple no bake oatmeal balls.

Each piece is packed with plant based protein, healthy fats and dietary fiber, which makes them great for breakfast, mid afternoon snack or even a healthy dessert. Hold back junk food cravings and sugar-filled sweet treats with a nutritious energy ball. Save time each day by preparing a batch of make-ahead snacks that you are guaranteed to love eating all week long.
How do you get oatmeal balls to stick together?
The key to getting oatmeal balls to stick together is both the binding agent and the amount of moisture inside the oatmeal mixture. The binder helps to glue or stick the oats and add-in ingredients together in the no bake oatmeal balls.

Nut butters, chopped dates, maple syrup, honey, agave, melted marshmallows, mashed banana and ground flaxseed mixed with water can all be used to bind the oatmeal mixture together. Almond butter and peanut butter seem to be the easiest and the most common binding agents because they add moisture and stickiness.
Can you make no bake oatmeal balls without peanut butter? Yes, simply substitute peanut butter for another type of nut butter like almond, cashew or sunflower seed. It may also be possible to substitute the peanut butter for mashed banana or pureed dates when making no bake oatmeal balls.
Why are my no bake oatmeal balls not sticking together? If the no bake oatmeal balls are too crumbly and not sticking together, then you may need to add more moisture to resolve the problem. The moisture level of the ingredients may vary for lots of reasons (i.e. brand, climate and storage conditions).

A quick fix is to add an extra spoonful of nut butter, syrup or honey to help bind the crumbled mixture together. However, those ingredients tend to alter the taste of the recipe by making it a bit sweet. So if sweetness is not the goals, then opt for using a splash of water or melted coconut oil to adjust the wetness of the mix and help the oats stick together even better.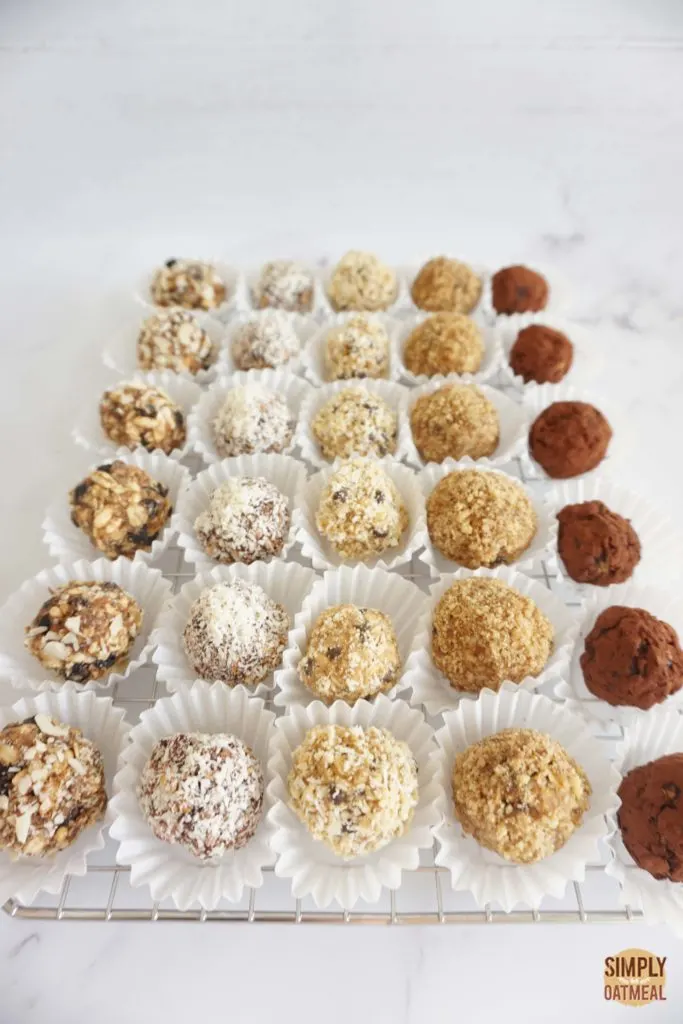 Are no bake oatmeal balls good for breakfast?
Whole grain oats are a wholesome ingredient that offers an array of essential vitamins and minerals. The fiber-rich food also contains healthy fats, plant based protein and is recommended for regular consumption.
Here are some of the benefits of oats when added into your diet:
Antioxidants: The body needs a wide range of antioxidants and beneficial compounds that are found in whole grain oats.
Essential vitamins and minerals: Oats contain essential vitamins and minerals like b-vitamins, calcium, iron, magnesium that are recommended for a healthy and balanced diet.
Plant-based protein: Oats are a great source for proteins that help build muscle within the body.
Soluble and insoluble fiber: Oatmeal is a fiber-rich food that contains both soluble and insoluble fiber which helps prevent heart disease, diabetes, and diverticular disease.
Whole grain oats contain fiber, healthy fats, plant based protein, vitamins, minerals, antioxidants and beneficial compounds that are good for a balanced diet. Because of the high fiber content, oats help you to feel full for much longer periods of time; this reduces hunger cravings and can assist with overall weight loss. The high fiber also help to improve overall digestion, regulate blood sugar and promote heart health, there are many reasons to incorporate oats into your regular diet.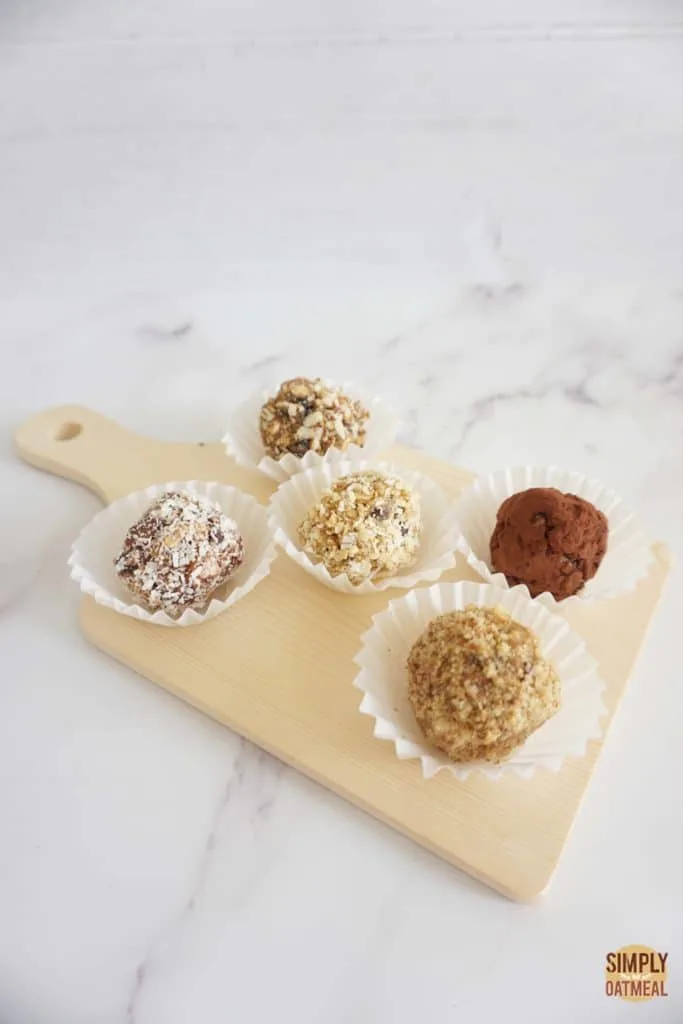 Basic Ingredients For No Bake Oatmeal Balls
Oatmeal porridge and no cook overnight oats are the easiest way to incorporate whole grain oats into your routine, but they are not the only option available. No bake oatmeal balls are an alternative that works great for breakfast, midday snack and also as a healthy dessert.

Oats are a nutritious and fulfilling ingredient that blends well into no bake balls. Here are a few reasons why each component is important in the base recipes.
Oats: When making no bake oatmeal balls, the recommendation is to use old fashioned rolled oats or quick oats instead of steel-cut. Rolled oats and quick oats have been steamed and flattened, therefore they are partially cooked during the process which makes them easier for your body to digest. Steel cut oats have not been processed in such manner and therefore are not recommended for raw food recipes. Even though oats are naturally gluten-free, its best to purchase certified gluten-free if you follow a diet that is strictly wheat-free.
Fruit: Fruits can be dried or fresh and are a great way to add natural sweetness to a recipe. Mashed banana is one of the binding agents that are used to hold the oatmeal mixture together. Raisins, dates and dried blueberries can be incorporated into the no bake oatmeal base while freeze dried blueberries and banana chips can be used as a crumble coating for the outside of the no bake oatmeal balls.
Nut butter: Almond butter, cashew butter and peanut butter are options for healthy fats that also assist to bind the oatmeal mix into a ball shape. Peanut butter is not the only option, so consider substituting other nut butters in its place for any recipe.
Liquid: Flax egg, coconut oil and water are liquid options that are available to help bing the oat mixture and allow it to hold the shape of the no bake oatmeal balls.
Protein: Oats contain digestible plant-based protein, however nuts, nut butters and ground seeds are also protein boosting components that make the no bake balls a healthy and fulfilling snack.
Natural sweetness: A honey, maple syrup, coconut sugar, chopped dates or agave adds natural sweetness that helps to cure the craving for sweets. Maintain a vegan diet with other options like date syrup, coconut nectar and brown rice syrup.
Spices: The spices used in these no bake oatmeal balls recipes include clove, cinnamon, ginger, nutmeg and vanilla extract.
Best Toppings for No Bake Oatmeal Balls
Make the sweetness more subtle and adjust the crunchy texture to quickly elevate the no bake oatmeal balls to a higher level. Here are the best toppings and flavor combinations that we have assembled in these recipes:
Banana + Chocolate + Walnuts
Blueberries + Maple Syrup + Cinnamon
Chocolate + Peanuts
Coconut + Almonds + Chocolate
Peanuts + Chocolate + Coconut
Chop dried fruit and nuts, substitute your favorite nut butter and sweeten to your preference to make the most delicious no bake oatmeal balls. The bitesized healthy snack is a flavor packed, tasty treat that you are guaranteed to fall in love with.
Best No Bake Oatmeal Balls
No bake oatmeal balls are an easy to make, fulfilling and healthy snack. Try the countless flavor combinations and quickly customize your personal favorites by adjusting the nuts, butter and outer coating.
Each recipe is a perfect meal prep snack idea that fits well into your busy schedule. Make ahead of time and store in an airtight container for an easy grab and go breakfast, afternoon snack or healthy bitesized dessert option.
Each piece is packed with fiber, protein and essential vitamins and minerals. Enjoy no bake balls with oatmeal knowing that you are getting a heart-healthy snack that compliments your balanced diet routine.